In the wedding world, a majority of trends come and go but some stay with us. One of them is floral nath that gained momentum only a while back. Naths, in general. have been a bridal favorite, some prefer to opt for small, dainty ones while others go all in wearing oversized, glamorous ones. But they made their appearance only on the wedding day. Of course, all that changed when floral naths stepped into the small yet influential world of naths.
Since the floral naths have made an entry into the sensational world of floral jewellery, there has been no going back. We see them quite frequently on brides these days. Even though their popularity hasn't grown as much as the hathphools or a floral neckpiece, they have certainly made their way into the lives of Indian brides.
Floral Naths is a jewellery trend that will definitely stay with us through 2020. They are elegant, charming and quirky – making them a perfect addition to your bridal trousseau. Without further ado, let's check out some of the most stunning floral nath designs that real brides wore!
1. Unleashing the power of color combination and flowers with her white and pink floral nath coordinated perfectly with mehendi green lehenga!

Via: @design_aqua_studio, @devanshisethdesigns, @tania_makeup_artist
2. A dainty yet notable nath is giving this bride's gorgeous mehendi look a classic oomph. Love how she includes all piece of floral jewellery for her mehendi day – from kaleerein to an elaborate maathapatti – she has got it all!

Via: @divinemantra, @pruneindia, @bhawika06
3. A beautiful amalgmation of pink, yellow and white flowers  is giving this floral nath quite a unique and noteworthy look! Also, it's hard to not notice the bride's on-point makeup look with rosy cheeks and glam pink glitter eyes!

Via: @kulwantsm
4. Want to go full on OTT! Here is the inspiration you need. This oversized floral nath with baby's breath, pink flowers and yellow strings has left us mesmerized.

Via: @jasmine_beauty_care
5. And while we are on the topic of OTT jewellery options, here is another bride who opted for oversized soft color floral nath to go with her dazzling outfit. 

Via: @lefleurjewels, @sunnysbridal
6. Although if you are simple, 'less is more' kind of bride, take inspiration from this low-key floral nath adorned with just two dainty flowers. This bride's lehenga-jewelry color-coordination is giving us major goals. 

Via Instagram
7. Monotone for the win? We think so! Look at how this stunner carried an all yellow fresh floral jewellery with such perfection. If you are missing out on floral nath at mehendi, why not go for it on your haldi instead
?
8. Pastel colors always makes us go weak in the knees! This serene-looking floral nath are great to match your pastel-colored outfit! (Duh!)

Via @devanshisethdesigns
9. Sheena Bajaj's mehendi look was a color bomb merger of pink + yellow. From her outfit to her jewellery and makeup, she looks incredible. And of course, the star of her look – her floral nath – is adding an extra glow to her face!

Via: @coolbluezphotography, @shehlamakeupartist
10. Next up is the founder of India's finest makeup studio, Jasmine Beauty Care, Richa Dave, who took the Internet by storm with her vivid floral nath. The perfect entanglement of baby's breath in her nosering is possibly why this is our favorite one out of the list!

Via @jasmine_beauty_care
11. Who said simplicity can't be stylish! This bride's white mogra flowers nath is a perfect inclusion in her harmonious mehendi look. A yellow sharara outfit, braid entailed with mogra garland, beaded hoop earring and studded yellow bindi – we love everything about this bride!

Via: @merlotmakeupstudio, @lefleurjewels
12. Another pink-yellow merger mehendi look that includes a color-coordinated floral nath is grabbing full attention!

Via: @devanshisethdesigns, @jasshotamakeovers, @fridaypicphotography
13. A dainty purple-mauve floral nath looks adorable with this bride's effortless attire!
14. This red-yellow floral nath goes amazingly well with bride's quirky mehendi attire. Can't help but notice her extraordinary hairstyle too! We always have an extra eye on brides who go the unusual way for their big day celebrations.

Via: @dipakstudios
15. This aesthetically appealing floral nath is a classic option to opt for your mehendi or haldi outfit!

Via: @floral_jewelry_by_kifzah
16. These beautifully handcrafted floral jewellery pieces are giving this bride a stop and stare kinda look!

Via: @makeup_by_anmol_and_rutu
17. Another bride who included the magic of baby's breath in her floral nath. Extra brownie points for how her gleaming eyeshadow matched the jewellery and her outfit so well!

Via Instagram
18. This bride is beaming with her choice of over the top floral nath. We love how she superbly coordinated her floral jewellery with her monochromatic outfit to give the whole look a glitzy makeover. 

Via: @mohitandsandeep, @craft_station_
19. A dainty yet alluring floral nath for brides who would like to play safe with this jewellery option. This would be such a slayer add-on to your day-time function.

Via @dolledupbysurbhi
 20. And last on this list is this full-blown floral jewellery look featuring a notable floral nath.

Via Instagram
Buy Floral Nath Online
#1 Yellow Floral Nath For Haldi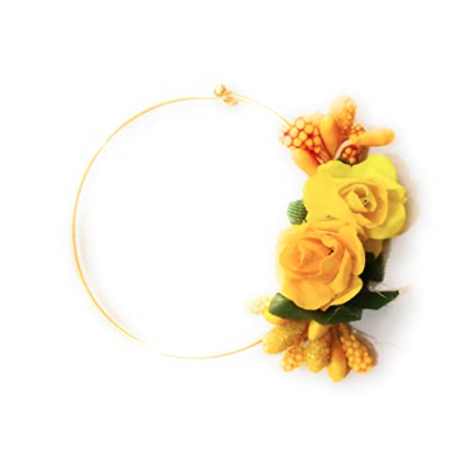 Purchase here. 
#2 Minimal Floral Nath Design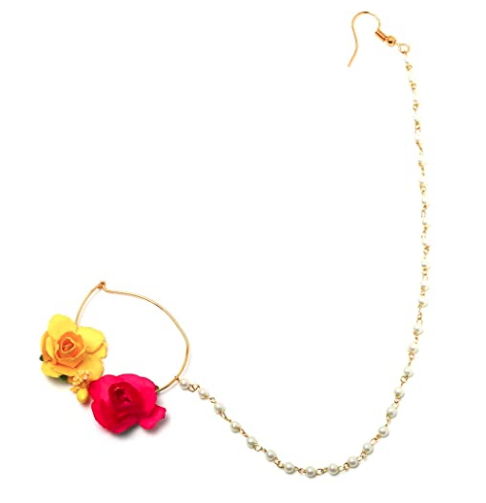 Purchase here. 
#3 Simple Bridal Nath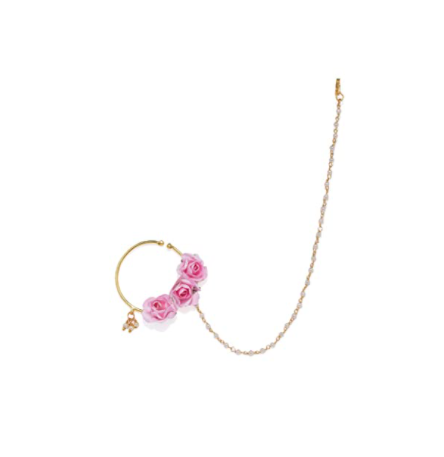 Purchase here. 
Related:
What do you girls think? Would you be going forward with this trending piece of jewellery for your wedding? Let us know in the comments down below!