Vitamin C is a star ingredient in skincare. It fights pigmentation, brightens & evens out the skin tone, smoothes out fine lines, and gives a better-looking skin with consistent use. No wonders its potent form, packaged in serum, is found in the beauty arsenal of many celebrities and beauty bloggers. Consider a Vitamin C serum as one of the products that you must have if skincare is serious business for you. And once you find the right one and experience the touted benefits for yourself, it will be hard to skip on it for even a day. To help further, we have curated this detailed list of the best Vitamin C serum in India with in-depth information so you choose the perfect one for your beauty bag with confidence. 
Price Comparison:
(Please use the table of contents below to jump straight to your preferred section. This is a lengthy blog)
#1 O3+ Agelock Vitamin C Serum India (Winner)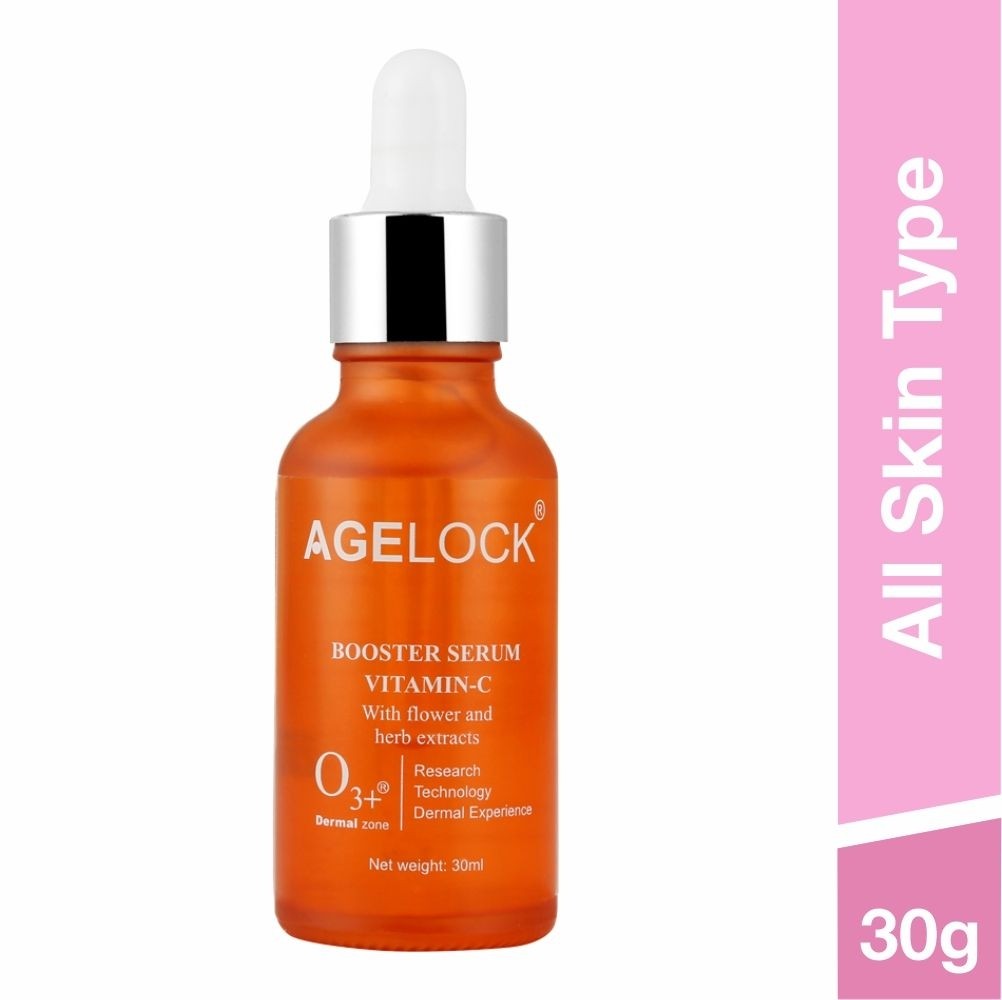 If you've come out of a salon looking all fresh & radiant, chances are the parlor lady used O3+ products on your face. With scientifically-backed and uniquely formulated products, their skincare range never fails to deliver results. And their Vitamin C Agelock serum range doesn't disappoint either. 
Physical Attributes & Quantitative Measurements: 
Packed in sturdy, colorful, and pump glass containers, O3+ offers packaging that doesn't let the serum oxidize easily. All the serums in the line have different vitamin concentrations, but the original one has 20% Vitamin C, the highest that any Vitamin C serum in India has. Each bottle has a 30 ml product and is priced in between Rs.1300/- to Rs.2000/-. 
Benefits & How It Compares To Others
O3+ is probably the only company on this list, who offers variations in their Vitamin C range. So, if a 20% concentration is too high for you, or you need to tackle some specific skin issues, there is a product to purchase from the lot. Here are 4 variations they offer: 
Original Agelock Vitamin C Serum (20% Vitamin C)

Agelock Vitamin C Plus AHA (5% Vitamin C + 10% AHA), (for open pores & scars)

Agelock Vitamin ACE (5% Vitamin C + Vitamin A 0.1% + Vitamin E 1%)

Last, Agelock Vitamin C Plus Protein (Vitamin C 5% + Protein 10%) 
Their products have evolved to cater to women with specific needs. Doesn't a company working to satisfy niche markets create a striking impression? I duly think so! 
Plus, all their facilities are based in India and manufactures products for people here. So, needless to say, it's one of the best Vitamin C serums in India for skin glow & pigmentation. 
I have had tried a few O3+ products myself, and loved them all! I have also bought their Vitamin C serum from Amazon. It got delivered within 4 days, and I started using it immediately. The product feels lightweight on the skin and the best part, it reduced my pigmentation spots visibly in just a week. 
Overall, I'd rate this product a 10/10, primarily because of these three reasons: First, it does what it claims, second, it doesn't irritate the skin, and third, the product has quality ingredients,  as promised. 
Purchase on Amazon here.  
#2 Klairs Freshly Juiced Vitamin C Drop Serum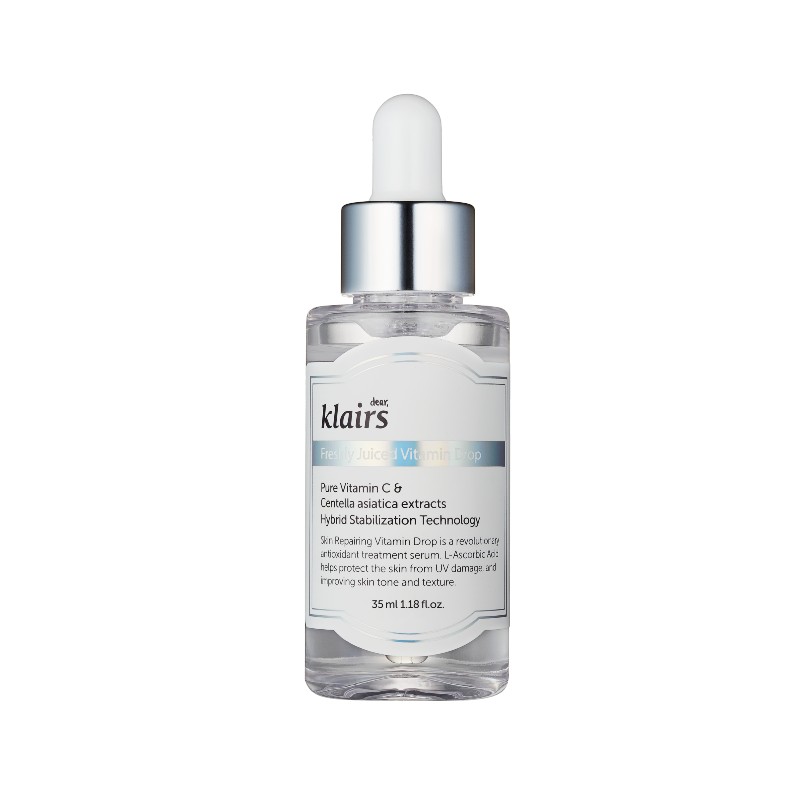 I have a Klairs fan in my friend group, and she just can't get enough of this K-beauty brand. She deems their Vitamin C serum and midnight blue calming cream as the holy grail for acne and its scars. She's right! Because I've seen the results on her skin myself. I ordered their serum soon after, and it was just perfect! Read on for more details and my experience.
Physical Attributes & Quantitative Measurements: 
Klairs pack their Vitamin C serum in a pretty clear bottle. Don't worry about the oxidization, because Korean technology has infused Vitamin C in its purest form in the bottle, a.k.a ascorbic acid, which's pretty stable and has a longer shelf life.  
Although, I'd still advise you to keep it in the shade, as no matter in what form, Vitamin C tends to lose its color to an ugly orange one easily. 
The bottle holds 35 ml of serum and will last you for over two to three months easily. The cost for this Vitamin C serum in India is Rs.1800/-
Benefits & How It Compares To Others
One of the primary benefits is the product based out of Korea. Their skincare game is far ahead of any country in the world, and you can trust the quality of ingredients in their formulations blindly. 
The 5% Vitamin C concentration is neither too much nor too little. It's perfect for beginners actually and those with sensitive skin. After application, I feel a warmth on my skin like my skin's loving absorbing the serum, and not getting angry with red patches. 
Although, the low concentration can also be considered as a drawback. Because once you're past the beginner level, and want to indulge in higher concentrations, there's no option but to ditch this perfectly curated product. 
This serum is also infused with Centella Asiatica extracts, also called Gotu Kala in Hindi, which speeds up skin cell production, boosts antioxidant activity, and boosts collagen synthesis. 
I'd like to rate this product 9/10. Minus 1 only because of the lower spectrum of concentration. I accept that in single-digit, Vitamin C can work better for some people, but on the other hand, Klairs can come out with a higher concentration product for those who need it and want to experience drastic benefits. The reviews say the same: 
"The texture is velvety & smooth. It doesn't irritate my skin and did lighten dark spots in a week. Although, I feel I can benefit more if the concentration is high" – says a reviewer on Soko Glam. 
Nonetheless, the beautiful formulation has no negative reviews whatsoever. All you can read is women raving about the benefits in the form of brighter skin tone, smooth, non-irritating texture, and tackling fine lines. I can vouch for these myself because I experienced the same with using the product. 
Purchase on Amazon here.  
#3 Derma Co. 20% Vitamin C Serum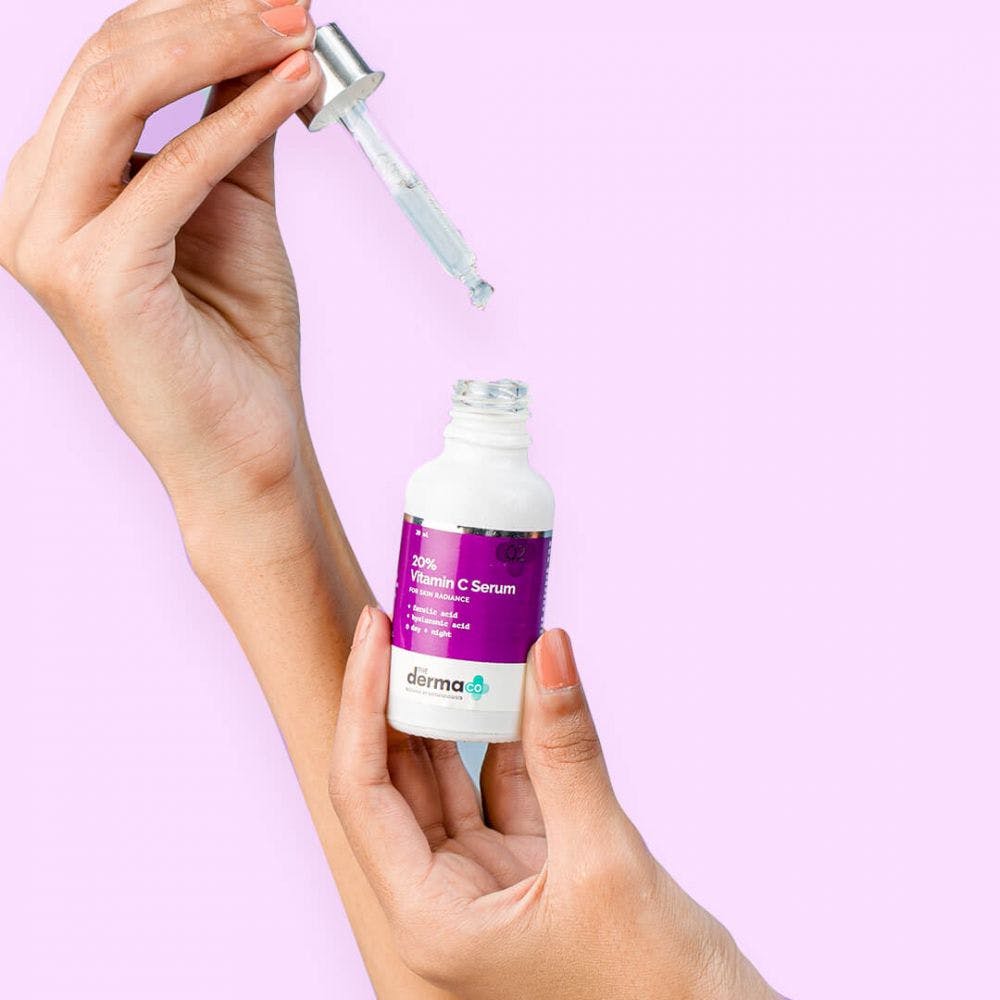 I follow a popular beauty columnist and author on Instagram, Vasudha Rai, and it's from her account that I discovered both Derma Co. and Dr. Sheth's products. The latter's Vitamin C serum is reviewed later on the list. Even though I haven't tried their products personally as part of the pandemic safety measures, but have heard some great reviews from the bloggers and on e-commerce stores. 
Physical Attributes & Quantitative Measurements: 
The serum bottle comes in opaque packaging with a blue label conforming to the company's branding. The main ingredients are all mentioned in bold letters on the packaging – 20% Vitamin C, Ferulic acid, and hyaluronic acid. 
The product contains 20 ml liquid and is priced around Rs.750/-. Even though the quantity is lower, so is the price, by the way, it's a great plus owing to the fact Vitamin C serums oxidize over time. 
Benefits & How It Compares To Others
Vitamin C in the form of 3-O-Ethyl Ascorbic acid promises stability and deeper penetration into the skin. You'll feel a slight tingling after application, but it's normal because your skin adjusts to the pH. 
Apart from Vitamin C, the product is enriched with ferulic acid, hyaluronic acid, and an uncommon but effective ingredient called granactive retinoid. Here's a breakdown of the specialty of each ingredient: 
The potent and pure form of Vitamin C stops melanin biosynthesis, treats pigmentation, brightens skin, and tackles premature aging. 

Ferulic acid stabilizes Vitamin C and intensifies its photoprotection and antioxidant properties. 

Hyaluronic acid retains moisture skin giving it a plump, healthier look. The gooey, oil-like texture of the serum is due to the presence of hyaluronic acid. 

Granactive retinoid is an advanced form of retinol that gently exfoliates the skin and increases cell turnover. 
The powerful, quality ingredients lend the awesome benefits of the product. Here are what some reviews on Amazon say:
"Consistency is perfect and it gets absorbed quickly. My acne scars of 6 years lightened with just a week of use" 
"My skin looks so bright after using it, and the uneven skin tone on my upper lips and forehead vanished completely. I'll recommend this product to everyone."
Coming to the drawback, it has a medicinal smell, a very non-pleasant one too. A common issue reported with the product. Lest all is amazing. 
And oh, all their products are dermatologist tested and reviewed, given their founders are doctors and skin specialists, that's why the name is Derma Co.
Overall Rating: 9/10
Purchase on Amazon here.  
Also See: Where To Buy The Ordinary In India + Their 10 Best (& 5 Worst Products)
#4 Dot & Key Glow Reviving Vitamin C Serum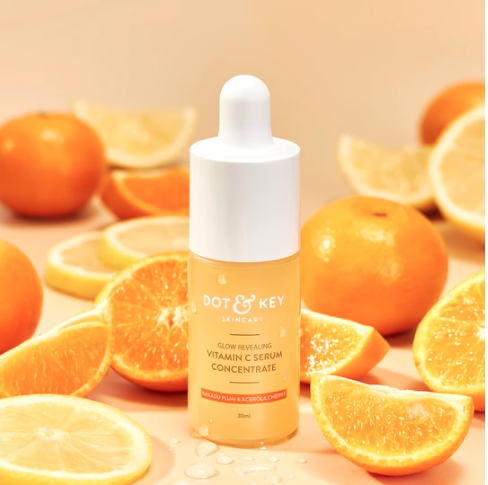 This Vitamin C serum concentrate is formulated with naturally occurring ingredients to provide you with the goodness of nature's bounty. The serum's Vitamin C is derived from acerola cherry and Kakadu Plum, the world's richest natural source of the vitamin. And is further mixed with hyaluronic acid, bearberry leaf extract, Vitamin E, and peony root extract to enhance its effectiveness on the skin. Made with advice from skin specialists, this is one of the best vitamin C serums in India recommended by dermatologists.  
Physical Attributes & Quantitative Measurements: 
Dot & Key packaging is always super-cute and appealing. Their Vitamin C serum comes in a lovely plastic dropper bottle with a lemon yellow shade on the outer side. The serum is clear and you'll have 30 ml of product for around Rs.800/-.  
Benefits & How It Compares To Others
First, I'd like to add that the serum is absolutely non-irritating to the skin. Thanks to their sensibly derived approach from nature. Around 4-5 drops are enough to cover your face and it will absorb in hardly 10 seconds. 
Second, the product delivers what they say! You'll notice brighter, healthier-looking skin in just a few days. And in a few weeks, the dark spots and premature aging on your face will fade away, like magic!
"I am always selective about my skincare products because I have a lot of acne. But this serum was very gentle and gave a beautiful glow to my skin with the very first use." – says one reviewer on Nykaa. 
"My holy grail for winters. It moisturizes the skin so well and keeps it deeply hydrated throughout the day. The first product I tried that mentioned 'glow' in their tagline and delivered it too. Super happy!" – said another reviewer on their website. 
Lastly, what impressed me the most about Dot & Key is their environment-friendly approach. All their ingredients are sustainably sourced and don't harm our furry friends or their habitat. Plus, they allow you to send back empty plastic covering of their products for reward points in their store. If you're looking for eco-friendly Indian brands, Dot & Key definitely leads the way. 
I noticed two drawbacks with this product. First, the packaging or the company doesn't mention the concentration of Vitamin C or the percentage of any other ingredient. Second, the smell is a little overpowering and might not suit those with overly sensitive skin. 
Overall Rating: 8.5/10 
Purchase on Amazon here.  
#5 Minimalist Vitamin C Serum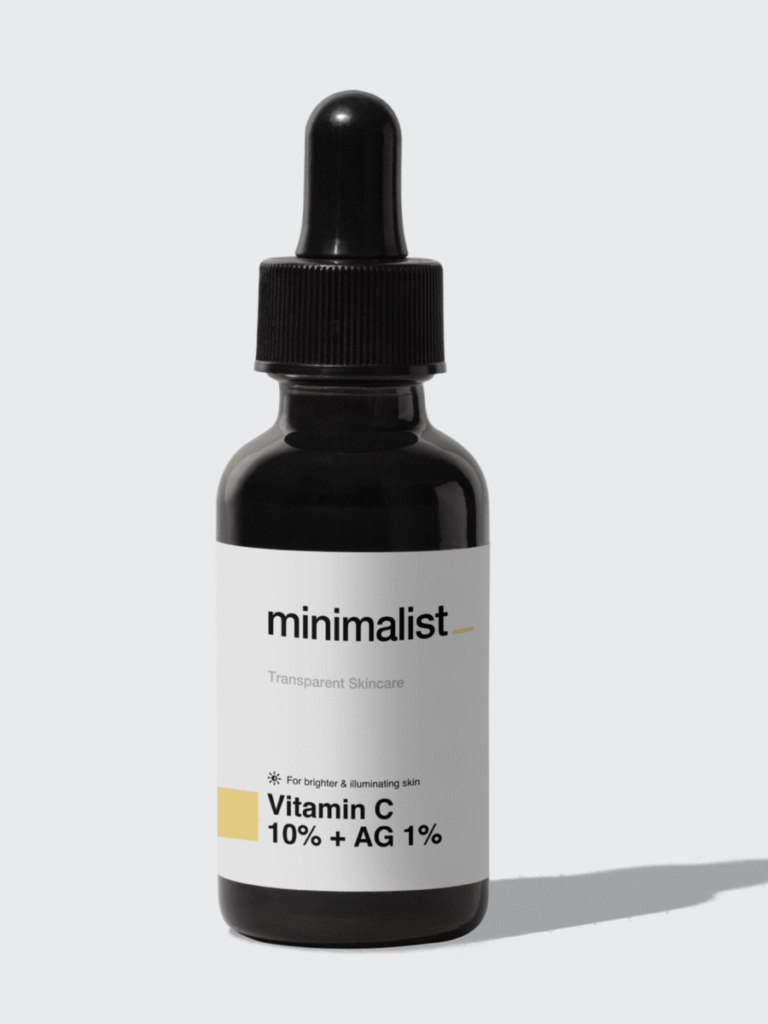 The Minimalist is a spot-on dupe for The Ordinary in India. Everybody knows it! We just said it. Anyways, just because a product is a copy doesn't mean it's not effective. Inspired by their simple one-ingredient formulas, The Minimalist Vitamin C serum is a no-bullshit product that does what it claims. Made with 10% Vitamin C in its purest form of ethyl ascorbic acid, the unique combination of ingredients seeps into the skin, gently exfoliates, lightens the spots, revives dull skin, and instantly hydrates and plumps the skin. 
Physical Attributes & Quantitative Measurements: 
The serum comes in The Mininamalist's customary black and white packaging with the key ingredients and their percentage mentioned in bold on the top. The glass bottle and dropper are easy to store and use. The instructions mention patting 2-3 drops on freshly washed skin and wait for 1-2 minutes before moisturizing. 
There's 30 ml of serum in the bottle and it's priced at Rs.695/-.
Benefits & How It Compares To Others
I think what makes it different from the others is the unique combination of ingredients that hold 10% Vitamin C. The serum is made in Centella water that gently hydrates and soothes the skin. 
Next, it also has 1% acetyl glucosamine, a precursor of hyaluronic acid, that plumps the facial skin and helps retain the moisture. Then, there are other humectants (substances that preserve moisture), like ethoxydiglycol, glycerin, xanthan gum, etc. It also has lecithin – a penetration enhancer that helps absorb the product molecules into the skin.
All this – and more – makes the Minimalist's Vitamin C serum in India a favored product among women. 
I currently use this serum at night, and follow it up with their Arbutin serum and moisturize with my trusty Embryollise moisturizer. I feel the combination of Vitamin C & Arbutin have worked beautifully to lighten my pigmentation spots, even the skin tone, and give a brighter looking skin.
There's hardly any drawback of the product, except that there are chances it's not 'the one' for you. My overall rating will be 9.5/10 for this budget-friendly Vitamin C serum in India. 
Purchase on Amazon here.  
#6 E'clat Superior Vitamin C Serum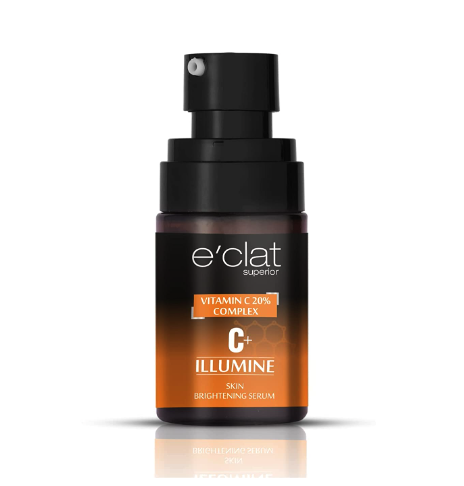 E'clat Superior is an Indian brand offering multiple skincare products – all with one goal, to create products that deliver long-lasting results and use effective science-backed formulations. "Beauty has to be more than skin deep" is their philosophy and the products stand by the motto of the company. Their 20% Vitamin C serum is one of their first-launched products and is highly rated among users as one of the best Vitamin C serum in India. Find below a complete review of the product.  
Physical Attributes & Quantitative Measurements: 
The E'clat Superior Vitamin C Serum comes in a dark bottle with orange label on the top and a pump to conveniently dispense the product when needed. It comes in only one size – 30 ml, but they are often giving out free samples of their products along with the serum, like sunscreen serum or niacinamide serum. All the details of the product are mentioned on the outer box packaging and the bottle only contains the necessary information like expiry date and main ingredients, etc. The price of the product at the time of the upload of this article is Rs.1320/-. 
Benefits & How It Compares To Others:
The E'clat Superior Vitamin C Serum contains 20% Vitamin C serum, which is a good concentration of Vitamin C to deliver results on the skin. 20 percent is a soft spot and the best amount in serum to deliver results, any higher will not increase the benefits anyway. The serum also has Vitamin E and ferulic acid as the star ingredients. Ferulic acid has been proven to stabilize the highly unstable Vitamin C, and E serum and also amps up the photoprotection properties of the beauty formulation. Adding Vitamin E to C serum also boosts the antioxidation benefits of the serum to effectively fight both free radical and UV damage. 
The serum also contains witch hazel, a plant-based ingredient to soothe irritation, and damage, and improve the moisture of the skin without making it oily. Witch hazel makes the ingredient a perfect Vitamin C serum for oily skin in India because it balances sebum production as well. For an extra dose of moisture, it has humectant hyaluronic acid and emollient jojoba oil. Humectants draw moisture from the environment and add to the skin while an emollient forms a protective layering to trap the moisture. Further, the aloe vera extract adds a water-like consistency to the serum to make it absorb better! 
"I like this serum because it absorbs very quickly, has no smell, and does give some results in a few weeks. I also like the competitive price of the serum. I apply it in the morning and it makes my complexion better and also makes the skin glowy. I've purchased a second bottle because I am satisfied with this product. You just need a couple of drops so the product lasts longer than a couple of months. My only problem was the shaky packaging the second time I bought the serum. Rest all is okay! Certainly one of the best Vitamin C face serum in India. Do yourself a favor and buy it," writes one of the reviewers on Amazon. 
Purchase On Amazon Here. 
#7 Sesderma 

One of the best Vitamin C serums recommended by dermatologists in India is the Sesderma. The company is founded by a dermatologist himself and was founded in the year 1989 in Spain and slowly worked its way globally. Sesderma entered India in 2012 and has only seen love pouring for its products since then! One of their highly-recommended products is the Vitamin C serum in India, which can also be found on the endorsements of many skincare bloggers and influencers. It's not a budget serum, but it delivers what it says and can be great for sensitive skin as it's curated by a skin doctor himself. Read on to see the full review of the product. 
Physical Attributes & Quantitative Measurements: 
The Sesderma Vitamin C serum in India comes in a dark brown bottle with a dropper delivery system. It's outer-packaging is done in orange which is common color branding for Vitamin C because of the color. Most of the details are mentioned in the outer carton, with just a few details on the bottle itself. There's only one size of the product – 30 ml, and it's priced at Rs.2850/- at the time of the upload of the article. 
Benefits & How It Compares To Others:
The Sesderma Vitamin C serum offers the skincare superstar in the form of ascorbyl glucoside, a derivative of L-ascorbic acid, and a much gentler version of Vitamin C. It's perfect for men & women with sensitive, irritated skin as they can reap the benefits of this star ingredient without having to go through its common skin-irritating attribute. This derivative is also lightweight so you can easily layer the products without any discomfort. Moreover, it's a much more stable form of Vitamin C and also has more skin-brightening effects than other derivatives. 
Another great attribute of this serum is the liposomal delivery system. Liposomes are microscopic vesicles made up of a phospholipid bilayer, similar to the structure of cell membranes. In skin care, liposomes are used as delivery vehicles for various active ingredients to improve their efficacy and penetration into the skin. They are also known to improve the stability of the potent ingredients and increase the dermal adhesion of the skincare product. Both of these amazing benefits of the product help the serum do what it claims – increase skin protection, reduce aging, and give a brightened, even skin tone. 
"My main skincare concerns have always been dull and uneven skin. After two weeks of using this product, I can see stark changes. I have people telling me my skin looks better. It certainly does what it claims and I can't recommend it enough! I know it's not pocket-friendly but I am more of someone who buys products based on the results rather than the price. I can't say how much it works for other skincare concerns, but for dull, lifeless skin, this Vitamin C serum in India is a gem of a product," writes one of the reviewers on Amazon. 
Purchase On Amazon here. 
#8 TruSkin Naturals Vitamin C Serum

Based in the United States, TruSkin Naturals was founded in 2013 with a range of products that are designed to improve the appearance and health of the skin. Their range includes cleansers, serums, moisturizers, and eye treatments that are formulated with natural and organic ingredients. The brand's products are vegan and cruelty-free and do not contain synthetic fragrances, parabens, or sulfates. One of TruSkin's most popular products is their Vitamin C Serum, which is formulated with a blend of vitamin C, hyaluronic acid, and vitamin E. Find a complete review of this one of the best Vitamin C serum in India. 
Physical Attributes & Quantitative Measurements: 
The TruSkin Naturals Vitamin C serum comes in a dark glass bottle with a dropper delivery system. The instructions say 3 to 5 drops are enough to apply on a full face, so the products will last for a good 5 to 6  months if you use it once a day. It comes in orange-colored outer packaging but unlike some other brands, you can find the complete list of ingredients on the bottle as well. The price of the product at the time of the upload of this article is Rs.4093/- for 60 ml. Although, you can get a cheaper price if you get it straight from USA. The custom duties increase the price when sold in India. 
Benefits & How It Compares To Others:
The TruSkin Naturals Vitamin C product didn't just make it to our list of best Vitamin C serums in India, but can be found in many other global lists. In fact, when you will go to a global site, like Amazon or Cult, and type Vitamin C serum, you will see this serum making it to the top of the list there as well! I think it says a lot about how this serum has worked for a wide variety of skin types and helped many women reach their skincare goals expected from a potent ingredient like this. Also, if you have been eyeing SkinCeuticals Vitamin C and E serum, you'd be happy to know it's an affordable dupe for the same. 
This best Vitamin C face serum in India also uses a water-soluble derivative of Vitamin C, which is the most stable form of this star ingredient, so a large bottle will go on for a longer time without getting oxidized. It also has a pH that mimics the skin's pH closely so doesn't cause any sensitivity or irritation. What's more! The addition of Vitamin E and hyaluronic acid along with some other goodie ingredients like gotu kola, geranium, witch hazel, etc. further enhances the antioxidant, brightening, and moisturization properties of the skin. 
"I have rosacea so I have to be mindful while picking any skincare products. This one looked promising and thankfully, it didn't irritate my skin at all! I mix a few drops of it into my moisturizer. I consulted with my dermatologist before doing this. I apply this mixture to my face and wake up with brightened, youthful skin. It hasn't caused any flare-ups, instead, I think it's just helping my acne. I will be purchasing a second time surely. No complaints about this product. If it's working for my sensitive skin, it will surely work for normal skin types. Just go ahead with it!" writes a reviewer on Amazon. 
Purchase On Amazon here.
#9 St.Botanica Vitamin C Serum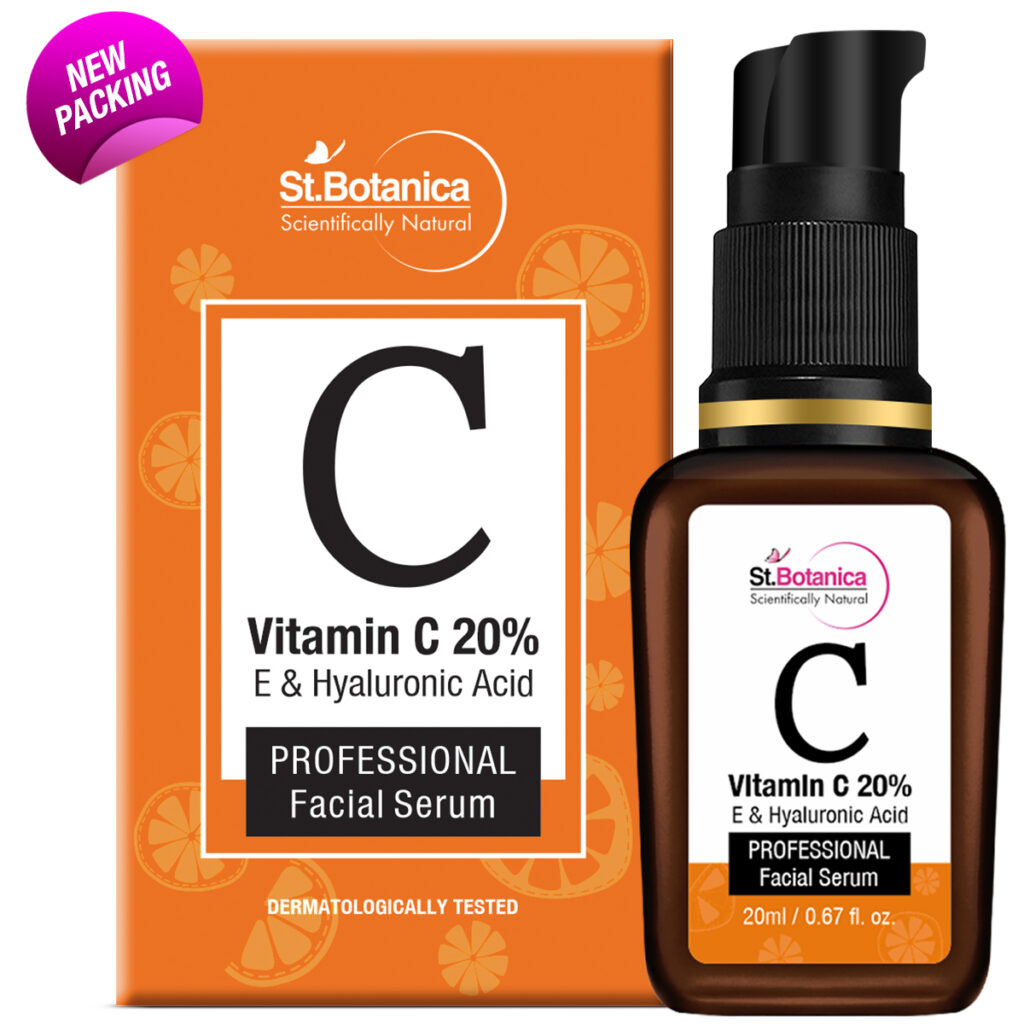 A dermatologically recommended Vitamin C serum in India, St.Botanica has outdone themselves each time I've tried their product. An Indian-based purely natural and organic brand, built on the principles of holistic healing and Ayurveda and part of PETA's beauty without bunnies programs, the company is definitely one of a kind to come across. My favorite among their vast skincare line is Vitamin C micellar cleansing water and 20% Vitamin C serum. They sure know how to work well with the vitamin to impart its benefits to facial skin, and here's a detailed review of their serum to convince you of the same.  
Physical Attributes & Quantitative Measurements: 
The professional serum comes with a brown, non-transparent bottle with a built-in pump to ensure comfortable product application. The product is priced at Rs.999/- for a 20 ml bottle. So, it's a little higher in the price range than other serums on the list. 
Benefits & How It Compares To Others
Despite a high concentration of Vitamin C in the product, 20% of ascorbic acid, this brightening serum is safe for sensitive skin and doesn't cause any irritation. As a beginner, you might notice some tingling, but it will subside as your face becomes used to the potent ingredient. 
The reason being the serum is formulated with many calming ingredients that make it safe for beginners to use as well. Some of them being aloe vera, Centella Asiatica, green tree extract, and bergamot essential oil. 
The skin feels instantly smooth after application. I must rave; I am impressed with the drastic effects on my face after using it. In just a week, I noticed a decrease in my pigmentation spots on cheeks and a reduction in a few eye wrinkles; although I cannot fully attest well for the latter, because I am young. xD
 The rating for this product is 9.5/10 and I recommend getting your hands on it as soon as you can. 
Purchase on Amazon here.  
#10 Himalayan Organics Vitamin C Serum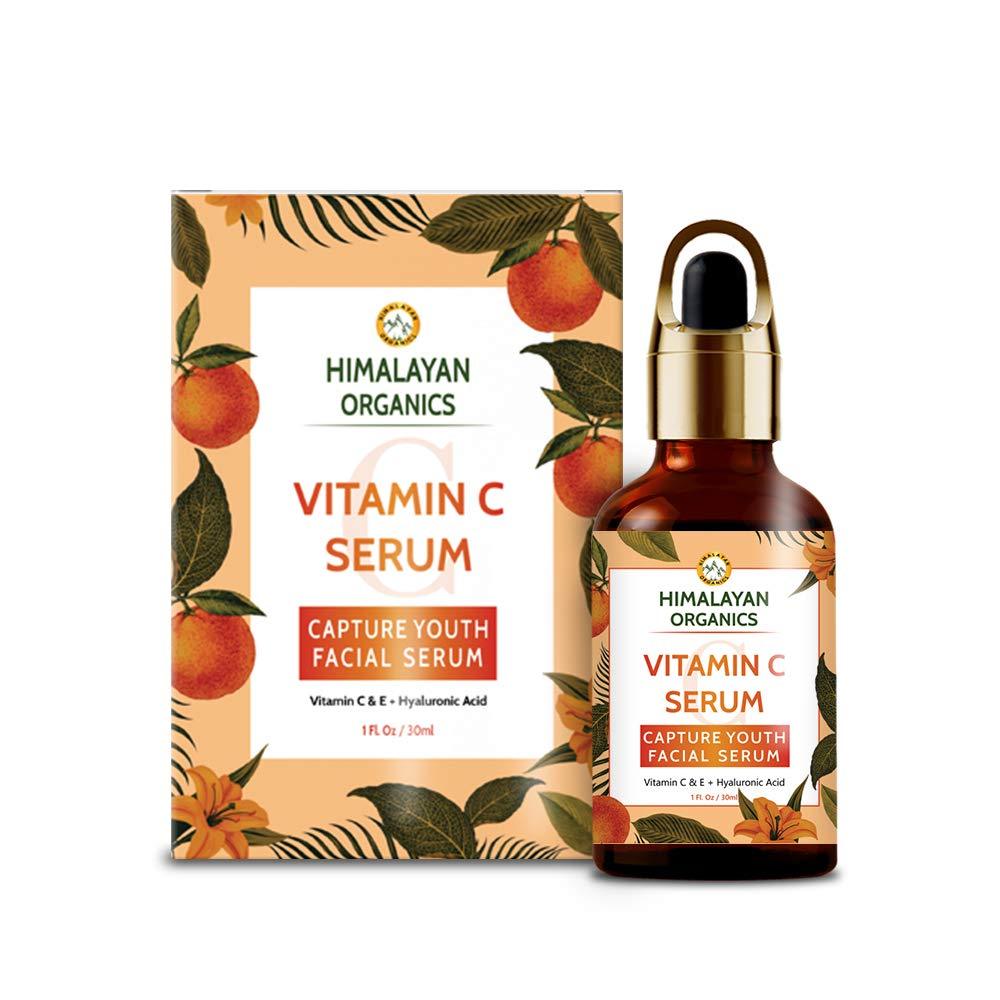 The last, but not the least, one on this list is the Himalayan Organics Vitamin C serum. The company is a well-known and trustworthy one in India with crores of people trying and experiencing results with the brand on a daily basis. I'm a religious user of their vitamins, especially Biotin, which has enhanced my hair health well with time. Their Vitamin C serum is next on my list and I'm already excited to try it owing to all the positive reviews of the product. 
Physical Attributes & Quantitative Measurements: 
The product comes in an airtight container and a dropper bottle that ensures this finicky ingredient stays stable. The whole design is symbolic of a rustic, natural feel – owing to the company's sensible sourcing of products from the bounty of Himalayas. You'll get 30 ml of product for ~ Rs.950/-. 
Benefits & How It Compares To Others
This gentle formula for all skin types is developed in partnership with dermatologists, contains Vitamin E and hyaluronic acid along with Vitamin C to restore the skin's protective barrier, infuse it with powerful antioxidants, and improve it over time. The pretty doses of such good ingredients are like an antioxidant triple threat, which your skin will thank you for!
Staying true to their Indian roots, there's also the goodness of ashwagandha, moringa, and Gotu Kala in the product. Ayurvedic ingredients penetrate deep into the skin and take the other ingredients of a product with them. This promises deeper absorption and better nutrient delivery to the skin with topical application of products. 
The serum shows effects well within a few weeks of application. Apart from the skin brightening effects, you'll also notice disappearing fine lines and a plumping effect. See what reviewers are saying: 
"I am 35, and I can say it reduced the fine lines and pigmentation on my face well. Totally fulfills what it claims and I'll be re-buying in again & again" – says one reviewer on Amazon.
"I have very oily acne-prone skin and this serum didn't irritate my skin at all. In fact, it absorbed beautifully with a gentle massage. I've noticed a decrease in prominence of the fine lines under my eyes and I highly recommend this to all." – says another reviewer on Amazon. 
Overall Rating: 9.5/10 
Purchase on Amazon here.  
#11 Biocule Spotless Vitamin C Serum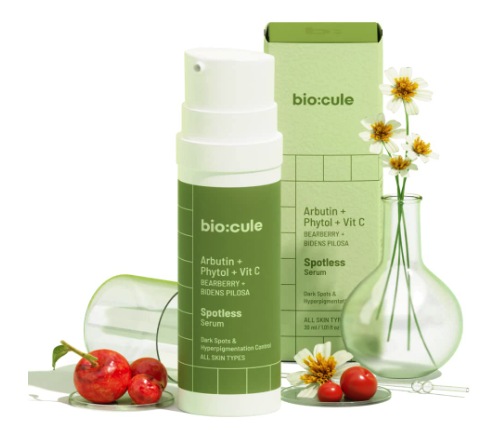 If you're looking for the best Vitamin C serum in India under 500, Biocule makes the cut! It's a start-up but has slowly but amazingly risen in the competitive Indian market. Their brand philosophy is simple bio + (mole) cule, which basically means a combination of natural molecules with authentic scientific research to meet your beauty needs. Their motto is engraved in each one of their products, like the Vitamin C serum, which gets Vitamin C from Kakadu plum, a native Australian fruit with the highest concentration of Vitamin C than any other food in the world. If you're impressed with this element, there are many others ready to blow your mind. Find a complete review of the product below: 
Physical Attributes & Quantitative Measurements: 
The Biocule Vitamin C serum comes in an opaque bottle with a pump delivery system. It has a green packaging and branding, unlike other brands which generally have orange shade branding signifying the hue of the ingredient too! You need only 2 to 3 pumps to cover your whole face, so even the smaller bottle should last for about 2 months. There are two sizes for this product – one is 15 ml priced at Rs.299/- and 30 ml priced at Rs.549/-. 
Benefits & How It Compares To Others:
The combination of ingredients in this one of the best Vitamin C serum in India is quite unique and consists of Vitamin C, phytol, and arbutin. All of them are derived from plant sources – Vitamin C is derived from the Kakadu plum, phytol is derived from Bidens Pilosa, and arbutin from Burberry. Vitamin C from plant sources works just as well from chemical sources and in fact, can be gentle on the skin. 
With its other ingredients, the serum works to achieve the goal of spotless skin. It contains arbutin, which reduces the activity of tyrosinase, an enzyme that aids the production of melanin, and phytol, which limits the production of alpha-MHS (melanocyte-stimulating hormone). Both of these ingredients in combination with Vitamin C work to reduce any dark spots, and uneven skin tones and brightens the skin with consistent usage. 
"I have used this product every day on my face for the past month after cleansing and eye cream. I follow up with a moisturizer and my skin has definitely improved. I only tried it because of the price because even if it didn't work, I wouldn't feel bad for spending the money and it did work wonderfully! Just 3 drops go a long way and it absorbs quickly so I don't have to wait for long before applying my moisturizer and sunscreen. I haven't noticed a reduction in my marks (I think it's too early anyway), but I have noticed an improvement in slight fine lines and hydration. For the cost, it's a solid product," writes one of the reviewers on Amazon.
Purchase On Amazon Here. 
FAQ's
Why should one use a Vitamin C serum?
A Vitamin C serum does a lot for your skin – from brightening, lightening the skin tone to protecting it from aging and free radicals. There's a ton of research that proves its effectiveness in topical form and skin doctors all over the world love it as well. Here's one of the doctors talking in brief about what's Vitamin C, how does it help, and which form should you choose to get the most out of the serum. 
Benefits of a Vitamin C serum:
A Vitamin C serum hydrates the skin and quenches its thirst for moisture. All because of its ability to strengthen the skin's barrier and prevent transepidermal water loss.

A Vitamin C serum reverses the photodamage on the skin. A research

study

demonstrated considerable improvement (more than 60%) in skin issues like pigmentation, rough skin, and wrinkles after 3 months of regular topical use of a Vitamin C active. 

A Vitamin C serum brightens your complexion by improving the appearance of dull skin. A 2020

study

proved Vitamin C and Vitamin E's radiating skin effect along with improvement of wrinkles in subjects of research. 

A Vitamin C serum treats dark spots and pigmentation. The ingredient is well-known to block the production of melanin and treats acne spots, blemishes, and uneven skin tone quite effectively. 

A Vitamin C serum is a powerful antioxidant that is anti-inflammatory and boosts collagen and elastin synthesis. Over time, this results in an increased elasticity for the skin. 
At what age should we start using a Vitamin C serum
Your early 20s are probably a great time to start using Vitamin C serum. Between 25 -27, you must make it a part of your skincare routine. What product you want to try depends on what your concerns are, and what suits you. To ensure a proper moisturizer and sunscreen are a diligent part of your skincare before you start using a Vitamin C serum. 
Should You Use A Vitamin C serum every day?
If you're a beginner, don't use it twice a day. Instead, make it a part of your routine slowly. Start out with applying it once on alternate days. Then, move up to once a day. That should be good enough for some, but you can, of course, use it twice a day depending on your concerns. Most dermatologists will recommend daily use in the PM with 3-5 drops massaged on the face & neck area, left on for 5 minutes, before following up with a moisturizer.  
Can't we just use Vitamin C-infused cream instead of a serum?
No, you can't. Serums are potent formulations that deliver high-quality ingredients directly to your skin while moisturizers just lock in the hydration. Both are created completely differently and cater to distinct facial skin needs. Sure, you can use a moisturizer with Vitamin C as an ingredient, but it won't deliver the same effects as a serum. Both have a separate place in the skincare spectrum and should be treated as the same.
How much concentration of Vitamin C should we use?
For visible results, it's advised to use a concentration of 10% or above. As a beginner, you should start with a 10% solution then move up to 20% or higher as tolerated. The sweet spot can be anywhere between 10% to 20% for you depending on the skin's sensitivity towards the ingredient. Also, don't feel that only a higher concentration will impart the abundance of benefits of Vitamin C. For some, lower is better. And anything higher than 20% doesn't increase any benefits whatsoever. 
Is Vitamin C serum good for pimples?
Vitamin C serum is the easiest and the best way to provide your skin with a healthy dose of this powerful antioxidant. The ingredient is anti-inflammatory and reduces any redness or inflammation related to pimples. One of the reasons for acne is also rough and unstable skin's microbial balance, which Vitamin C can resolve and heal. Besides these active acne benefits, the antioxidant also promotes the production of collagen and can cure pesky acne scars.
Conclusion:
That's it for our detailed article on the best Vitamin C serums in India. Before signing off, I'd just like to reveal my favorite from the top 10. It's *drumrolls, please* Minimalist Vitamin C serum. I think the company has done a fab job curating the product with the highest-quality Vitamin C, stabilizing it well, and pricing it reasonably. Not to mention, it delivers all the results Vitamin C is popular for. 
Although, while navigating the skincare aisle for Vitamin C, I'd advise you to keep your skin type, concerns, and quality in mind. 
Hopefully, this blog answered any question you had about this miraculous product. However, if you have any other queries, feel free to drop them in the comments section below and I'll get back to you sooner than you think. Signing off! xD