While wedding trends change every season, this year was different. Just like all the other facets of our life, the pandemic had a significant impact on the wedding industry as well. It re-shaped many aspects of wedding planning, which probably will be continued in the next year. 2020, you'll not be missed, and 2021, we are expecting a lot out of you. For couples planning their wedding and for wedding vendors, being aware of the 2021 wedding trends can make your journey to the big day a lot easier.
As we bid goodbye to the big fat Indian wedding and welcome small, meaningful wedding ceremonies, there is a lot to look forward to. Think about allocating a better budget for your trousseau, honeymoon, and spending more time with people you love and care about. Change is good, and we're excited for what's to come. Here are some trends that can rule 2021, and beyond.
Intimate Weddings: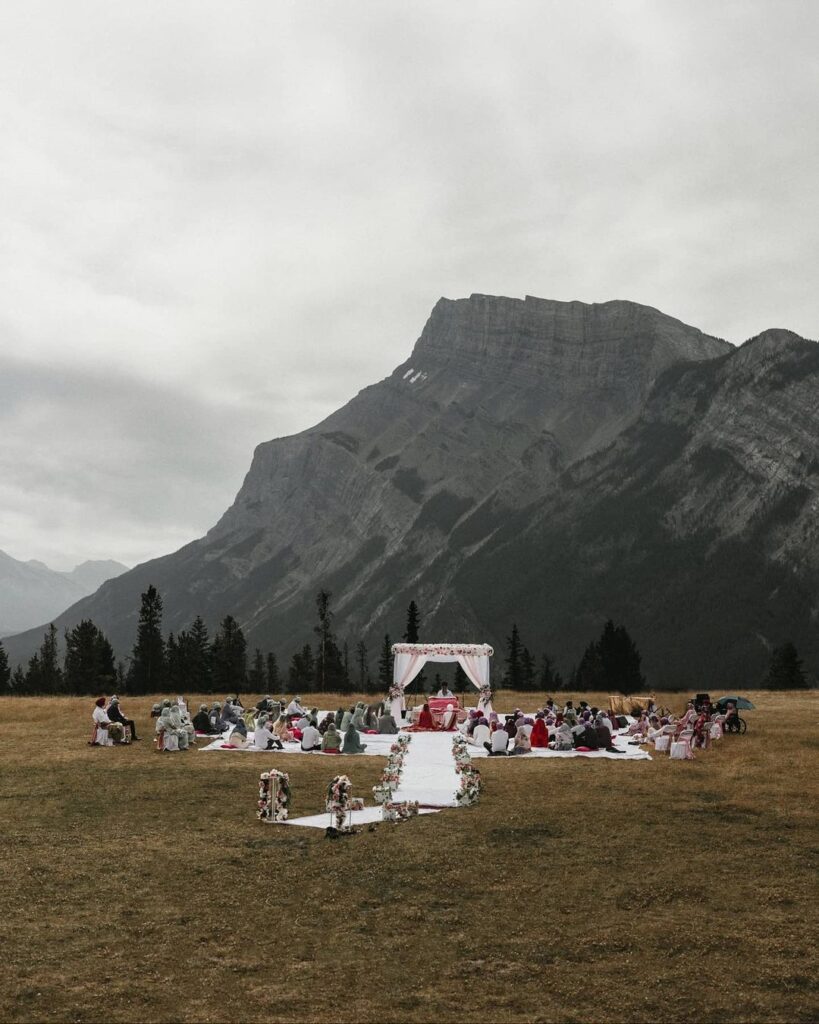 That's a given. With the pandemic still affecting our lives, the smart and safe way is to have a wedding with 50-100 people in presence. Earlier, having a small wedding in an Indian community was close to impossible. And a small wedding would still mean 300 to 500 people. Many brides have come to us expressing their gratitude for the drift towards small ceremonies. It's like a savior from relative drama and futile monetary expenses.
Since everyone is realizing the many advantages of intimate weddings, it might continue even after the pandemic is over. The slower drift is more towards happy, worthwhile ceremonies than over-the-top weddings. And this cheery aura is exuding from the pictures we've been receiving from couples lately.
Effortless, Designer Wedding Outfits:
By kicking the hassle of managing hundreds of wedding guests, couples and their families can concentrate more on themselves and what they want out of their celebratory events. Brides now have a significant budget to allocate to their bridal trousseau. And they are looking to invest it in the designer lehengas and jewelry they've been eyeing for the longest time. All high-end designers have reported receiving more inquiries during 2020 than ever before. They also outlined the bride's preference for simple, effortless, and statement lehengas.
Moreover, bride-to-be's are also leaning towards textile handlooms like benarasi, chikankari, silk, and zari. Not only do they offer a delicate elegance to the wearer, but also support our karigars during these trying times. So, for bridal wear – designer, effortless, and traditional handwoven fabrics will be big in 2021.
Sustainable & Eco-Friendly Weddings: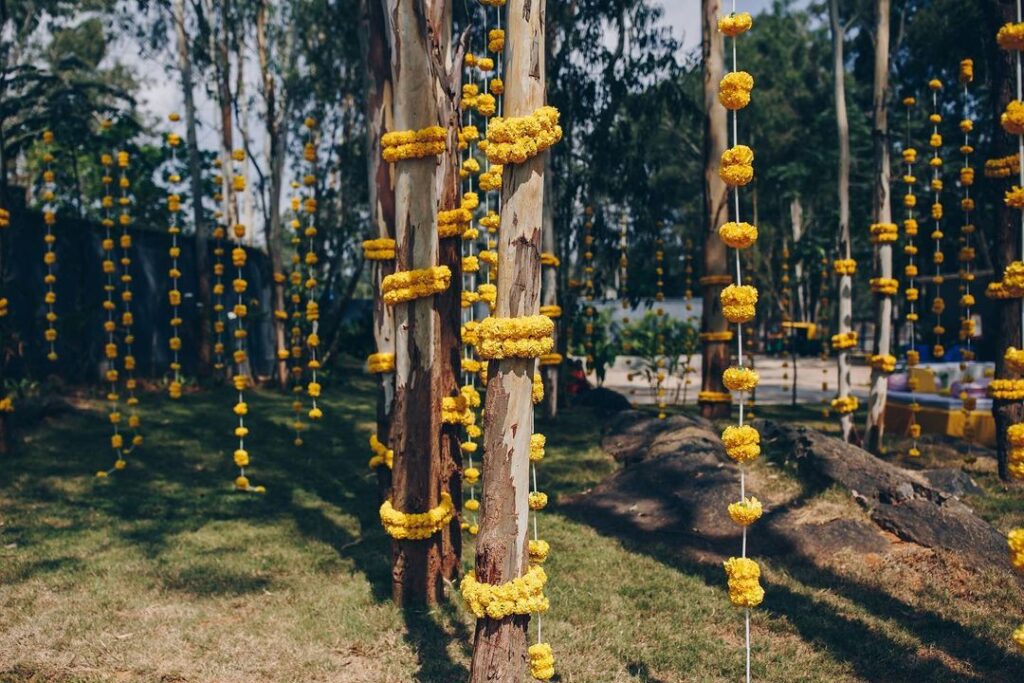 Coronavirus made us draw parallels between what it has been doing to us versus what we have been doing to our planet. It has made us shift our thinking inwards rather than outwards. And more of us are making conscious changes in our everyday life to create a sustainable future. This includes weddings. Couples are making an effort to reduce wastage, include eco-friendly elements and source produce from local vendors to embrace celebrations that are as sustainable as possible.
And it's easy. People generally have an idea that environment-friendly measures are time-consuming and difficult to apply. But they just require a few tweaks. For instance, having biodegradable plates, hosting a day wedding, donating extra food to an NGO, gifting plants as wedding favors, and using flowers for decor instead of confetti.
Top Hotel Chains As Preferred Wedding Venue:
Marriage gardens and halls generally require calling caterers and decorators from other locations. This also demands couples or their family members to become more involved, physically, with these vendors. The pandemic in the picture makes it a risky affair. So, couples are more in favor of hiring a top hotel chain as their wedding venue. Because of their global business, they have strict safety protocols in place and have packages with caterers and decorators already in place. This makes it a win-win situation for couples.
Top hotel chains also have aesthetic surroundings that make a stunning background for your wedding portraits. Whether you're planning local nuptials or a destination wedding, a renowned hotel can prove to be your best bet.
Florals & Concept Lighting: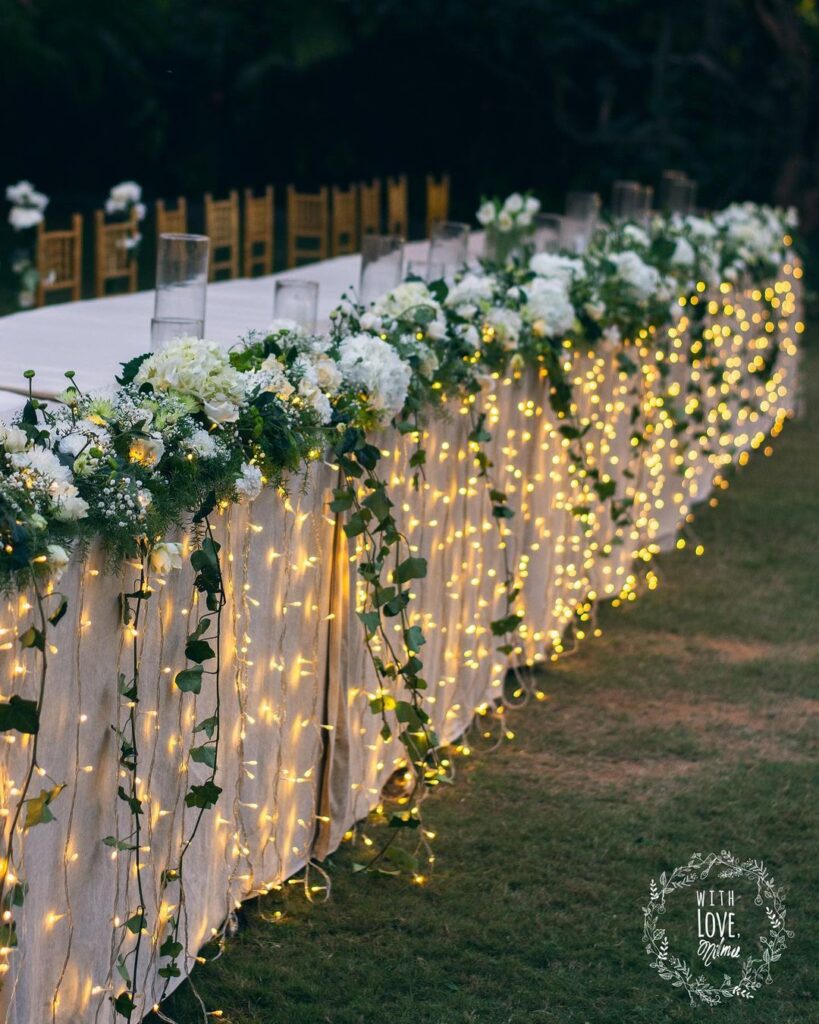 Floral decor, lush greenery, and concept lighting are obvious trends in wedding decor. They're hot not just in Indian weddings, but in the wedding industry all over the world. Hanging floral arrangements at the entrance, voluminous foliage mix as the stage decor, or concept lighting around the seating arena – all add a romantic, sentimental touch to the wedding arrangements. And the best part – they're also easy on the pockets.
For floral arrangement, light pastel colors are in most demand, followed by colorful arrangements. Couples are also insisting on sourcing flowers from local vendors and adding a personal touch to their arrangements. And since outdoor, spacious weddings are becoming popular, there's no better way to set a magical touch than concept lighting. Let the freshness and brightness set in.
Local Honeymoon Destinations:
Travel restrictions have been put in place in many countries. Coronavirus is also mutating to different strains, which makes it preferable to enjoy a local honeymoon. You can obviously drift off to those far-flung romantic destinations once the pandemic is over. Consider this as the first part of your honeymoon, and look forward to another magical trip.
There's a boost in local exploration, by couples and other travelers alike. It can be a short trip to a nearby luxury hotel, an adventurous trip to a wildlife resort, or an extended trip to a nature-driven destination. Newlyweds in 2021 should start exploring their local options and find the one that suits their personal preferences the best.
All in all, 2021 will be all about 'do it your way'. Couples are discarding the rule book, being spontaneous, and planning the details that fit into their idea of a dream wedding. Now, it's all about savoring each moment of your big day your way, like it should have always been.