Destin, Florida is a popular choice for honeymooners and the perfect tropical paradise to soak in some quality time together as newlyweds. Also known as the "World's luckiest fishing village", one quick Google search will reveal the city's stunning beauty with white sand beaches, emerald green waters, and a quaint atmosphere palpable through the pictures themselves. There's no shortage of things to do and world-class accommodations to make your romantic trip the best one ever! Find some of the best honeymoon resorts in Destin, Florida, and must-try activities in our latest edit.  
Best All-Inclusive Honeymoon Resorts In Destin Florida
#1 Henderson Beach Resort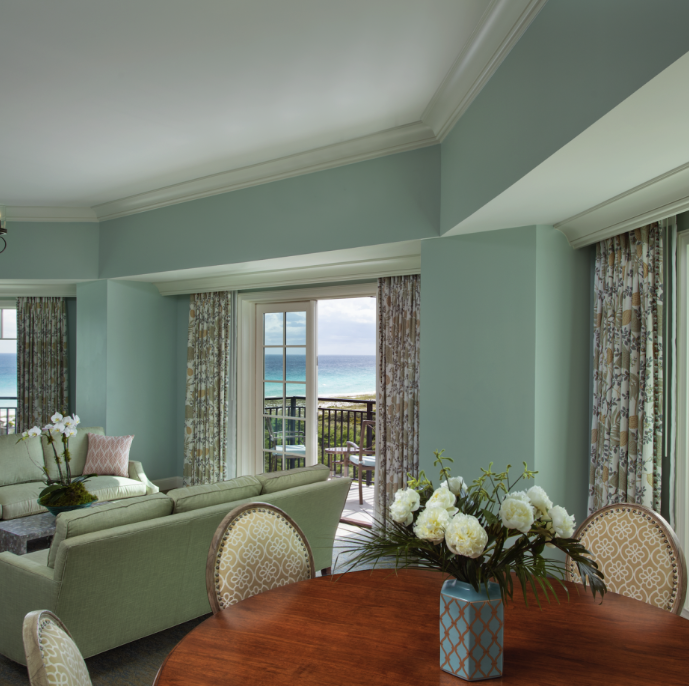 Nestled in the pristine 200 acres of the gorgeous Gulf of Mexico shoreline, the Henderson Beach resort is one of the few 4-star hotels in Destin. The accommodation is located just next to Henderson Beach State Park, which is a 208-acre area that's preserved in its natural state, and also offers private beach access to its guests. This 170-room hotel offers a number of accommodation options to its guest, but its Hagerman Suite with 1226 square-feet area, a deep soaking tub, a spacious living room, and 360-degree views of the Gulf of Mexico is one of the best ranked among couples and a much-coveted Destin, Florida honeymoon suite. 
Other amenities of the resort include a lively dining scene with a rooftop bar, a sea-facing restaurant serving freshly-caught seafood, and a cafe serving fresh Starbucks coffee. Alongside, you will also find a 10,000 square-feet spa offering a range of extensive treatments including a couple's massage which involves private time in the spa's suite with balcony, shower, and chocolates. Plus, it's one of the all-inclusive honeymoon resorts in Destin, Florida which offers you a number of options when you book a package like discounts for extended stays and spa credit! 
Average Rate Per Night: $900 per night
Find ratings & reviews here. 
#2 Wingate by Wyndham, Destin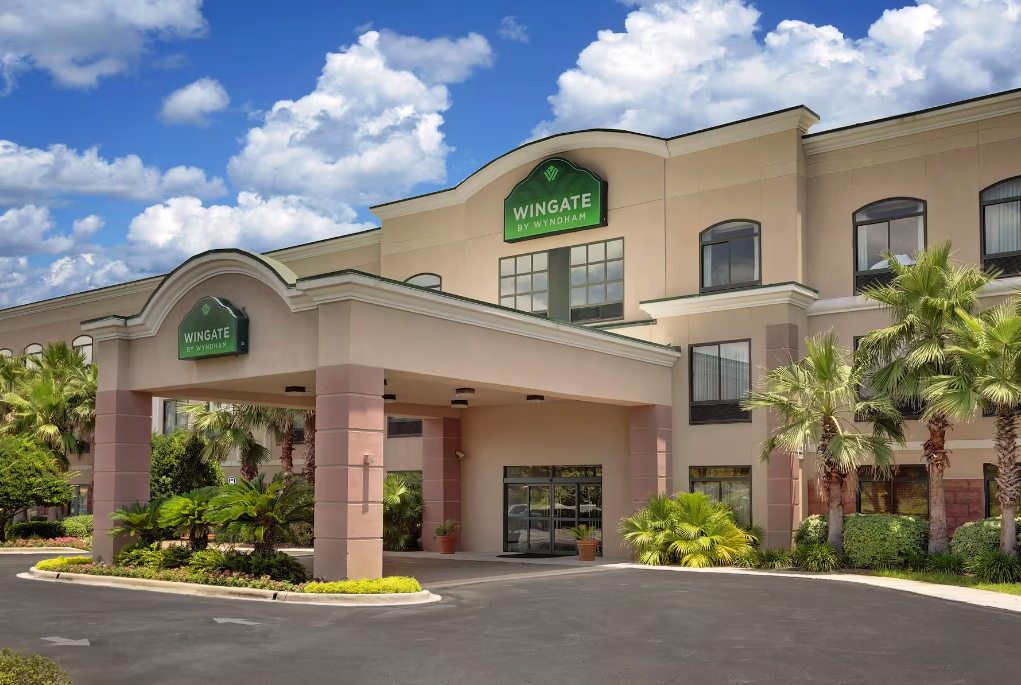 The Wingate by Wyndham is a chain of Wingate hotels located in this scenic part of the sunny state! The hotel is known for its modern amenities, comfortable stays, five-star service, high-speed Wi-Fi (because its main target market is business travelers), and free hot breakfast. Their establishment in Destin is one of the most popular Destin, Florida honeymoon resorts and has been rated an 8.9 for their two-person trip. While they don't offer any curated Destin honeymoon packages, they do have many deals which can be seen in their "Deals" section. Some of the popular ones include staying 3 nights and getting 2 nights free or staying 3 nights and earning a $100 credit to use at the hotel! These offers can help you save considerably on your Destin, Florida honeymoon resort. 
Some of the amenities at the hotel include on-site laundry, an outdoor pool, early check-in, and free breakfast. Here's what a couple who stayed for their honeymoon wrote as the review, "My husband and I stayed for our honeymoon and it was great! Awesome, tasty breakfast every day. Fresh linens and towels were provided without asking. Courteous staff who were always willing to help and delicious breakfast every morning. We also had a great package deal so we only had to pay for 5 nights even though we stayed for 8. We definitely recommend it!". 
Average Rate Per Night: $200 per night
Find ratings & reviews here. 
#3 Home2 Suites by Hilton, Destin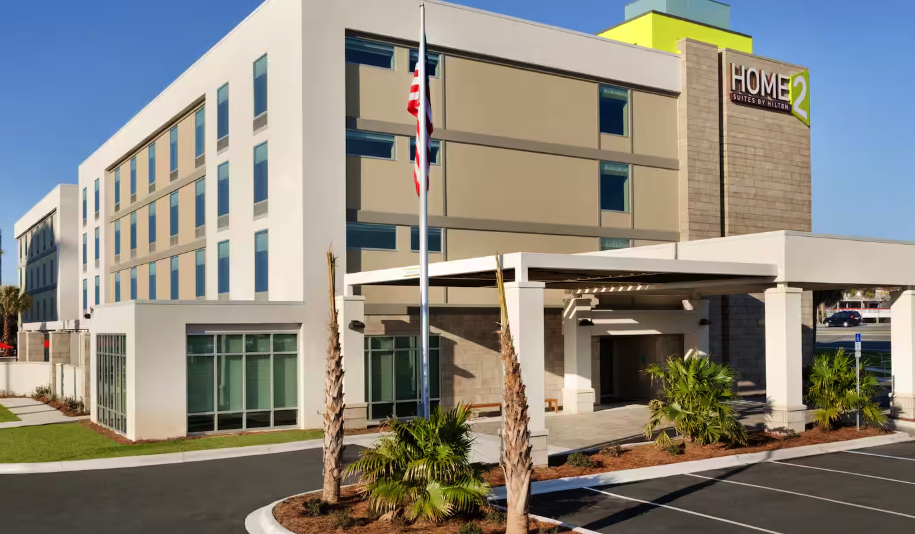 Home2 Suites by Hilton, Destin is a 3-star hotel located near Henderson Beach and Big Kahuna's waterpark. The property offers spacious rooms (even those in the lower bracket of the price tag are comfortable and offer ample space), free Wi-Fi, an outdoor pool, a free hot breakfast, and a fitness center. Most of their suites offer a kitchenette so you can cook your delicious meal inside your comfortable accommodation whilst enjoying the private, cozy time you both need! You also earn Hilton honor points when you stay here which can be used at any of the hotel's chains worldwide, plus you also get some amazing offers when you extend your stay. 
"This was just the honeymoon hotel we were looking for!" writes one of the reviewers on Booking.com. "It was close to the beach and yet we didn't have to pay extra for the oceanfront access. The bed was comfortable and the hotel was secluded. We were sold on the comfort from the first day itself. The breakfast was delicious and the hotel staff kept the premises clean at all times. We also loved the city and just can't wait to go back to celebrate our anniversaries," she adds. 
Average Rate Per Night: $200 per night 
Find ratings & reviews here. 
#4 Henderson Park Inn (Adults-only All-Inclusive Honeymoon Resorts in Destin Florida)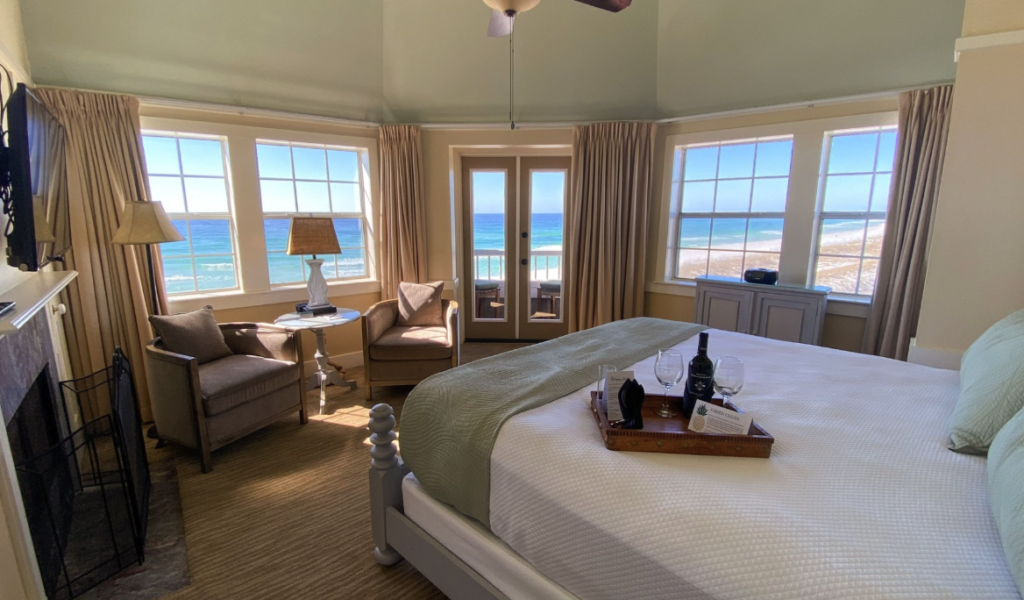 The Henderson Park Inn is one of the best Destin Florida hotels on the beach and is designed with romance and privacy in mind to offer a memorable getaway for two. It blends the allure of a cozy inn with the luxury offering of a highly-rated resort. This adults-only resort allows only couples 25 years and older and also has honeymoon packages in Destin, Florida which includes a celebratory welcome, welcome massage, rose display on the bed, sweet treats, and a bottle of wine. They also have one of the best Destin Florida honeymoon suites – the Presidential Suite replete with 700 square feet of luxury, a spacious balcony, a king-size bed, direct Gulf views, and a whirlpool tub. 
The 35-room upscale boutique hotel offers a number of incredible amenities for its guests like access to a private adults-only beach, arranging activities like beach concierge, fishing, and beach games, and a firepit lounge on the beach. They also have two amazing restaurants on the property. One is an award-winning, fine-dining restaurant that sits on the beach and offers imaginative cuisine made from the freshest, local ingredients. You can also book a dinner date for two wherein you will be taken directly to a private table and served dinner, dessert, and drinks by a dedicated server for an experience like no other! If you have got the budget, this is our number 1 choice for your Destin, Florida honeymoon resort. 
Average Rate Per Night: $600 per night
Find ratings & reviews here. 
#5 Emerald Grande at Harborwalk Village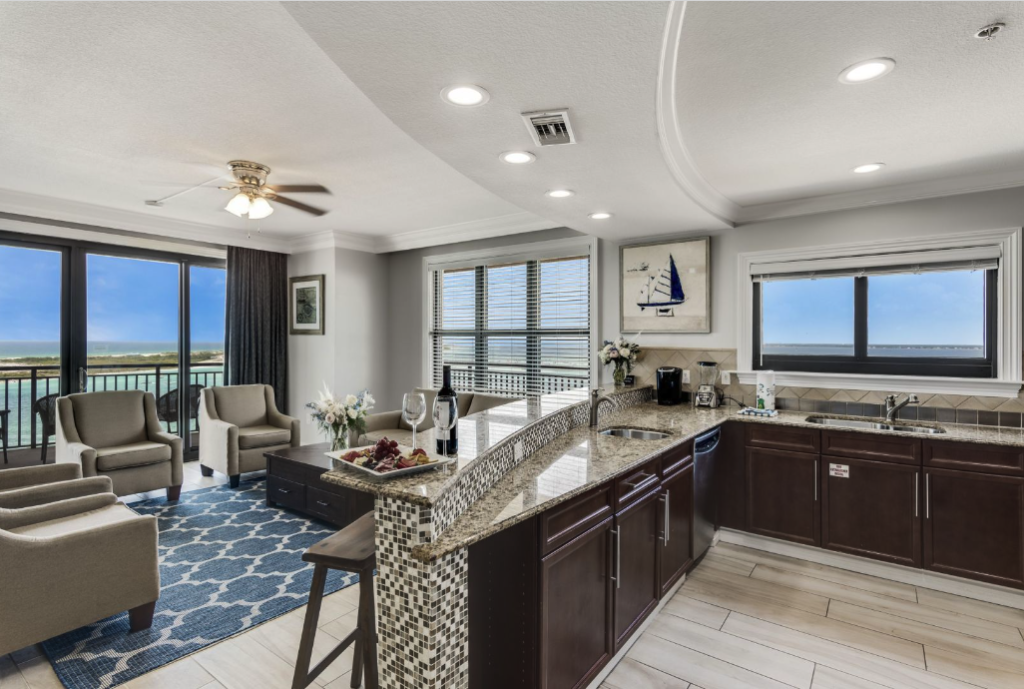 The Emerald Grande at Harborwalk Village is a 4-star condominium hotel where you can rent vacation apartments ranging from one-bedroom to four-bedroom. Each condo unit features modern amenities, fully equipped kitchens, and private balconies or terraces, allowing guests to enjoy the stunning scenery of the surrounding Destin Harbor and the Gulf of Mexico. The resort is located in the heart of the vibrant HarborWalk village, known for its stunning views of the water, a range of exciting activities, a number of dining activities, and an array of shopping boutiques. 
Besides the prime location, the resort offers amenities like complimentary shuttle services to nearby Destin's beaches, access to a private beach club, a heated indoor pool, an outdoor pool with a hot tub, a full-service spa, a fitness center, and arrangements for water activities like a private marina with boat rentals and charters. The exceptional service of the resort is another highlight and you can be assured more of the extraordinary hospitality when you read more than 2,500+ positive reviews for the resort online! 
Average Rate Per Night: $500 per night
Find ratings & reviews here. 
#6 SunDestin Beach Resort by Scenic Stays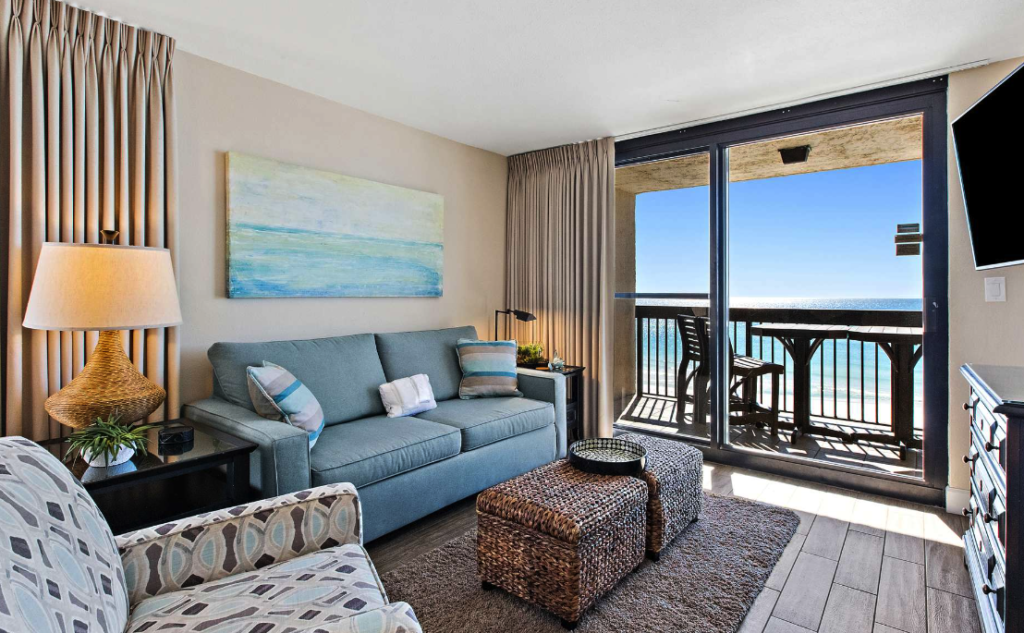 The SunDestin Beach Resort is yet another one of the top picks for all inclusive honeymoon resorts in Destin, Florida. This Destin hotel on the beach offers 100 yards of private beach to its guests along Florida's stunning Emerald Coast alongside spacious apartments. Each condo unit is spacious and comes with free Wi-Fi, an indoor and outdoor swimming pool with a hot tub, a coin-operated laundry facility, and an on-site spa. Unlike many other condo hotels, this one has an on-site restaurant and bar which provides convenient dining options for guests. The convenient location also makes it easy to reach some of the city's popular attractions and beaches within a few minutes. 
Here's what a reviewer wrote about the hotel online, "My husband planned our honeymoon in Destin and he did such a good job booking SunDestin that here we are, reserving yet another condo on our 2nd anniversary! We chose a one-bedroom, 2.5-bath condo with a fully equipped kitchen. Just had to pick up some groceries and we're all set! The area was kept clean and all the staff that we encountered were helpful and friendly. I just can't wait to have babies and return back as a family."
Average Rate Per Night: $400 per night
Find ratings & reviews here. 
#7 Surfside Resort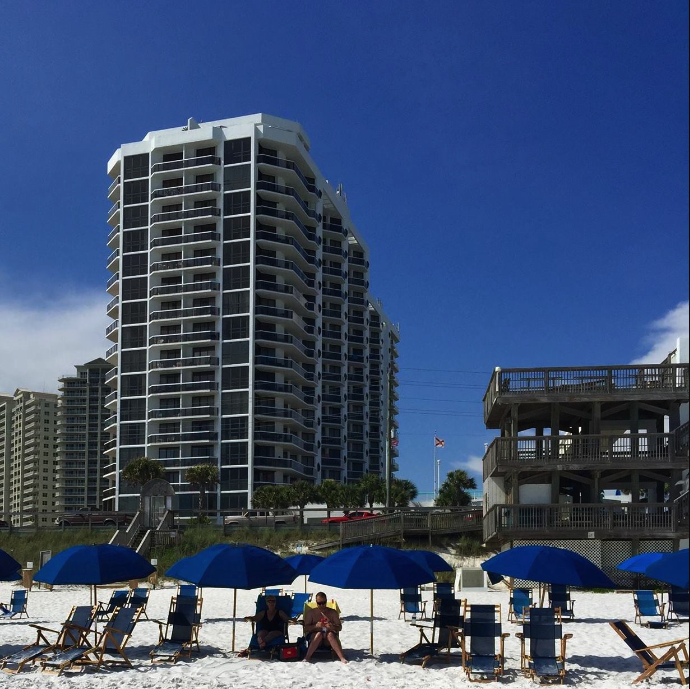 Another one of the picks for your all-inclusive honeymoon resorts in Destin, Florida is the Surfside Resort. The hotel is a popular beachfront condominium resort located in Miramar Beach, just East of Destin, Florida. One of the reasons why guests love the hotel is because of its quaint, beautiful location offering direct access to the beautiful sugar-white sands of the Emerald Coast, allowing them to enjoy leisurely walks, sunbathing, or engaging in water activities such as swimming, snorkeling, or building sandcastles. You can also book a honeymoon package in Destin, Florida by taking advantage of the many discount offers given by the hotel on extended stays. Just check their website to see the latest offers on bookings. 
Some of the latest reviews praise the spacious accommodations, amenities, and maintenance of the property. One of the recent guests wrote, "The hotel looked more gorgeous in real than in pictures. Just breathtaking views of the Gulf! Love that there's a skywalk (walkway bridge over the road) for easier access to the beach anytime. There's also a fitness room and a sports deck. There's also a restaurant on the first floor and the food was delicious at comfortable prices. Great place to relax and unwind!" 
Average Rate Per Night: $300 per night
Find ratings & reviews here. 
#8 Silver Shells Beach Resort & Spa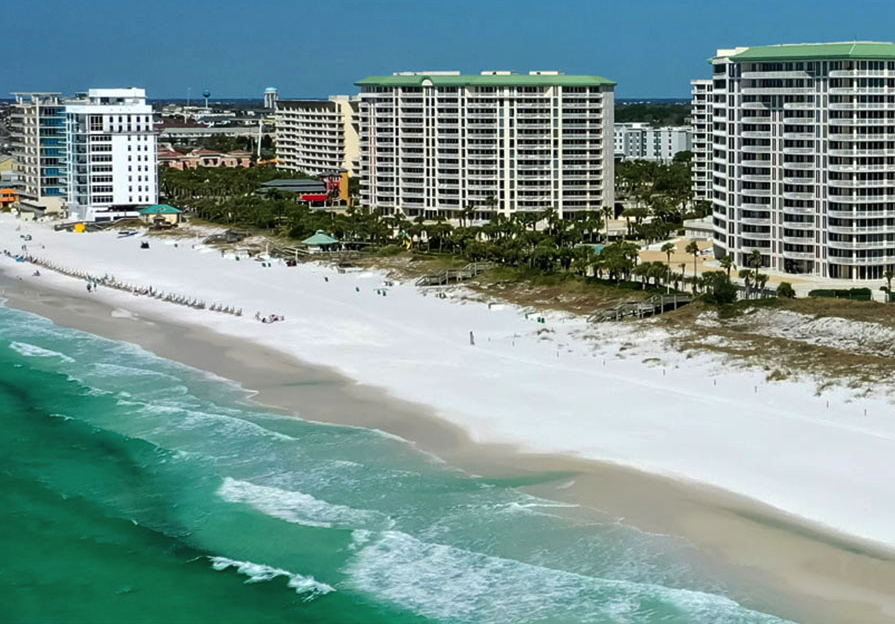 The Silver Shells is a condo resort located in Destin's prime location and occupies 31 acres of beachfront in this scenic city. The condo has 5 buildings and is just adjacent to Henderson State Beach Park. You can opt for one-bedroom to four-bedroom apartments, each complete with its own set of amenities including beach views, flat-screen TV, oversized baths, Wi-Fi, and fully-equipped kitchens. These condos also have some of the best Florida honeymoon suites with many of the apartments coming with a whirlpool tub, a spacious balcony, and breathtaking views of the Gulf from the floor-to-ceiling windows. 
This one of the condo hotels offers multiple other amenities like a 7,500 square foot lagoon pool with a waterfall, whirlpool, and a kiddie pool. The lagoon pool is located in the middle of the buildings so as to offer easy access to all the guests no matter where they choose to stay! There's also a community rooftop pool, a fitness center, a basketball court, a tennis court, and a full-service spa. You can also enjoy delicious meals at the resort's restaurants: Ruth's Chris Steak House serves delicious steaks in an upscale setting and Sandbar Restaurant serves drinks and snacks on the beachside as you soak in the Sun and enjoy a variety of beach activities. 
Average Rate Per Night: Starts From $200 per night
Find ratings & reviews here. 
#9 Hotel Effie Sandestin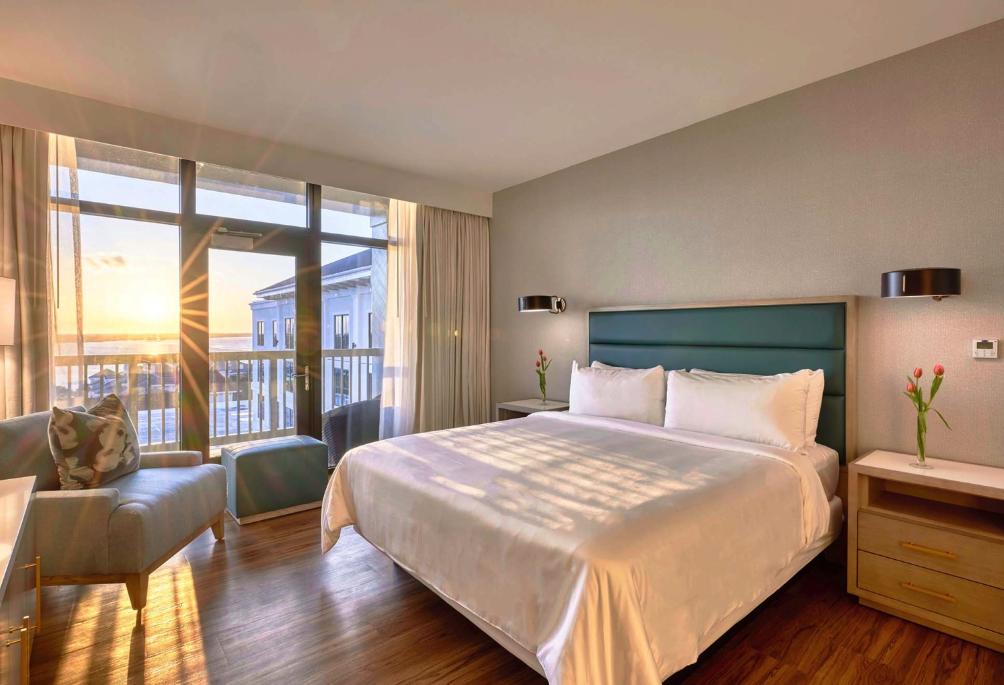 Hotel Effie Sandestin is a stunning, upscale Destin Florida hotel on the beach ranked as one of the best all-inclusive honeymoon resorts in Destin Florida. The 25-room hotel is not exactly adjacent to the beach but is just a few yards away so you can still the scenic view of the emerald green waters from its many accommodation options. As your Destin Florida honeymoon suite, we'd recommend their 875 square-feet Executive King Suite with a wet bar, a private balcony, lush linen bedding, stunning bay views, and a private balcony with seating space. 
At the accommodation, you will also find multiple dining options like Ovide (a multi-cuisine restaurant by celebrity Chef Hugh Acheson), Ara (a rooftop lounge), a lobby bar, and Sweetbay Coffee (curated by Chef Hugh Acheson as well and serving the finest array of coffees). There's also a Spa on the premises offering everything from facials and body treatments to meditative massages and couple massages. There's also free transportation to the beach and the resort is more than happy to guide you with other activities in the area so as to make your stay easier and memorable. Given the hotel's impeccable services and thoughtful design, it has been nominated for the Conde Nast's 2023 Traveler's Choice awards as well. 
Average Rate Per Night: $900 per night
Find ratings & reviews here. 
#10 The Palms of Destin Resort & Conference Center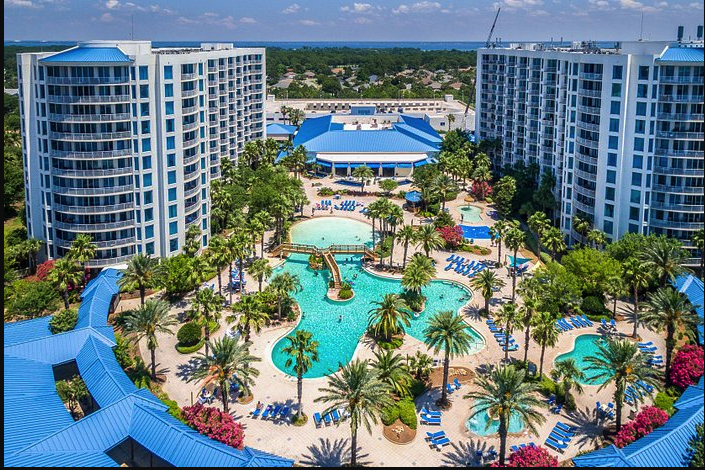 The Palms of Destin Resort & Conference Center is another condo all-inclusive honeymoon resort in Florida. It's ideally located in a central location just beside the pristine natural setting of Henderson State Park. The beach is just a few minutes away and you can enjoy the majestic view of the emerald-green waters from many of the top-floor sea-facing apartments. You can choose from one-bedroom, two-bedroom, and three-bedroom apartments, all fully equipped with flat-screen TV, DVD players, sofa, full kitchens, and private balconies. And even though the beach isn't just right next to the hotel, there's a free shuttle service that can get you to the sugary white sands in just under 5 minutes! 
Outside, you can find a lagoon pool with waterfalls and bridges. This honeymoon resort in Destin, Florida also has a hot tub, fitness center, and volleyball & basketball courts. You can also enjoy perfect drinks and snacks at the resort's on-site restaurants: Good Vibes Bar (serving crafty cocktails and beers) and The Palms Coffeehouse (a relaxing cafe serving freshly-brewed coffee and baked treats). Couples particularly enjoy the location because of the comfort, economical prices, and central location, making it one of the best honeymoon resorts in Destin Florida. 
Average Rate Per Night: $300 per night
Find ratings & reviews here. 
Destin, Florida Honeymoon Activities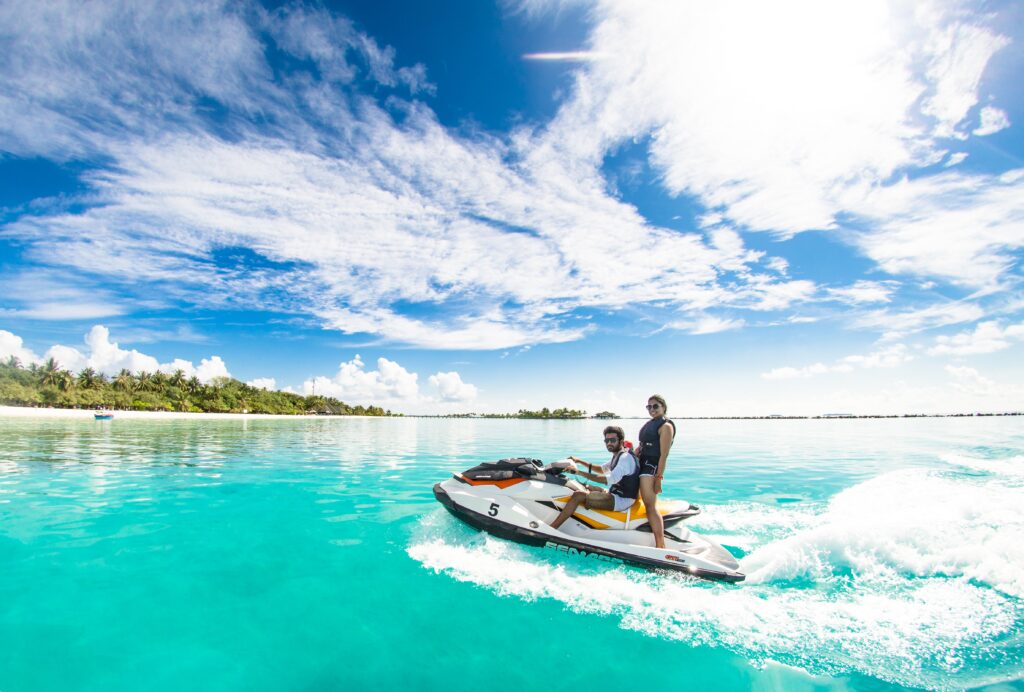 #1 Soak In The Pristine Beauty Of Henderson State Beach Park
Henderson State Beach Park is a pristine and gorgeous park in Florida known for its stunning white sand beaches, crystal-clear waters, and natural beauty. Couples can take a stroll across the shoreline, sit down and soak the views, or even enjoy a picnic at one of the private spots. The park is also lined with many nature trails that wind through coastal dune ecosystems, providing opportunities for couples to hike and explore the native plant life and wildlife that call the park home. 
There are facilities for picnic areas with grills, outdoor showers, and clean restrooms throughout. For couples seeking a more secluded and intimate experience, Henderson Beach State Park offers several secluded areas and dune lakes where you can find your own private spot to enjoy the beach and each other's company. 
#2 Explore HarborWalk Village
HarborWalk Village is a hub of entertainment, activities, and leisure in Destin, Florida. It attracts locals and visitors of all ages. It offers a lively and vibrant atmosphere, making it perfect for couples on their honeymoon for a leisurely day! Here, you can enjoy a romantic meal at any of the waterfront restaurants or shop at many boutiques and specialty shops. The owners are very helpful with tourists and don't unnecessarily overprice things for tourists. 
There are also tons of live performances and music shows throughout the week. Many live musicians and bands can be seen performing at all times of the day! But if you don't want to do anything, people-watching from a sidewalk cafe or a leisurely stroll along the harbor can be just as romantic and fun! Watch as boats come and go, soak in the beautiful sunset, and appreciate the calming ambiance of the area. 
#3 Enjoy Water Sports 
Engaging in water sports in Destin, Florida can be an exhilarating and adventurous honeymoon activity that allows you and your partner to create unforgettable memories together. It's important to choose a trusted company when it comes to indulging in water sports though! It ensures your safety and also makes sure you have a thorough experience. Follow all the guidelines and if there's something you don't feel comfortable with, it's okay to skip the activity completely. Here are some water sports to try!
Snorkeling:

Enjoy the beautiful marine life as you dive into the crystal-clear waters of Destin.

Paddleboarding:

Glide across the calm waters of Florida as you challenge your balance and coordination as a couple. 

Kayaking:

Rent a kayak and venture out into the peaceful waterways of Destin, such as the Choctawhatchee Bay or nearby coastal dune lakes. 

Jet Skiing:

Feel the adrenaline rush as you and your partner experience the freedom of the open sea! 

Parasailing:

Glide through the azure waters of Destin and soak in the breathtaking aerial views of the spectacular sea! 

Deep Sea Fishing:

Try your hand at fishing the world's luckiest fishing village and celebrate the success on the shore later! 

Jet Boat Adventure:

Hold on tight as you and your partner hop aboard a jet boat for an adrenaline-pumping ride and feel the rush as the boat twists and turns. 
#4 Book A Ride On Buccaneer Pirate Cruise 
Buccaneer Pirate Cruise is another great Destin honeymoon activity and a great attraction to make you step out of your honeymoon resorts in Destin Florida. It's an interactive adventure that takes you aboard a pirate-themed ship with a number of activities and meals throughout the sail. You and your partner can also dress as pirates on the ship complete with costumes and face paint, adding an extra element of whimsy to the experience. 
Throughout, the crew dressed as pirates will entertain you with live performances and engage you in interactive pirate games, storytelling, and treasure hunts. You can join in the fun, learning pirate lingo, firing water cannons, and searching for hidden treasures. As you navigate the seas, you can take in the breathtaking sunset or the enchanting starry night sky, creating a romantic backdrop for your adventure. 
#5 Spend A Day At Destin Harbor Boardwalk
Completed in 2012, Destin Harbor Boardwalk stretches a quarter mile along Florida's Emerald Coast and offers plenty to do for couples! Begin your day with a leisurely stroll along the boardwalk, hand in hand with your partner, taking in the picturesque views of the harbor and the glistening waters. Explore the charming boutiques and shops, where you can find unique treasures and mementos to commemorate your honeymoon.
There are also plenty of restaurants and cafes where you can treat your taste buds and get the much-needed caffeine kick. Afterward, embark on an enchanting cruise or boat tour. As the Sun begins to set, there's still much to do in this vibrant promenade. Enjoy live music performances, sip on cocktails at waterfront bars, and revel in the energy of the bustling harbor. Take a romantic evening stroll along the waterfront, basking in the warm glow of the lights and the sound of the waves lapping against the shore.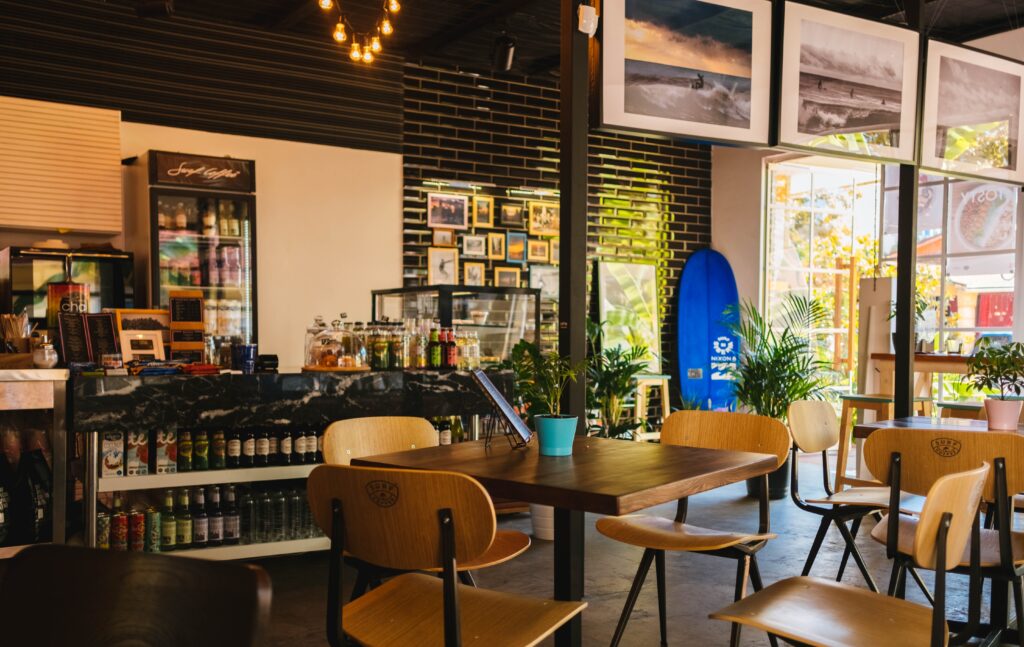 #6 Schedule A Date At Any One Of The City's Romantic Restaurants 
Having a dinner date is a great way to bond and on your honeymoon, it can be a great activity to bond with your partner whilst experiencing the culinary scene of your chosen location. Though some of the honeymoon resorts in Destin, Florida have their own dining scene, you can take the advantage of many other restaurants in the city too! Here are our top picks. 
Marina Cafe
Destin's most-awarded restaurant, Marina Cafe, can be your top pick for a romantic date. It's a steakhouse serving delicious cuisine and offers both indoor and outdoor seating to accommodate plenty of guests at a time without interrupting the privacy of anyone! 
Beach Walk Cafe 
Located inside the stunning Henderson Park Inn, Beach Walk Cafe is an award-winning, fine-dining restaurant located right by the beach and is known for its delicious multi-cuisine servings made from the freshest local ingredients. 
Pazzo Italiano
A traditional Italian restaurant serving wood-fired pizzas and homemade pasta in a relaxed atmosphere. It's also stocked with a full bar and cocktails are often loved by guests in this pizzeria. 
Louisiana Lagniappe 
Serving the freshest seafood and steaks since 1984, this dining establishment gives you some stunning views of the harbors as you enjoy your meal. Reservation isn't required to dine here! 
Bitterroot 
An upscale bistro serving high-end cuisines and cocktails. It has a relaxed, romantic atmosphere and has a central location. Do reserve your seats in advance as the restaurant is popular among both locals and tourists. 
#7 Let Time Fly In A Sunset Cruise 
Our number one pick for Destin's honeymoon activities is to book a sunset cruise. Obviously, you can watch the sunset on the beach but you can also book a cruise once to enjoy the romantic experience of watching the Sun's golden-orange rays set down on the horizon. Do bring some blankets with you as it can get colder at night. The sunset cruises generally last for about an hour but it can be longer if you've booked an entire experience like drinks or a dinner cruise. Some sunset cruises also include dolphin watching and will begin a little before sunset so you can try and spot the dolphins dancing in their natural habitat!  
Here are some of our recommended sunset cruises to try: 
SunVenture Cruises

Crab Island Dolphin Tours

Southern Star Dolphin Cruise

Destin Dolphin Cruise

Destin's Original Sea Blaster 
#8 Bond At A Couple's Massage Session
Besides all-inclusive honeymoon resorts in Destin, couple's massages are also popular in Destin and you can find many spas, both in the resort and private establishments offering the services of a couple's massage. There's no question that a couple's massage is a fantastic way to bond with your partner and a great activity to schedule on your honeymoon – no matter where you're celebrating. An invigorating massage session helps you release all the worries & tension related to wedding planning and creates a sense of tranquility that encourages deep relaxation. It also releases happy hormones like oxytocin and dopamine which further enhances your connection with your partner. 
Here are the best places to schedule a couple's massage in Destin: 
OM Relaxation Spa

Serenity by the Sea

The Henderson Spa

Anara Wellness Studio & In-Home Massage

Ocean Massage 
#9 Seal In Some Memories With A Photography Session
Destin is a scenic location and if you want some picture-perfect images from your romantic getaway, we'd surely recommend treating yourself to a professional photography session. Since it's a popular activity in the area, you can find many great photographers in the area who'd take just a few hours out of your day and would still be able to deliver some stunning captures! Though, pick a photographer whose style seems like something you'd want in your pictures. Next, pick a place to shoot. You can also rely on a photographer to suggest you some great locations. 
You'd also want to schedule the session at a time convenient to both of you and that will fit into your itinerary as well. Plan the dresses and details depending on your chosen location. Lastly, just don't forget to discuss the delivery of the photos and how you will receive the final images, whether it's through an online gallery or a physical medium. Take the time to choose your favorite photos and consider any additional editing or printing options available.
#10 Slow Down Time At Crystal Beach Park 
There are many amazing shorelines in Destin, but one that's surely won the heart of travelers for its sugary, white sands, quaint atmosphere, and azure blue waters is the Shores at Crystal Beach Park. It's located right next to the Henderson Beach State Park and is also home to many rentals and cottages, and if you're looking for a Destin Florida honeymoon cottage, rent one on this beach and you will be amazed by the views every time you look outside. 
Entry into the area is free, but you do need to arrange for parking as the parking is limited. The shoreline has many amenities like restrooms, picnic areas, park benches, water fountains, and a wildlife observation area. But you can just spend your day lazing around the shoreline and seal in some precious memories with your new spouse. One of our Destin honeymoon cottage recommendations at Crystal Beach Park is the Crystal Cottage. 
Best Destin, Florida Honeymoon Suites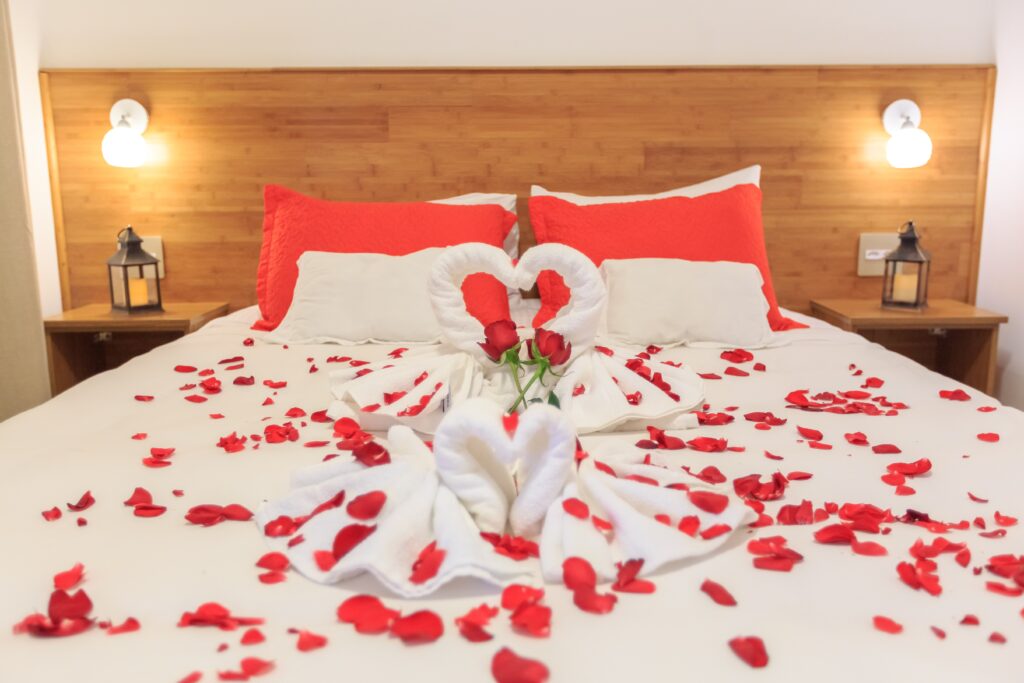 Presidential Suite, Henderson Park Inn (Check Reviews Here)

Hagerman Suite, Henderson Beach Resort (Check Reviews Here)

Hot-Tub Condos of Silver Shells Condo Hotel (Check Reviews Here)