Papaya isn't just a mushy, delicious fruit to enjoy, it is also the secret behind amazing hair. Papaya hair masks can give you the hair of your dreams. And as a bride, isn't that all you are looking for? Every girl desires (& deserves) luscious, healthy mane and papayas can help you achieve the same. You just need to use the right papaya hair mask to target your hair woes and within a month, you'll start seeing results. But first off, let's look at why a DIY papaya mask is a must in your hair care routine. 
Papaya Hair Mask Benefits: 
Here are convincing reasons why you definitely should give papaya hair mask DIY a chance… 
#1 Papaya helps with hair growth. Many studies have proven the same. A 2018 study showed hydroxy salicylic acid found in papaya has the ability to boost hair growth activity. Another study examined Vitamin A from food sources helping with maintenance of epithelial cells (cells present on surface) on hair, skin etc. Furthermore, folic acid present in papaya promotes circulation in the scalp, and fosters new hair development.

#2 Papaya can repair damaged hair. Vitamin A, C and amino acids present in papaya stimulates collagen production and strengthens the middle layer of hair. This will make your tresses strong and healthy again. That's why they're the key ingredient in many repairing hair masks.

#3 Another benefit of papaya for hair is balancing out the scalp's sebum production. Sebum is the natural oil your body produces. Excess of it can block the hair follicles and less can cause dryness, dandruff, and rough hair. Papaya loosens the build-up on your scalp and stimulates sebaceous glands to regulate sebum production.    
#4 Papaya makes your hair shiny. The fruit is rich in vitamins & minerals that aids in cuticle strengthening. The cuticles are the outermost layer of the hair shaft, whose health plays a major role in maintaining hair shine. Papaya restores their health and adds an enviable luster to your mane. 
Papaya Hair Mask For Split Ends
Only Papaya Hair Mask
Looking for something quick & easy? Just blend around a cup or two of papaya cubes, sieve them and apply to your scalp and hair length. Leave it on for 30 to 45 minutes (the more the better). Rinse it off with cold water. Use a mild shampoo or don't shampoo at all if you aren't leaving home. Apply some hair oil and wash your hair with shampoo the next day. 
Pro Tip For Papaya Masks: Both papaya and banana bits tend to stick to your hair length even after rinsing. Make sure you sieve the pulp before whipping up a mask. This will massively reduce the only con of a papaya hair mask.
Papaya + Banana + Curd Hair Mask
Both bananas and curd are excellent hair conditioners. They repair and add strength to your cuticles while improving the natural elasticity of your hair. A combination of these 3 ingredients can actually heal a few low to medium-grade split ends. Unfortunately, the only way to completely get rid of split ends is trimming. 😔  Check out our full blog on how to beat hair cancer.. Split ends step-by-step. 
To make this mask, blend 1 bowl of papayas with 1 banana and 2 tbsp of curd. Leave it on for 45 minutes and rinse with a mild shampoo. Jazz up its benefits by adding some almond oil to it. 
Also See: Yoga Inversions: The Ultimate Solution To Reverse Hair Fall & Boost Hair Growth
Papaya Hair Mask For Dandruff
Papaya & Curd Hair Mask
Curd can be found in almost all homemade hair masks to beat dandruff. It's rich in protein and has antibacterial + antifungal properties that help prevent dandruff and itchy scalp. Besides, it conditions the scalp and stabilizes sebum production. To make this dandruff-killer mask, add 2 tbsp of curd to papaya pulp and leave it on for 30 minutes. Wash off with a mild shampoo. 
Papaya & Lemon Juice Mask
Like curd, lemon juice is another popular DIY for dandruff. Lemon balances the pH of the scalp, clears scalp buildup and strengthens hair follicles. To reap the benefits, add 1 tbsp of lemon juice to a bowl of papaya pulp. Let it sit for 30 minutes before rinsing. 
Papaya Hair Mask For Frizzy Hair
Papaya + Honey + Olive Oil Mask For Frizzy Hair
Honey is an emollient. It attracts moisture from the surroundings and traps it into your hair strands. Over time, honey can boost hydration levels in your hair and reduce frizz levels naturally. Also, olive oil is one of the best hydrating oils there is for hair. You can either mix all the three together or massage warm olive oil first to your hair and then apply papaya + honey. The end result? Manageable, smooth hair you can't stop touching!
Papaya & Coconut Milk Hair Mask For Frizz
Coconut Milk is like a godsend for girls with frizzy hair. The star ingredient is lauric acid, known to penetrate the hair shaft easily and strengthen the overall hair structure. The wonderful nutrient profile makes it for an epic twofer when combined with papaya. Use equal quantities of both ingredients, let it sit for 45 minutes, and rinse with lukewarm water. You can easily make coconut milk at home, check out the recipe here.  
Further Read: 10 Best DIY Treatments By Farah Dhukai For All Your Hair Problems
Papaya Hair Mask For Hairfall
Papaya + Egg Hair Mask
Eggs aren't just a quick & delicious breakfast option, they're also a superfood for your hair. Its nutrient profile boasts of vitamins associated with hair growth like folic acid, biotin etc. A papaya and egg hair mask DIY is a great antidote for hair fall. Just beat one egg in a bowl of papaya pulp, let it do its magic for 30 minutes, and wash off with a mild shampoo. 
Papaya + Castor Oil Hair Mask 
Those WhatsApp forwards are surprisingly true this time. Castor oil or arandi ka tel can reduce hair fall and promote hair growth. Massage your hair with warm castor oil for 10 minutes and then apply papaya pulp. Cover your head with a warm towel to boost the effects of the mask. 
Papaya Hair Mask For Hair Thickening
Papaya + Fenugreek + Kalonji Hair Mask
Dana Methi (fenugreek) and Kalonji (black cumin or black seeds) are our grandmother's secrets for long, healthy hair. And now science has backed the same. A 2016 study published in ResearchGate concluded Nigella Sativa (a flowering plant that produces black seeds) oil to be the best natural hair growth promoter. Another study backed a mix of coconut oil + black seeds for hair growth. Similarly, the benefits of fenugreek for hair have been explored and proven as well. 
To make this DIY papaya hair mask, soak half tsp of both powdered kalonji and dana methi overnight in water. They will make a thick, sticky paste in the morning. Add papaya pulp to it and apply to your hair for 45 minutes. Rinse off with a mild shampoo. 
Papaya + Neem Powder Hair Mask
Another Ayurvedic herb that will better your scalp health is neem. Neem fights scalp inflammation balances sebum production and boosts blood circulation. All these factors enhance hair growth. For this DIY mask, you can use neem powder or crushed neem leaves. Mix it with papaya pulp and leave it on for half an hour before rinsing.
Another Interesting Read: 5 Vitamin Deficiencies That Can Cause Hair Loss (Research-Backed!)
If DIY's aren't your game, here are some store-bought conditioning hair masks you'd love!
Hair Food Moisturising Hair Mask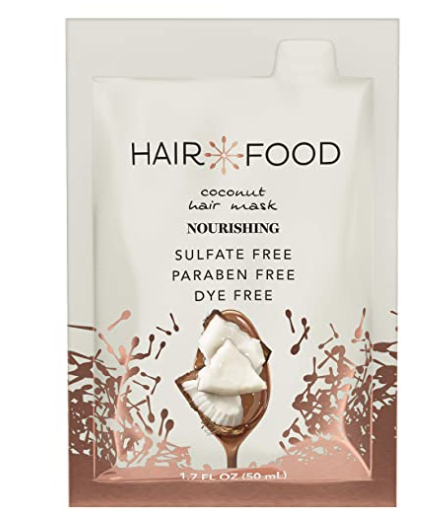 Purchase here.
Azani Biotin Collagen Hair Mask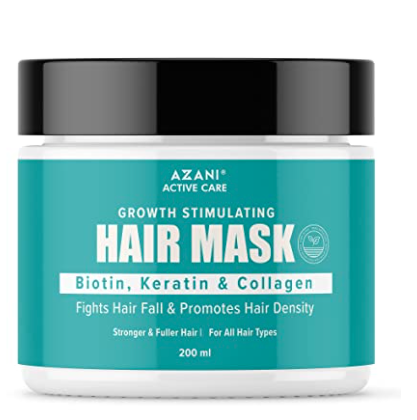 Purchase here.
The Ayurveda Co. Hair Mask: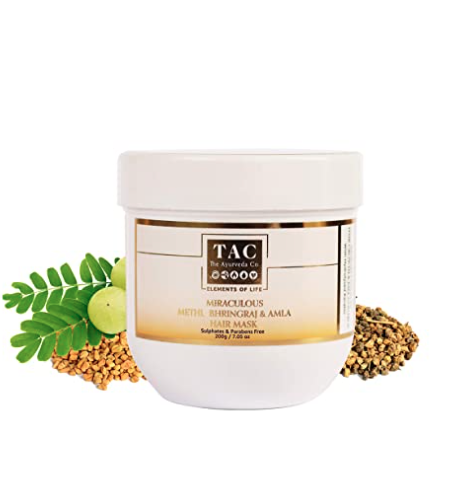 Purchase here.
Moroccan Oil Intense Hydrating Hair Mask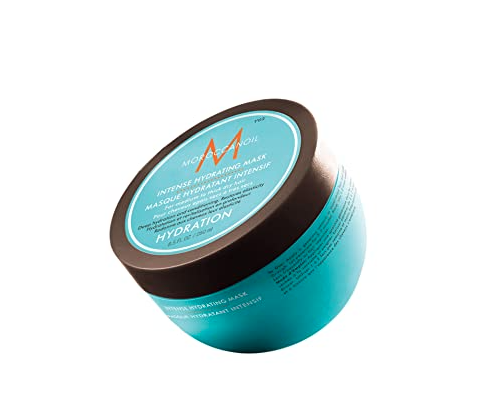 Purchase here.
We love doing these DIY beauty hacks for you! What would you like us to cover next? Let us know in the comments below. 
Related: