We'd go ahead and say – babymoons are more important than a honeymoon. It's a great time to relax during your pregnancy, connect with your partner, and get in a few days' good night's sleep before the little one arrives. Having said that, it's important to pick a location that's safe for you at this time whilst also offering the relaxation you're craving. Below, we're including the best babymoon destinations around the world and where to stay in those places: 
North America
#1 Montana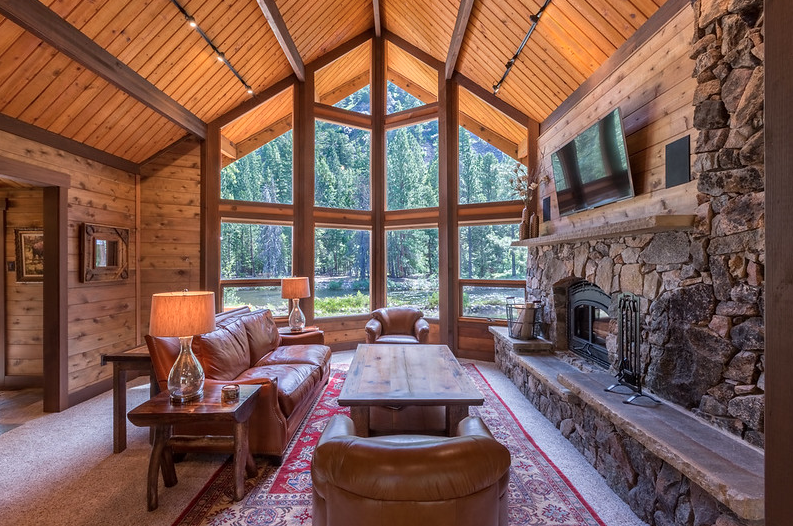 Montana is ranked #1 on our best babymoon destinations in the US because it is one of the best babymoon destinations in the US. The state is known for its wide landscapes lined by rocky, rugged mountains, shimmering prairie grass, sapphire lakes, and rushing rivers. When you're looking for a romantic getaway in the US for just the two, Montana's untouched beauty and unmatched privacy are two things that draw couples to spend quality time here. Spend your holiday in one of their ranches (popular among couples for privacy, quality activities, and superior service) for a memorable babymoon experience. 
Triple Creek Ranch, A Montana Hideaway
Check Ratings & Reviews Here
This adults-only exclusive ranch lies 75 miles south of Missoula and offers a world of its own. With their 25 luxury ranch cabins and homes, the stay offers a romantic setting with epicurean amenities and gorgeous scenery. The five-star experience and adults-only setup are perfect for couples who'd want that last memorable stay before they welcome a new member into their family. Enjoy your time relaxing in your cozy rooms – many with fireplaces and hot tubs of their own, delight in the endless array of indoor or outdoor activities, or indulge in their curated cuisine crafted as per your preferences and taste. 
Fairmont Hot Springs Resort
Check Ratings & Reviews Here
Fairmont Hot Springs is one of the well-known resort destinations in the US with visitors flocking to the hotel every season of the year. You will find them relaxing, enjoying, and having their chill mode on whilst at the Fairmont Springs resort. And isn't that the vibe you're looking for whilst searching for the best babymoon destinations in the US? Situated in the historic town of Anaconda, Fairmont Hot Springs welcomes you to warm, cozy rooms, many with whirlpool tubs in the room. The Fairmont's superior service adds to the comfort of your stay while the many dining options surrounding the area keep your pregnancy cravings at bay. Do check out the town for some interesting museums whilst you stay here. 
The Lodge At Whitefish Lake
Check Ratings & Reviews Here
Located in the resort town of Whitefish known for its jagged landscape, glacier-carved valleys, and shimmering lakes, the Lodge at Whitefish is strategically located between Whitefish lake and Montana's majestic mountains to give you a gorgeous view at every turn. The expansive hotel has comfortable accommodations, first-class service, a spa, and several dining options within its premises. And when you're craving something more delightful for your pregnancy, the on-site chef loves to cater and cook as per their guest's preferences. For a luxurious stay, choose one of their luxury homes to stay, wind down, and enjoy this special time. 
#2 Hawaii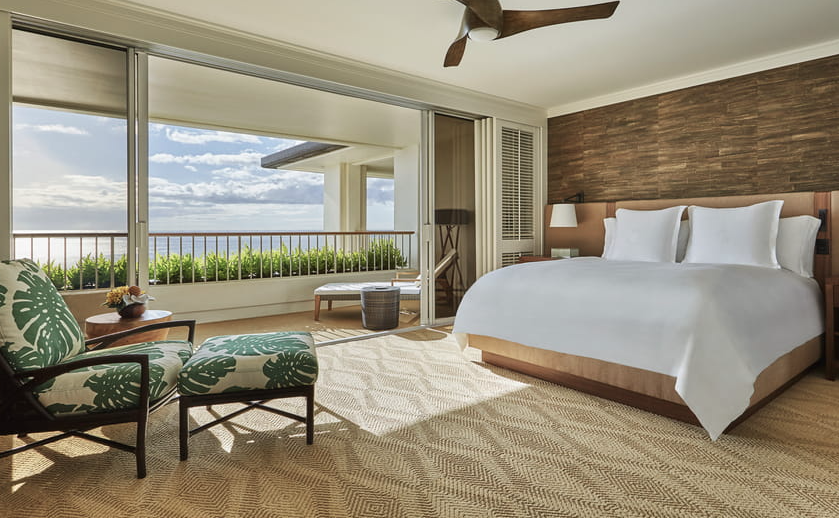 If there's one place that never disappoints, it's Hawaii. Whether it's a romantic stay, a family trip, or your chosen babymoon destination in the US, you can expect your stay to be comfortable and unforgettable when you visit Hawaii. Tropical weather, beautiful beaches, stunning landscapes, and some of the best resorts in the country wait for you in this gorgeous state. 
Four Seasons Resort Oahu
Check Ratings & Reviews Here
There's no resort that beats the luxury, amenities and world-class service of Four Seasons. It has many hotels in Hawaii, but when picking the best babymoon destinations in the USA, Oahu makes for a top spot because of its striking beauty combined with the amenities of a world-class city. Located on the island's sun-drenched Leeward coast is the Four Seasons' expansive, premier resort. Featuring spacious rooms & suites, an on-site spa, 7 dining options, and extraordinary experiences like private jet transfers, you will love the splurge to stay here. 
The Westin Hapuna Beach Resort
Check Ratings & Reviews Here
Stretched alongside its namesake white-sand beach in Waimea county of Hawaii island in Hawaii is the Westin Hapuna Beach resort. It offers guest rooms with private lanais, an award-winning golf course, two swimming pools, an inviting spa, and a 24-hour fitness spa. Guests have rated this resort a 9.1 for a two-person trip, and the reviews will further confirm the awesomeness of this place. 
#3 Vermont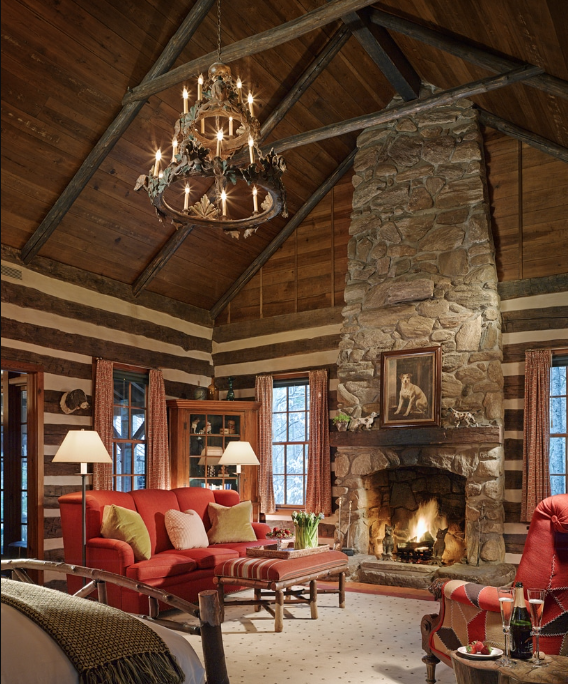 The quiet and peaceful atmosphere is just what the parents-to-be will love in the state of Vermont. Packed with coastal towns, pristine peaks, and sparkling rivers, the state has many accommodations to give you all that Vermont is famous for and more. Know that Vermont gets chilly during winters and a visit here makes sense only if you want to cozy up indoors. 
Twin Farms Barnard
Check Ratings & Reviews Here
Twin Farms Barnard is one of the most luxurious stays you can enjoy in the US. The 300-acre 1795 farmhouse consists of 20 uniquely-designed accommodations, many with unique fireplaces and hot tubs of their own. On this adults-only resort, you will find farm-to-table food and activities catered to the opulent experiences you signed up for! One unique one to try on your babymoon is a ride alongside Vermont countryside in a chauffeur-driven Volvo as you stop by to enjoy the chef-cooked food whilst watching the breathtaking scenery. 
Woodstock Inn & Resort
Check Ratings & Reviews Here
Built in 1969, this colonial-style inn facing a picturesque garden and surrounded by striking Vermont views features comfortable rooms, a 10,000-square-foot rejuvenating spa, and four distinct restaurants serving fresh seasonal dishes made from scratch. Outside, you can wander miles of gorgeous hiking and biking trails and soak in the perfect setting around. 
#4 Florida Keys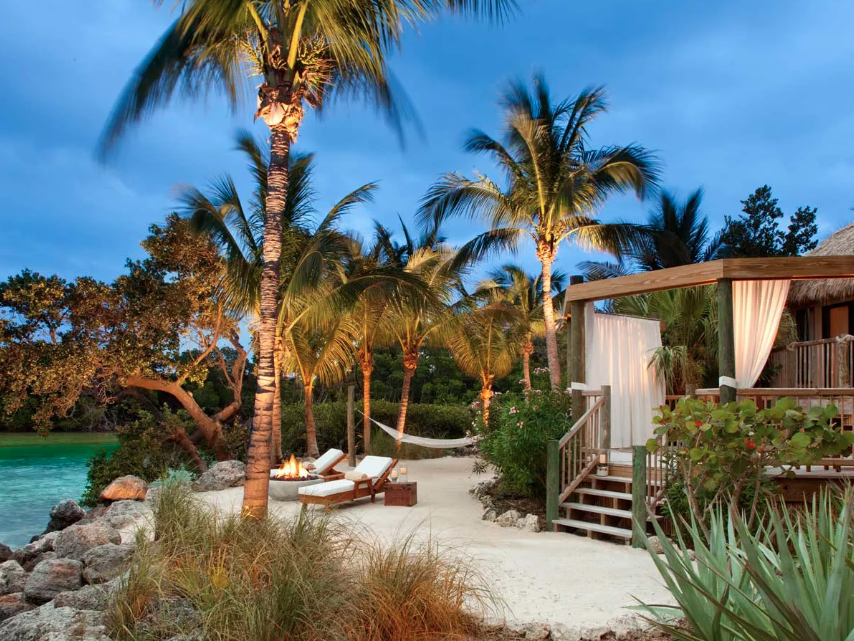 The Florida Keys is a 125-mile-long coral archipelago located on the southern coast of Florida, stretching towards Cuba. With palm-fringed beaches, excellent seafood, a laidback aura, and the best water activities in the world (given the abundant sea life), the Florida Keys can serve as a perfect escape whilst picking the best babymoon destinations in the USA. Given it's lined up with tourists throughout the year, we have picked the best of the romantic resorts in the Florida Keys for your babymoon. 
Little Palm Island Resort & Spa
Check Ratings & Reviews Here
Experience the ultimate opulence in this private island, adults-only resort with a strict cap of 60 guests in the 30 thatched bungalow suites each lined with its own pebbled pathways. Here, you can spend your days lounging in your private accommodation, enjoying delicious seafood sourced from the island, or healing in their stunning spa and coming back with the best memories from your pregnancy yet! 
Ocean Key Resort & Spa
Check Ratings & Reviews Here
Located at Zero Duval Street, the tip of Florida Keys, Ocean Key Resort & Spa captures the colorful island charm with a side of luxury. Rated highly by couples (9.8), the resort has comfortable accommodations, an on-site spa offering a number of therapies like stress-relief massages, nail treatments, water activities guided by a professional, a fitness center, and 3 restaurants. For a sumptuous stay, book their 2-bedroom penthouse offering unparalleled views and locked from the world in its very own paradise. 
#5 Mont Tremblant, Quebec, Canada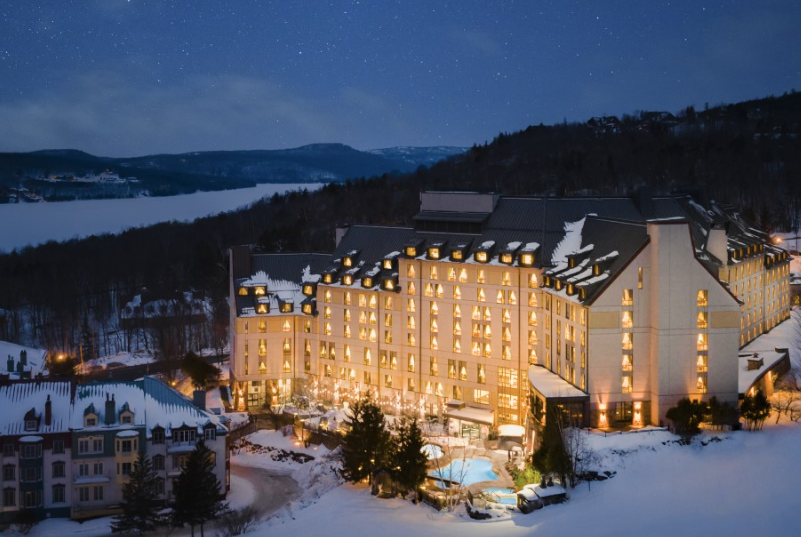 When you want to move up north when searching for the best babymoon destinations, Canada's Mont Tremblant makes it to the list quickly. The quaint town is popular for its forested peaks and glimmering rivers. In winter, it's a popular destination for many snow-related activities, especially skiing. Despite the popularity though, you can find some budget hotels here for your stay.
Fairmont Tremblant
Check Ratings & Reviews Here
Perfectly located amongst the beautiful scenery of an azure blue lake on one side and alpine peaks on the other, you can expect to see a magical view no matter where you see. Fairmont's 5-star service welcomes you into this comfortable accommodation coupled with many award-winning amenities like Choux Gras culinary brasserie and a five-star spa. If you want your babymoon to be enriched with lounging in the room, pick the resort's corner suite offering unparalleled views of the surroundings from its floor-to-ceiling windows. 
Le Westin Tremblant
Check Ratings & Reviews Here
Another option to consider for your babymoon in Mont Tremblant is the Westin resort located comfortably in the city. The hotel's suites are equipped with a fireplace and a kitchenette and inside the premises, you will find a spa, a fitness center, and several delectable dining options to indulge in. When you're in the mood to explore, National parks and hiking trails are just a few minutes away from this upscale property and the hotel's concierge services will be happy to arrange the excursions for you. 
#6 Vancouver Island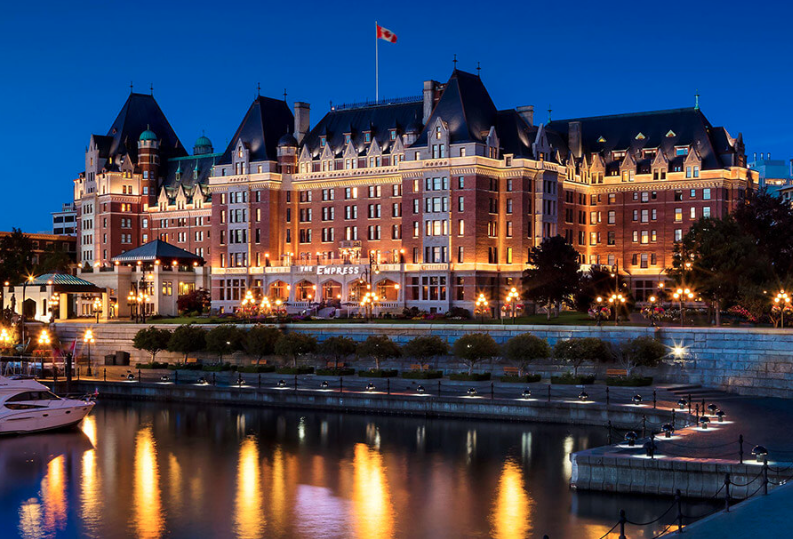 Before settling in California, Harry and Meghan were considering making Vancouver island their permanent abode. According to sources, the royal couple was swooned by the impressive beauty of the island, its wild, untamed beaches, and miles of dense temperate rainforests lined by mountains. Celebrating your special time here will be an experience like no other. Find below two accommodation options to consider for your trip:
Hotel Fairmont Empress
Check Ratings & Reviews Here
This 114-year-old hotel is one of the oldest hotels in Victoria, British Columbia. The historic hotel has just undergone a $60 million dollar renovation and has 464 beautifully appointed rooms & suites, an expansive spa, quite a few restaurants, an indoor pool, and a fitness center. The hotel's concierge services are happy to help you with the surrounding area which includes whale watching and golfing. 
Wickaninnish Inn 
Check Ratings & Reviews Here
Wickaninnish Inn, a Relais & Chateaux property since 1997, is an inviting haven of comfort perched amidst the rugged forests and overlooking the churning waters of the Northern Pacific. The gorgeous rooms with modern furnishings have a romantic vibe and many feature a fireplace and a soaking tub of their own. Soaking in the majestic views from the cozy stay will be all the more special as you get ready to bring a new life into this world. 
#7 Mexico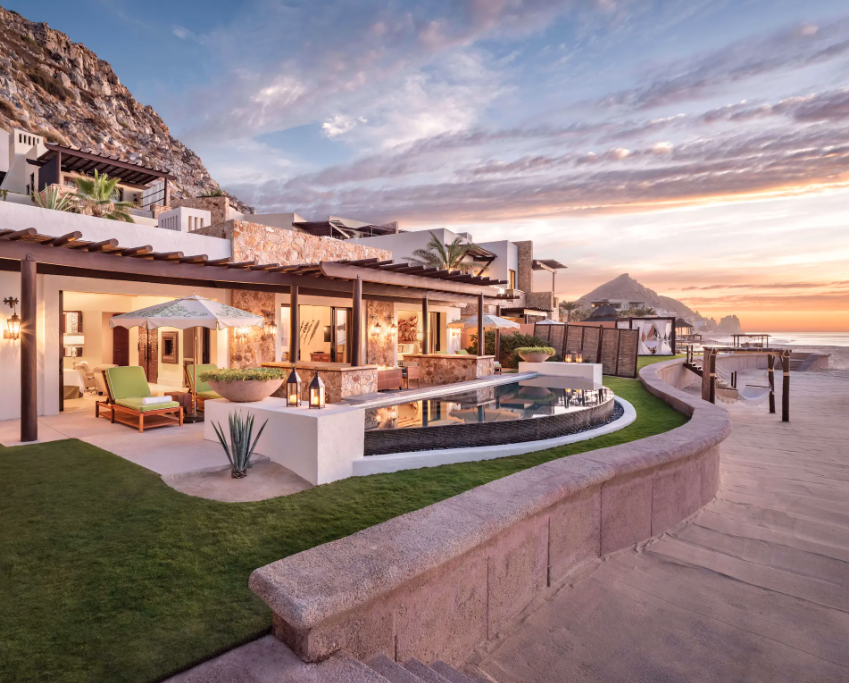 Mexico is one of the perfect destinations for your babymoon when you want to jet off to another country without being far away from home. The breezy atmosphere, luxurious resorts, quaint atmosphere, and energetic vibe all make it one of the best places to celebrate your pregnancy. Choose the best resort and you'll leave far more refreshed and relaxed after your vacation. Here are two of our favorites: 
Waldorf Astoria, Los Cabos Pedregal
Check Ratings & Reviews Here
Located in the resort city of Cabo San Lucas, Mexico, the Waldorf Astoria is a cliffside paradise overlooking the expansive ocean views and providing you with utmost privacy and secludedness for a cozy stay. The 115 rooms & suites boast a private plunge pool, a fireplace, and a dedicated personal assistant service. Lounge in your elegant setup or step out to enjoy some scenic views, relax in the spa, or try their delectable restaurants – all of which we think are doctor-prescribed for pregnancy. 
Four Seasons Punta Mita
Check Ratings & Reviews Here
Punta Mita is a 1500-acre private peninsula surrounded by white sand beaches, pacific ocean water, and lush tropical flora. Acquiring 52 beachfront acres of this aesthetic island is the Four Seasons Punta Mita resort featuring modern rooms, 3 swimming pools, 4 restaurants, 2 private beaches, and a five-star spa. I'd recommend this for your honeymoon because I know Four Seasons hospitality will make sure of your every need and their unmatched hospitality will make your babymoon truly special. 
#8 Tucson, Arizona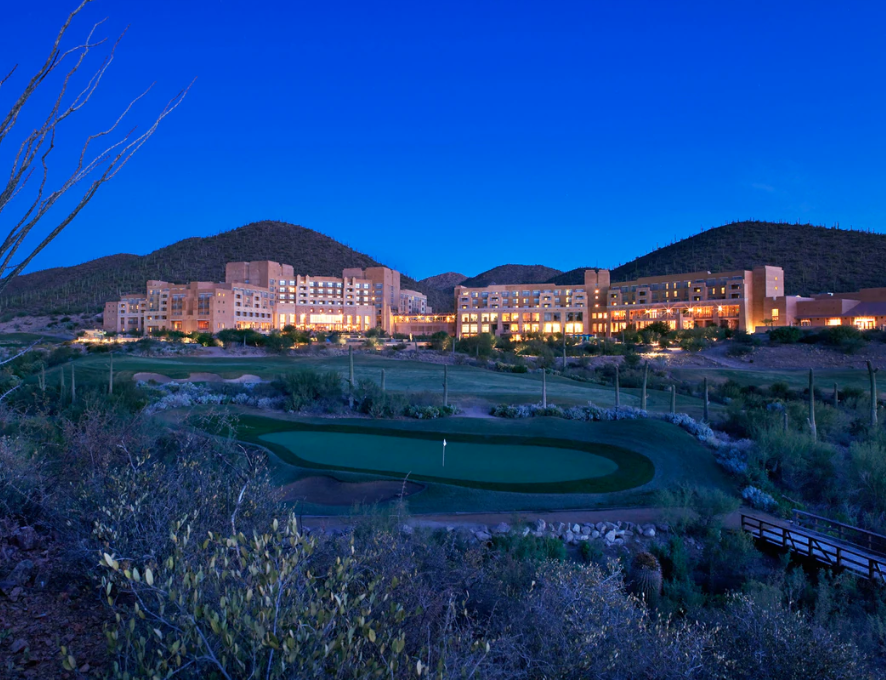 Want to soak up all the sunshine before the baby arrives? Tucson receives more than 350 days of sunshine and if your idea of a babymoon is to enjoy the Sun and relax outdoors, there's no destination ideal than the second-largest city in Arizona. Tucson is known for the breathtaking Sonoran desert, amazing Southwestern culture & cuisine, lively vibe, endless outdoor space, and some of the cleanest air in any major city worldwide. 
JW Marriott Tucson Starr Pass 
Check Ratings & Reviews Here
Stay in the liveliness of Tucson city whilst enjoying the secludedness with your partner in this downtown JW Marriott Tucson resort. Your pregnant self will benefit from their on-site Hashani spa offering prenatal massages and a signature grill serving 3 meals per day – perfect to satisfy your pregnancy cravings. Stay more and save more with their curated packages and amenities no matter what time of the year you book! 
The Westin La Paloma Resort & Spa
Check Ratings & Reviews Here
I highly recommend this 4-star spa resort in Tucson for your babymoon. Surrounded by a stunning Catalina mountains view, this spacious property offers breathtaking accommodations and several on-site amenities like a 27-hole golf course, a relaxing spa, 5 swimming pools, and a yoga and pilates studio. Luxuriate in these world-class services or spend your day simply enjoying the scenery from your private patios or balconies. 
#9 Santa Catalina, California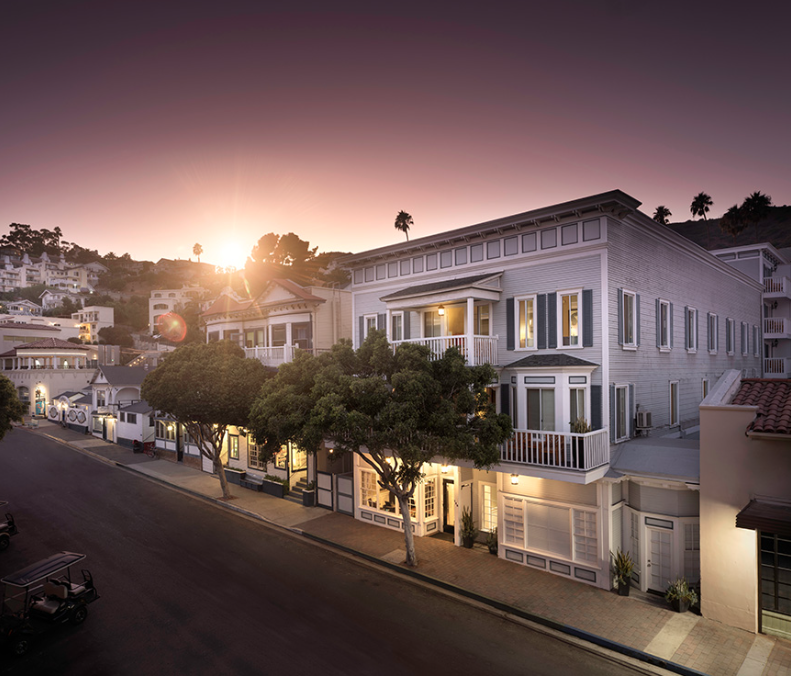 One of the best babymoon destinations in California is Santa Catalina island located off the coast of Southern California. The popular vacation spot is popular for its azure blue waters, soft, sandy beaches, charming coastal towns, and abounding opportunities for adventure. Obviously, the place is lined with some upscale resorts to give you the best stay experience as you explore this beautiful destination. Here's one we recommend for your babymoon:
Catalina Island Inn
Check Ratings & Reviews Here
This luxurious hotel is located just minutes away from the bustling center of Catalina island whilst being far enough to give you the privacy of a romantic vacation. Boasting chic accommodations, stunning harbor views, friendly services, and an amiable atmosphere, we're sure you, your baby daddy, and your little one inside will love the cozy, relaxing, and affable vibes of this place, and this accommodation. 
South America
#10 Machu Picchu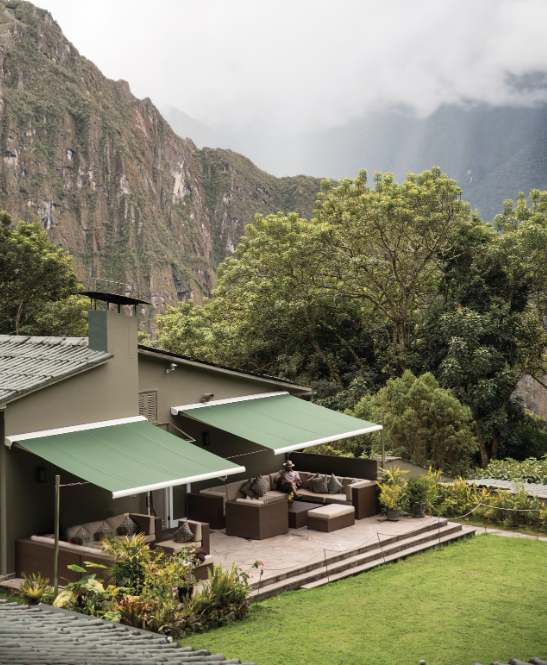 That's right – one of the seven wonders of the world can be one of the best babymoon destinations lounging away in this historic town and exploring its beauty as you take the mandatory pregnancy stroll around the city.  Peru is anyways one of the underrated destinations in the world in terms of natural beauty and historic origins. A visit here during the most surreal time of your life will not disappoint for sure. To ensure safety, choose a comfortable stay during your visit. Here are two we find best for your pregnancy: 
Sanctuary Lodge, A Belmond Hotel
Check Ratings & Reviews Here
A 5-star luxury hotel located right at the entrance of the archaeological park, this Belmond stay offers you direct views of the ancient ruins whilst offering a unique landscape lined with curving terrains, ponds, and lush flora. Here, you will be astounded by the aesthetically-pleasing nature's beauty as you luxuriate in the delicious rainforest cuisine, attend the cultural ceremonies on-site, and be catered to by authentic Peruvian hospitality. 
Inkaterra Machu Picchu Pueblo Hotel 
Check Ratings & Reviews Here
Occupying 12.3 acres of lush forested beauty, this colonial-style property boasts luxurious accommodations combined with the local Andean culture – with food, architecture, and sauna all imbibed with the local culture. You can enjoy exploring the surrounding historic beauty through a guided stroll or relax at the property in comfortable seating arrangements around the hotel or in your private fireplace in your room. 
#11 Buenos Aires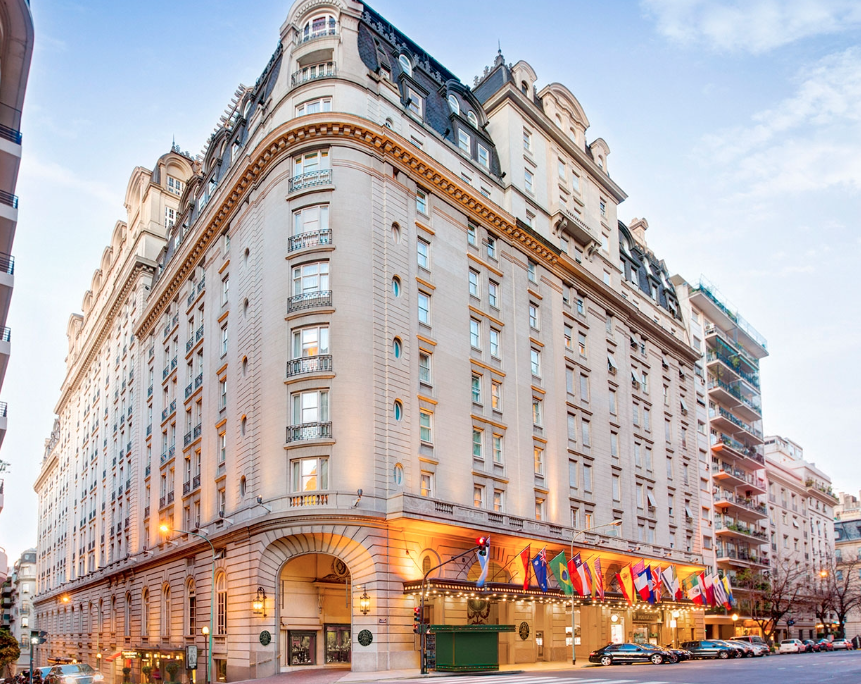 If your idea of a babymoon involves exploring a lively city with comfortable accommodations, Buenos Aires will not disappoint. The capital of Argentina is also known as "The Paris of South America" and the nickname is enough to tell you that you're in the most romantic spot with your spot – enjoying those lovey-dovey moments of privacy before the little one arrives. Recommended stays:
Alvear Palace Hotel
Check Ratings & Reviews Here
Known for its majestic French architecture and comfortable location, the Alvear palace hotel consists of 192 spacious guestrooms and suites for a cozy stay. Inside the hotel premises, you will find an indoor heated pool, a luxurious spa, and a fitness center with a sauna and steam bath. It's also conveniently located just minutes away from the stylish neighborhood of La Recoleta lined with the best city restaurants and shops for you to explore during your vacation.  
Sofitel Buenos Aires 
Check Ratings & Reviews Here
This luxurious Sofitel property is also located in the heart of the city and has some of the best well-maintained rooms to enjoy your babymoon. Some of the suites also have bathtubs with whirlpools and separate patios and living rooms. Inside the premises, you can also enjoy authentic Argentinian cuisine but when you want to explore the city, leave it to the hotel's concierge services to arrange a guided exploration as per your preferences. 
Asia
#12 Abu Dhabi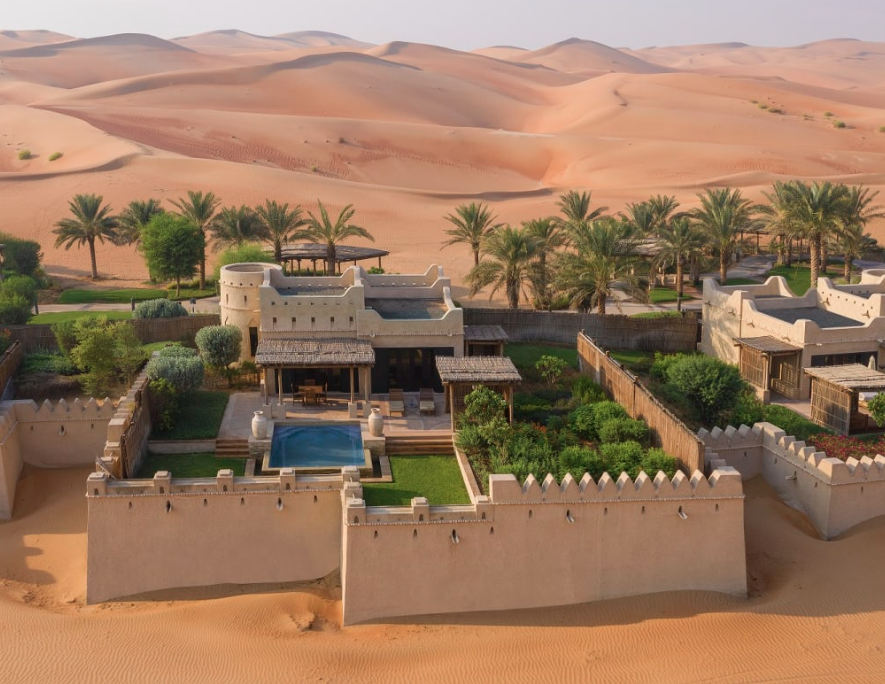 Abu Dhabi is one of the seven emirates of the UAE (Dubai is also an emirate, btw). It is popular for its spectacular infrastructure, extensive deserts, beautiful hotels, and stunning beaches. While UAE might not come to your mind when searching for babymoon destinations, it's certainly a good choice when you want to spend your babymoon days to be filled with middle-east hospitality, vibrant city vibes, and comfortable stays. 
Emirates Palace
Check Ratings & Reviews Here
One of the best luxury hotels in the world is located in Abu Dhabi. The Emirates Palace is also the world's costliest property to stay in, but one that exudes opulence at every step. From bigger details like 1002 Swarovski chandeliers, and dome coated in 22-carat gold leaf to smaller ones like signature gold cappuccino and a luxury spa offering 24-carat facials, you will be transfixed at the details of this property and would want to spend your days just lounging in your lavish room or exploring the hotel. But when you do decide to step out, we'd recommend a visit to the Sheikh Zayed Grand Mosque and Louvre Abu Dhabi. 
Qasr Al Sarab Desert Resort
Check Ratings & Reviews Here
If you've been impressed by the images of an expansive resort located right in the middle of the desert, chances are you're mesmerized by the Qasr Al Sarab Desert Resort. The secluded retreat with stylish desert castle architecture is a 2-hour drive from Abu Dhabi and offers a breathtaking panorama. You can add desert exploration to your list or comfortably relax in your private lounge as you stargaze the desert sky by night. 
#14 Jaipur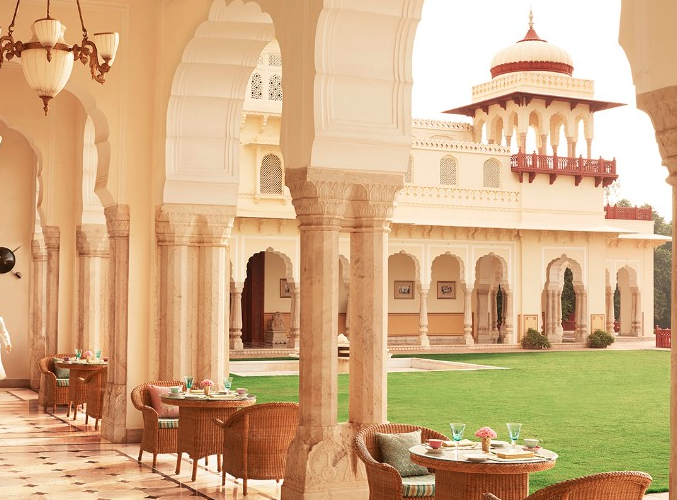 Before we get into the details of this place, I should let you know that this destination gets incredibly hot during the summer season with temperatures upwards of 45 degrees Celsius, and an ideal time to visit will be during winter. May, June, and July should be avoided if you want to beat the heat. Coming to what's special about this Indian city is first, its regal charm as the entire state is known to be the abode of kings & queens, bustling life, luxurious accommodations, and enchanting mountain peaks lining the city. The stays we recommend:
Taj Rambagh Palace 
Check Ratings & Reviews Here
Many of the stays in Jaipur are a renowned historic palace that served as an abode for royalty. Taj Rambagh used to be the former residence of the Maharaja (ruler) of Jaipur and traces its roots to the year 1835. The 47-acre hotel still preserves the traditional architecture of the region and combines it with the renowned Taj hospitality to cater to all your needs during your babymoon experience. A guided trip to the surrounding area in the hotel's designated luxury cars is definitely recommended during your vacation. 
Six Senses Fort Barwara 
Check Ratings & Reviews Here
Located 3 hours away from the Jaipur International Airport, this newly-opened Six Senses property is originally a 14th-century (700-year-old) fort that's renovated and transformed into a 48 suite-hotel with a focus on well-being. This is the first Six Senses resort in India and the 22nd hotel & resort worldwide. Spend your pregnancy days in their signature spa therapies or enjoy the modern interpretation of their local Rajasthani cuisines in their scenic private dining venues.
#15 Sentosa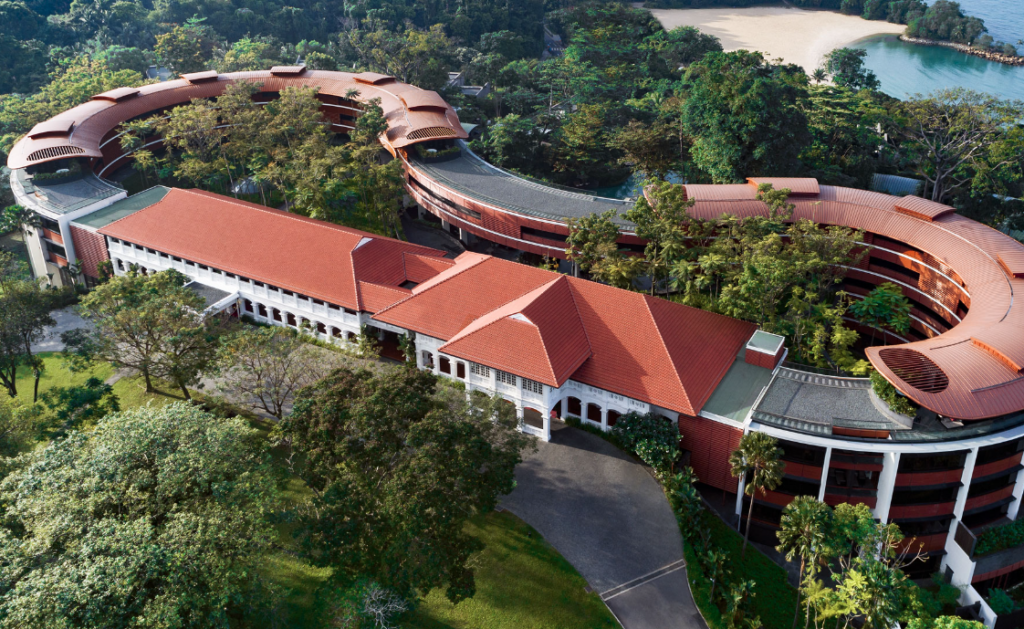 Sentosa is a sunny island off of Singapore's South coast and is accessible from the mainland by car, bus, monorail, or by foot. The gorgeous destination is popular among tourists for its sandy beaches, themed attractions, lush rainforests, and award-winning spas. Many popular resort chains are lined up here for your stay, but when it comes to your babymoon only the best should be chosen. Here are two we recommend: 
Capella Singapore 
Check Ratings & Reviews Here
Capella is one of the best 5-star hotels located in the heart of Sentosa island yet offering your maximum privacy in the comfort of your chosen accommodation. Set in 30 acres of luscious landscaped gardens, Capella offers you world-class amenities and is still close to the city when you're in the mood to explore this sunshine island. 
W Singapore – Sentosa Cove 
Check Ratings & Reviews Here
With more than 5,000+ positive reviews, W Singapore Sentosa Cove brings the lively coastal setting of Sentosa alive. It has elegantly designed rooms, a variety of dining options, and a relaxing spa facility on spot. But if your curious pregnant self wants to explore the island, many tourist attractions like Madame Tussauds and Marine Life Park are just a few minutes' drives away from the resort. An extended stay here also gives you the benefit of enjoying a discounted price. 
#16 Maldives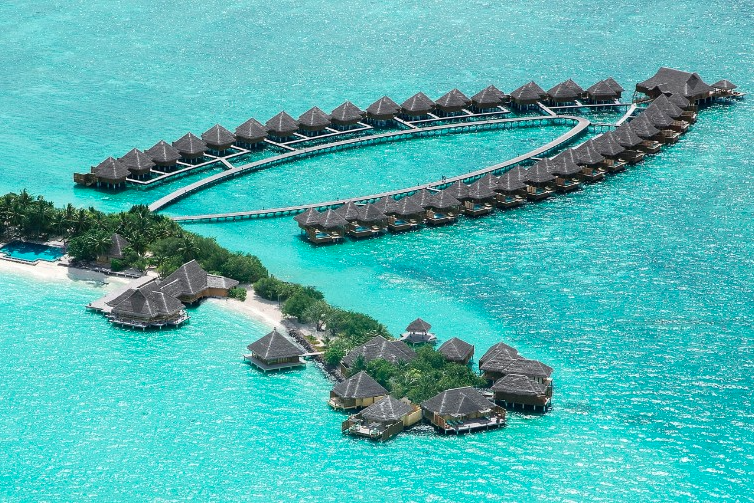 We hardly need to make a case for why Maldives makes for an ideal babymoon spot. Just google babymoon in Maldives and you will find countless stories of women who traveled to Maldives for their babymoon – one even went for a solo babymoon here! What's more – is that many Maldivian resorts offer curated babymoon packages to make your stay comfortable and memorable. Here are two resorts we know that offer babymoon packages.
Taj Exotica Resort & Spa
Check Ratings & Reviews Here
A 15 minutes speedboat ride from the Male airport welcomes you to the luxury's own lap at Taj Exotica Resort & Spa. Check their offers section where you can buy curated packages with special discount rates. For babymoon packages, you might have to contact them separately but they'd be more than happy to create one dedicated to your idea of relaxation. 
Constance Halaveli Maldives
Check Ratings & Reviews Here
Constance is a chain of luxurious resorts in the Indian ocean. They have two properties in the Maldives and their resorts are regarded as one of the best babymoon destinations for their designated babymoon offers and packages. The Halaveli is perched on a private island in North Ari Atoll and has spacious villas with private plunge pools, a comprehensive spa, three restaurants, and a well-equipped fitness center.
Europe
#17 Switzerland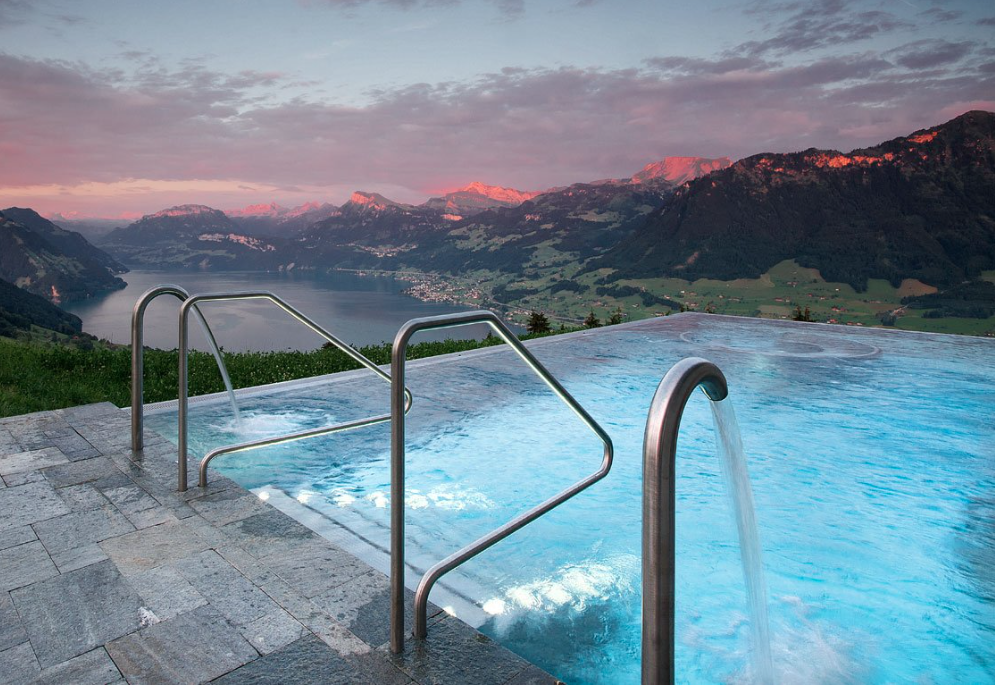 When you enter Europe, there are a number of babymoon destinations that are just perfect for your vacation. Switzerland, for example, has a number of best babymoon destinations in itself. You can choose to stay in the remarkable cities of Geneva, Zurich, Saint Moritz, Montana, etc. or choose to explore the gorgeous resort town of Zermatt or Gstaad, or you can pick one of the fascinating Switzerland villages for your honeymoon like Grindelwald and Interlaken. Although, we'd recommend to not hopping more than two cities on a week-long trip as you'd want to enjoy the time relaxing at this point rather than exploring. 
Depending on your chosen spots, you can pick comfortable accommodation for your stay. Some great options are the penthouse suite of Art Deco Hotel Montana complete with an outdoor and an indoor jacuzzi tub and an expansive balcony overlooking Lake Lucerne, the 1900's villa-turned-5-star Hotel Villa Honegg, a stunning property in Andermatt village called the Chedi Andermatt, or pick the charming Hotel Belvedere in Grindelwald overlooking Swiss mountains. Don't forget to load up on the famous Switzerland cheese and chocolates whilst soaking up the aesthetic bliss of the country. 
#18 Italy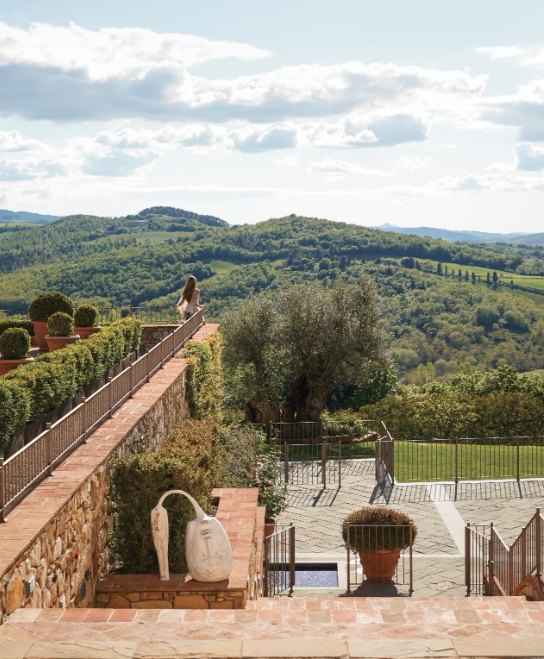 If you're having crazy pregnancy cravings, there are no other babymoon destinations in the world that can satisfy them like Italy. Load up on the homemade pasta and pizzas here, no matter what Italian city or countryside you choose to stay in. You can choose lake-side babymoon destinations like Lake Como, Amalfi Coast, etc. Further, you can pick any one of the gorgeous and modern Italian cities like Venice, Rome, or Milan. Each has a different setup to offer. Venice is popular for its canals, Rome for its architecture, and Milan for fashion and shopping. You can choose to hop cities as the country offers easy transfers between cities. 
For privacy, you can choose Tuscany. The area brings the rustic country area seen in the pictures alive with its rolling hills, expansive sunflower fields, and Renaissance architecture. The gorgeous castle hotel Castello di Casole can serve as comfortable and opulent accommodation for your stay. Or, you can choose the lesser-known mountainous region the Dolomites, and stay at one of the chalets for a memorable experience. Another pick can be the island of Sicily lined with upscale resorts (like The Grand Hotel Timeo & San Domenico Palace), rich historical monuments, delectable Italian cuisine, and beautiful island beaches. 
#19 France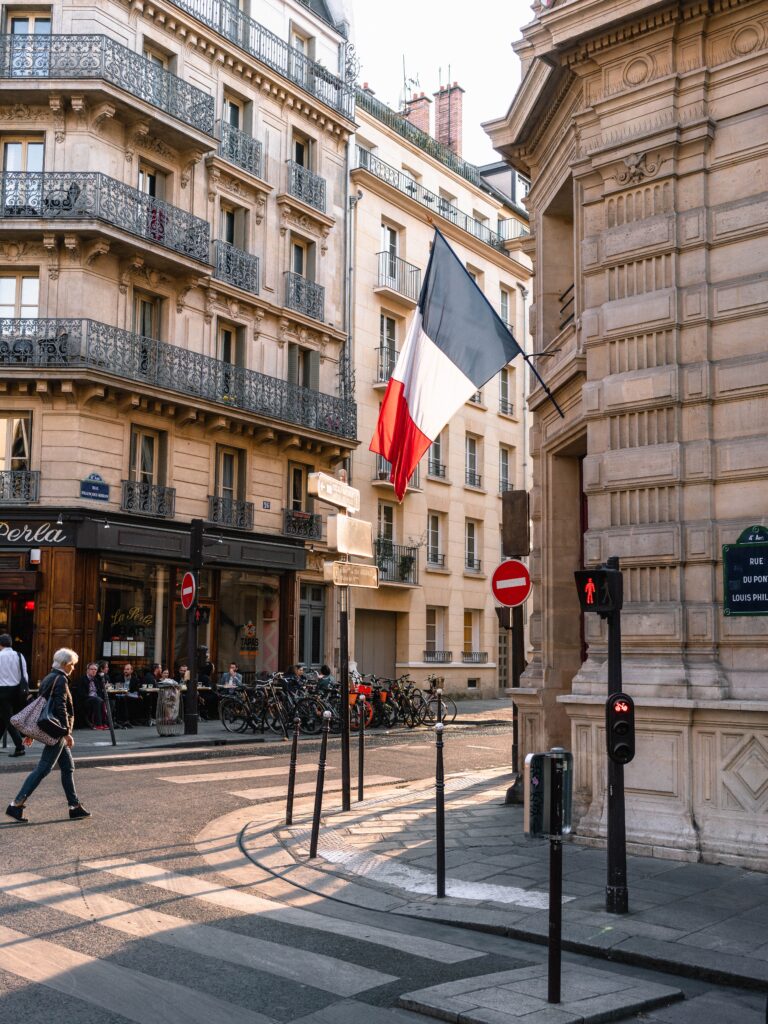 When it comes to France, you just can't skip Paris and there are chances it would be on the top of your list! Well, it should be. Romantic strolls through the city's many pathways, top tourist attractions like Eiffel Tower, Arc De Triomphe, Louvre, and Notre Dame, several shopping places, and delectable cuisine in the city's many cute cafes are just the top reasons why a Parisian babymoon is just perfect. You can stay at the city's many popular hotels – many overlooking the Eiffel Tower or Arc De Triomphe, or you can choose to stay in Versailles (one hour away from Paris) in the comfortable Waldorf Astoria Resort. 
Other scenic cities in France ideal for your babymoon are Nice, Bordeaux, and St.Tropez. Each one has a different element to offer. Another amazing one of the babymoon destinations in France is the resort town of Cannes. While famed for its International film festival, the town is utterly gorgeous in terms of landscape with a picturesque bay, sandy beaches, authentic architecture, and narrow alleys. Choose any one of the gorgeous beachfront properties – JW Marriott or Hotel Martinez – for a wonderful stay as you soak in the visual appeal of the city. 
#20 Cotswolds, UK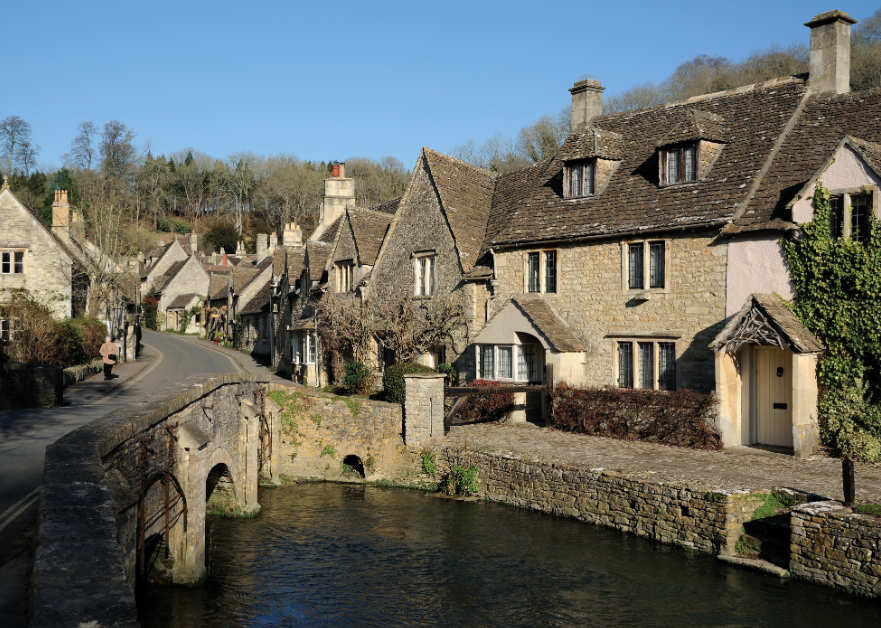 The UK has quite a many countryside stunning babymoon destinations, but Cotswolds stands out from the rest. The 800 miles of area runs through five counties and is popular for its typical English landscape comprising rolling hills, charming little towns/ villages, sandy yellow stone walls, and lush woodlands. A romantic stroll in this area with your beau will leave you astounded by the beauty, peace, and amiable vibes. Whilst here, we'd recommend exploring the nearby villages, picking up some organic treats, and shopping for some antiques. In terms of food, Cotswolds is home to many Michelin-starred restaurants, but also has many cute cafes overlooking stunning scenery to feed your little one some delicious treats. 
Stay options are enormous. There's the award-winning 31-room boutique hotel, Cowley Manor, set in 55 acres of Cotswolds parkland. On days when you want to take a break from exploring outside, this upscale property is an inviting haven with a relaxing spa on-site serving locally sourced food. Its ideal base is also near the rest of the regions for easy access to outdoor adventures. Another recommendation is the 5-star property – Whatley Manor Hotel & Spa equipped with a Michelin-star restaurant and elegant rooms in modish architecture. The hotel is also committed to many sustainable practices like no single-use plastic in bedrooms and reducing packaging of locally supplied chains to reduce their share of impact on the environment. 
#21 Croatia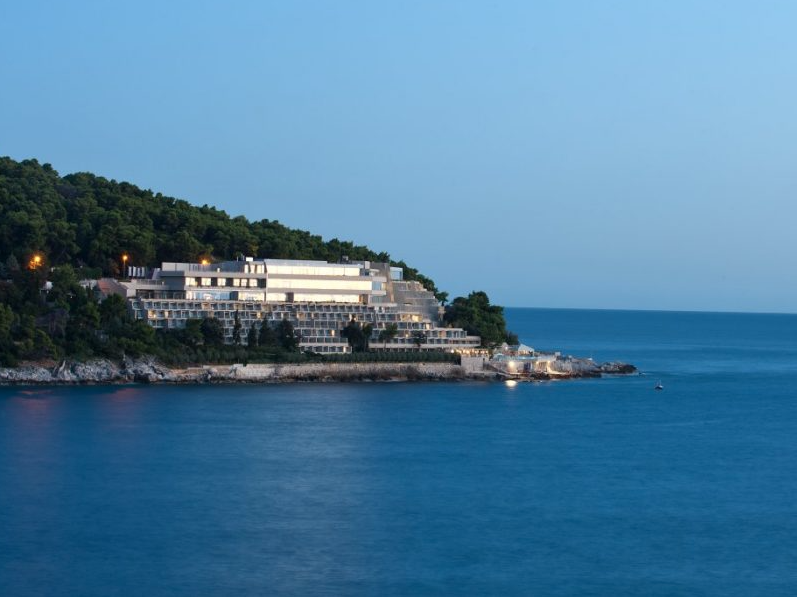 One of the lesser-known albeit growing European babymoon destinations in Croatia. Thankfully, it's still not grown as much as other destinations in Europe and you can enjoy the same luxury as, let's say in Amalfi Coast, at a fraction of the cost. Croatia is known for its idyllic beaches, friendly people, rich history (still alive in the country's architecture and well-preserved monuments), delectable food, hidden islands, and comfortable Mediterranean climate. Babymoon here is everything you've dreamed of – and more, but on a budget. P.S. Many Games of Thrones scenes are shot here and don't be surprised when you see a spot that you've already probably seen before virtually. 
In terms of accommodation, we'd recommend the 5-star Radisson Blu Split resort – located on the pebbled beach and overlooking the Adriatic. Some rooms (still affordable) have their own hot tubs and all are quite spacious to give you a luxuriating experience. You can also choose to spend some time in Dubrovnik – known for its unique architecture and stunning landscape. Pick Hotel Dubrovnik Palace for your stay, a 5-star property overlooking the ocean with rooms starting from as low as $150. Another elegant resort is in the city of Rovinj – Grand Park Hotel – that sits on the edge of the historic town and is nestled amidst a fragrant pine forest. 
Africa
#22 Zanzibar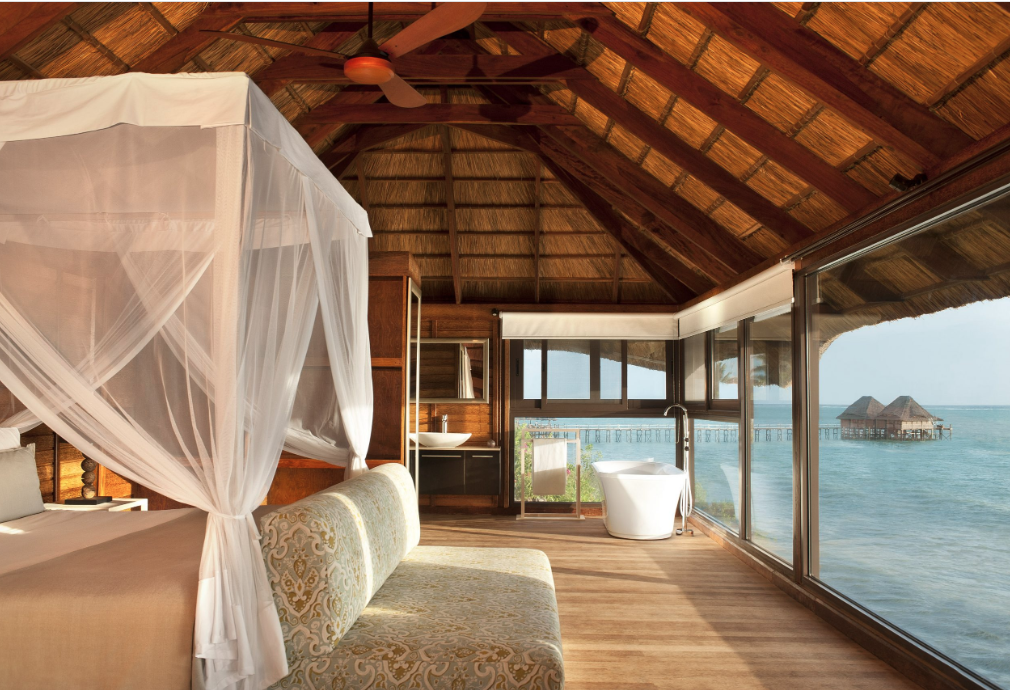 Lying 22 miles off the coast of east-central Africa, Zanzibar is the main island in the Tanzanian archipelago of Zanzibar. The islands are considered one of the best babymoon destinations when you want an offbeat yet picturesque location for your stay. Known for its crystal clear waters, white sandy beaches, diverse wildlife, and rich culture, Zanzibar is lined with many resorts to make your stay even more comfortable. Like Melia Zanzibar – boasting of a private beach area, villas with infinity pools, natural coral reef, and a selection of 5 restaurants offering different cuisines to satisfy your taste buds. 
We also love Park Hyatt Zanzibar for your resort pick. This 5-star hotel is sitting majestically on the beachfront in the heart of Stone Town, a UNESCO World Heritage site, and offers spacious rooms, a relaxing spa, and curated packages for a delightful stay. Whilst here, don't forget to explore the town on foot and shop for some spices. Zanzibar is known for its farming, and such extensive spice farming that it sometimes referred to as Spice Islands. Shop for some locally grown spices like nutmeg, cinnamon, pepper, and more during your shopping excursions on the island. 
#23 Marrakech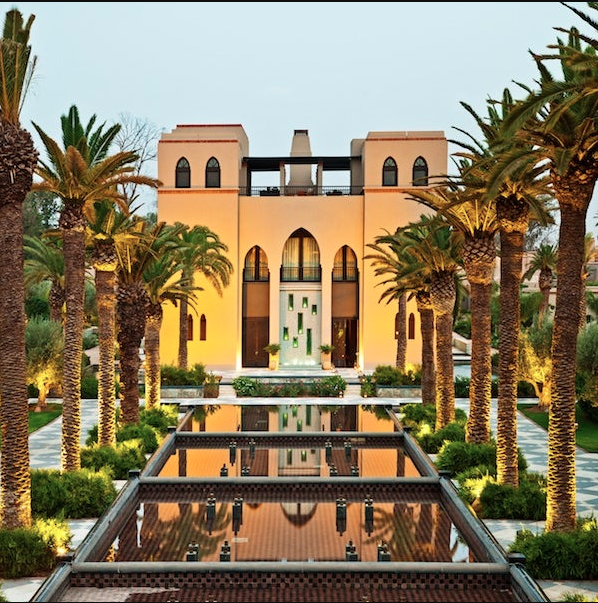 Vibrant souks, Moorish architecture, bustling medina, historic palaces, and boutique hotels are just some of the reasons why Marrakech makes for an offbeat one of the babymoon destinations in the world. Spend your days visiting some of the best tourist attractions in the city like Koutoubia, Jemaa el-Fna, Bahia'a Palace, Saadien's Tombs, etc. or relax in the some of finest hotels of the city, such as Mamounia Hotel ranked as one of the best hotels for several years by CN Traveler. Located in the heart of the imperial city and nestled in a 17-acre park, the hotel's Moroccan-style ambiance and hospitality are perfect for a luxurious stay. 
There's also the affordable Sofitel Marrakech, which is just minutes away from the city's many tourist attractions and offers you a heavenly oasis to relax and rejuvenate. And when you want quite a sumptuous stay for your holiday, there's no hotel chain better to trust than Four Seasons. The blissful retreat occupies 40 acres of land replete with Moorish architecture right in the middle of ancient medinas and cosmopolitan spots. You will love immersing in the traditional Moroccan experiences here combined with modern comfort. 
#24 Kenya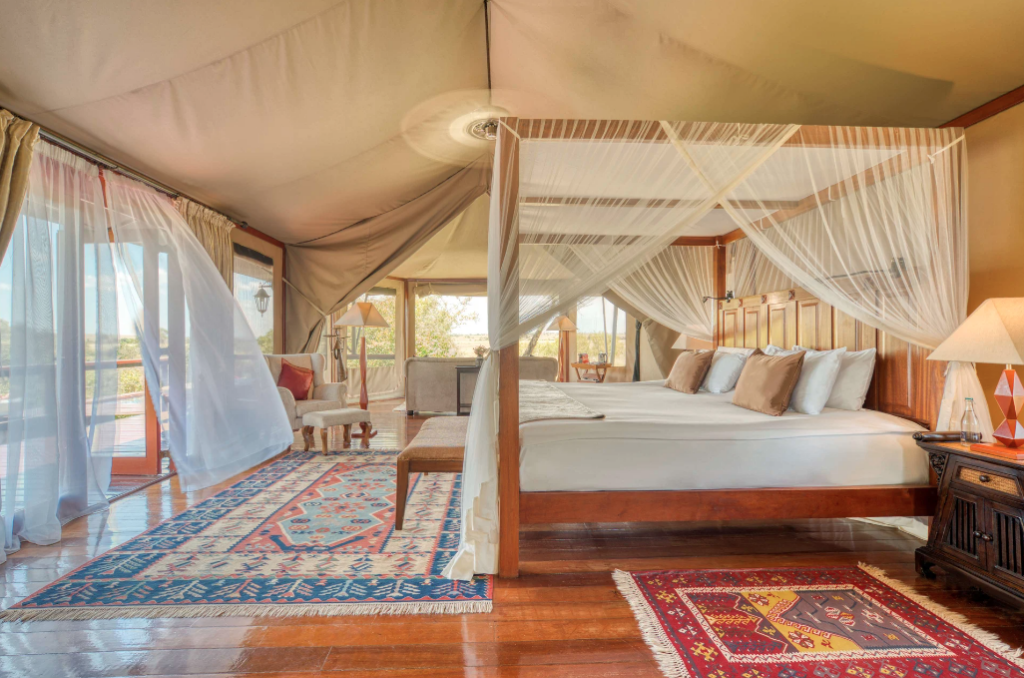 When you're done with beaches and mountains, the quaint wilderness of Kenya makes for a superb babymoon destination to choose from. Here, you can spend your days relaxing in your comfortable lodge equipped with all the facilities and delectable in-room dining or go for Safari in the Kenyan wilderness. One of the most beautiful reserves to plan your stay in is the Masai Mara – world-renowned for its wildlife conservation, grassy plains, and rolling hills. Stay at the stunning Olare Mara Kempinski comprising 12 deluxe suite tents, equipped with a lounge area, living room, and an oversized bathtub. You can enjoy the rejuvenating spa treatments in the comfort of your tent and safaris arranged as per your request. 
Alternatively, you can stay in the Fairmont Mount Kenya Safari Club located on 100 acres of landscaped gardens right in the middle of Mount Kenya and Mount Kenya National Park with 120 luxuriously appointed guest rooms. You can choose to lounge in your accommodation or contact the hotel's 24-hour desk to arrange some nearby excursions for you. The 45-suite boutique hotel, Hemingways, in the capital city o Nairobi is another blissful retreat. The property comes equipped with full-time butler service, a brasserie, a lounge, and a spa. It's located in the peaceful suburbs to ease your trips to the Kenya National Park whilst giving you some magnificent views of the iconic Ngong Hills. 
Australia
#25 Blue Mountains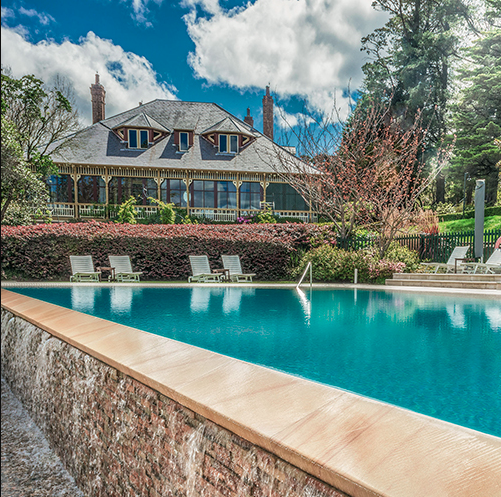 Yes, the land down under has a scenic babymoon destination waiting for you – the Blue Mountains. The mountainous region is located in New South Wales, Australia just on the border of Sydney's metropolitan area, and is known for its dramatic scenery encompassing steep cliffs, eucalyptus-lined forests, waterfalls, and picturesque hiking trails. You can choose a comfortable stay here or you can divide your time between Sydney and this gorgeous region in the countryside. Our recommended stay here is at the 5-star inviting haven – Lilianfels, and an eco-certified retreat called Spicers Sangoma offering just 8 suites for maximum privacy and the utmost attention to every guest.