White diamonds are not only the most popular of the diamond colors but they are also fairly more common than colored diamonds. Only 1 in 10,000 carats of diamonds are colored, and only one in 25,000 has an intense color, according to data posted by GIA. Out of the colored diamonds, the red colored diamond is the most rare to find! So naturally the answer to what color diamond is the most expensive is "Red Colored Diamond"! Only about 20 to 30 red diamonds exist in the entire world. 
What Color Diamond Is The Most Expensive? & Why?
Red is one of the most expensive colors of the diamond and is also the rarest diamond color to exist! In general, if you're looking for the answer to what color diamond is the most expensive, then besides the color, the intense color of the diamond also determines the price. The fancy vivid pinks, greens, browns, or even yellow and orange sometimes sell for around $10,000 per carat! 
Red diamonds are also a surefire answer to what color diamond is the most expensive because only about 30 red diamonds exist in the entire world. The exact price of a red diamond can vary significantly based on factors such as carat weight, color intensity, clarity, and overall quality. Due to their extreme rarity, red diamonds often achieve record-breaking prices at auctions and are highly valued by collectors and connoisseurs of rare gemstones. 
What Other Color Diamonds Are Expensive?
When it comes to colored diamonds, it's not so much about the color as it's about the intensity and sometimes, the rarity. Only the red-colored diamonds are rare though, other fancy-colored diamonds often come in equal proportions and are priced almost equally. The price depends on the color grade and GIA grades colored diamonds using these terms: faint, very light, light, fancy light, fancy, fancy dark, fancy intense, fancy deep, and fancy vivid. Some of the most sought-after diamonds and hence, the most expensive color of diamonds are fancy yellow, saturated pinks and greens, and chocolate-colored diamond stones. 
What Is The Most Valuable Color Of a Diamond?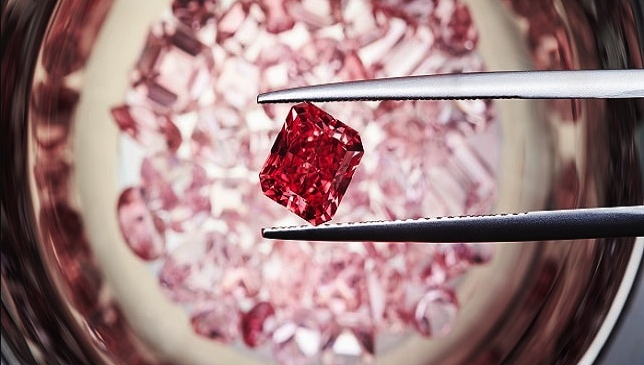 Credits: The Israeli Diamond Industry
The most valuable color of the diamond is also red! However, you should know that the vivid color of diamonds can make them valuable as well. Besides red, pink, and blue diamond colors have also been sold for record-breaking prices and exist as some of the rarest and most expensive gemstones in the world. Some of the most valuable pink diamonds are CTF Pink Star, Graff Pink, the Sakura Pink diamond, etc. and the most valuable blue diamonds are Blue Moon of Josephine, the DeBeers Blue, and the Oppenheimer Blue Diamond. 
When it comes to red diamonds, it's very rare to find a red diamond of a bigger size than other colored diamonds. Most valuable red diamonds come in 5 carats and the majority of red diamonds weigh somewhere under a carat! Here are some of the most valuable red diamonds around the world:
#1 The Moussaieff Red Diamond
The Moussaieff red diamond is the largest red stone ever graded by the GIA, the rarest of all diamond colors, and comes in a triangular brilliant cut. It's weight is 5.11 carats and it's the largest red diamond to exist in the entire world! The stone was found in Brazil during a manual digging operation in 1989. It was immediately purchased by William Goldberg of the William Goldberg Diamond Corp, who had to take several trips to complete the purchase. He took the 13 carats of raw stone and cut it to 5.11 carats with a radiant cut! Known as the Red Shield diamond at the time, the coveted stone attracted another renowned jeweler of the time – Shlomo Moussaieff. 
Shlomo Moussaieff of the Moussaieff Jewelers was the sole heir of his father's gemstone business and decided to purchase the red diamond from Goldberg. The purchase happened somewhere around 2001 or 2002 after which he renamed the diamond The Moussaieff Red Diamond in honor of his family's legacy. The public got a glimpse of the remarkable gemstone as part of the Smithsonian Institution's "The Splendor of Diamonds" exhibit where it was displayed alongside other valuable diamonds like the De Beers Millenium Star (a 203-carat internally and externally flawless pear-shaped colorless diamond) and the Heart of Eternity diamond (a 27.64 carats fancy blue vivid diamond). 
#2 The Kazanjian Red Diamond
The Kazanjian Red Diamond weighs just a little over 5 carats and is owned by the Kazanjian brothers, a jewelry company in Beverly Hills. The diamond has an interesting history. It was first found in a diamond rush in South Africa and was a 35-carat unpolished stone. It was sent to a jeweler in Amsterdam who were initially skeptical of its worth. They later cut and polished the stone to 5 carats and were mesmerized by the appearance, describing it looking as a "drop of blood" when held near a candle. They wanted to sell it to Tiffany & Co. but couldn't agree on the price. It was then kept safely in Amsterdam until the Nazis confiscated the diamond. 
After the war was over, it passed on to several buyers, including Ernest Oppenheimer, before being bought by a private collector. After remaining under wraps for a few years, the diamond was bought by the Kazanjian brothers who purchased it from an unknown buyer in Asia. Previously known as the "red diamond", the stone was renamed and remains unmounted to this day. It is an emerald-cut red diamond and has a certain charm that's hard to ignore. 
#3 The DeYoung Red Diamond
The DeYoung red diamond is the third-largest red diamond in the world and it's owner didn't even know it was a diamond when he brought it! Yes, the 5.03 carats red diamond was mistaken to be a common yet extraordinary gemstone by its owner Sydney DeYoung. The jeweler bought it at a flea market and thought it was a garnet. It was only later that he realized there was something extraordinary about the stone as it was almost inclusion-free, looked almost flawless, and had a certain shine to it! He took the stone for gemological testing and was shocked by the results. The gemstone was a 5.03 carat VS2 fancy brownish-red diamond and was much more valuable than the price he paid! 
After DeYoung's passing in 1986, the diamond was donated to the Smithsonian Institution, as directed by his will. Today, you can find this diamond on display in the museum along with some of the other valuable and rare diamonds in the world. Owing to its rarity, it's placed in a prominent area of the museum and is the only red diamond in the world that is on display in the museum! 
#4 The Graff Purplish-Red Diamond
Auctioned in 2020 at Christie's and sold for a whopping 2.77 million USD, the Graff Purpish-red diamond was unnamed before being bought by the famous English Jeweler, Laurence Graff, who is the founder of well-known Graff Diamonds. He has brought many valuable colored diamonds before and named them after him and his company. These include the Graff Pink Supreme, the Graff Pink Yellow, and the Graff Imperial Blue diamond! The diamond is gorgeous and is known for its unique color. 
The Graff Purplish-Red diamond has a unique defect in its lattice and is one of the rare structurally imperfect Type IIa diamonds. Type IIa diamonds are a specific classification within the diamond grading system. They are known for their exceptional purity and structural composition. The diamond is now set into a ring by Graff and is a part of his gemstone collection. Not much is known about its history or origins, and it's one of the popular and valuable diamonds that has remained almost non-existent throughout the history. Some experts do claim that the diamond might have been found in South Africa or Brazil. 
 #5 The Hancock Red Diamond 
The Hancock Red Diamond is a 0.95 carats brilliant-cut vivid red gemstone with its origins in Brazil and was first bought by William Hancock, a Montana rancher who loved collecting colored gemstones, in 1956 for $13,500. At the time very few people even knew about colored diamonds and there were also very limited ways to determine if the diamond was real or not, hence the low price he paid for the diamond. Hancock brought the diamond from dealer Arnold Baron. Details on how Arnold Baron received the diamond remain unknown, and so does the original carat weight of the diamond. 
He owned the stone for around 30 years before it was sold at Christie's auction for a record-breaking price of $880,000 per carat and made a profit of 6500%. It was the highest-selling diamond per carat at the time and held the record for 20 years. It was sold after the death of William Hancock and was sold by his family as they were in desperate need of cash. It's pre-sale estimate was 150,000 USD per carat, but it far exceeded the estimate. Besides the red diamond from Hancock's collection, a purple-pink diamond and a reddish-purple diamond was also sold from his collection for hefty amounts. 
How To Determine The Originality Of The Diamond?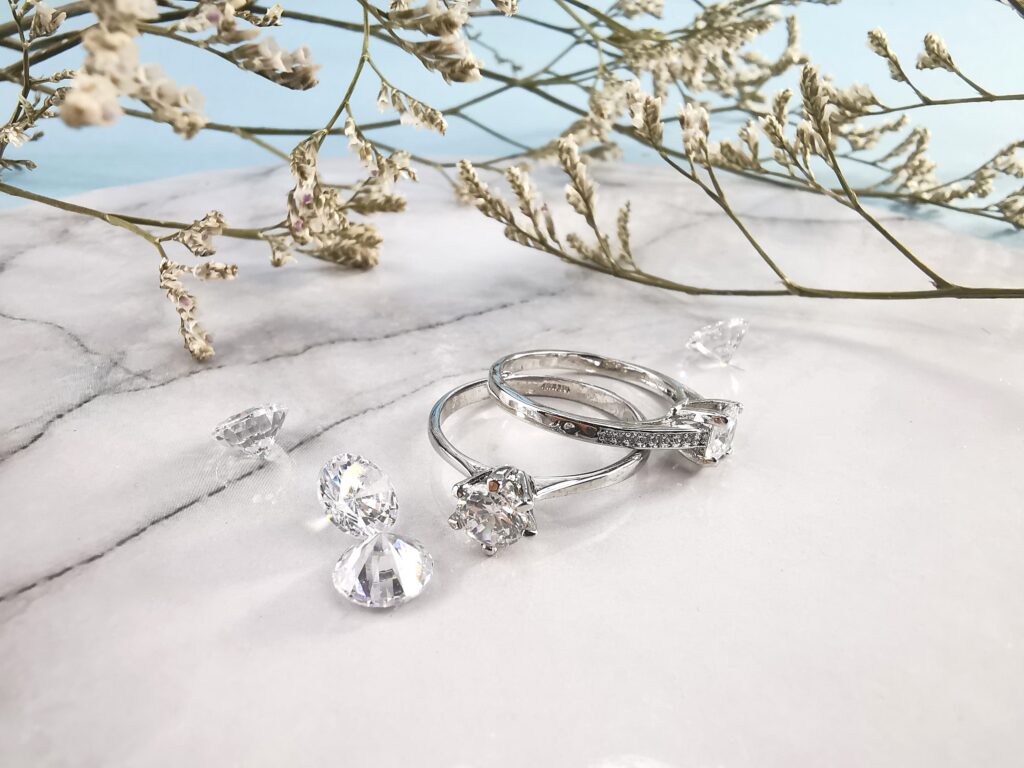 Determining the originality or authenticity of a diamond involves assessing its characteristics, certifications, and the credibility of the seller. Here are some key steps to help you determine the originality of a diamond.
#1 Certification:
Start by checking if the diamond comes with a grading report from a reputable gemological laboratory. The most well-known and respected diamond grading laboratories include the Gemological Institute of America (GIA), the American Gem Society (AGS), and the International Gemological Institute (IGI). Review the certification to ensure it matches the diamond you are examining.
#2 Verify the Certification:
Take note of the unique certification number on the diamond's grading report. Contact the issuing laboratory and provide them with the details to verify the authenticity of the diamond and the accuracy of the grading report.
#3 Inspect the Diamond: 
Examine the diamond closely using a jeweler's loupe or microscope to identify any visible inclusions, blemishes, or other unique characteristics. Look for natural imperfections that are typically present in genuine diamonds. If the diamond appears too flawless or perfect, it could be a sign of a synthetic or lab-grown diamond.
#4 Consider the 4Cs:
Evaluate the diamond's cut, color, clarity, and carat weight. Genuine diamonds exhibit a range of characteristics within these factors. Familiarize yourself with the expected range of values for each category based on the grading report and industry standards.
#5 Seek Professional Appraisal:
If you are uncertain about the diamond's authenticity, consider seeking a professional appraisal from a reputable and independent gemologist or certified appraiser. They can provide an unbiased evaluation and assessment of the diamond's authenticity and value.
#6 Purchase from Reputable Sellers: 
Buy diamonds from trusted and established jewelers or retailers with a solid reputation. Research the seller's credentials, customer reviews, and any certifications they may possess. Reputable sellers are more likely to provide authentic diamonds with proper documentation.
9 Celebrities With Colored Diamond Engagement Rings
#1 Blake Lively's Pink Diamond Ring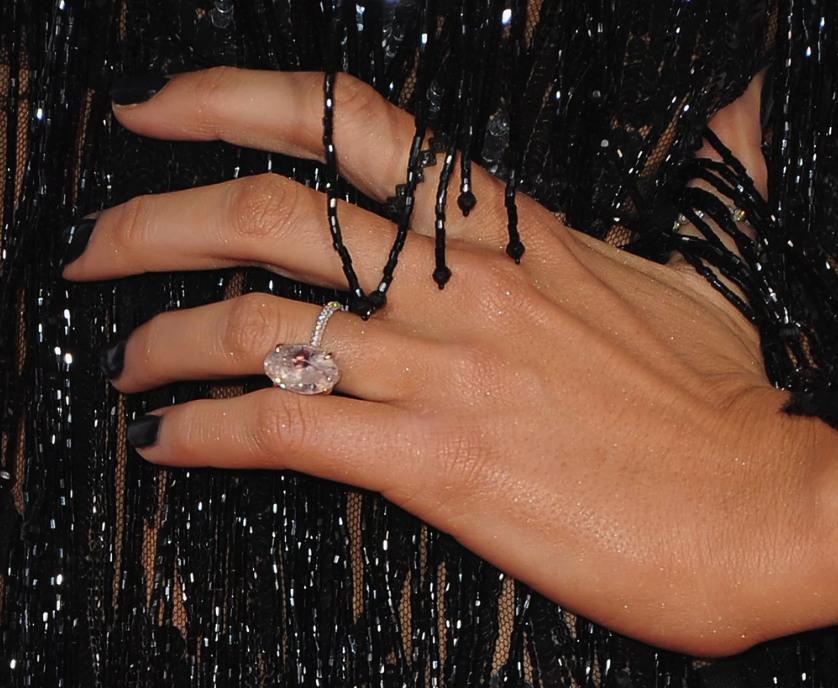 Though little is known about Blake Lively and Ryan Reynold's proposal as they kept both their wedding and engagement under wraps till the former happened. Blake Lively was also first spotted with her engagement ring after her wedding to Reynolds in 2012, which also became a source of controversy as it happened in a former slave plantation in Charleston, South Carolina. The couple has always remained apologetic towards their choice of location and the Deadpool star has been quoted saying it's "something they will always be deeply and unreservedly sorry for." 
The attention soon moved to Lively's 12-carat oval pink diamond engagement ring designed by Lorraine Schwartz, a celebrity jeweler who has also designed Beyonce and Kim Kardashian's engagement rings. The pink solitaire diamond stone in the middle features a hidden halo and is designed in rose gold to align with the feminine and elegant style of Lively! "My most treasured possession is my engagement ring made by my dear friend Lorraine Schwartz, because of the love and meaning it symbolizes. No, I didn't have any hand in it's design – I married a gentleman," Blake Lively told British Vogue. 
#2 Jennifer Lopez's Green Diamond Ring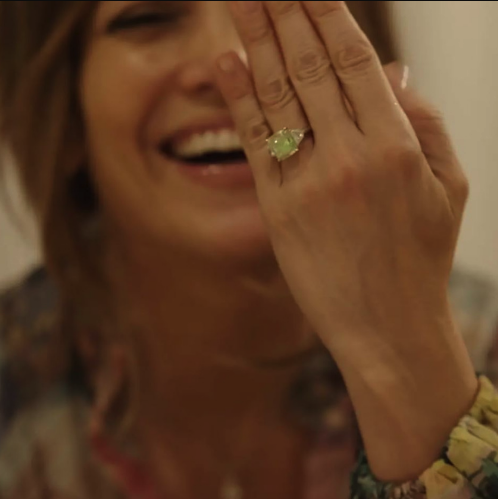 Jennifer Lopez's second engagement ring from Ben Affleck was a green diamond engagement ring, the second rarest diamond color to exist and the second most expensive diamond color of all! Valued at about $1 million dollars, the colored diamond engagement ring weighs 6.1 carats and is sourced by Ilan Portugali from Beverly Hills Diamonds. The diamond specialist has previously worked with Van Cleef & Arpels and is known to source colored diamonds and make them into personalized jewelry for his clients. "Among fancy-colored diamonds, natural-color green stones with saturated hues are some of the rarest and sought-after," Portugali told Vogue. 
The first they got engagement, Lopex received yet another colored diamond ring from the star – a 6.1-carat pink diamond from Harry Winston's personal collection, which alone created a spur in the demand for colored diamonds. The 53-year-old actress was over the moon when she saw her ring as she also consider green her lucky color! "I've realized there are many moments in my life when amazing things happened when I was wearing green," she was quoted saying. If that wasn't enough, Affleck also got a pair of green diamond earrings made for Lopez's birthday, which was also sourced and designed by Ilan Portugali. 
#3 Mariah Carey Pink Diamonds Engagement Ring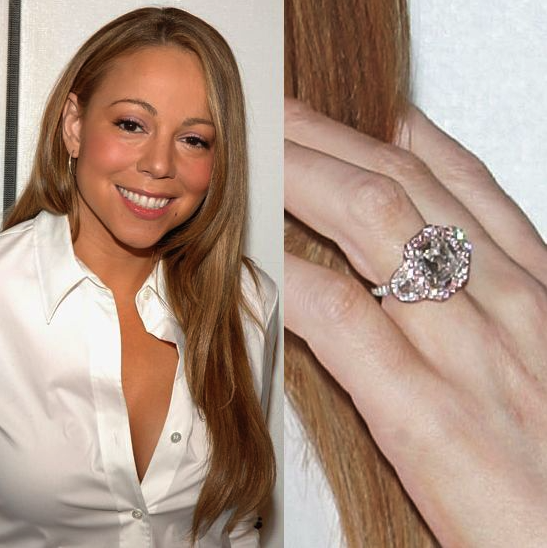 Mariah Carey got proposed to with a 17-carat fancy pink diamond engagement ring that costs a whopping $2.5 million dollars! It ranks as one of the most expensive celebrity engagement rings and was given to her by her ex-husband Nick Cannon, who is now infamous for fathering several children from multiple women simultaneously. Anyways, when Mariah Carey and Nick Cannon made their first appearance as newlyweds, the former's engagement ring received much attention and was designed by Cannon himself with the help of Jacob & Co Jewelers.
The ring features a solitaire 10-carat light pink diamond surrounded by 58 intense pink diamonds and 2 half-moon diamonds! Their proposal story is worth a mention too. Cannon proposed to Carey when they were hanging out on the roof of their Manhattan apartment. He presented her with a Ring Pop wrapper which had the ring hidden inside. It was the sweetest, most cozy proposal which Carey surely approved and spoke of it fondly over the years! 
#4 Carrie Underwood Canary Yellow Engagement Ring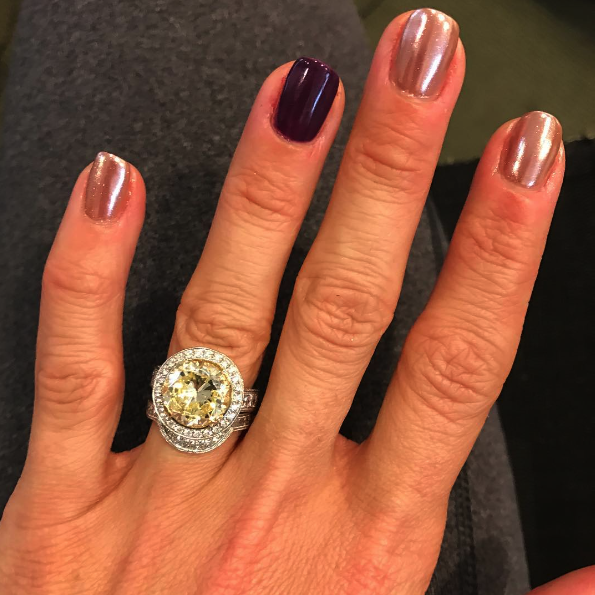 Carrie Underwood married Mike Fisher in 2010 and debuted her ring just a year earlier in 2009 on the red carpet! The duo was set on a blind date in 2008 and hit it off instantly. They have been together for around 15 years and every now and then, we get a glimpse of Underwood's yellow diamond engagement ring worth around $150,000 and consider around 12 carats worth of diamonds with the center diamond weighing 5 carats. Her engagement ring has a single halo and the band is also set with white pave diamonds. We got the closest glimpse of the ring when Carrie posted a ring of her hand to support domestic violence. 
The yellow diamond isn't rare and is one of the most abundant of all colored diamond rings, but a yellow diamond of this size and clarity is rare and costs more than other yellow-colored diamonds found in the Earth's deposits. Though, yellow diamonds are also easier to source and can be created by your trusted jeweler easily. Other celebrities who have yellow diamond rings are Victoria Beckham (one of her 15 engagement rings she owns!), Jennifer Lopez (not an engagement ring but a gift from her ex-husband Marc Anthoney), and Kelly Clarkson, whose ring details and pictures are next on the list. 
#5 Kelly Clarkson's Yellow Engagement Ring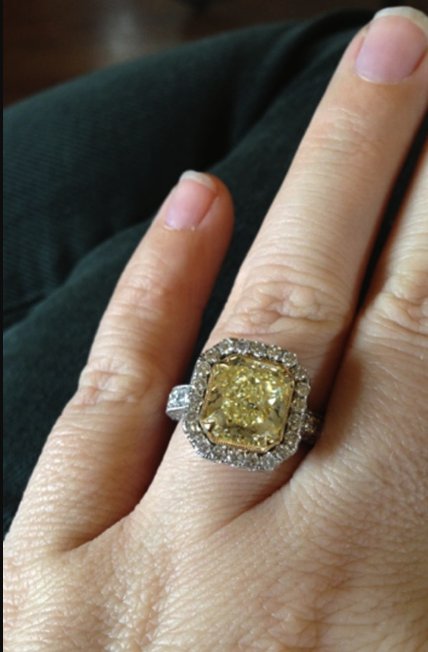 Source: Kelly Clarksom via Twitter
Kelly Clarkson's marriage to Brandon Blackstock made huge headlines when the couple separated and the former won a legal battle (related to prenup) against the latter! However, there was one more aspect of their relationship that was reported widely – her 5-carat canary yellow engagement ring! The bling was designed by Johnathon Arndt and features a solitaire yellow diamond in the middle surrounded by a single halo of diamonds and pave diamonds on the band as well! The ring is valued at $150,000 and is one of the most talked-about colored engagement rings of all time. 
After filing for divorce from her ex-husband, Clarkson hasn't worn her yellow ring since but instead replaced it with a black diamond ring, a fierce nod to herself after her legal win against Blackstock. Black diamonds symbolize truth, justice, and inner strength, and are also used as protection from evil. Fancy black diamonds are also extremely rare and can cost about $5000 per carat easily. Most natural black diamonds are superheated or irradiated to give them an almost black color as the naturally occurring vivid color is very hard to find! 
#6 Scarlett Johansson's 11-Carat Brown Diamond Engagement Ring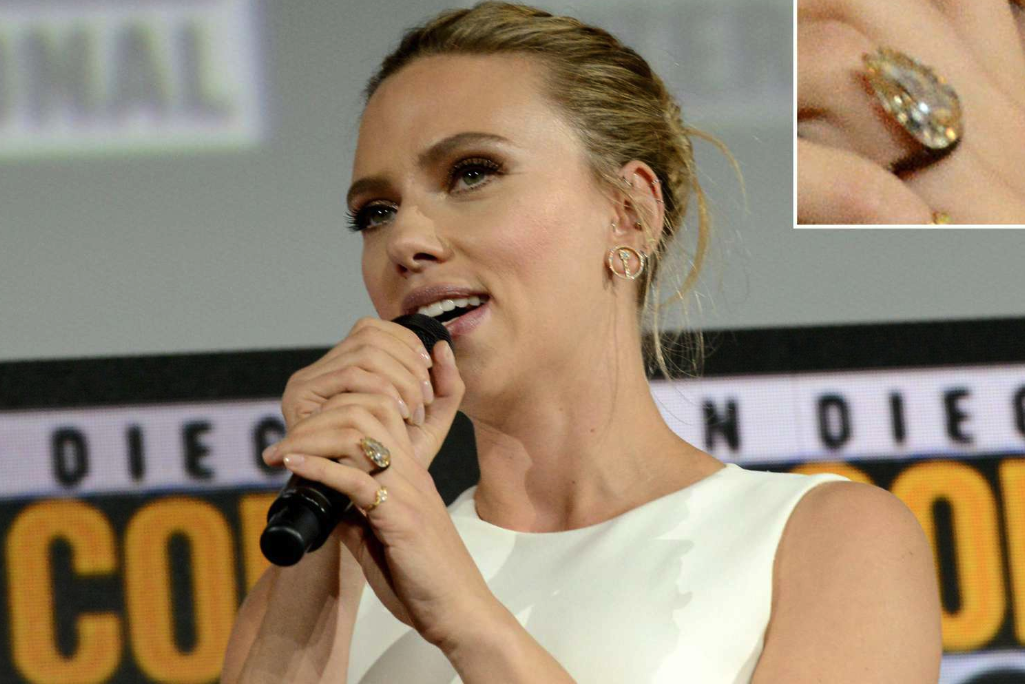 Source: People
They say the third time's a charm and Scarlett Johannson's happiness with her third husband, Colin Jost, certainly adds truth to the statement. The couple met in 2017, got engaged in 2019, and married in 2020. Despite being in the limelight all the time, both Johansson and Jost have been very private about their relationship and it's not yet revealed how the latter proposed to the Avengers actress. Though, she has described the proposal as "romantic", and "thoughtful", and called Colin "very charming" when asked about the proposal story on Ellen DeGeneres show. 
After the engagement, the actress first debuted her ring at Comic-Con for a Marvel Event just before the release of her upcoming superhero movie, Black Widow. The 11-carat brown diamond solitaire engagement ring instantly caught everyone's attention, mostly because of the massive size and the clean design which further enhanced the enormous solitaire! The stone combined the oval and pear shapes for a stunning egg-shaped cut and costs around $400,000! It's done on a simple brown band to complement the light brown color of the solitaire. 
#7 Kristen Bell's Champagne Diamond Ring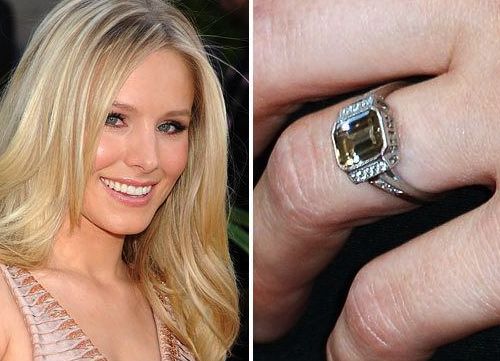 Source: Pinterest
Kristen Bell has called herself a "serial monogamist" and has been in a relationship with Dax Shepard for over 15 years now, which includes 10 years of marriage! They are Hollywood's favorite couple and are the very definition of "couple goals". The couple were engaged for 3 years before getting married in a simple courthouse wedding. Their engagement was prolonged for a thoughtful cause as they both decided to not get married until the state of California legalized same-sex marriage. On the very same day that it was legalized, Bell asked Shepard to marry her through an endearing tweet and he obviously accepted!
Despite being engaged and married, we didn't get a glimpse of Kristen Bell's engagement ring until after a few years! She is also not the kind of celebrity who would flash her bling. Her bauble first made a debut on the Grammy Awards red carpet, where she walked with her husband. The champagne diamond ring is around 3 carats and it's bezel-set and emerald-cut, which is definitely dainty and unique for a celeb! The ring is estimated to cost around $100,000 and is reportedly designed by celebrity jeweler Neil Lane. 
#8 Anna Kournikova's Pink & Yellow Diamond Rings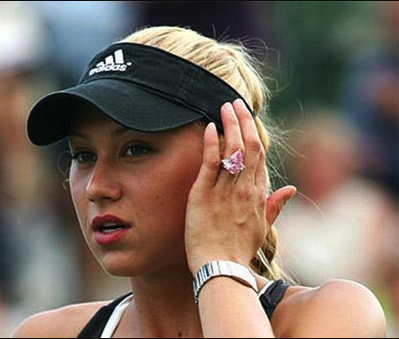 Source: bravobride.com
Though Anna Kournikova and Enrique Iglesias have never accepted or denied their relationship in public (even after welcoming their twins), the 42-year-old tennis star is often spotted wearing two colored diamond rings, one is a pear-shaped pink diamond ring which she wore during a 2004 tennis match, and another a canary yellow radiant-cut engagement ring which she has worn during tennis matched and is also seen in a few of her Instagram images as well! The pink diamond engagement ring is a whopping 12 carats and comes from Argyle mines in Western Australia. Before its extinction in 2020, the mines supplied 95% of the world's pink diamonds and many came in gorgeous fancy vivid colors. The ring must have cost the singer around 2.5 million USD and is only valued higher given the rarity of pink diamonds in the world!
The second ring of Kournikova is a canary yellow diamond engagement ring in a radiant cut, surrounded by brilliant cut side stone in white solitaire diamond on both sides. This ring is also worth around $5 million and is now valued at about $8.5 million! It's reported that the Russian player got two rings from Enrique and wears them both interchangeably. 
#9 Heidi Klum's Yellow Diamond Ring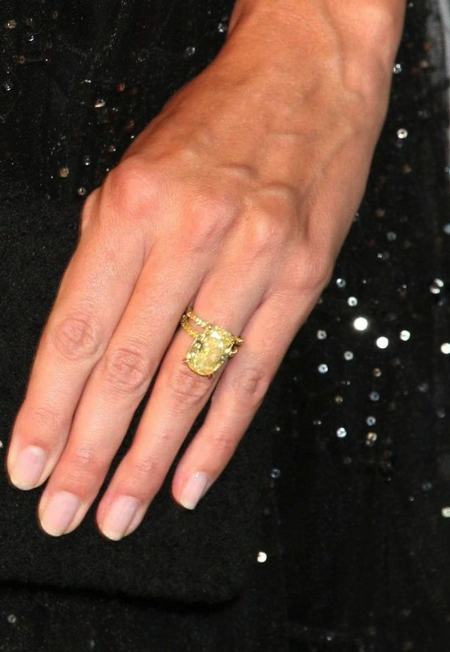 Source: Pinterest
The canary yellow diamond is one of the most popular colored diamonds to be used in the engagement ring, and the popularity came with several celebrities being proposed to with the canary yellow ring – the first of them all – Heidi Klum. The German model received a fancy 10-carat yellow diamond ring in an oval shape from her ex-husband Seal. The ring has a solitaire setting with a yellow gold band lined with pave diamonds. The ring is surely well worth over $150,000, as stated by several experts. 
Seal and Klum filed for divorce after 7 years of marriage, but their proposal story still remains the most romantic one in the celeb circle. They were vacationing in Whistler, Canada, one of the best ski towns in North America and the singer took Klum up in the mountains by a helicopter where he had an igloo built especially for the occasion. The igloo was decorated with rose petals and candles when she entered and that's where Seal popped the question and Klum accepted! They married in a low-key wedding ceremony in Mexico and had 3 biological children within 7 years of their marriage. 
Conclusion: 
In conclusion, when considering the question of what color diamond is the most expensive, red is the answer. Owing to their rarity, they are expensive and are generally owned by private collectors and gemstone connoisseurs. It's also very hard to source a red diamond as only about 30 known red diamonds exist in the world. Though, Fancy color diamonds in vivid colors are also expensive and valuable and can be considered to be bought for someone looking to add a colored diamond to their collection!