Say mirror-work lehengas and Abhinav Mishra's stunning, glitzy outfits come to every woman's mind. The designer has completely transformed this age-old craft and revived it to create appealing couture that speaks to the heart of women today. What I love the most about his clothing line is how versatile it can be – from the bride to bridesmaid to a wedding guest – almost everyone can deck oneself in one of his garbs without diminishing or accentuating the glam of their ensemble. That's what Abhinav Mishra wants to achieve through his collection too!
In his 2021 monsoon collection Mastana, the designer paints a picture of the blissful peace and romance of the wedding day. He wanted to bring alive the feeling of cheeriness, new love, and infectious energy with his collection. "A wedding is a time in a person's life when they're the happiest and that happiness has a strong vibe which everyone around can feel. I was constantly envisioning these lighter, euphoric scenarios while curating the designs and the photoshoot," says Mishra. 
Quaint ivory & pastels are the heart of 'Mastana' Collection 
Keeping intricate sheesha work aside, Abhinav Mishra's collection is to a certain extent dominated by bright colors like pinks, oranges, and sunshine yellow. But this time around, only a few pieces reflect these vivid hues. The collection, this time, is nearly all doused in discerning ivory and light pastel colors. Keeping in mind the intimate wedding scenario and brides wanting a subtle hue for their bridal outfit, this seems like a befitting choice. Apart from women, Mishra's collection is appealing to the grooms and groomsmen too! Muted color, fine craftsmanship, and effortless silhouettes all make for a superb choice for grooms to consider.
Besides the mirror-work in the form of circular patterns, this time around you can also spot other visible geometric patterns and exquisite threadwork in his latest range.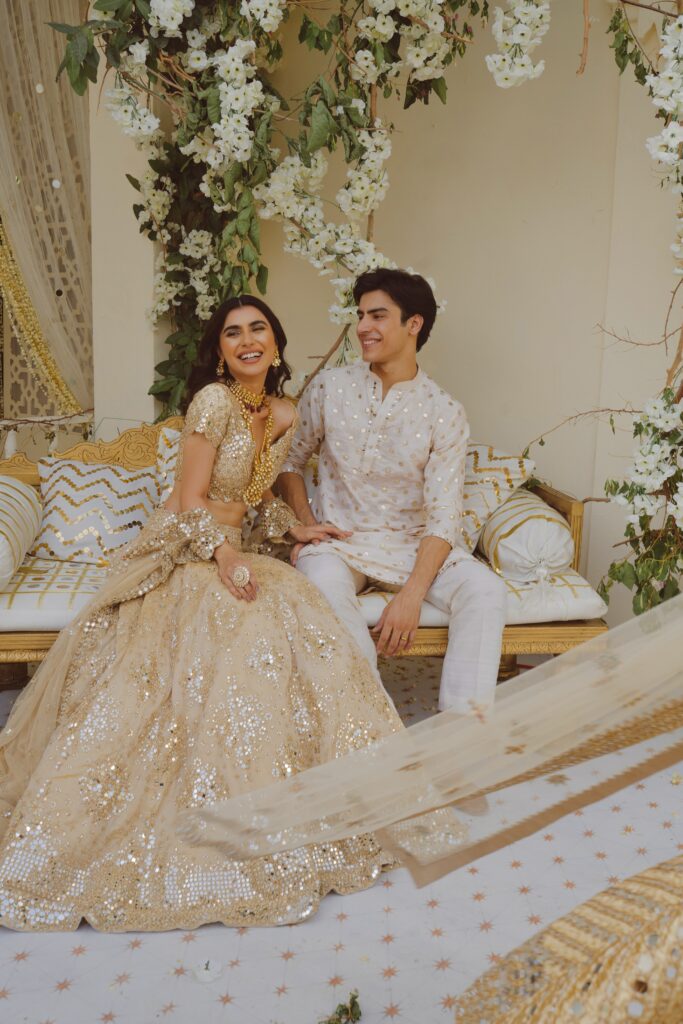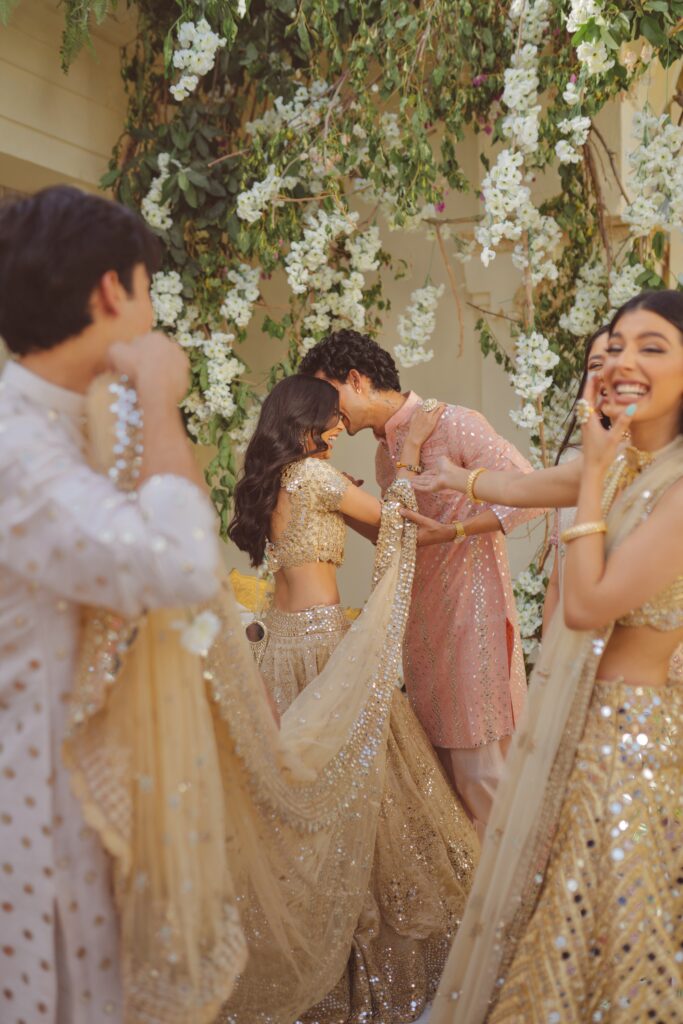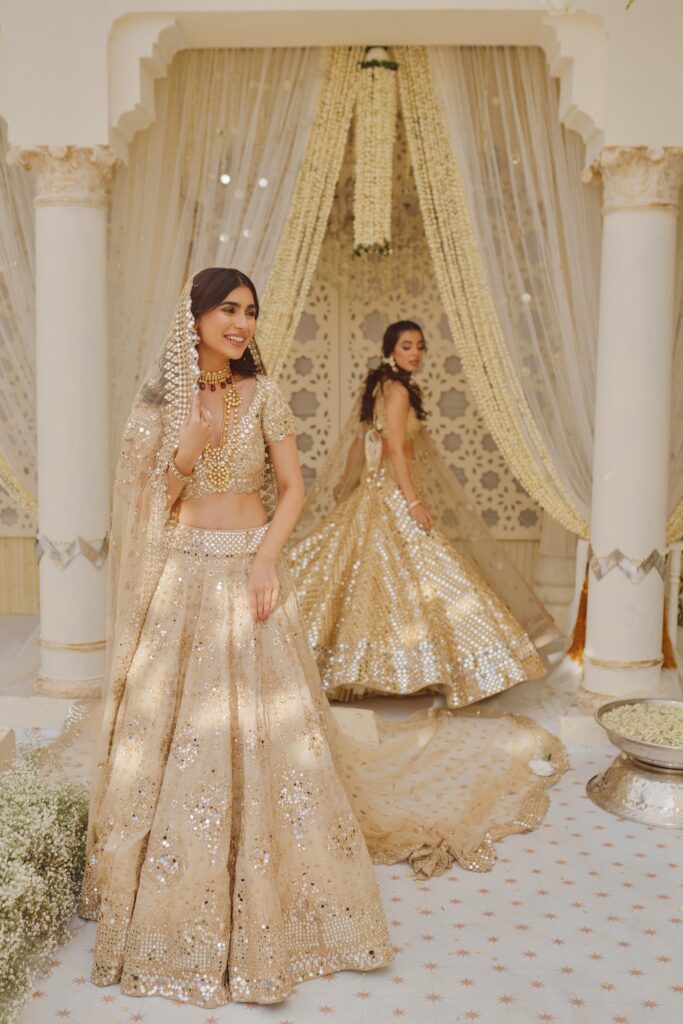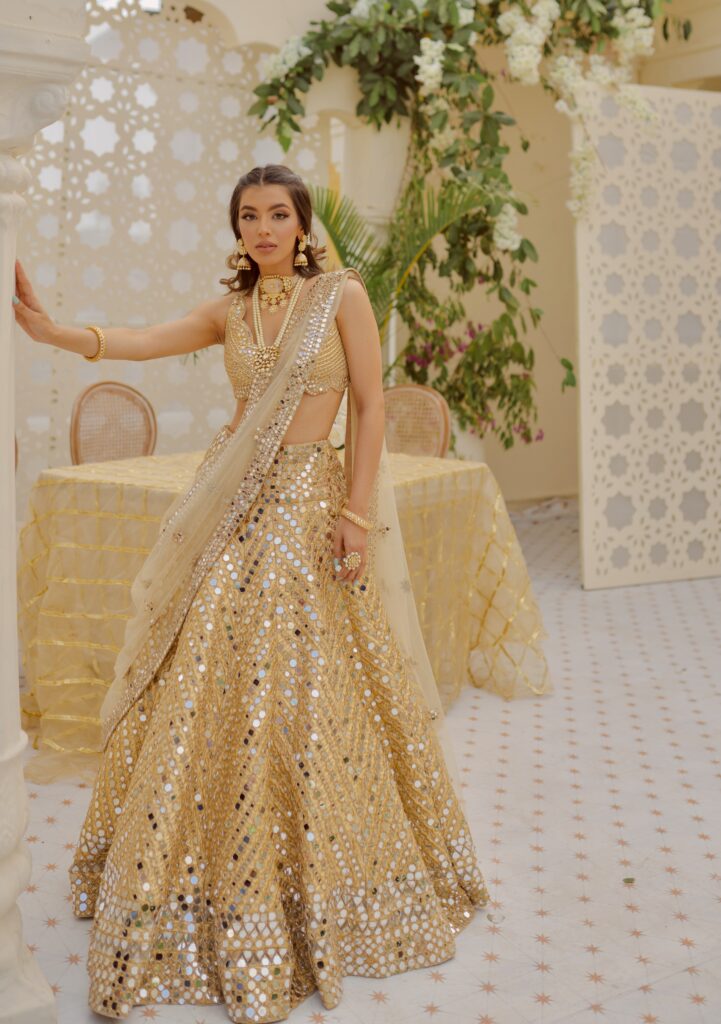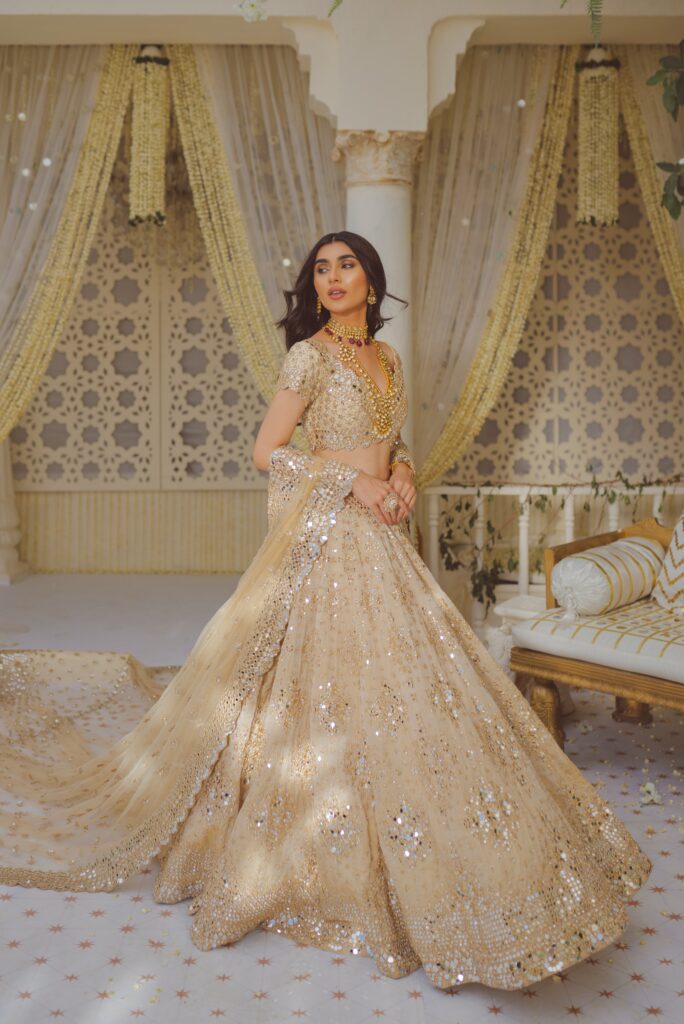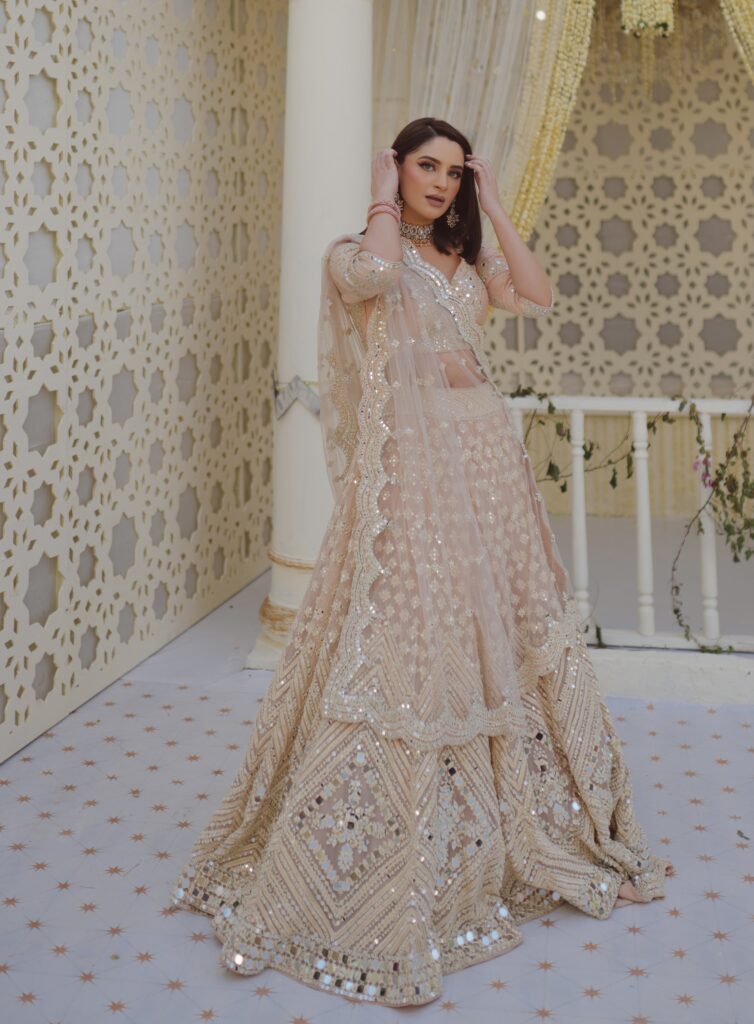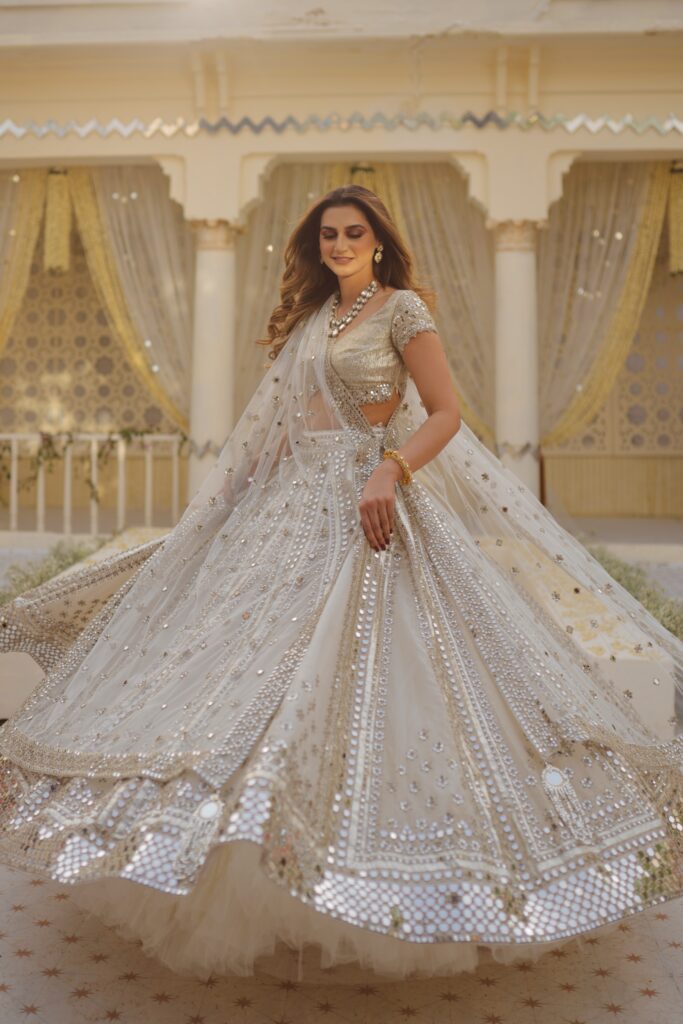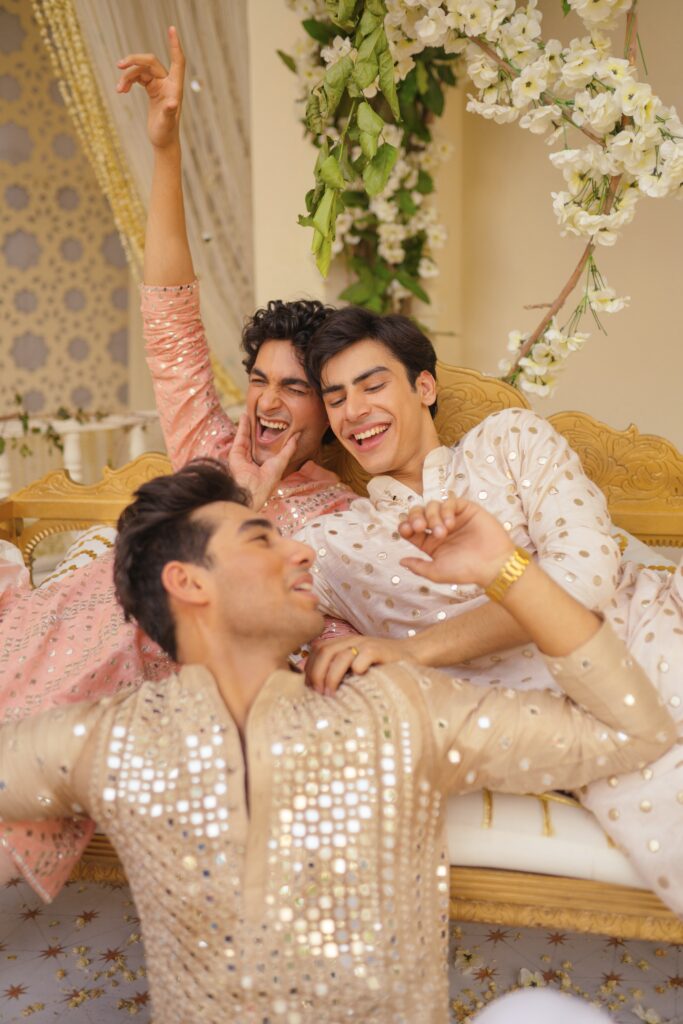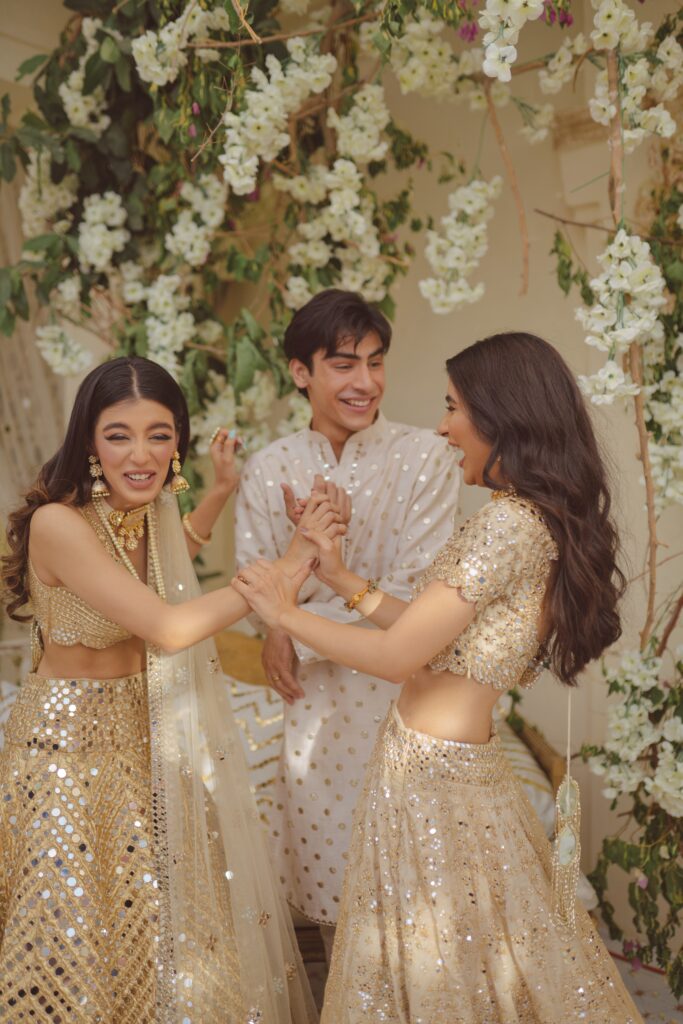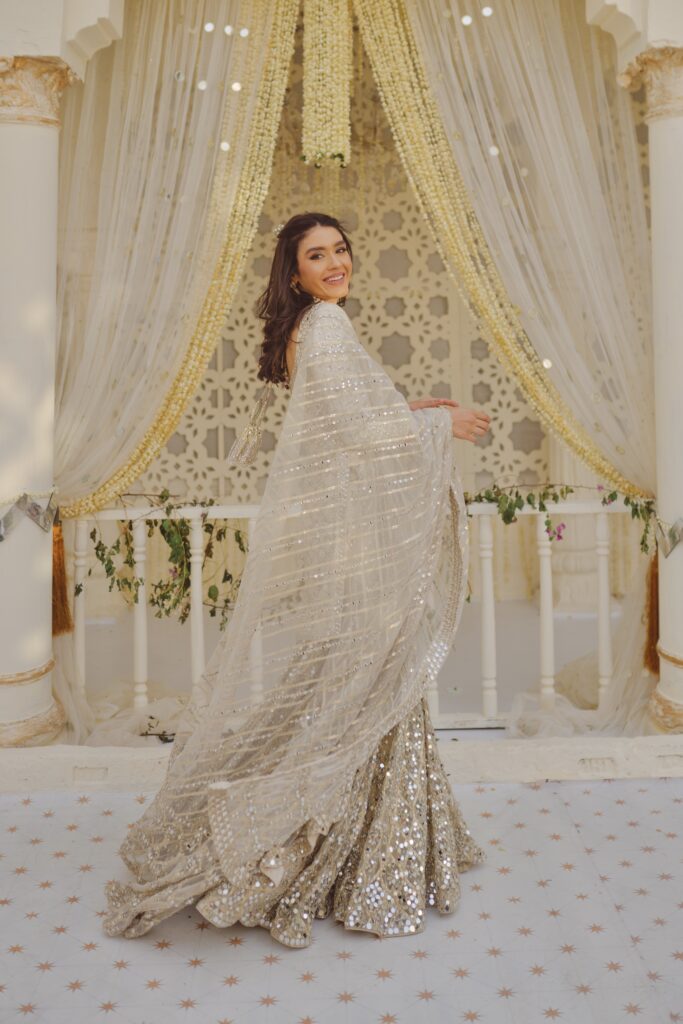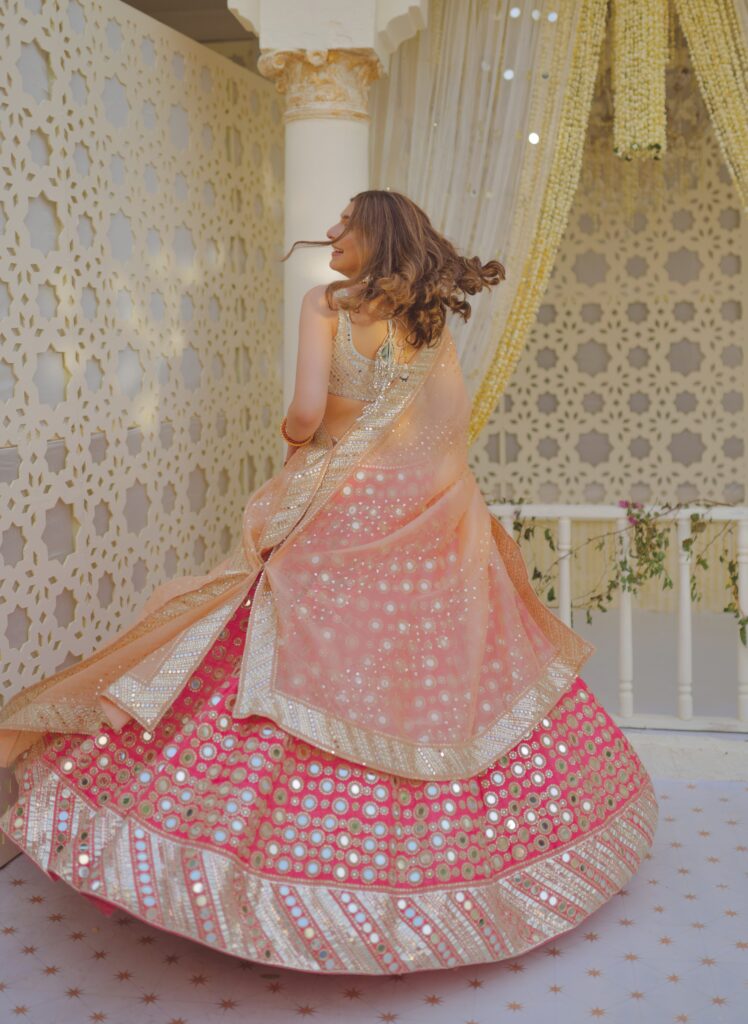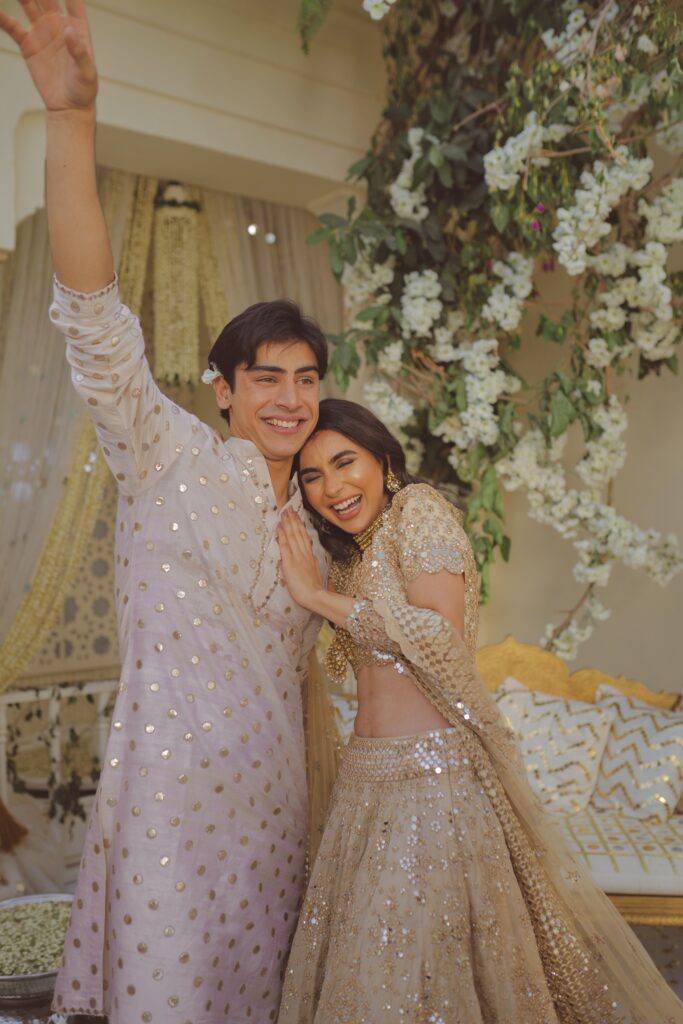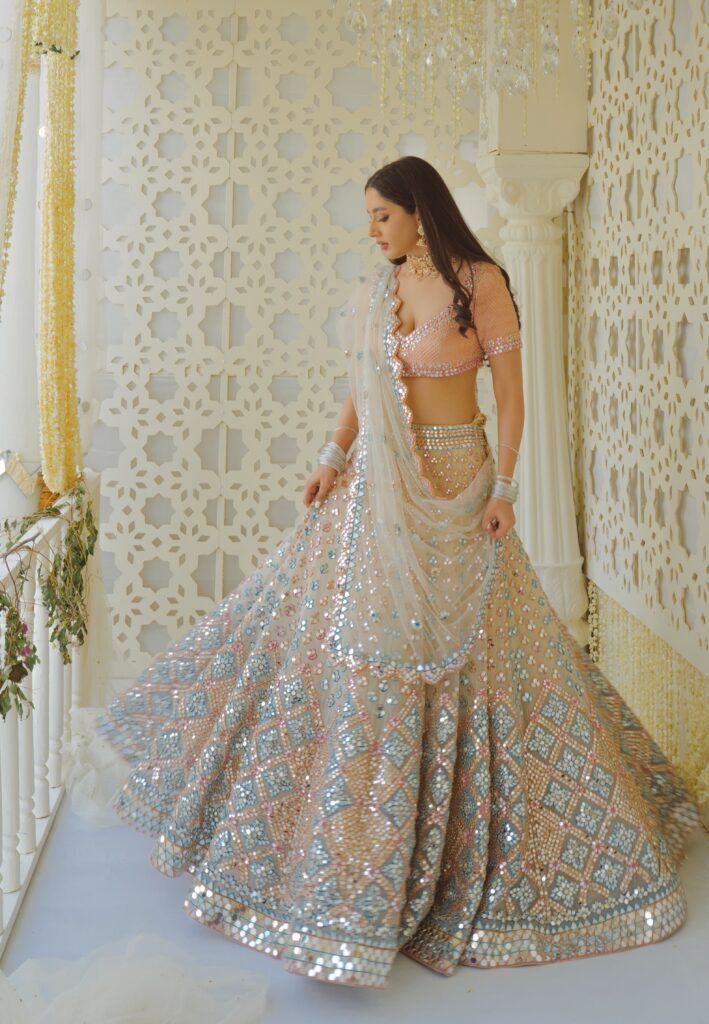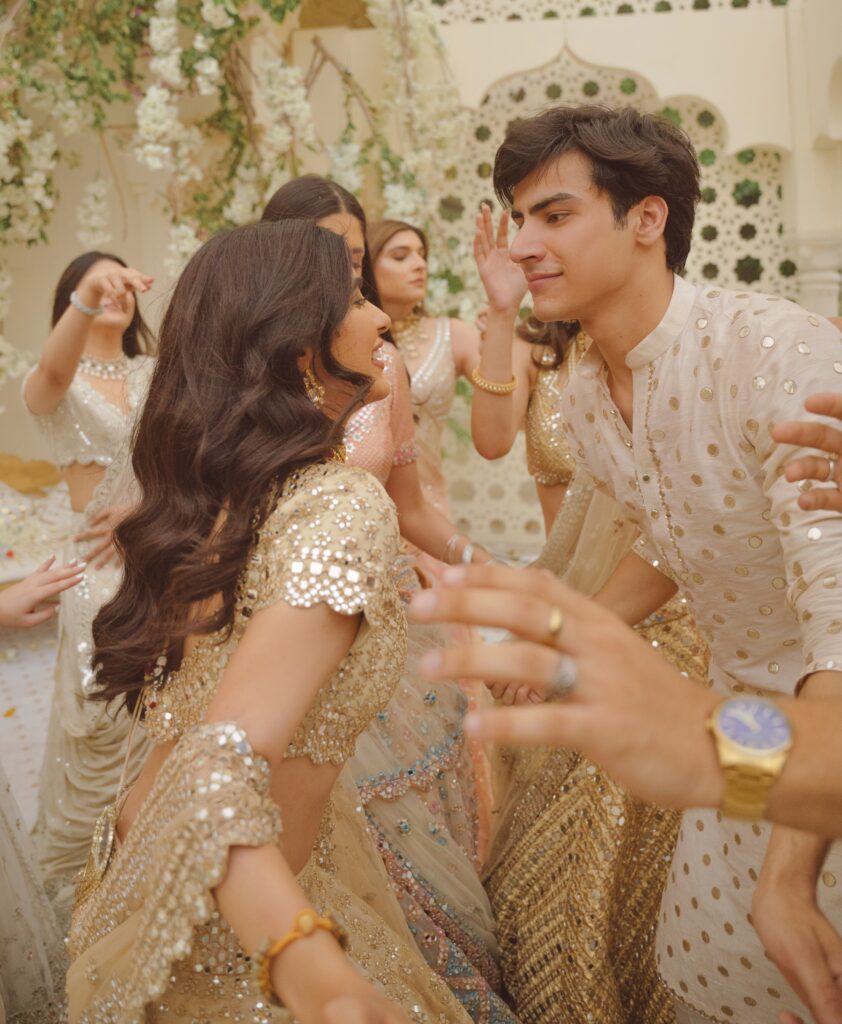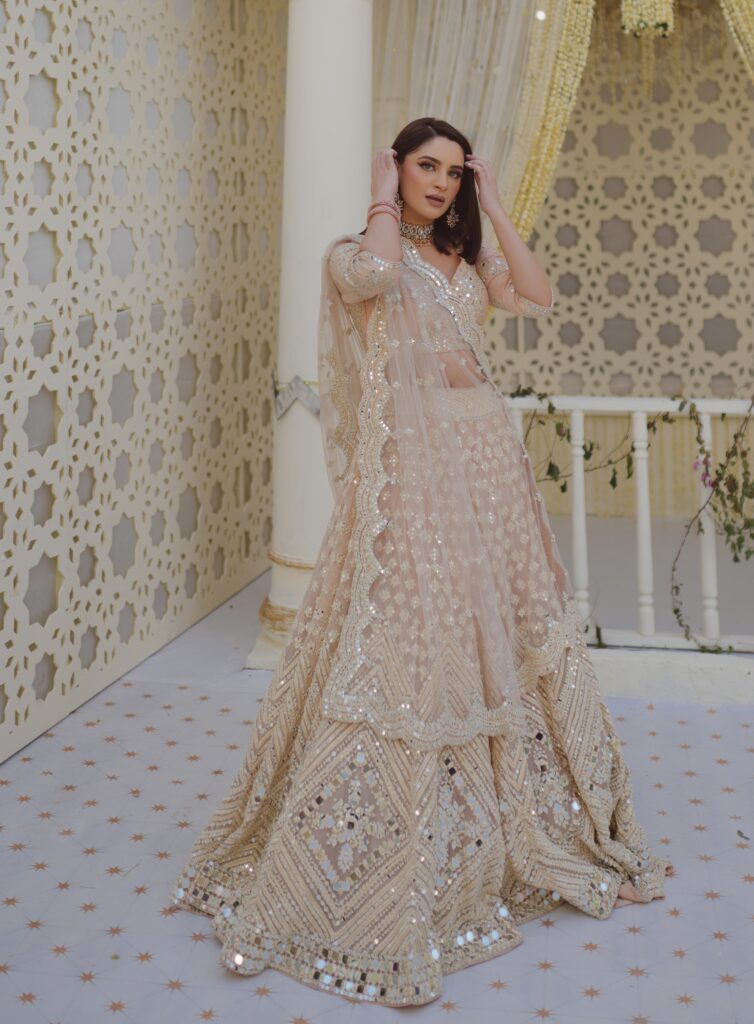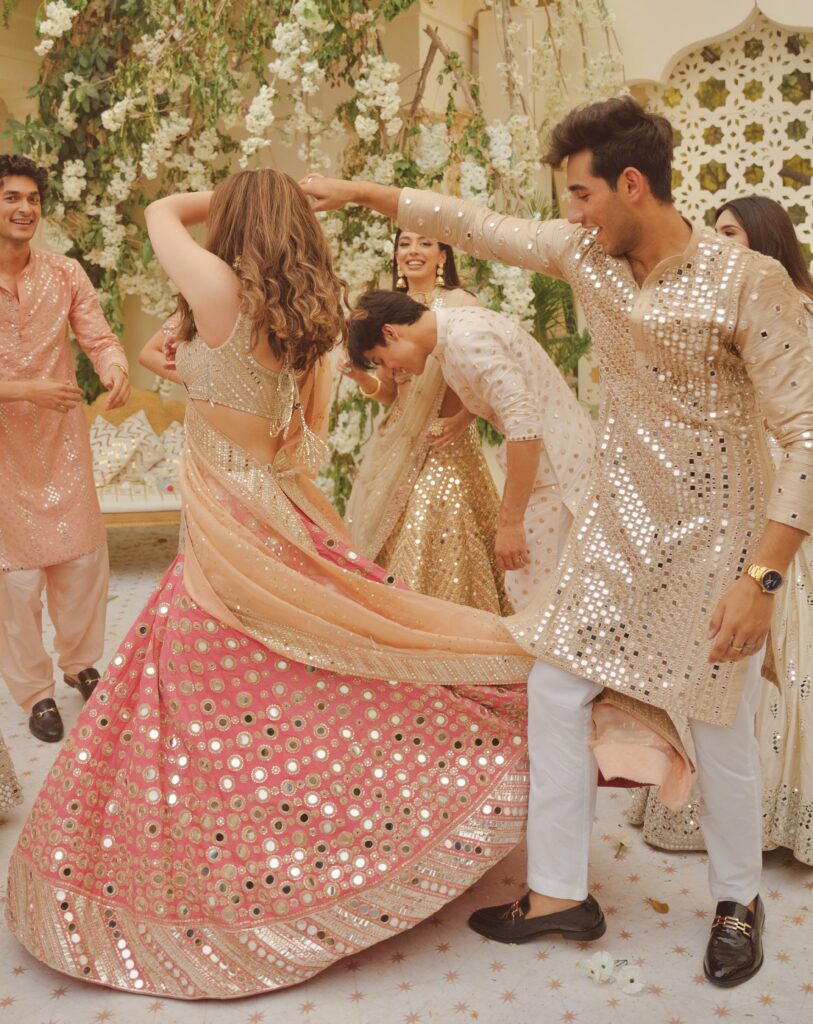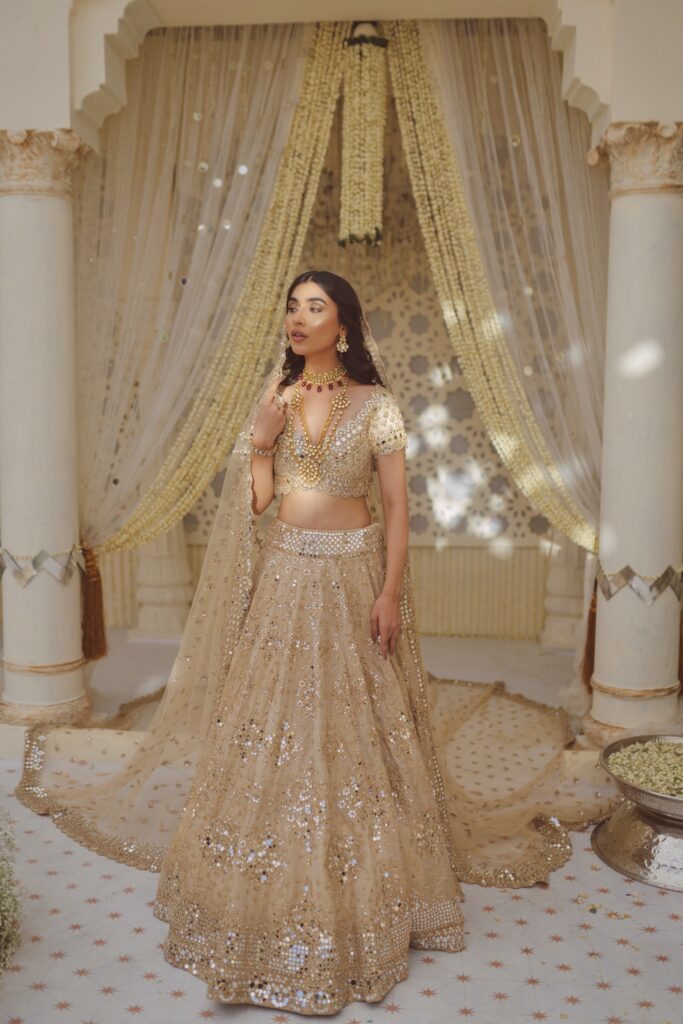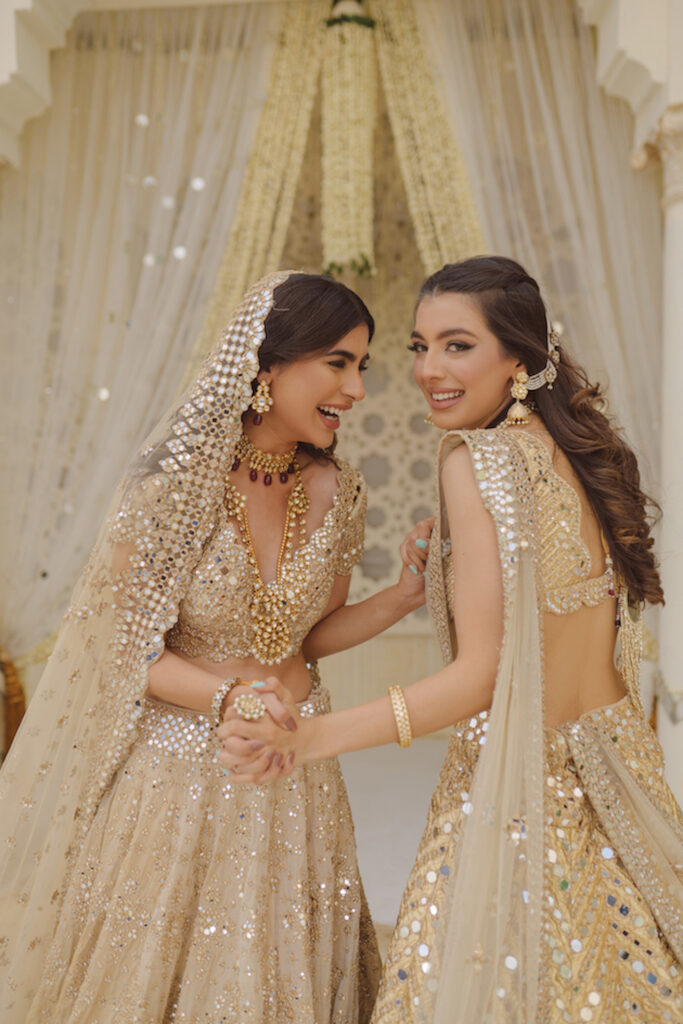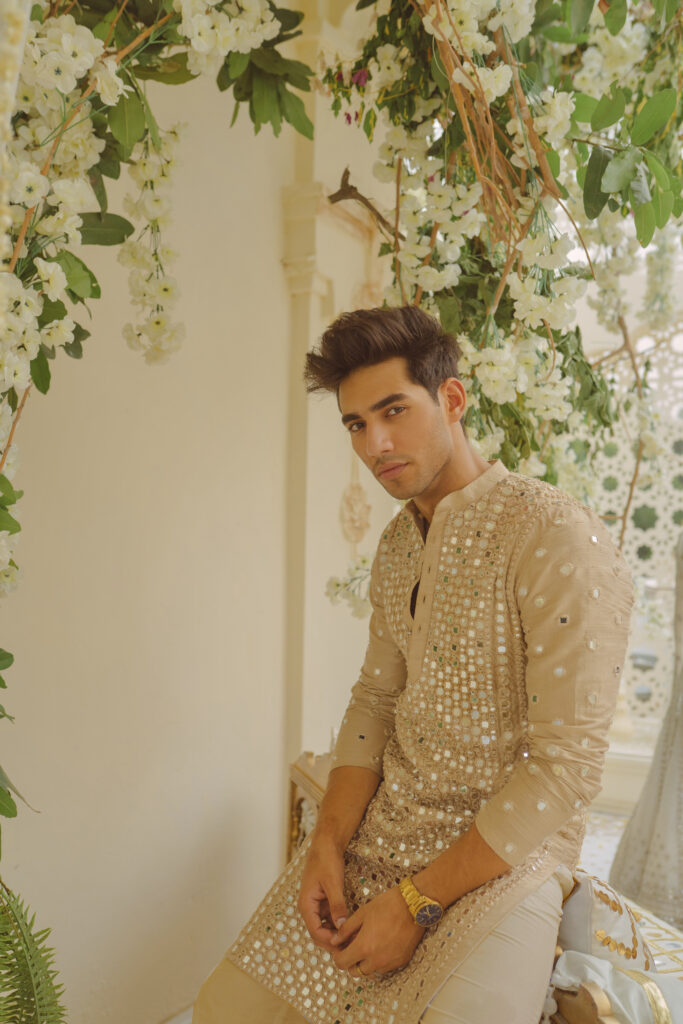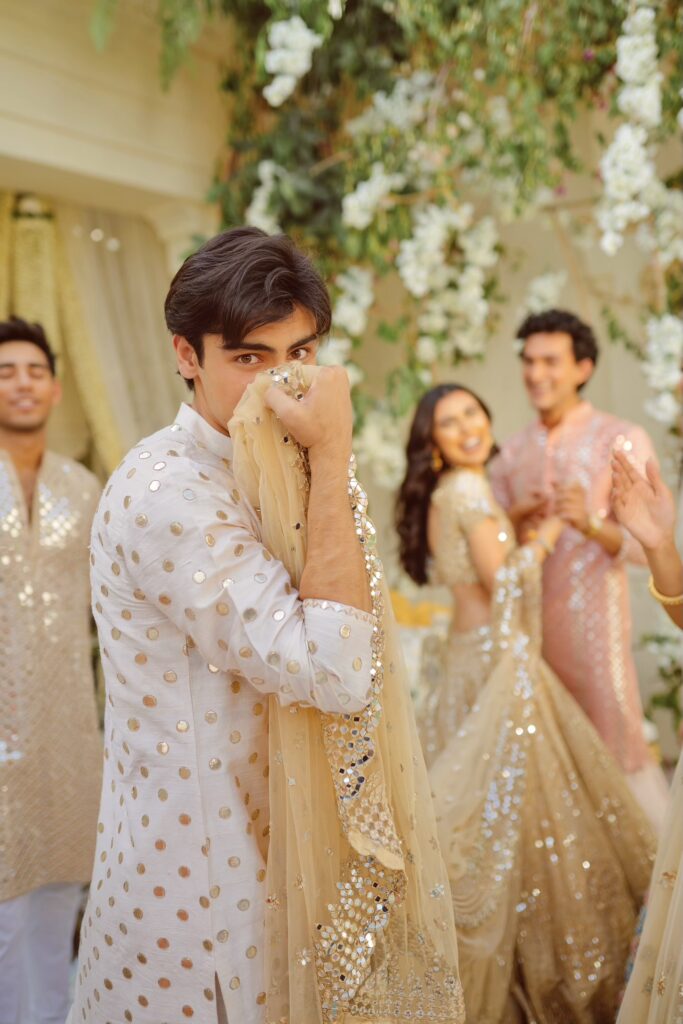 Right before Mastana, Abhinav Mishra's 'Sufi Sisters' photoshoot went viral
Painting the picture of a vintage garden where bridesmaids are hanging out in their utter best attire and relishing the special day of their dear friend; Mishra brought together Sufi sisters as the muse for his photoshoot. The snaps were taken by talented Pakistani photographer Izzah Shaheen Mallik, also known by her Instagram handle, Pictroizzah. Flattering silhouettes, endearing hues, and signature mirror work made the pictures worth staring at. The striking photoshoot was all about celebrating togetherness and sisterhood.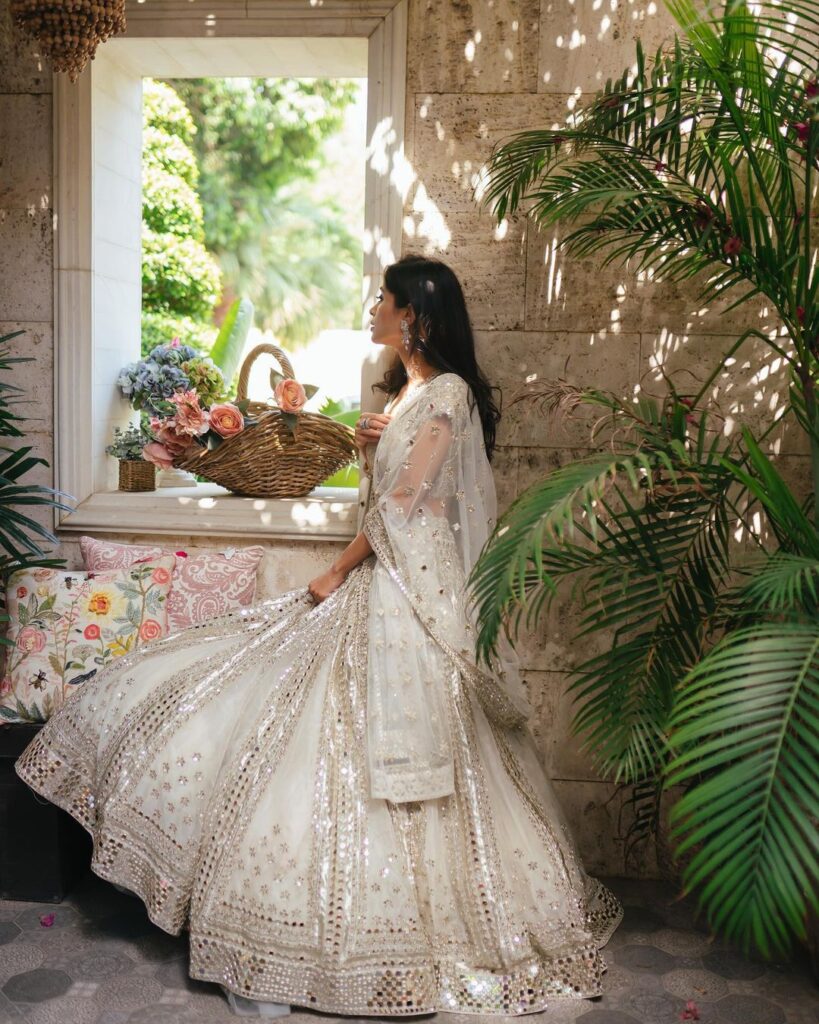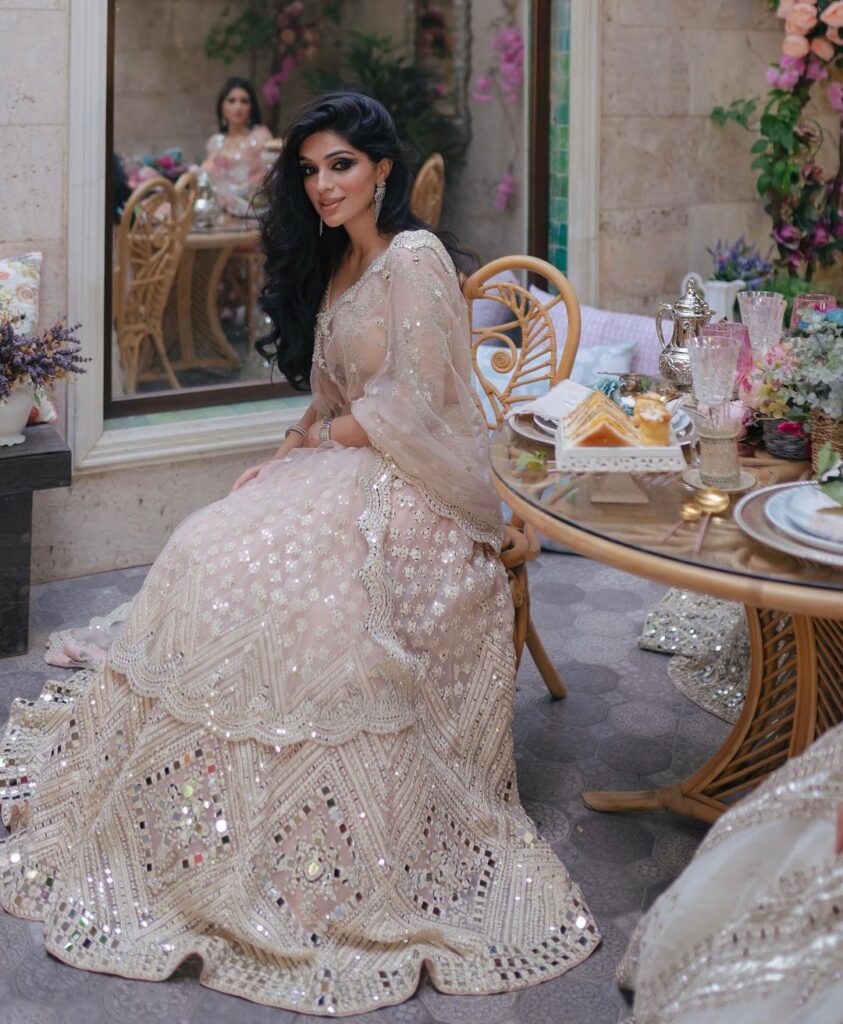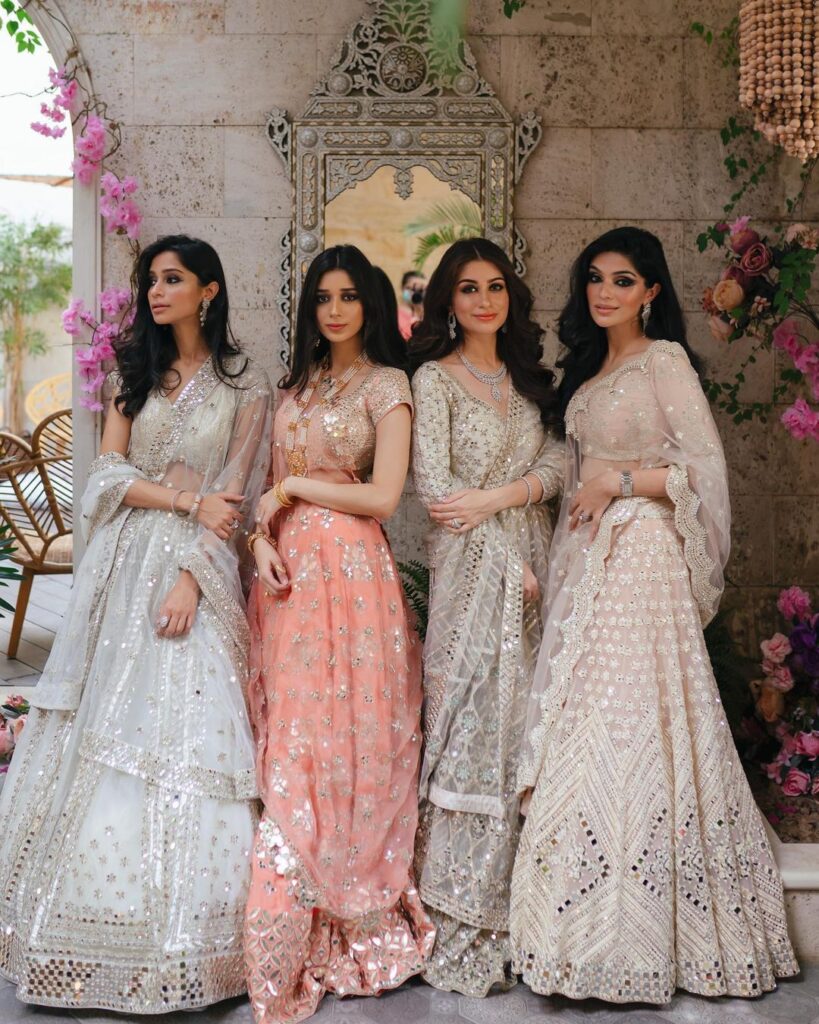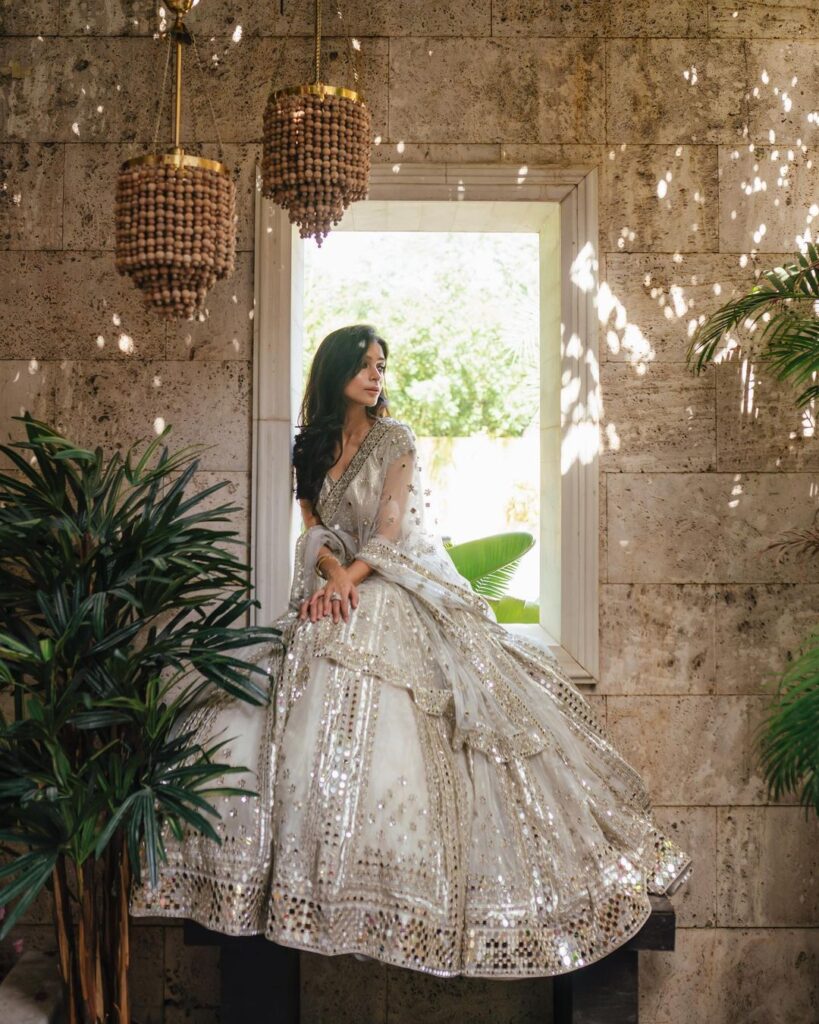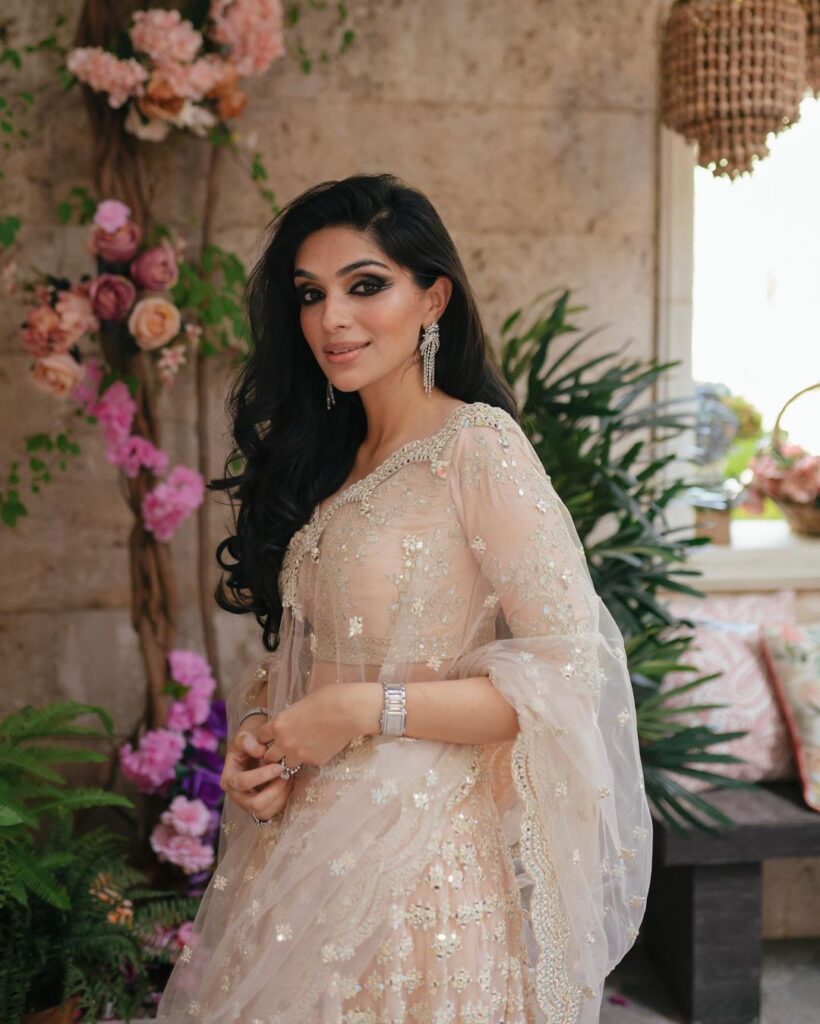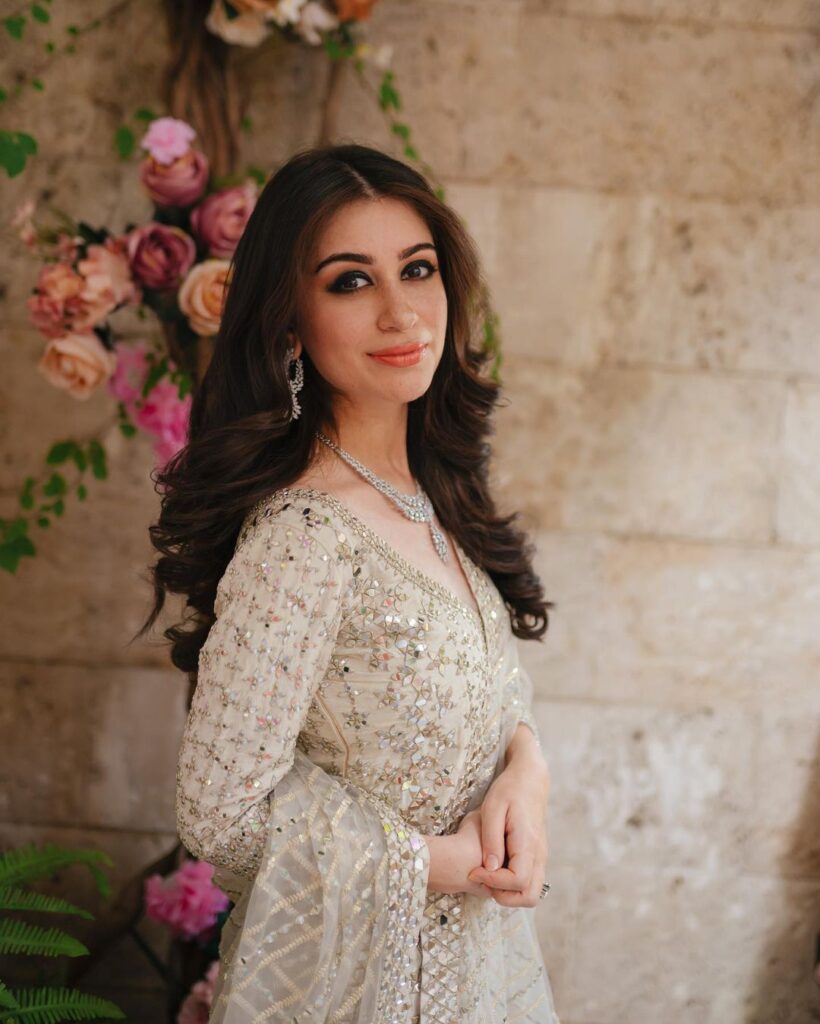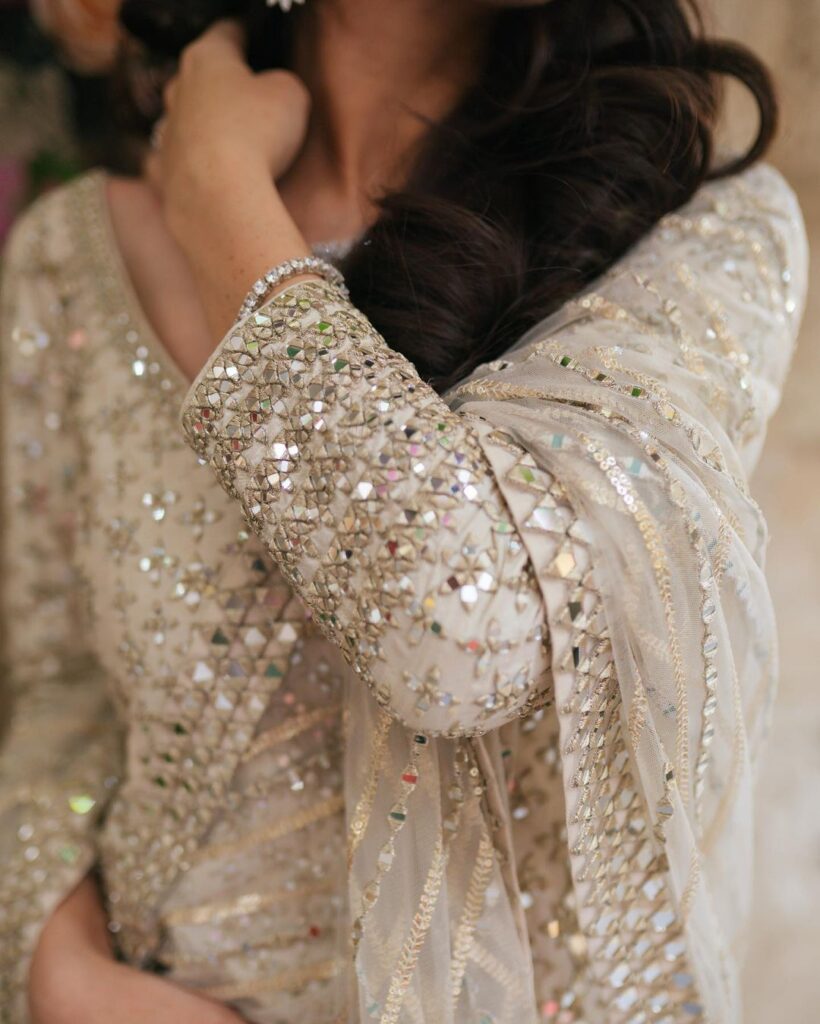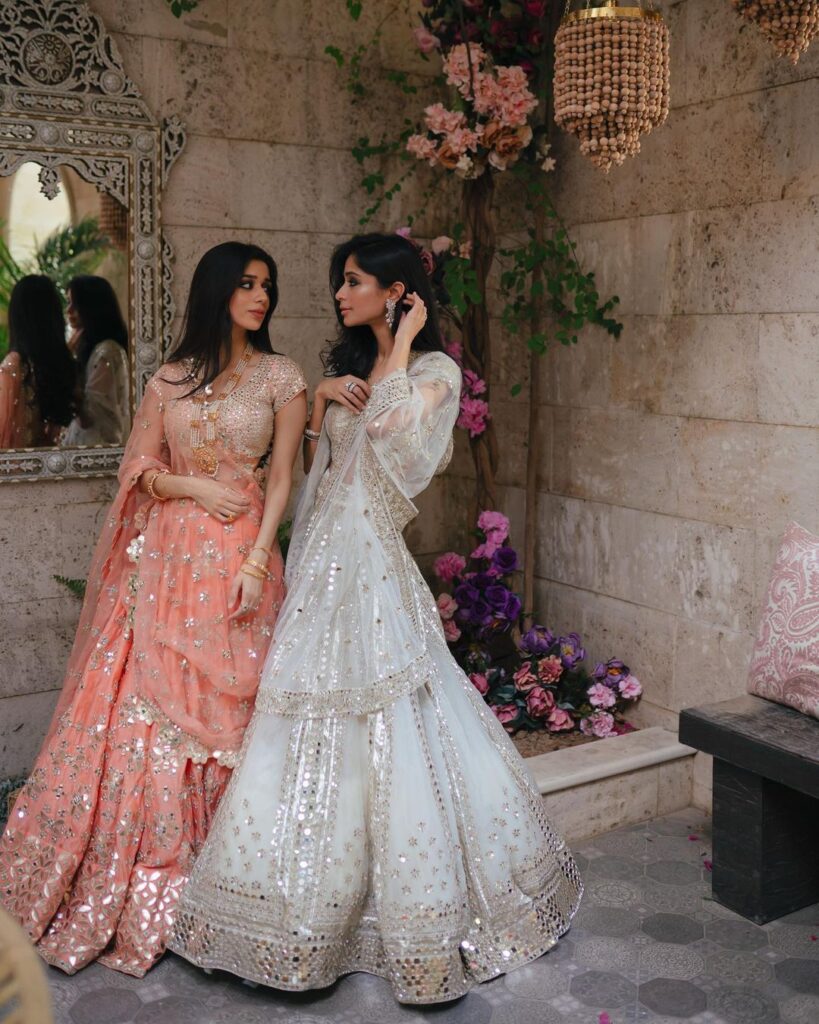 Earlier this year, Mishra launched his spring & summer collection too!
In February 2021, Abhinav Mishra launched his massive spring collection divided into three parts 'Mir', 'Songs of Spring', and 'Chandni Ratein'. Set in the majestic landscape of Oberoi Amarvilas, Agra, Mishra stunned us again with his artistic sartorial designs and painting a wedding day collage we all dream of having. 
"Mir is a celebration of cultures. Mir is the language of love. Mir brings forward a fusion of modern mirror work and marori embroidery for the bride of today." his team writes on Instagram describing the 'Mir' collection.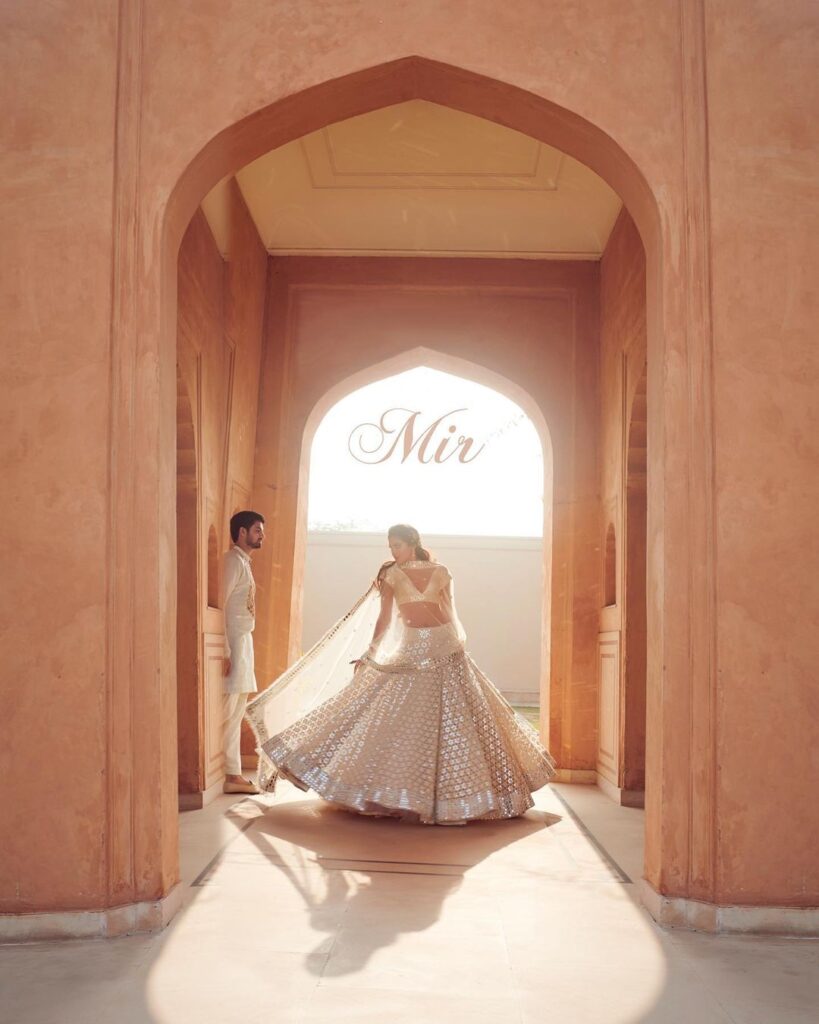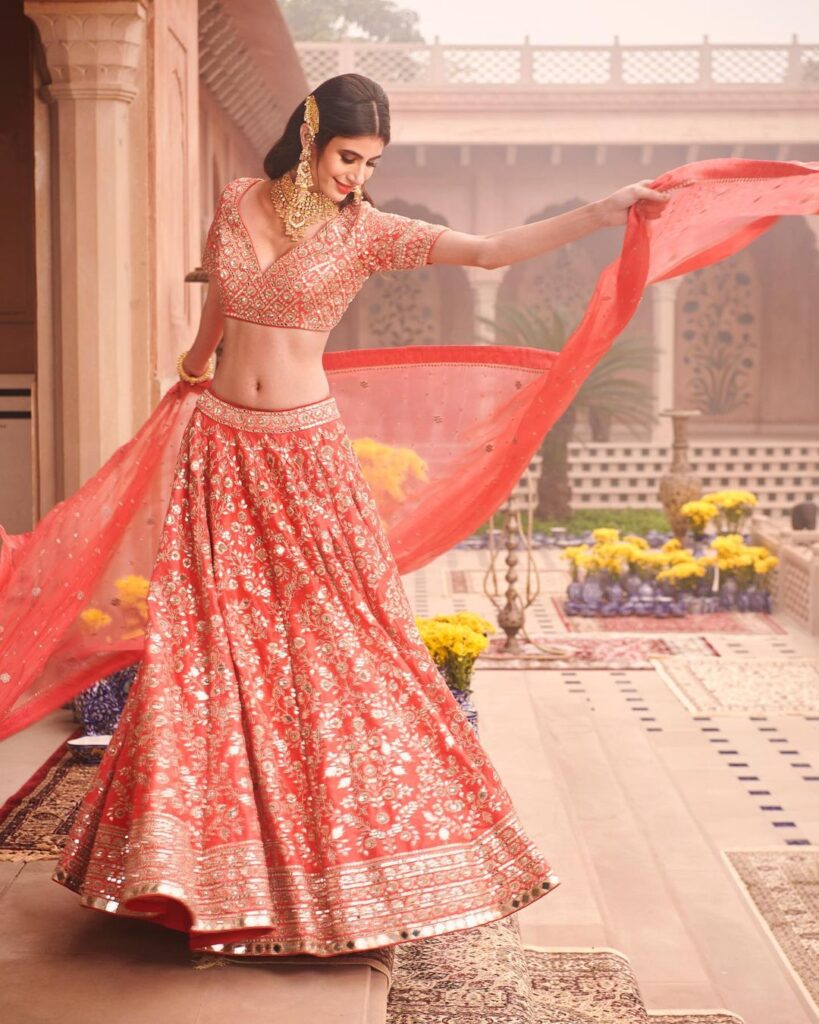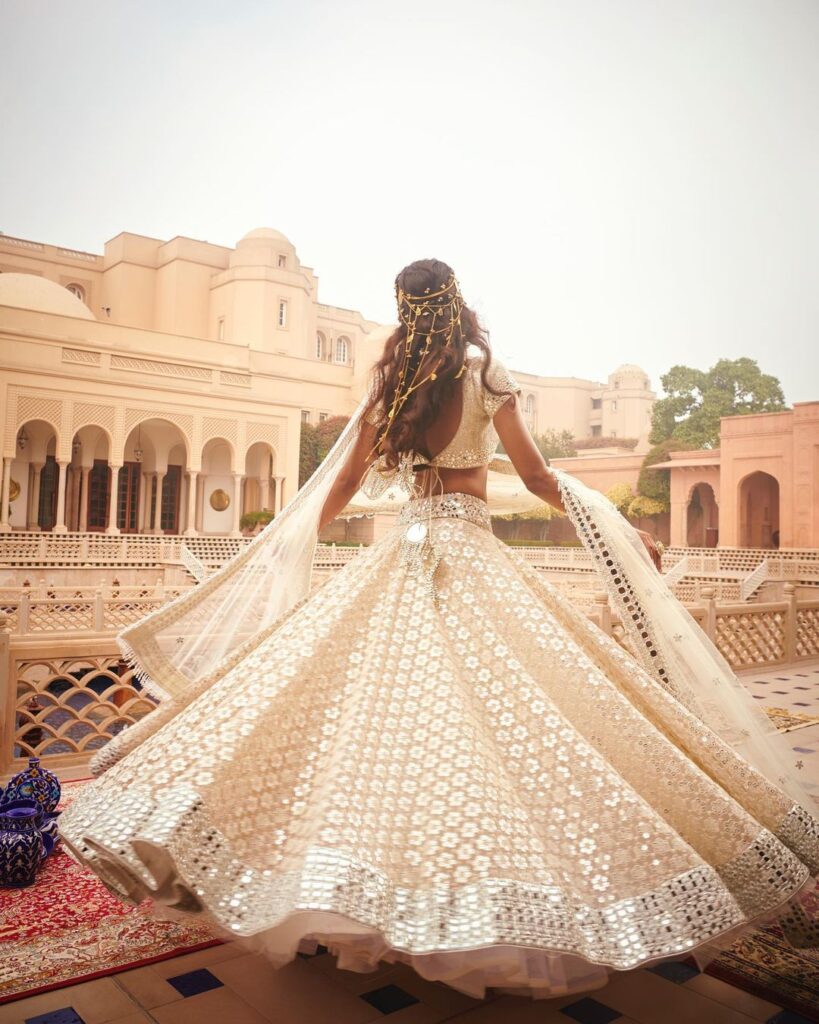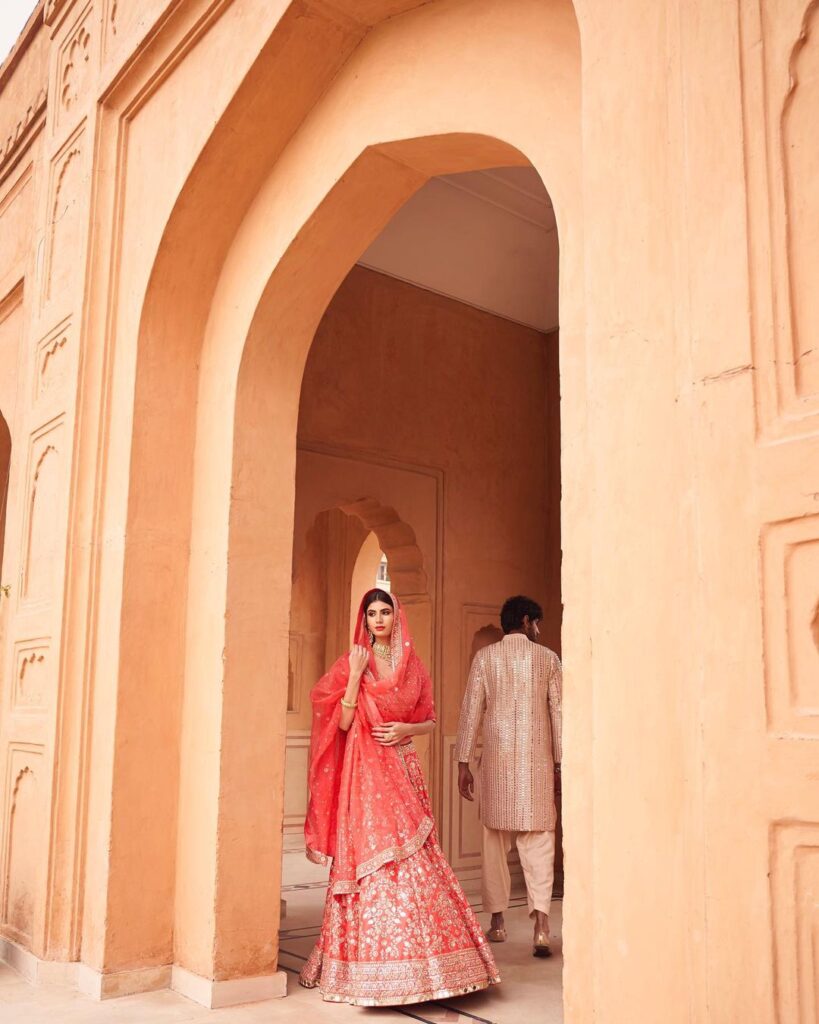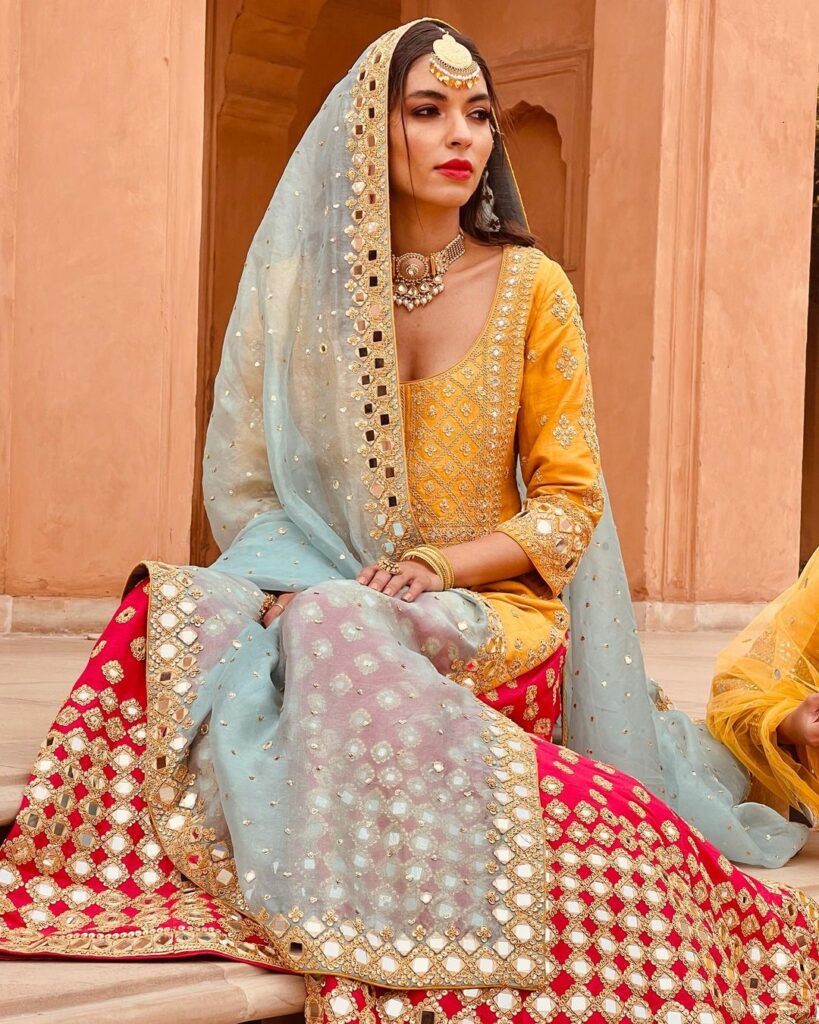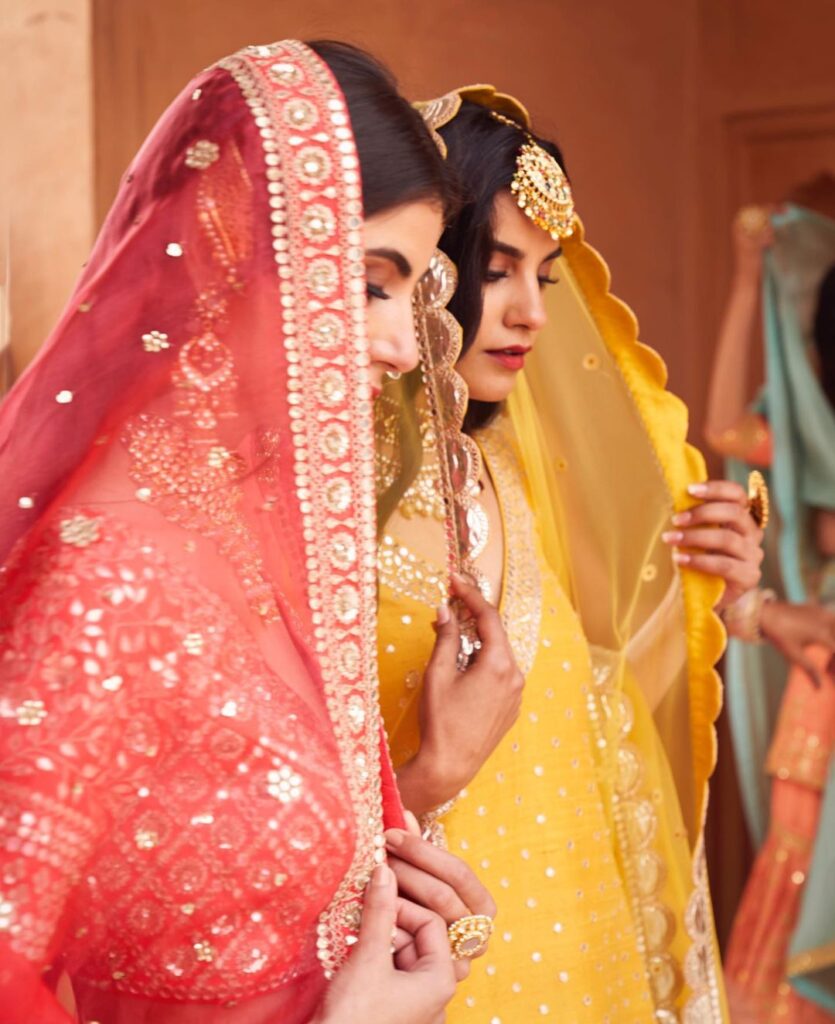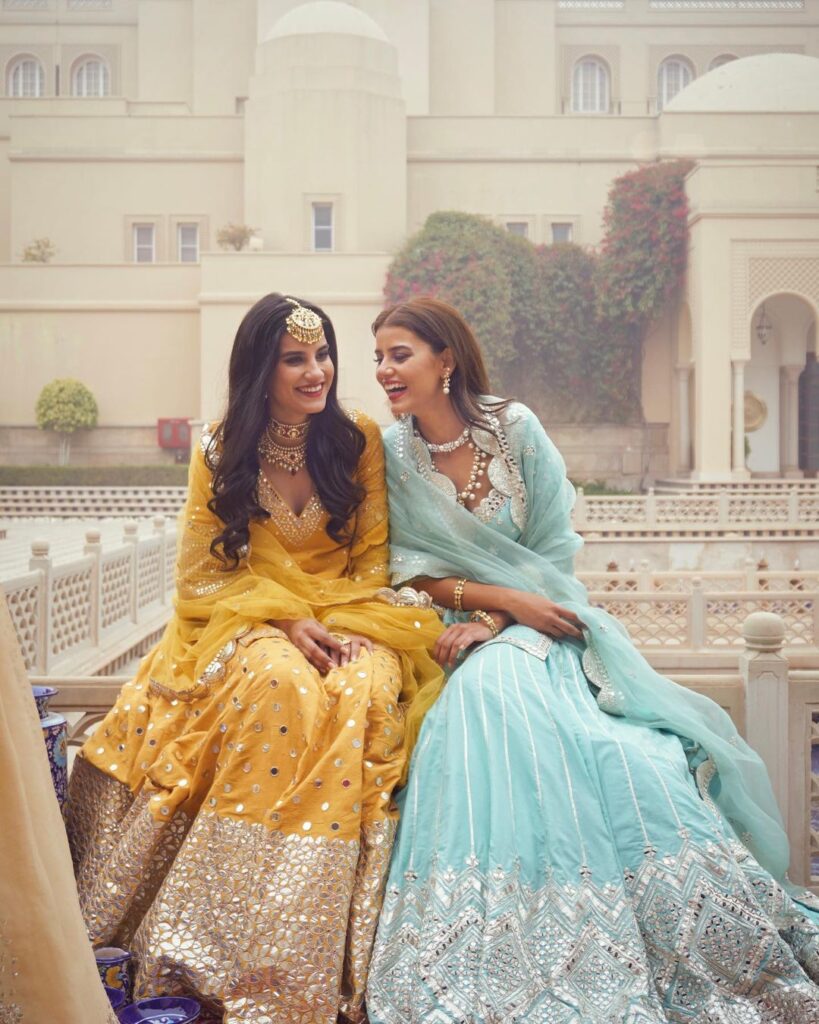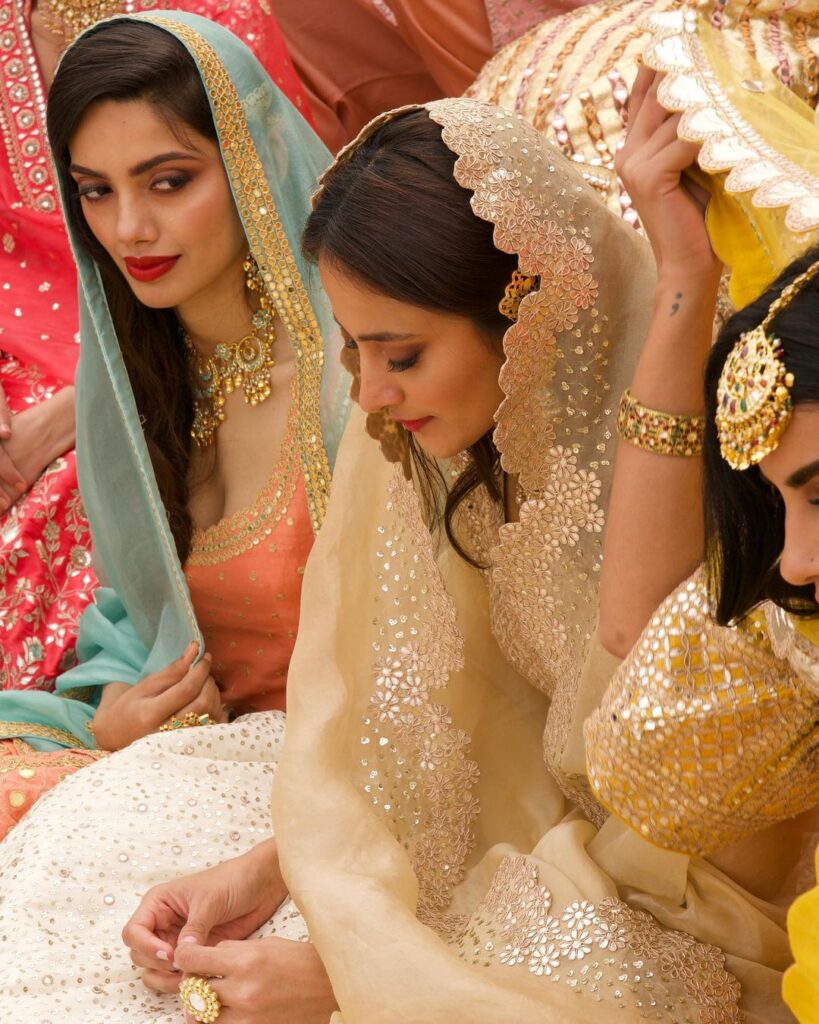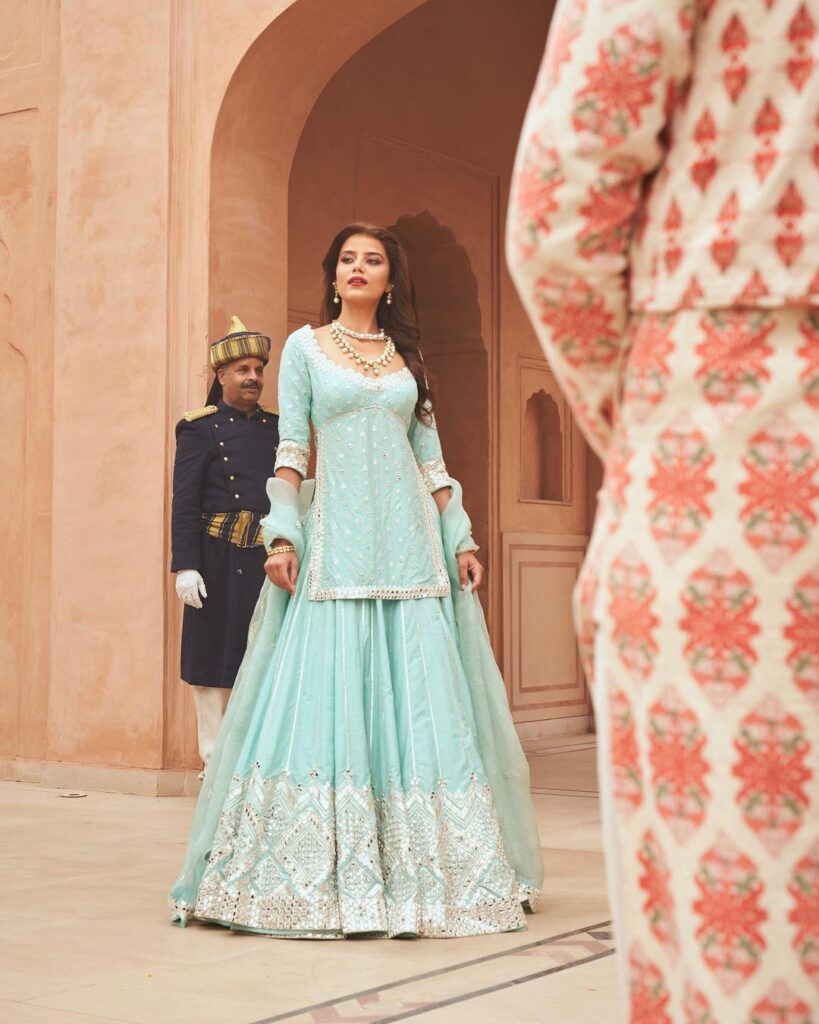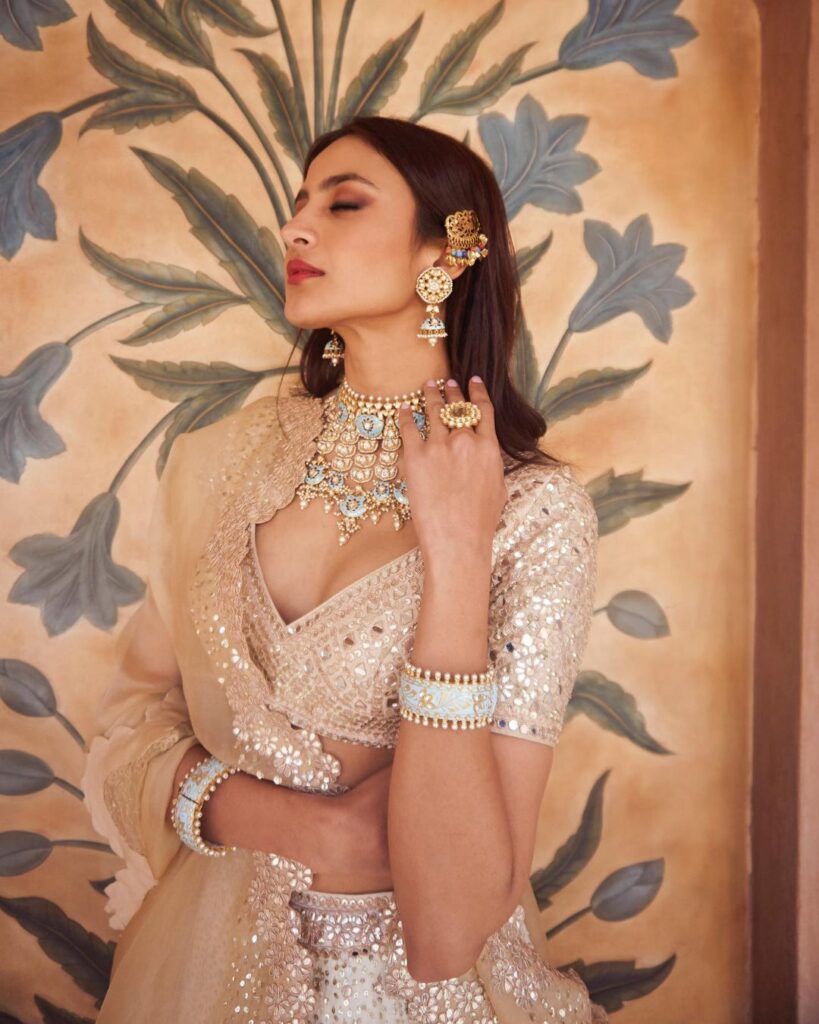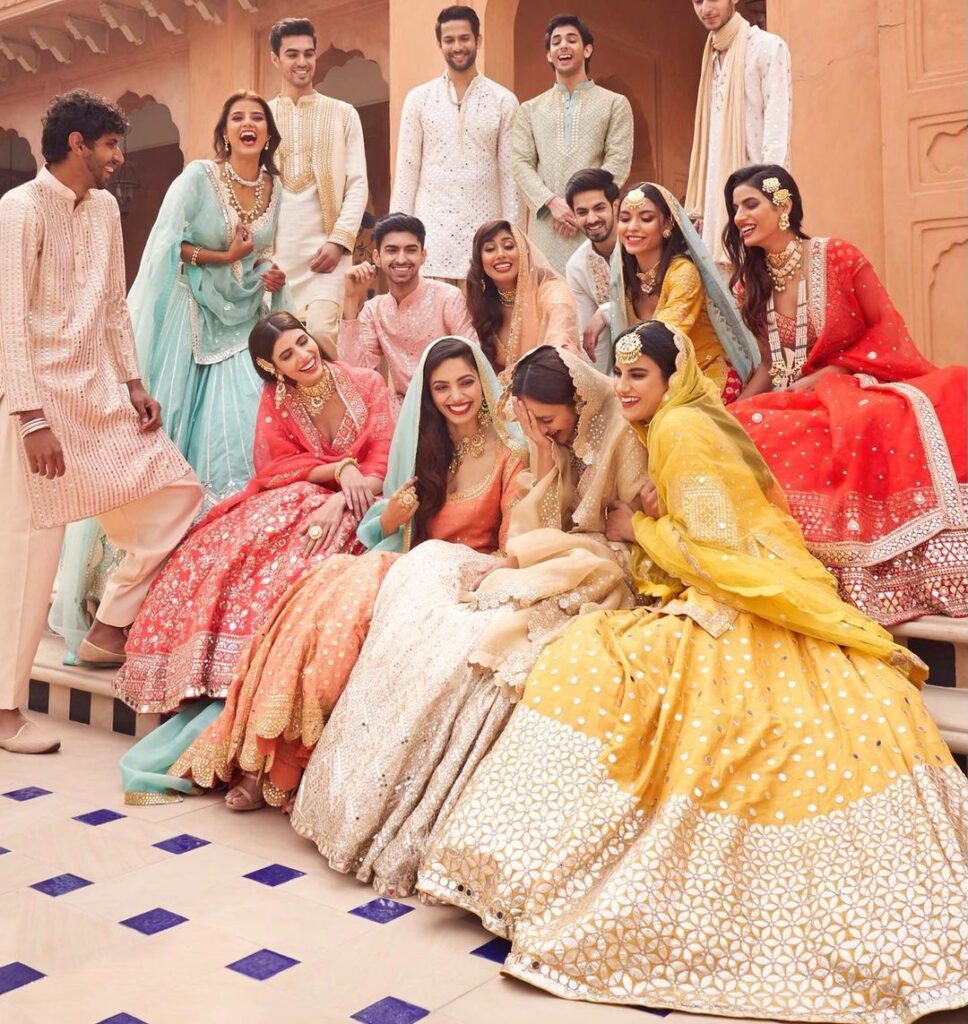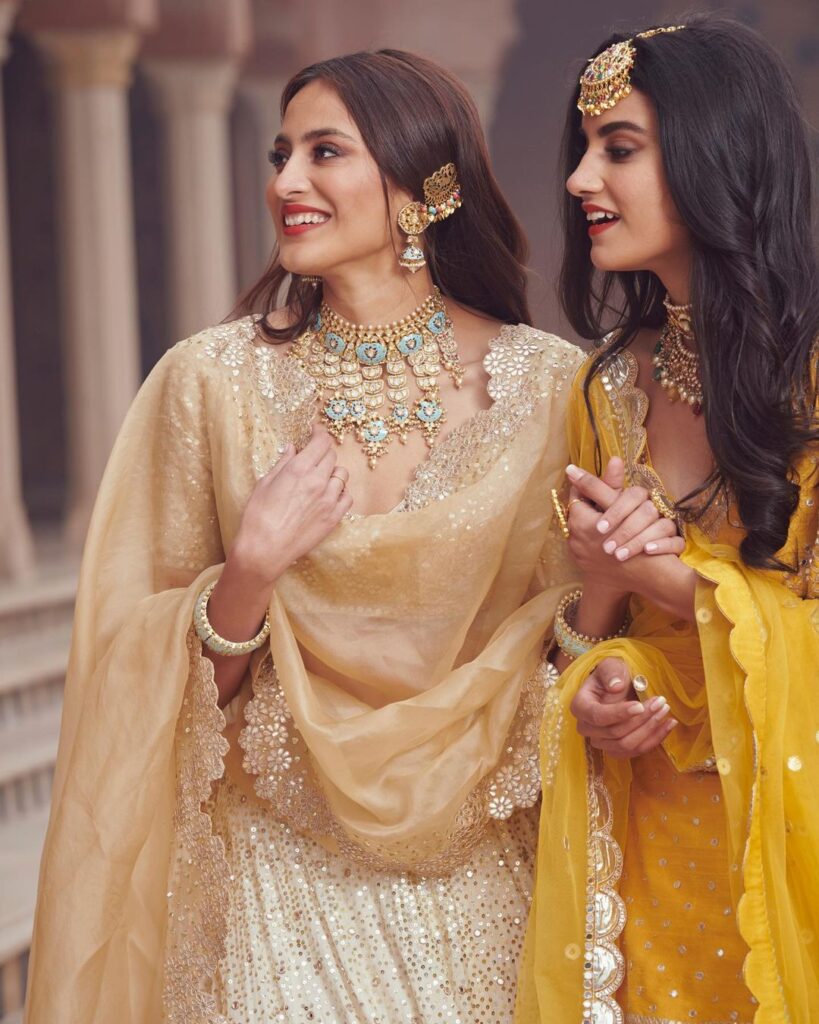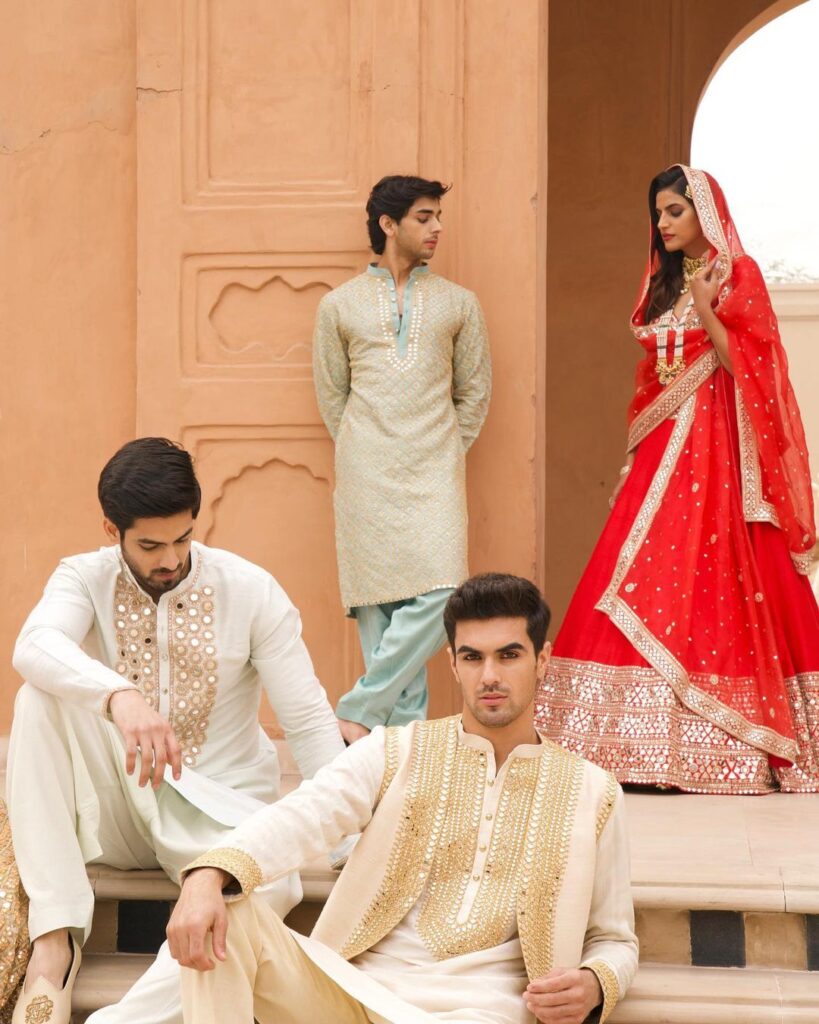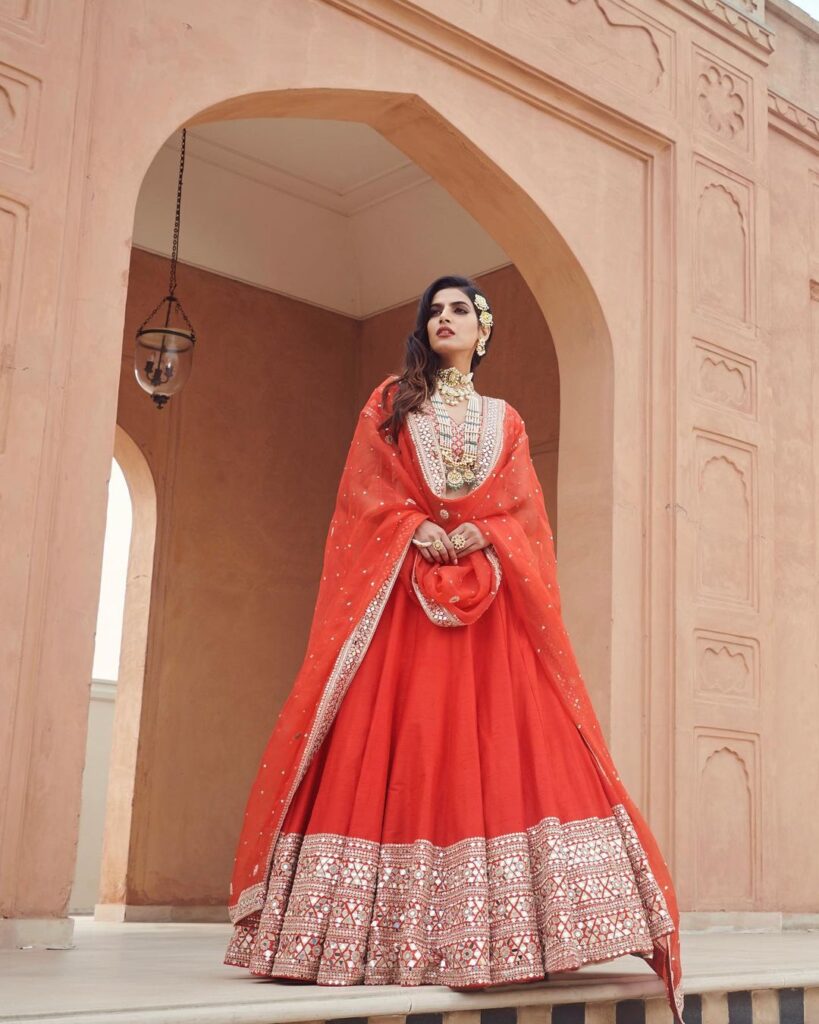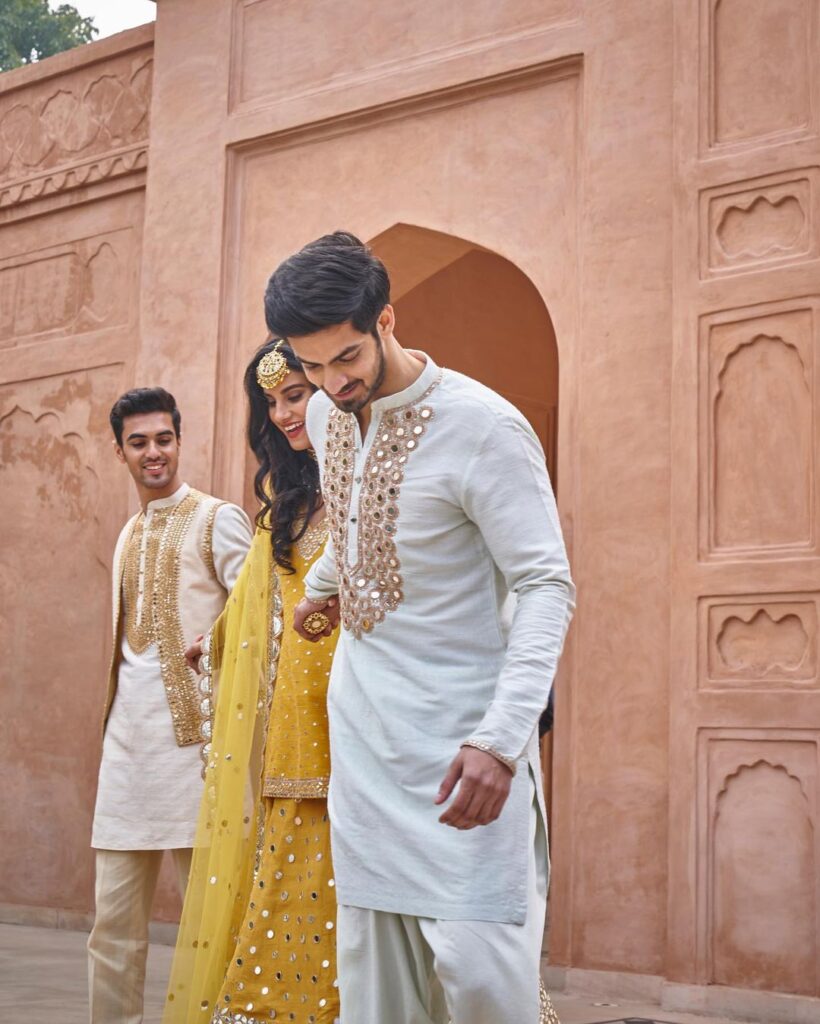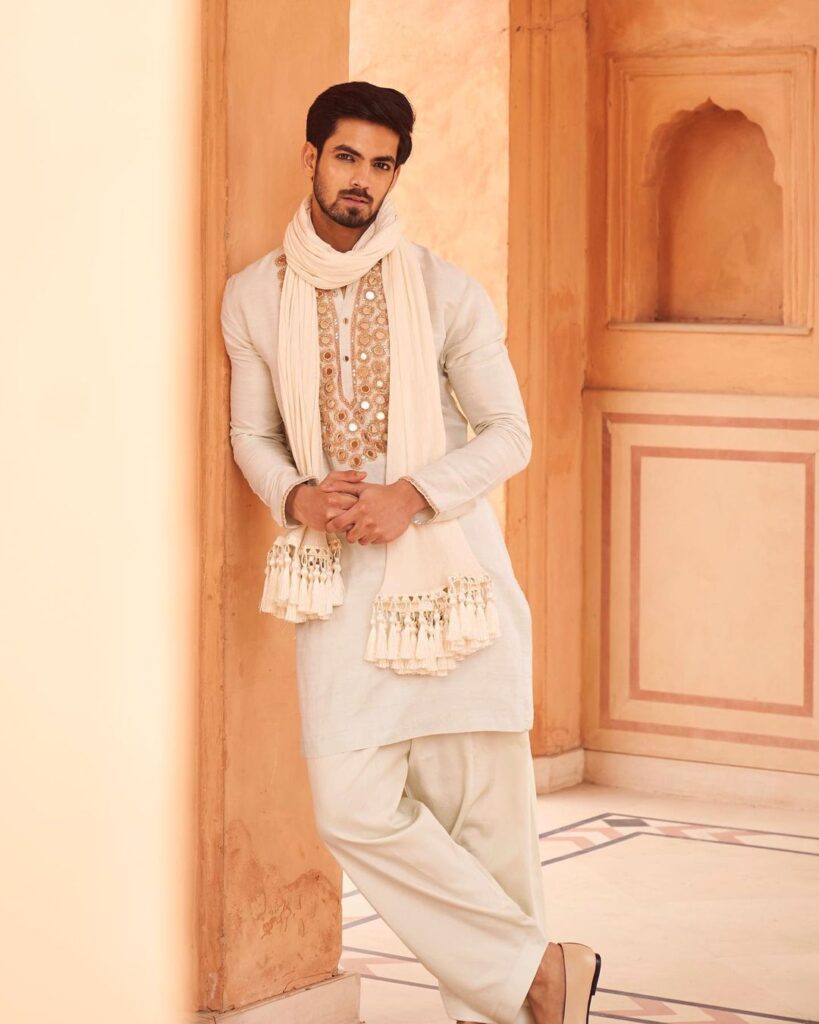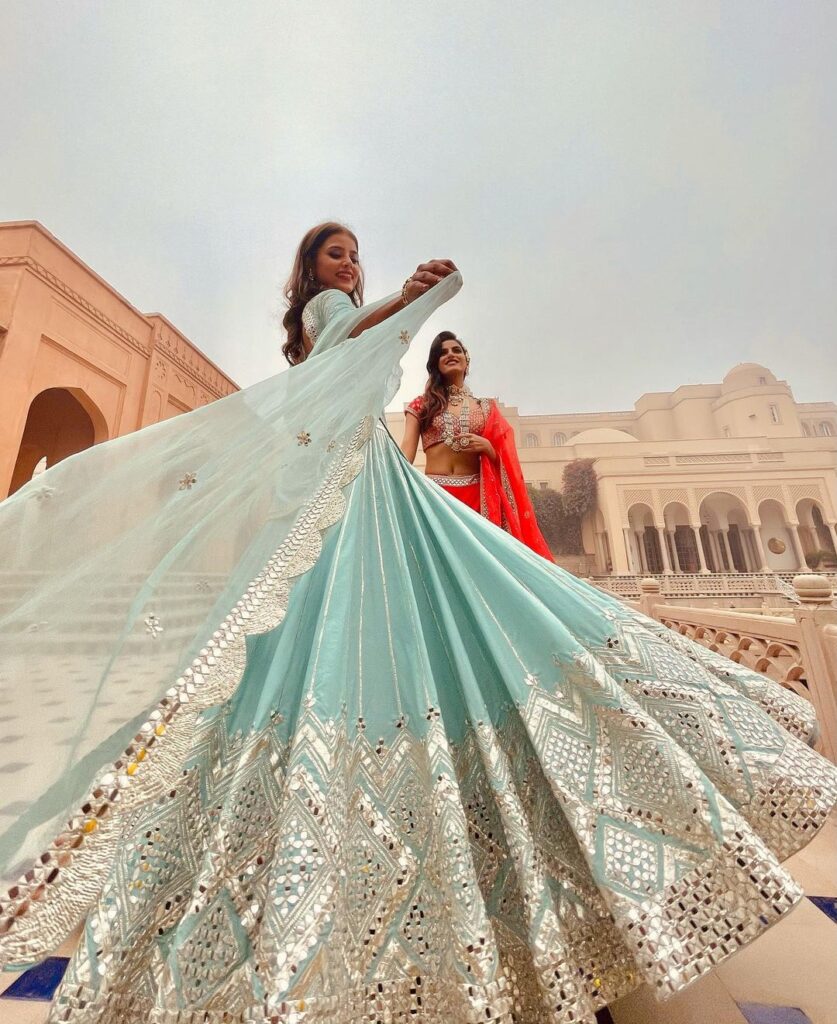 "Peaches and honey in the air. A canvas splattered with the hues of Spring. The sweet smell of ice cream cones, buzzing bees, sticky candy floss, and bright yellow flowers. A splash of color, woven with the most delicate craftsmanship. Abhinav Mishra writes an ode to the abundance of spring, and the brilliant bounty of the new season. With iridescent mirror work, reflecting the dancing sun rays, the new line features effortless Indian silhouettes, enveloped by an aura of free-spirited glee. The color palette of peaches, corals, oranges, mints, and aquas is like a spring romance, a soft melody of a love song, fresh and new, with reels of shimmering guitar, presenting you Songs of Spring by Abhinav Mishra," – his team writes on Instagram describing the 'Songs of Spring Collection.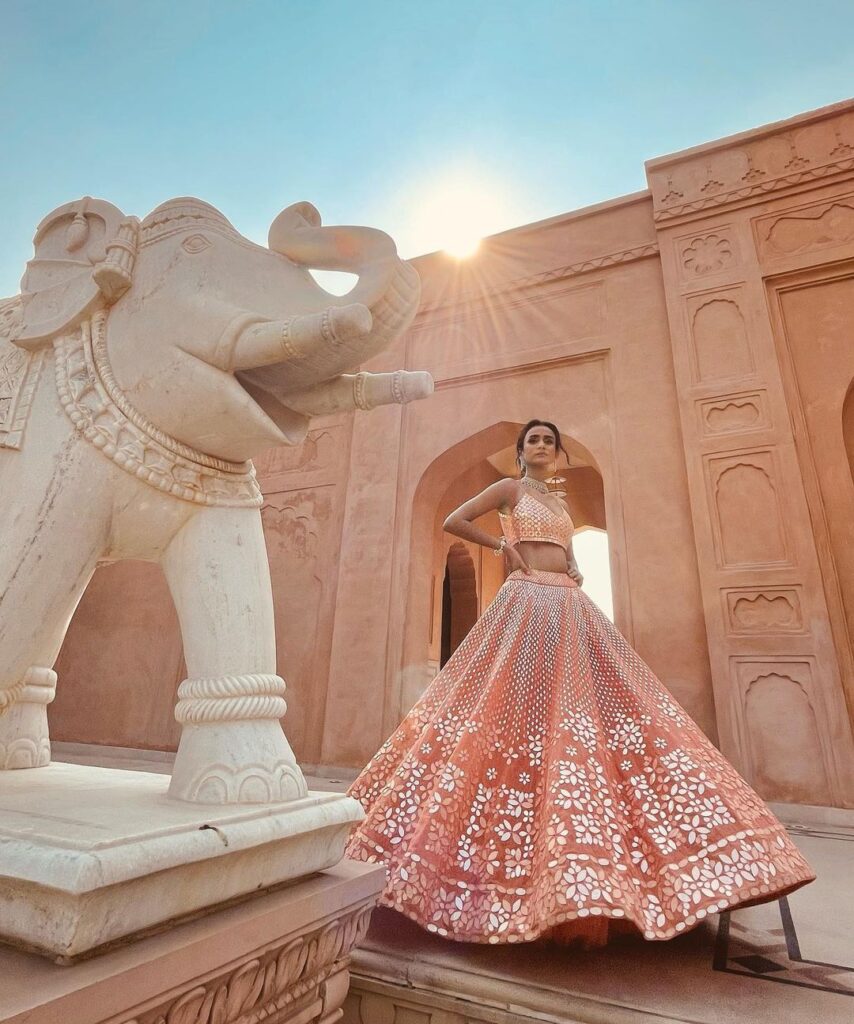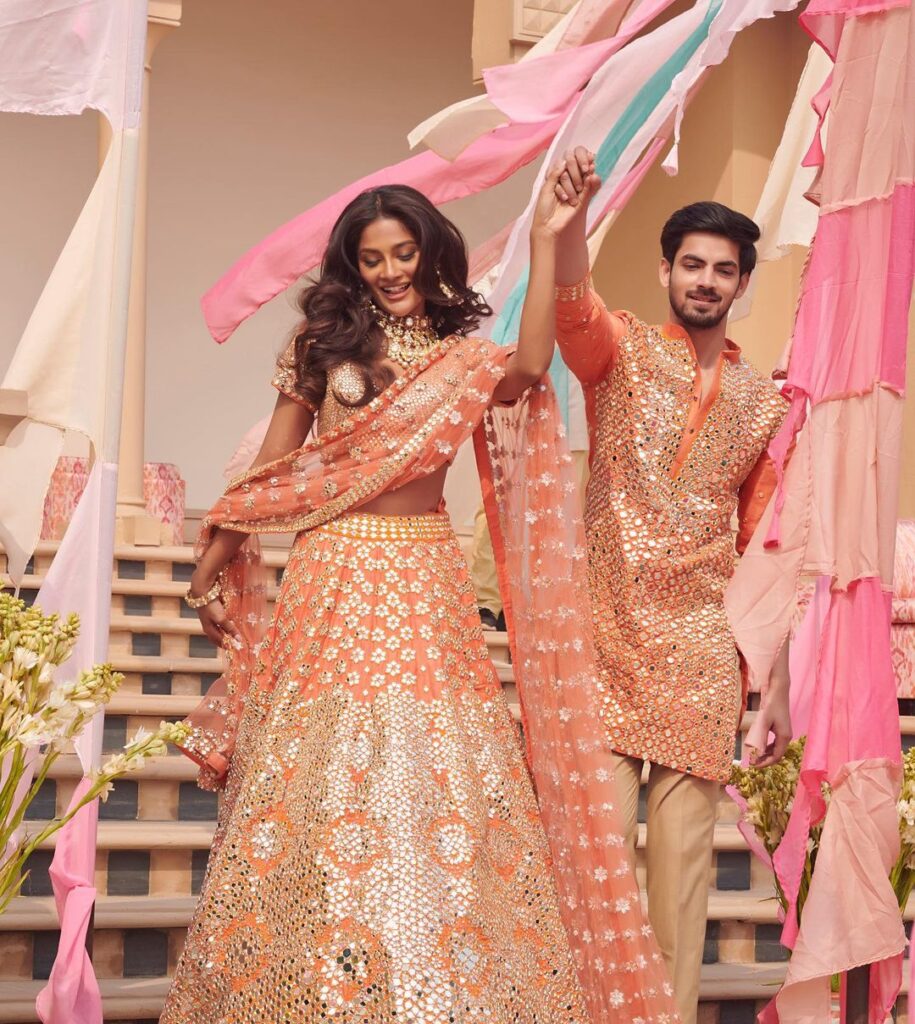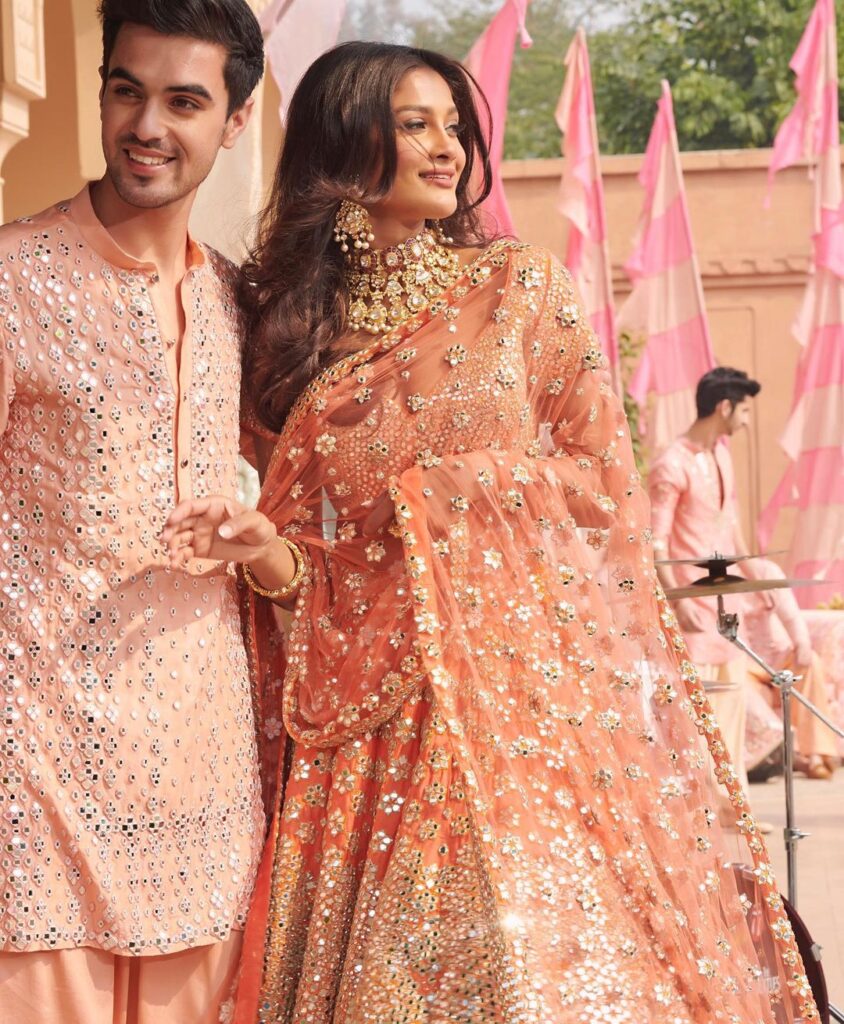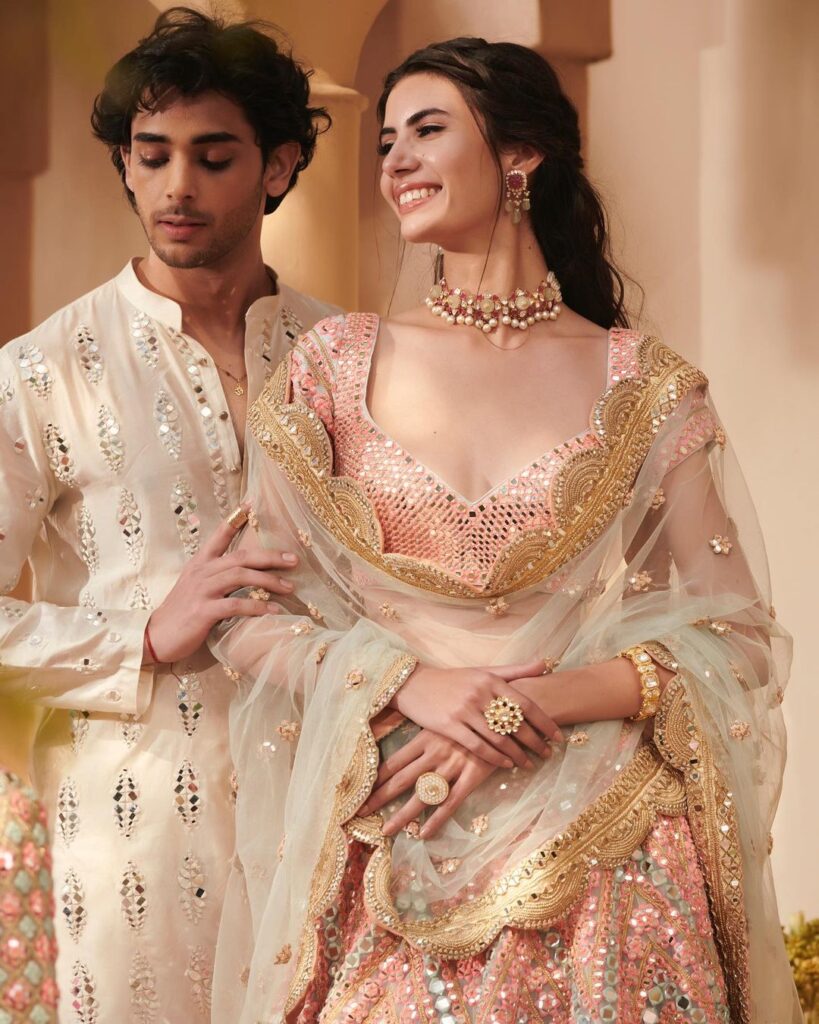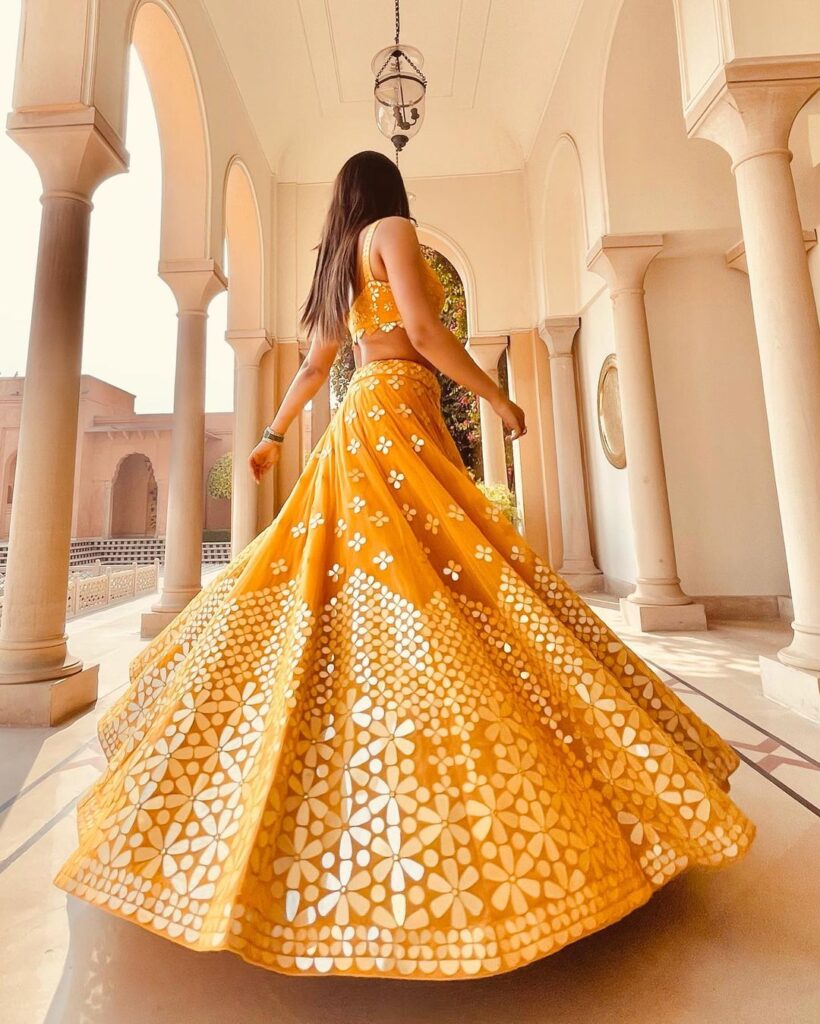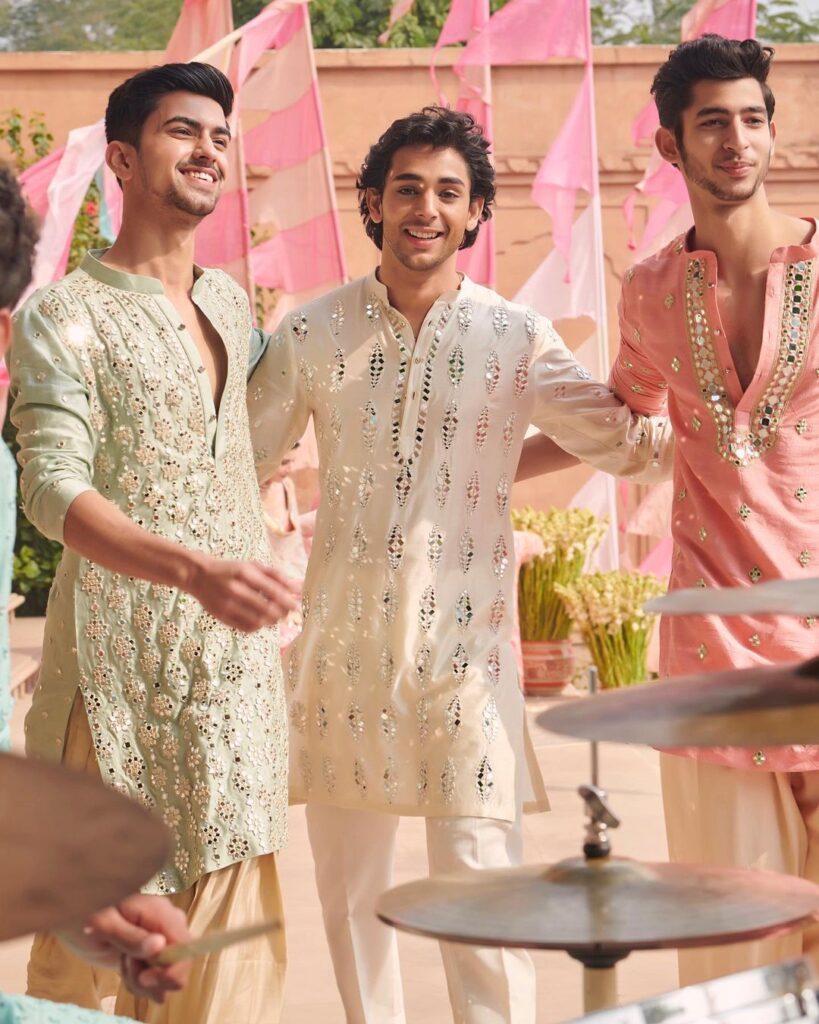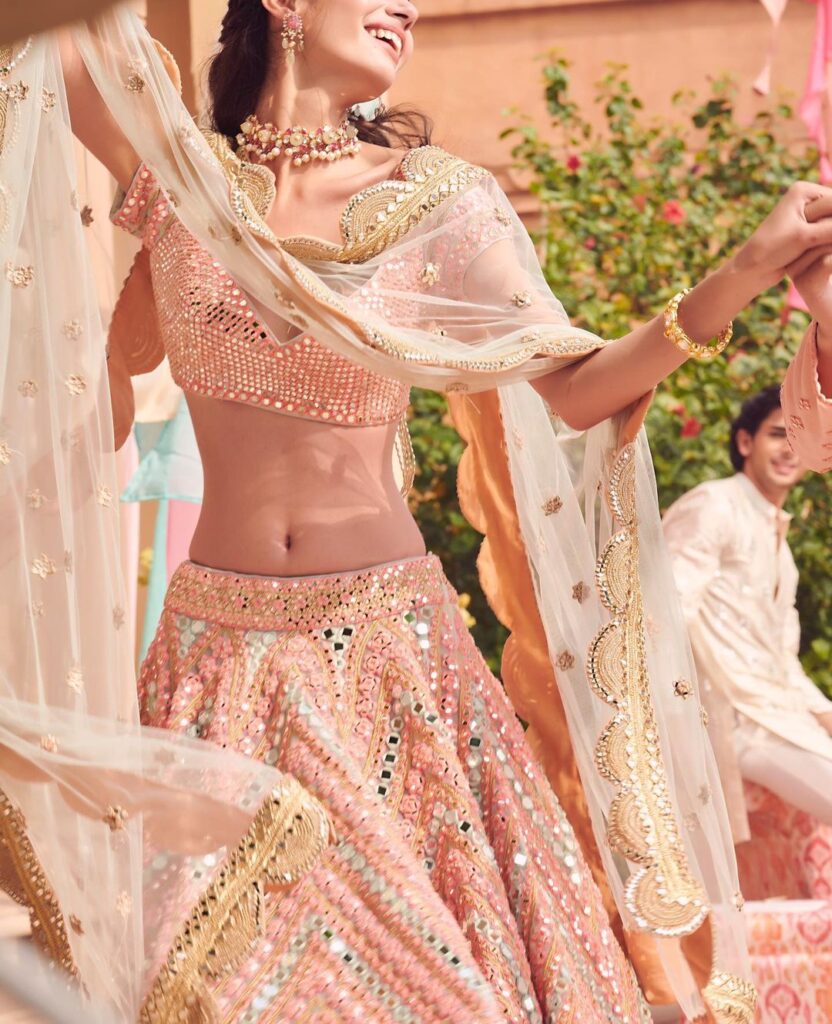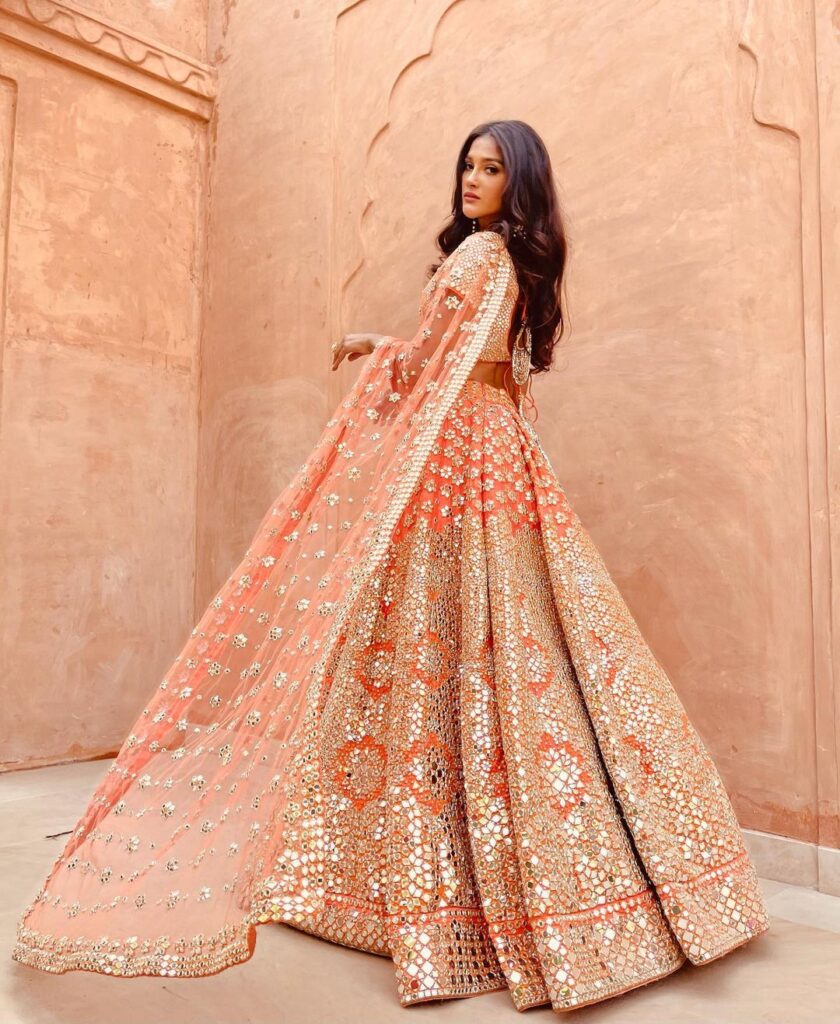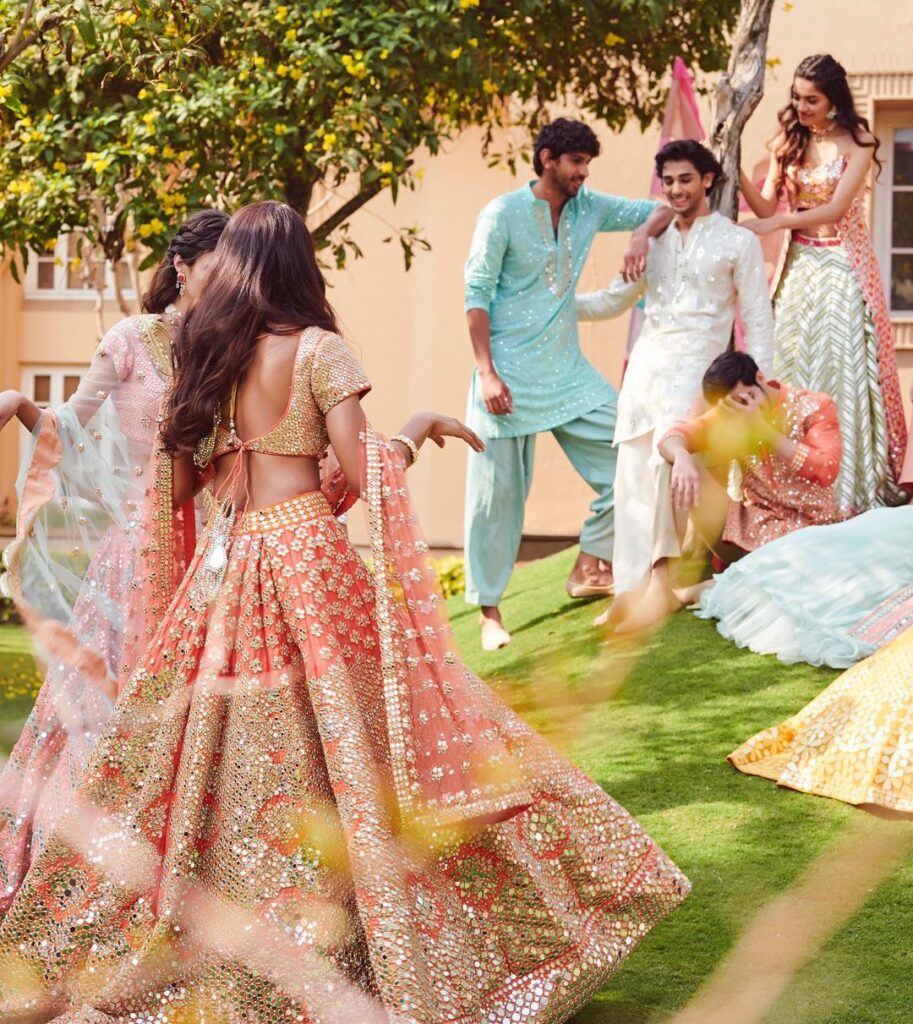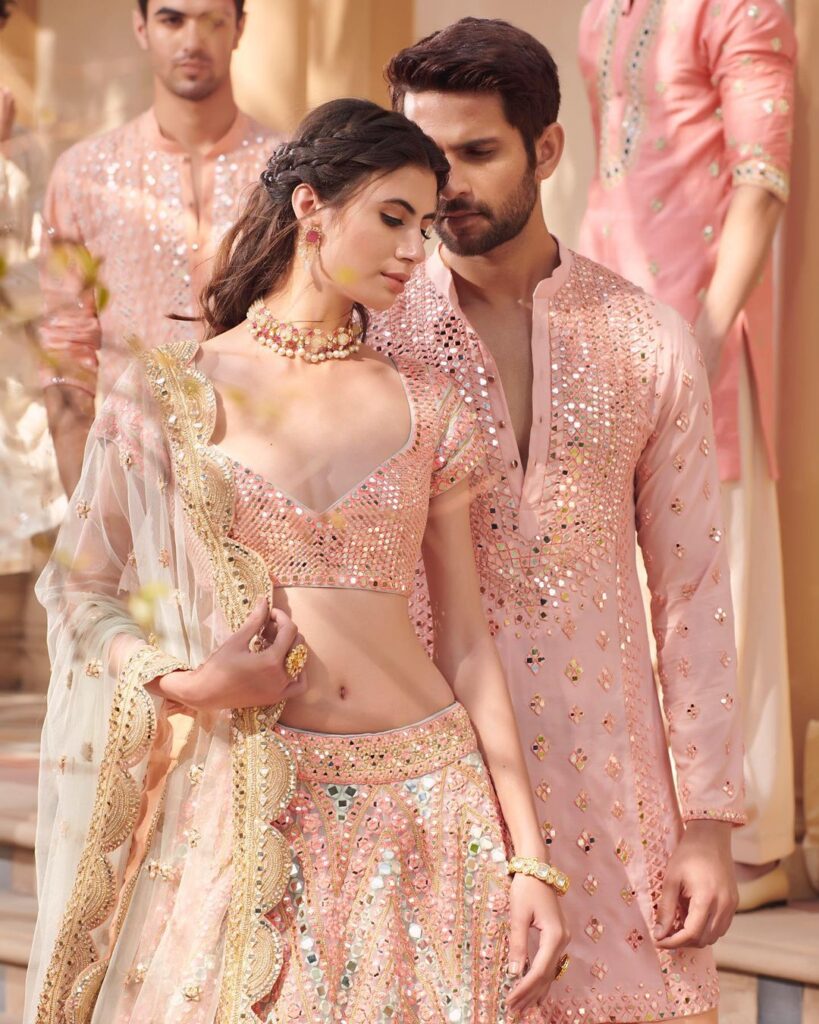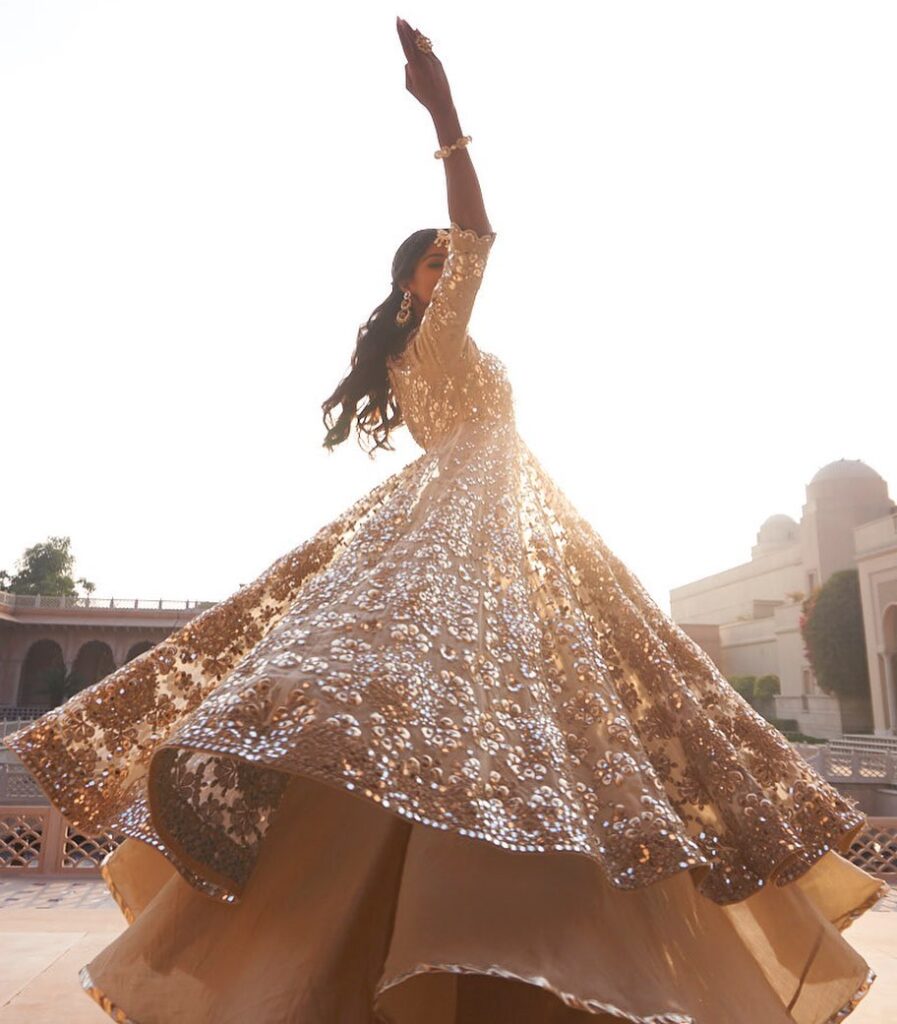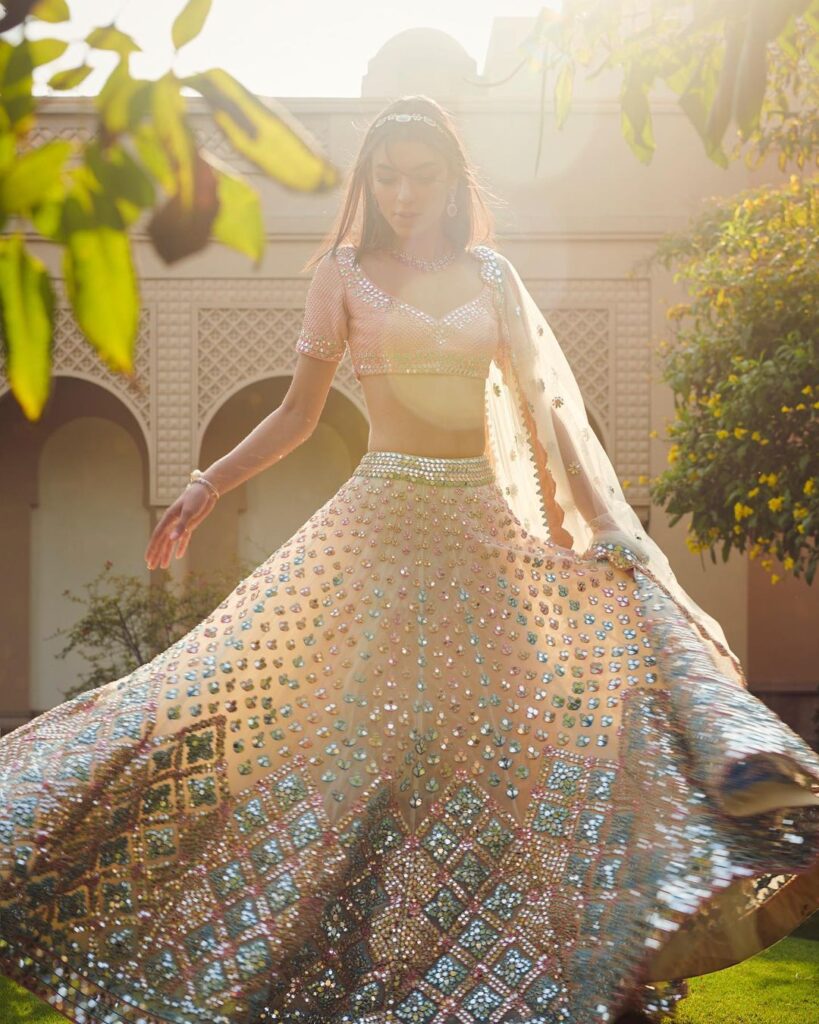 "Abhinav Mishra visualizes the grand Indian wedding where the majestic Baraat ceremony captures the moments of magical love. Like sparkling stars on a moonlit night, the baraatis make way for a night of grand celebration and a union of two souls. A mesmerizing collection of golds and ivories, strewn with our signature mirror-work, presenting BARAAT by Abhinav Mishra." – his team writes on Instagram describing the 'Chandni Raatein' collection.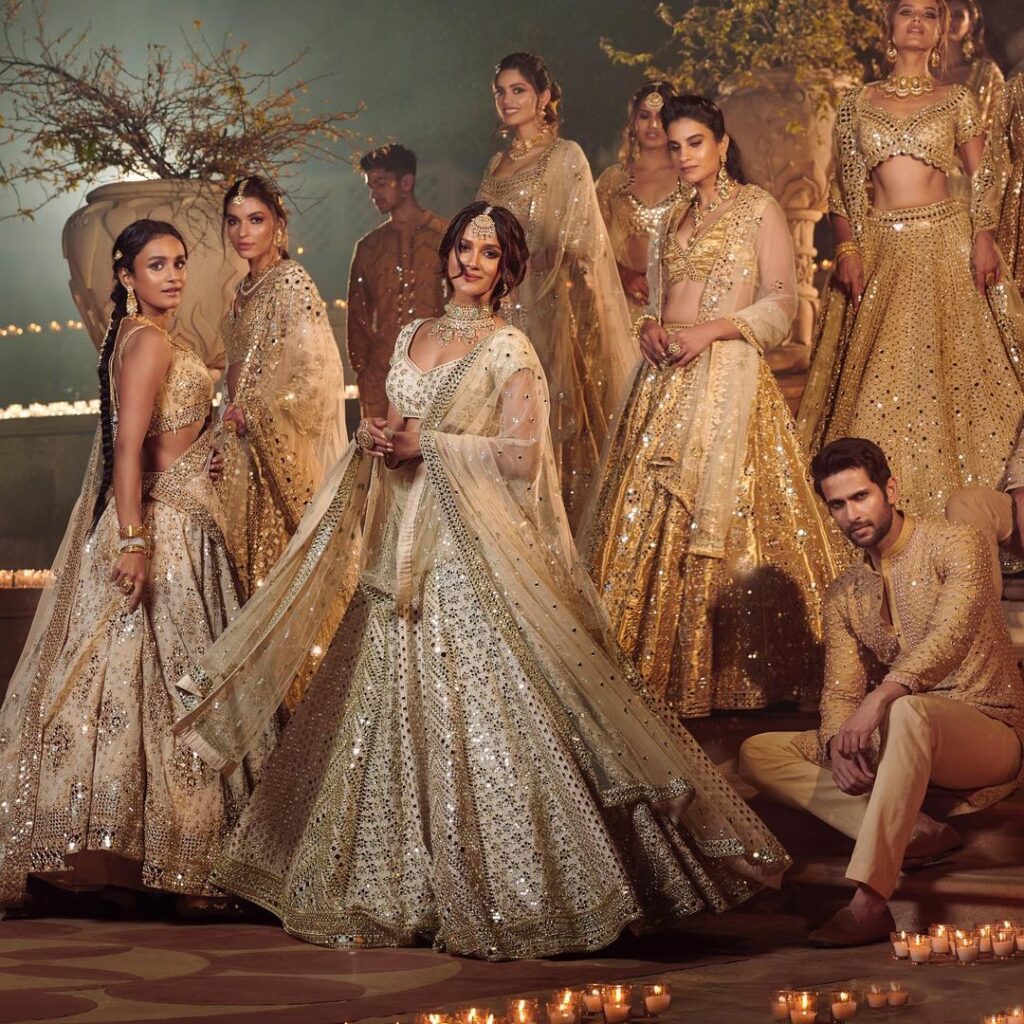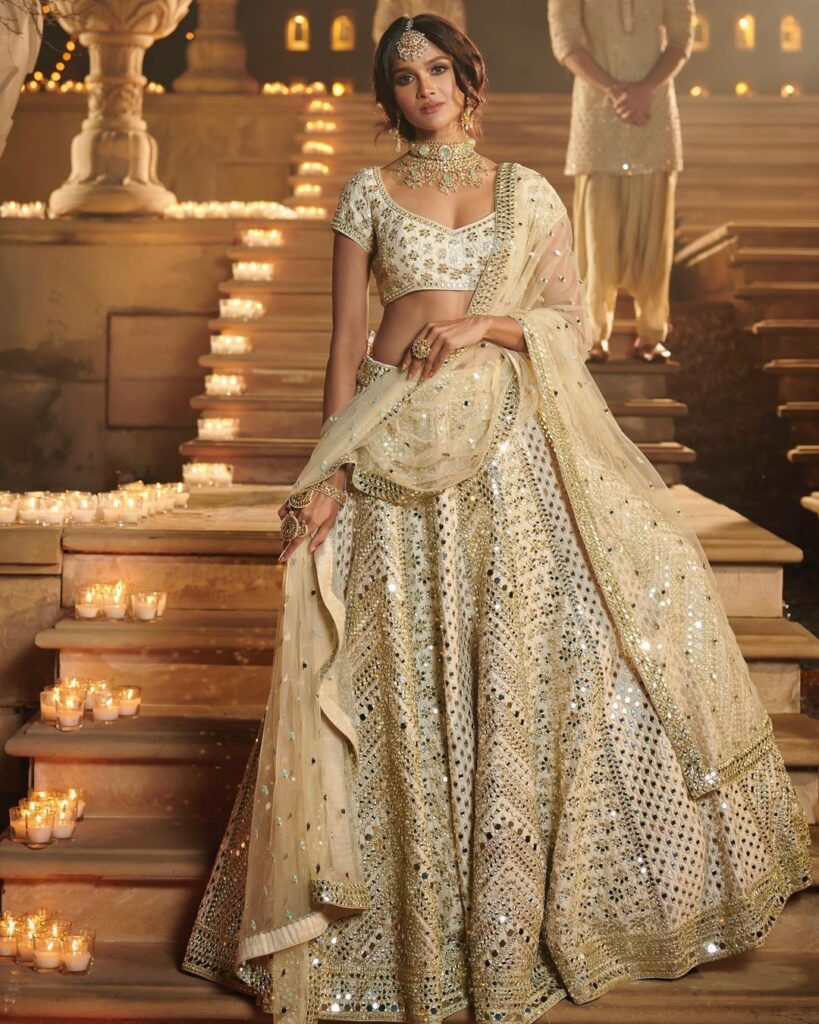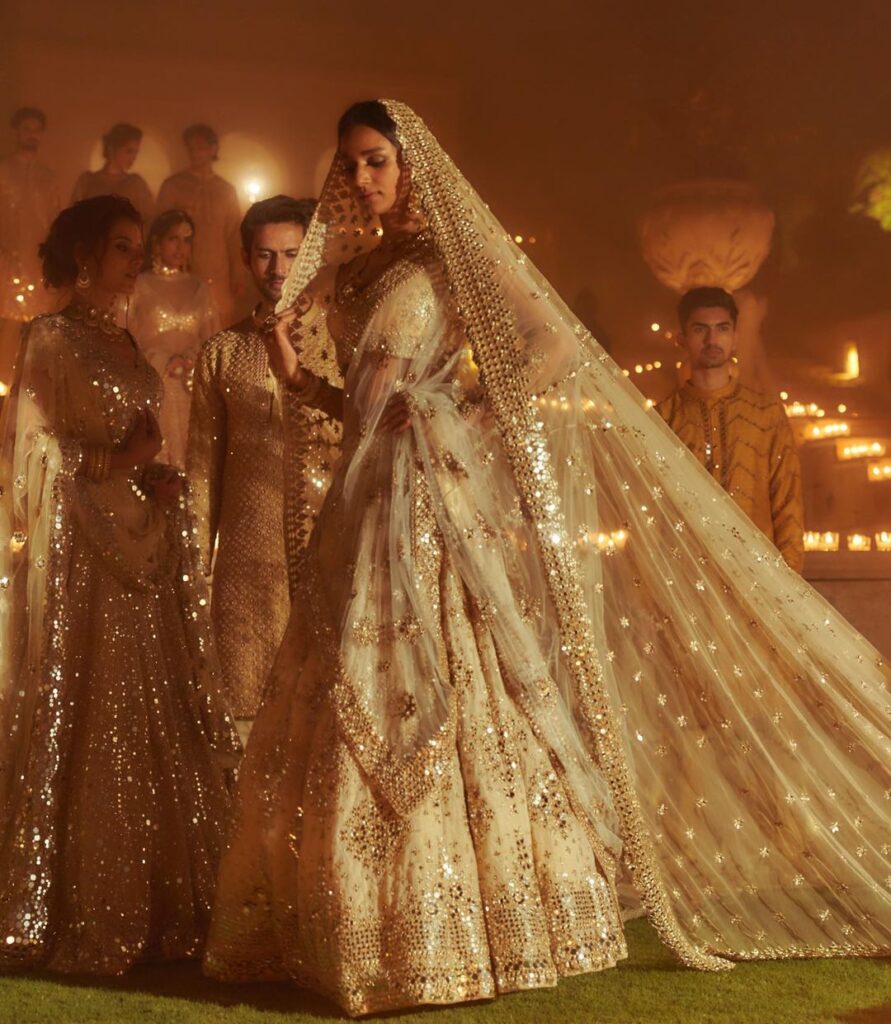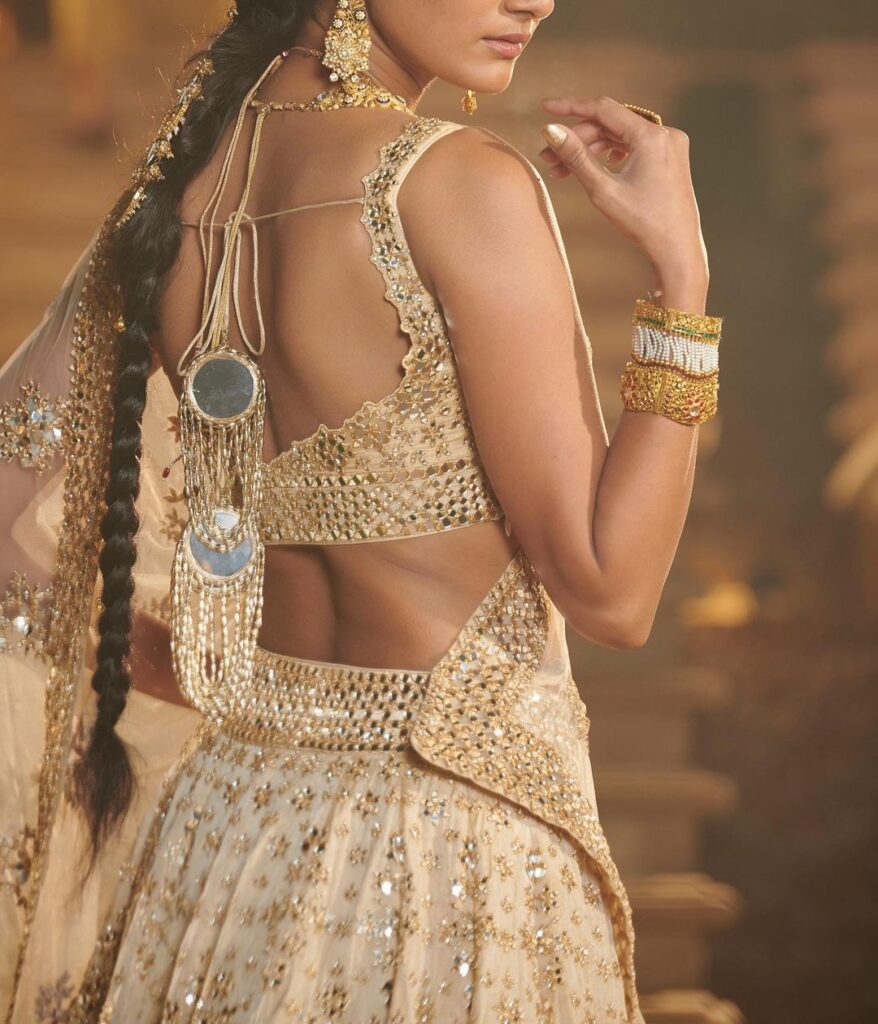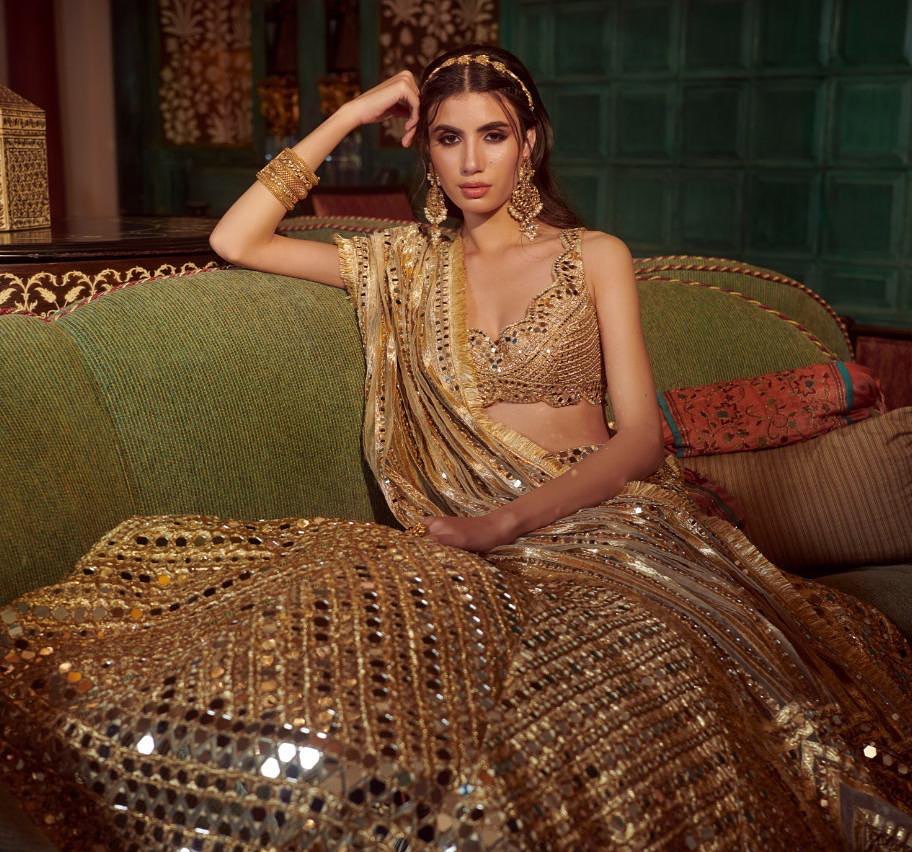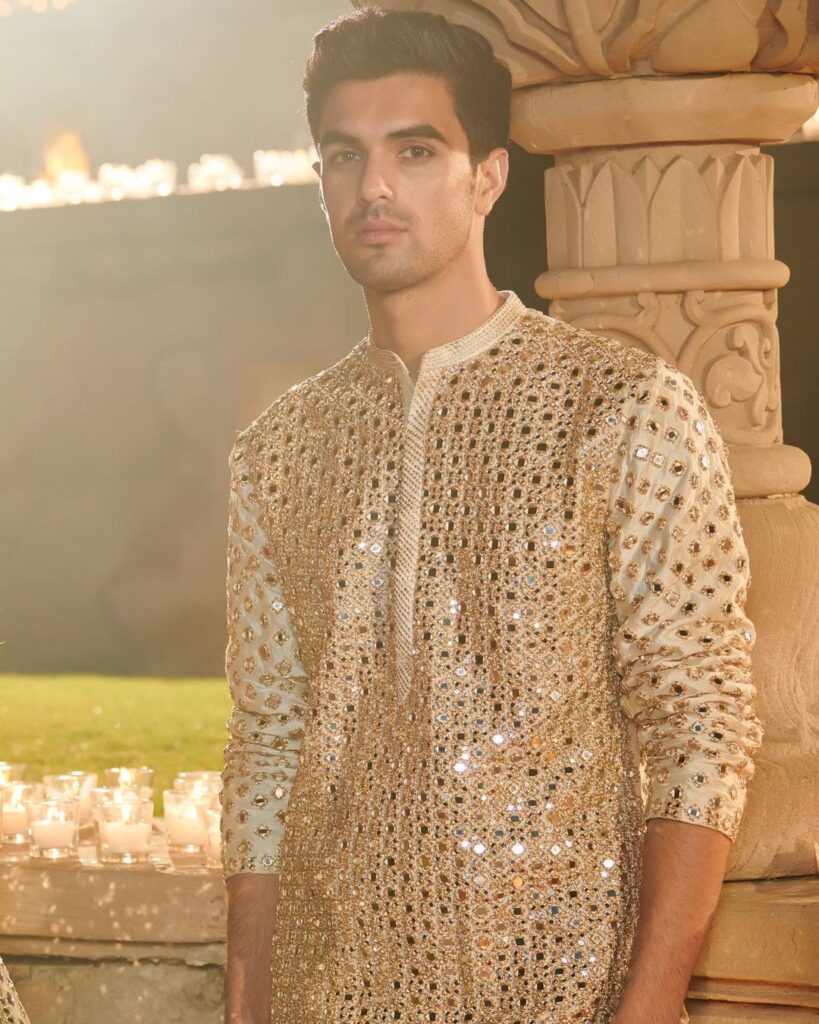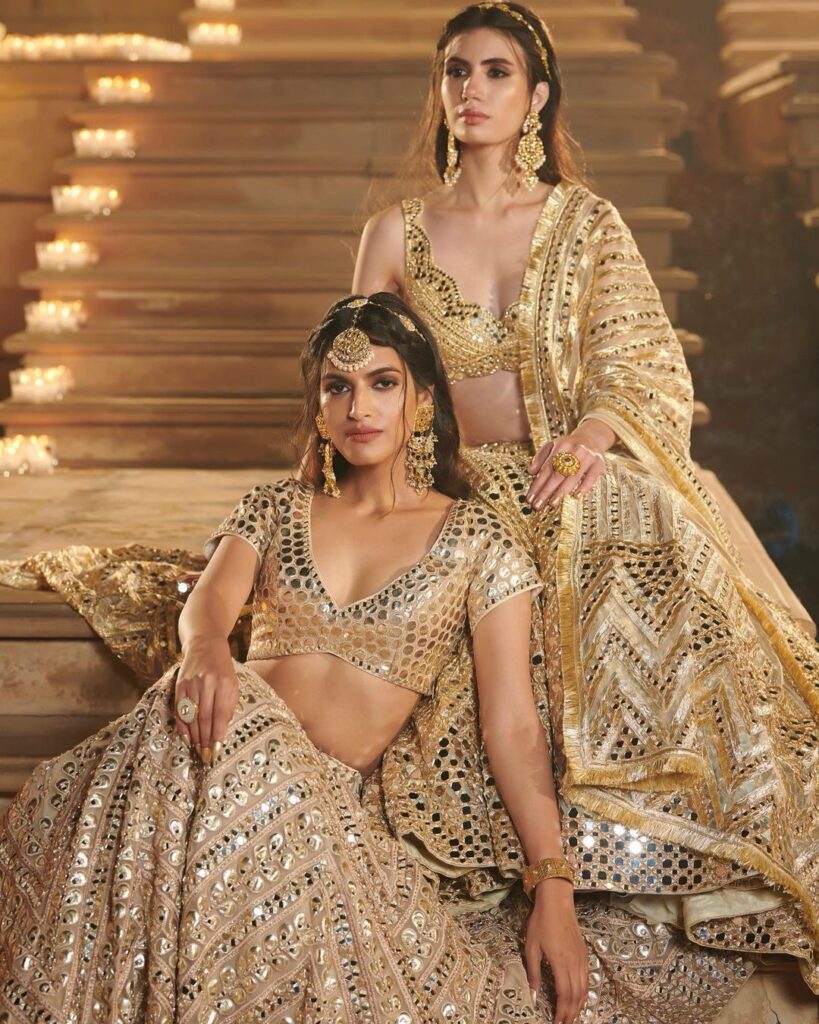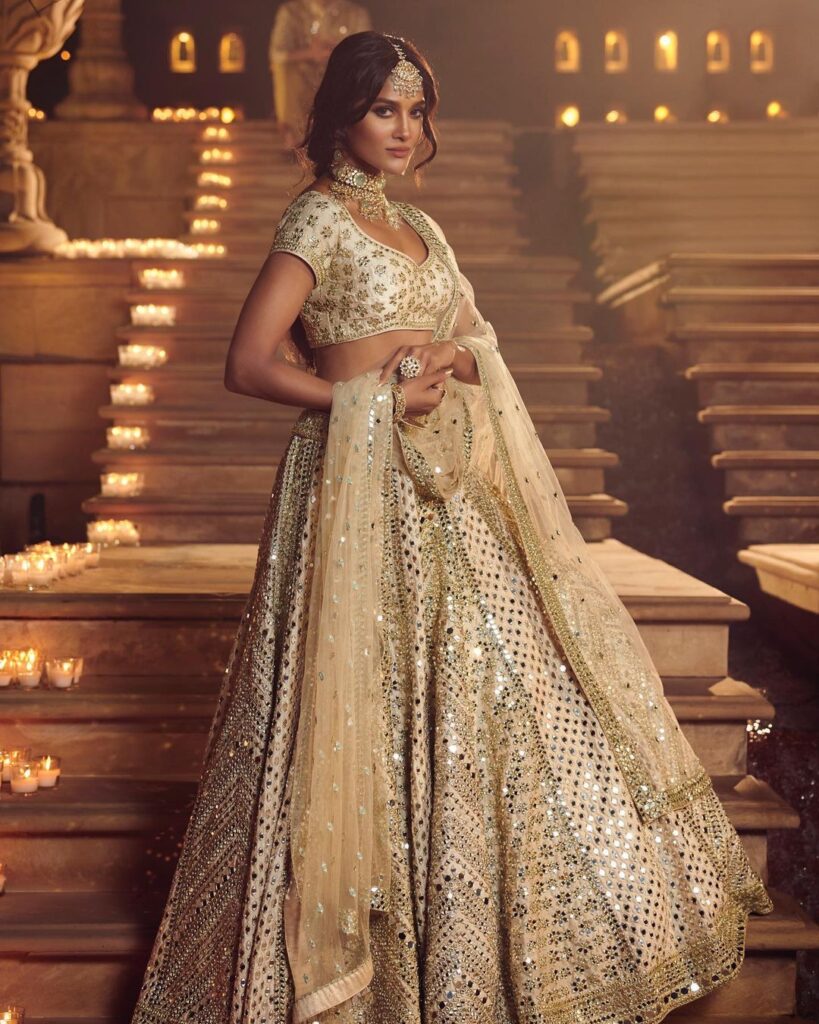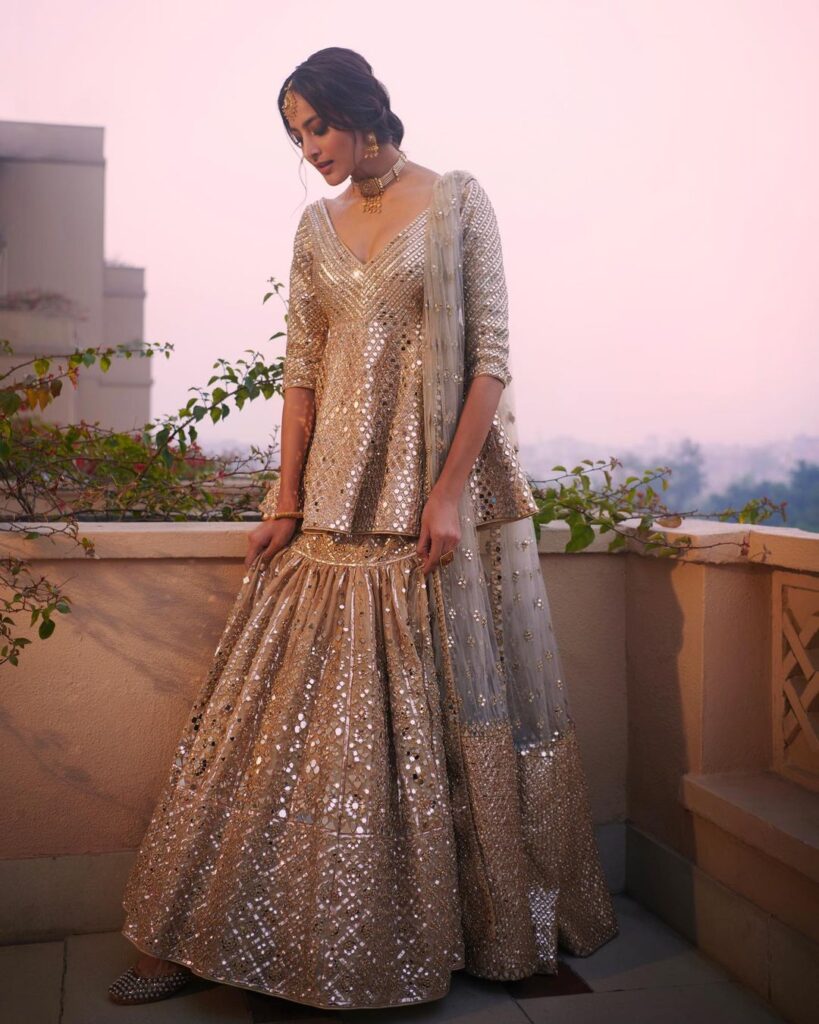 Followed by his dramatic summer line, Mishra launched his summer collection in collaboration with Khush Magazine featuring Janhvi Kapoor. 
Describing his couture range to lend a 'modern-day princess bride' look, Kapoor features in an exclusive range of Mishra's lehengas doused in fresh, flawless, and eye-catching sheesha work.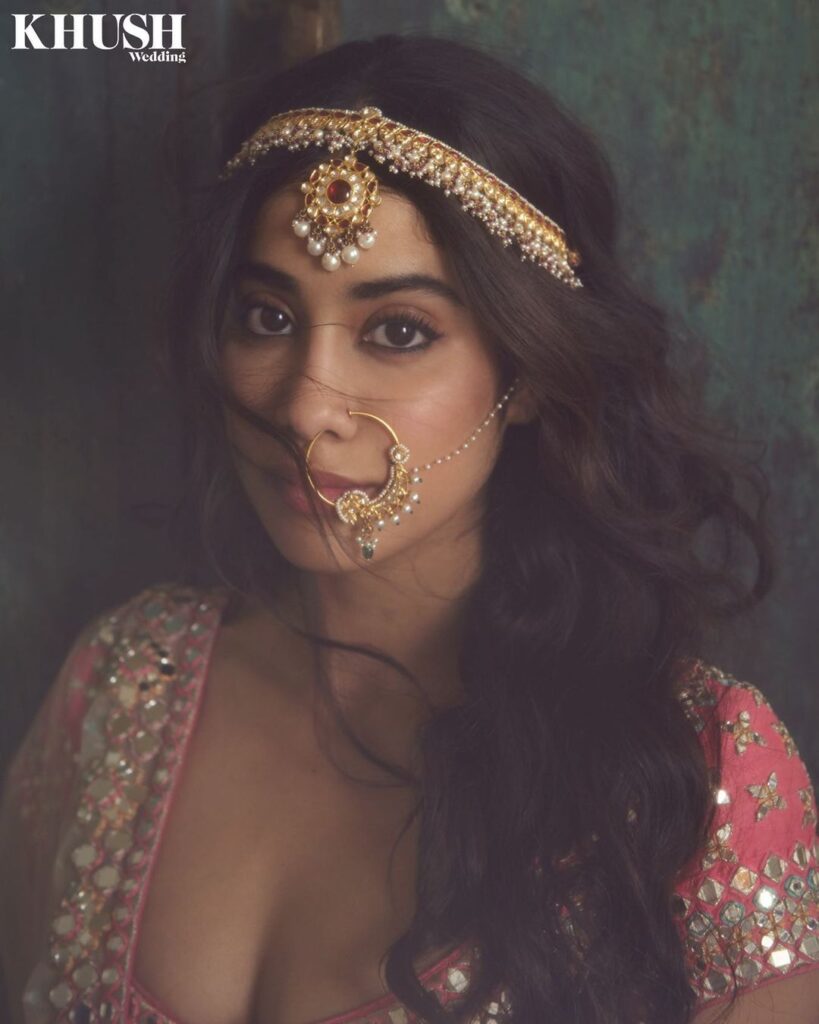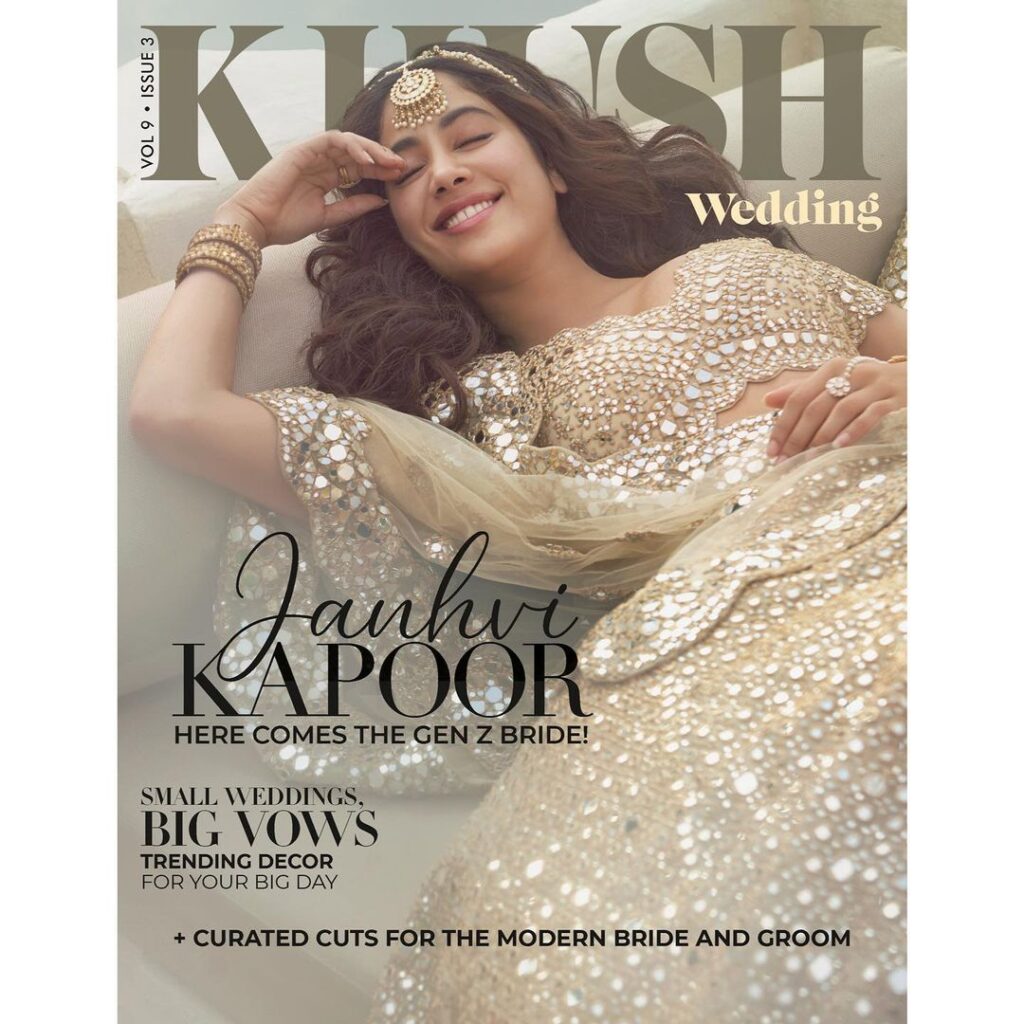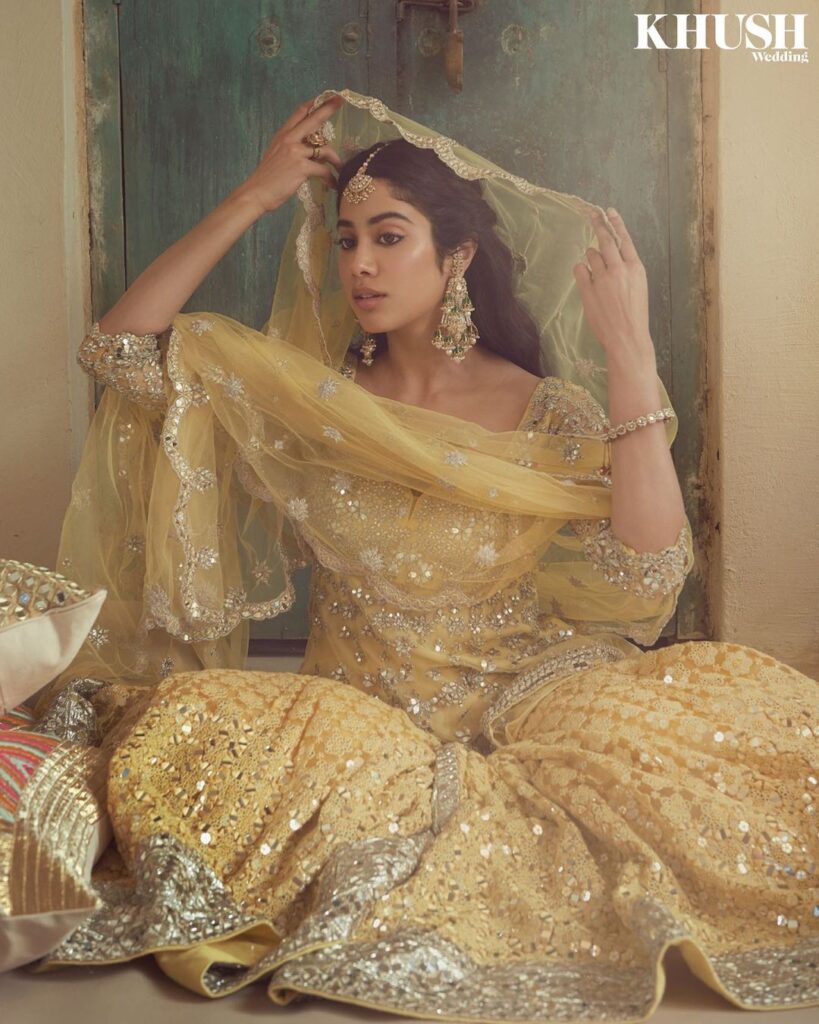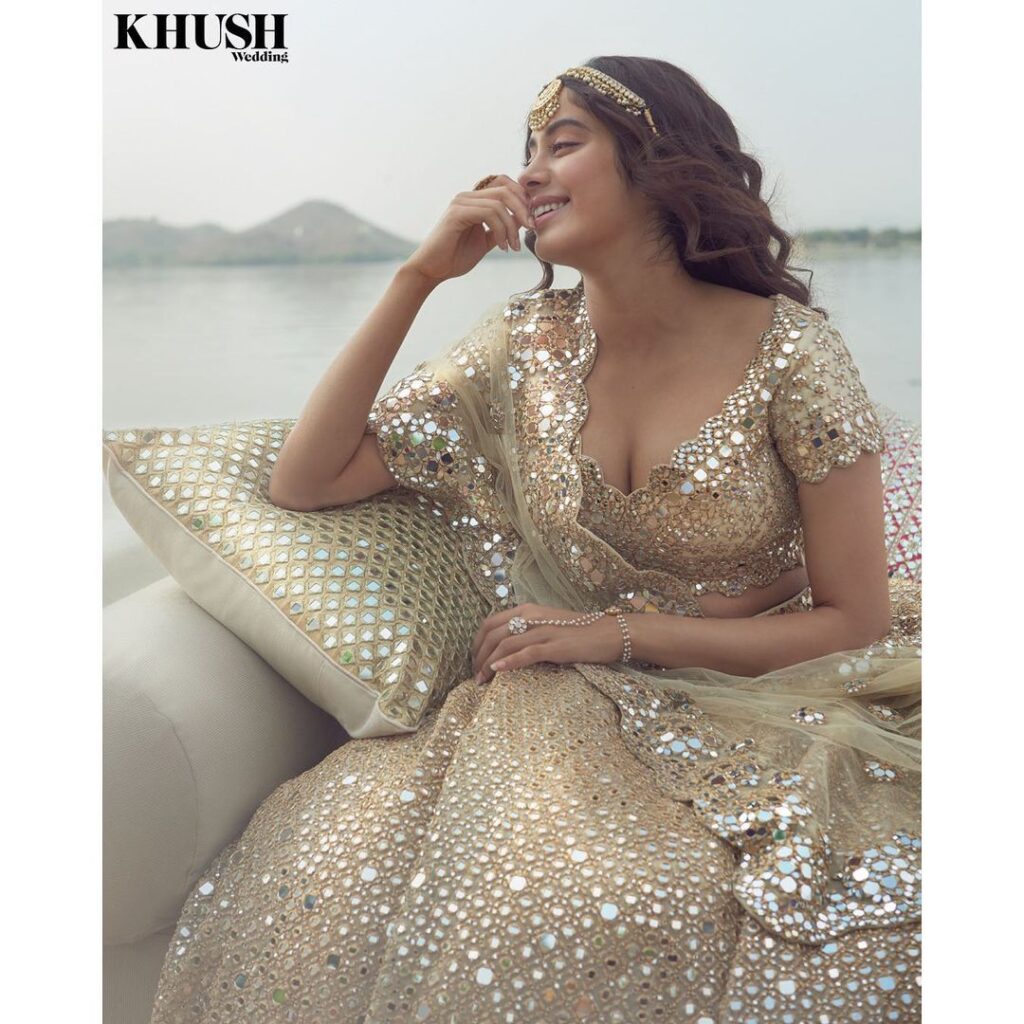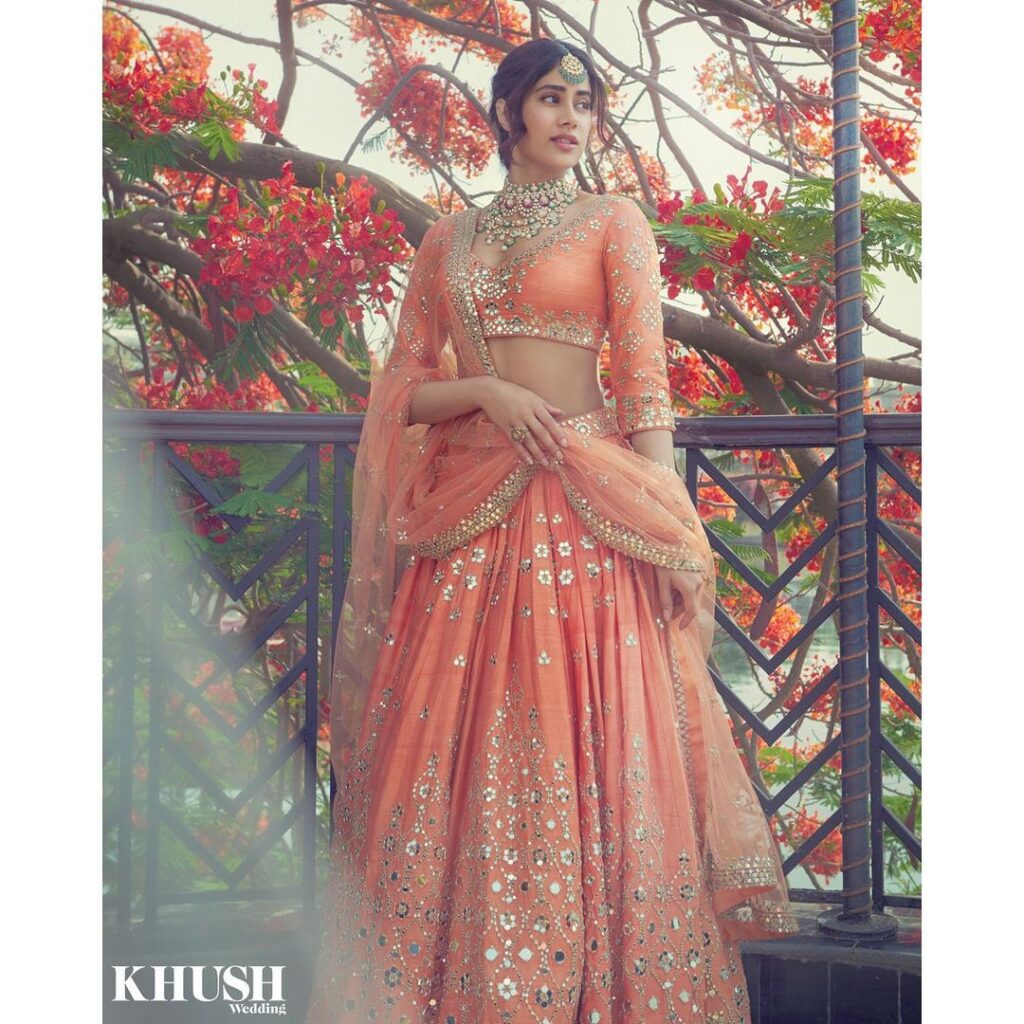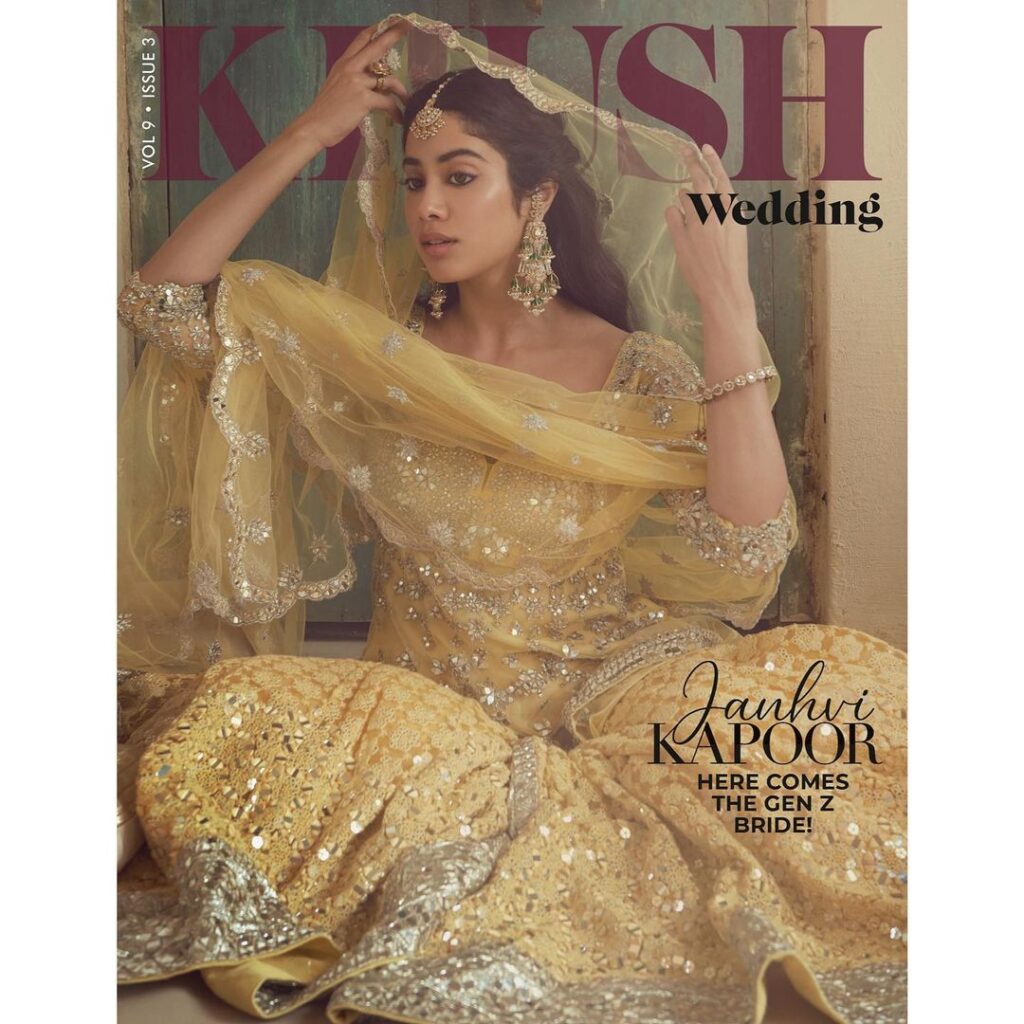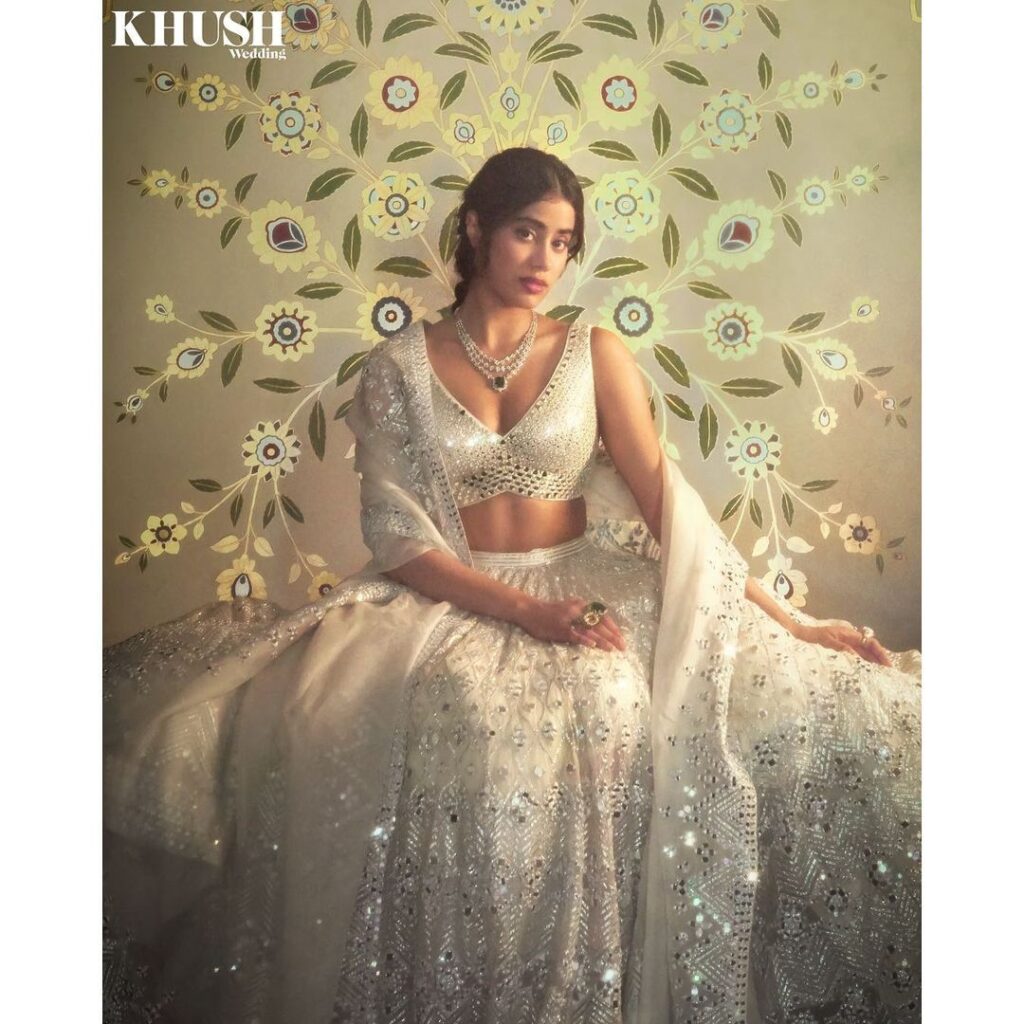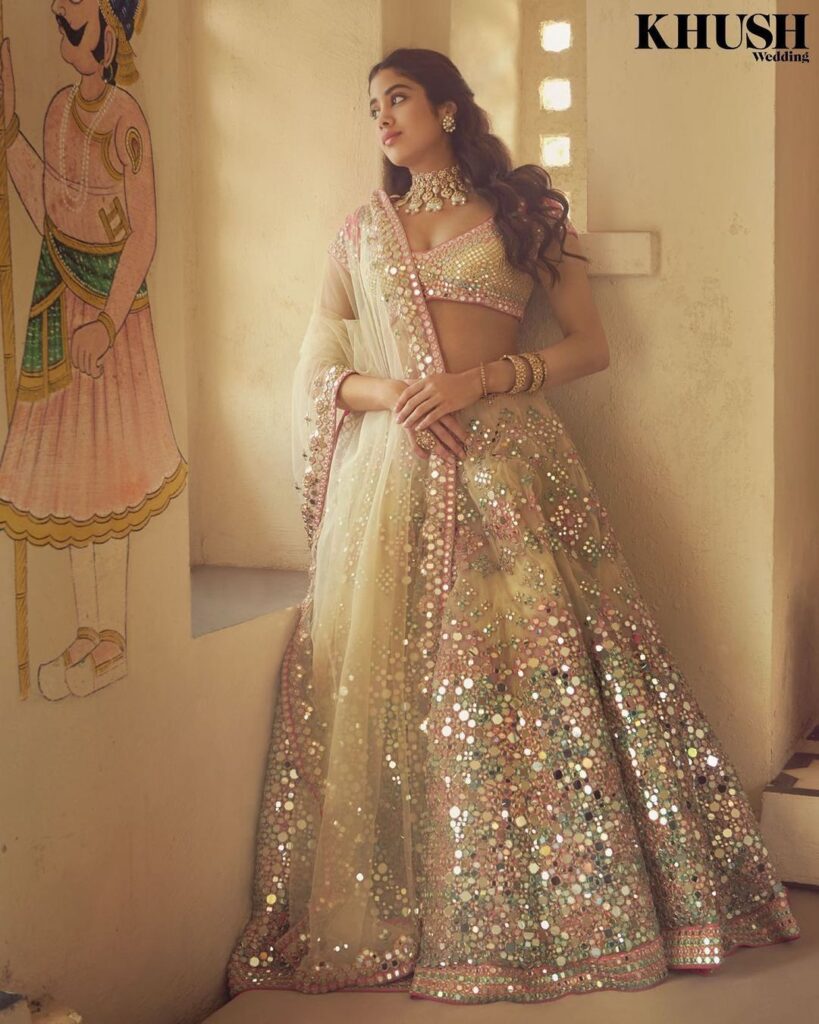 Where to shop Abhinav Mishra online?
Keeping in mind the pandemic situation, many designers have optimized their e-commerce websites and diverse the routes of third-party selling channels. Here are the websites where you can buy Abhinav Mishra online: 
Happy wedding shopping to you!