Flowers can be added to any element of your wedding day. Their whimsical charm, sweet smell, and attribute to add any beauty to the simplest of things make them immensely popular in the wedding arena. And while artificial flowers have an intrinsic ethereal grace as well, it's safe to say they can't unmatch the ethereality of the real florals. Fresh flowers can be included in the decor, cake, reception tables, and even your jewelry in the form of fresh flower kalire or entire floral jewelry done in real flowers. To see the inspiration for the latter, check this blog here, and to see the inspiration for fresh flower kalire, scroll to see 15 utterly gorgeous designs that real brides wore on their own wedding revelries. 
#1 Jessica Sanghvi stunned in a gorgeous emerald green lehenga for her mehendi event and kept the styling pretty minimal. For jewelry, she wore ear cuff earrings and a pair of yellow rose flower kalire subtly contrasting yet smartly complementing her ensemble. The voluminous baby's breath addition further added allure to the trinkets and as a result, her beauteous look. While she has used the yellow roses kalire, you can surely even consider orange and deep pink roses for the jewelry as it matches the printed work on the lehenga skirt.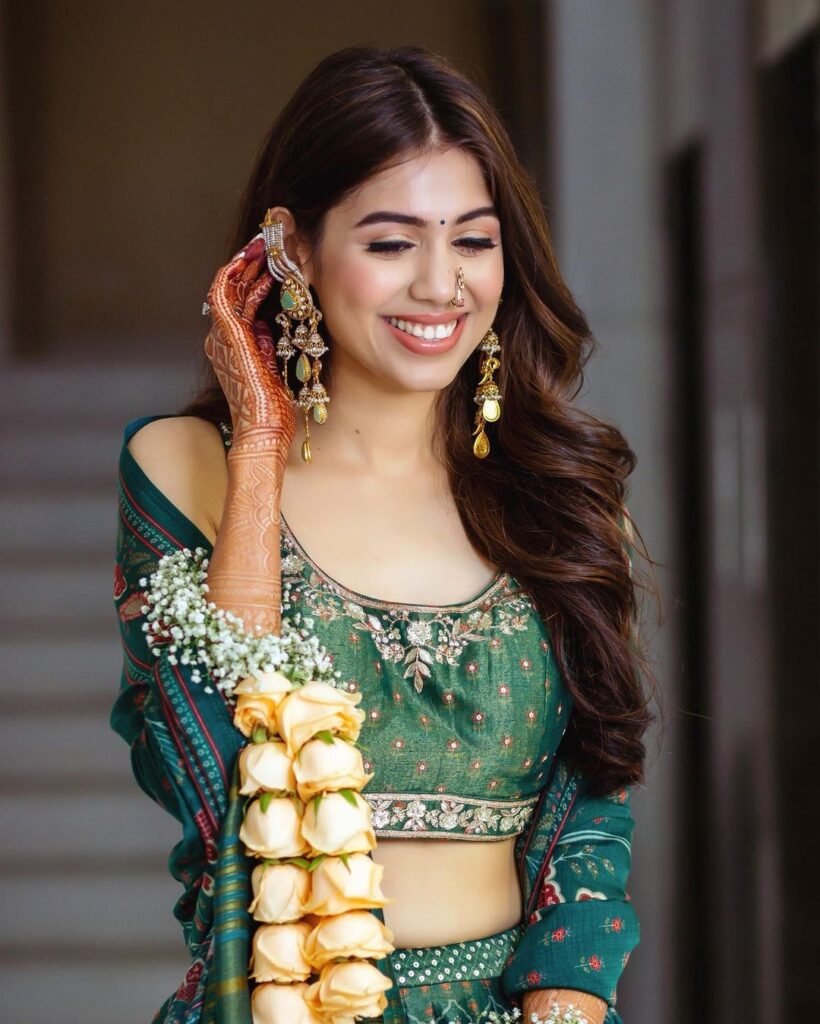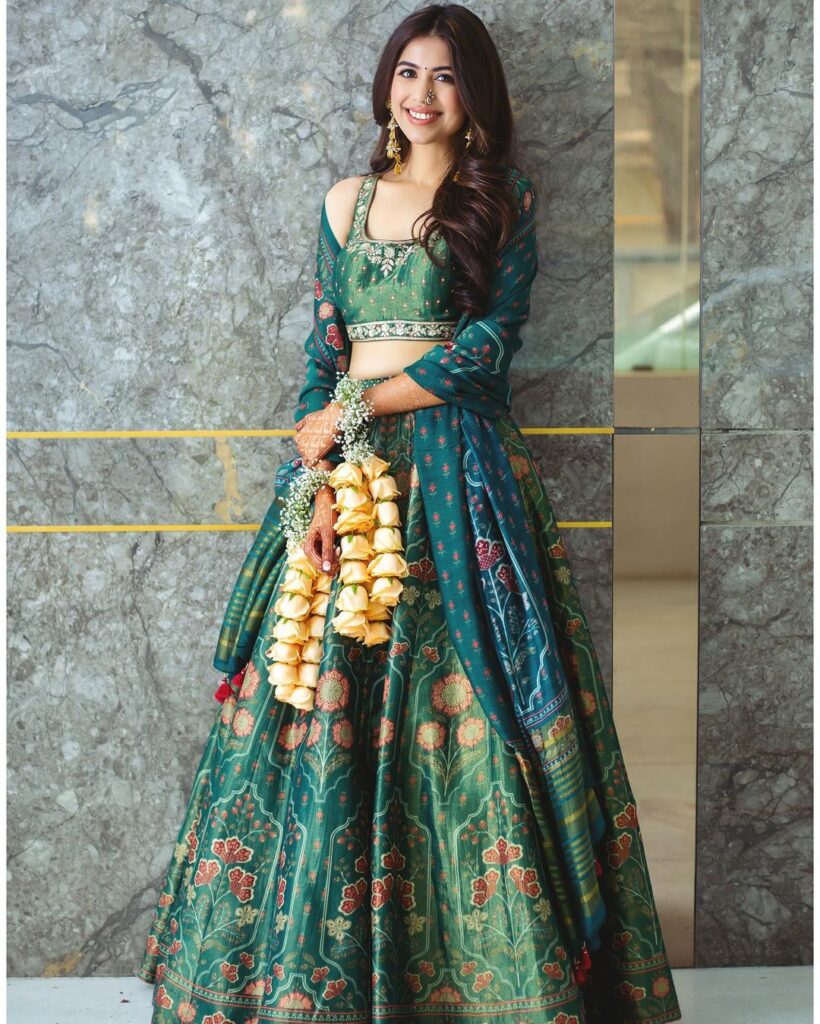 #2 There is an innate beauty that radiates when bridal attires in the shade of green are paired with light-colored flowers. This bride shows us how to channel the charming look of the goddess of the forest. She wore a forest green ensemble that had golden floral embroidery. Her jewelry and real flower kalire complement the design and color of her attire. The cascading white tuberoses match the embroidery pattern while the orange roses create a beautiful contrast against the dark shade of green.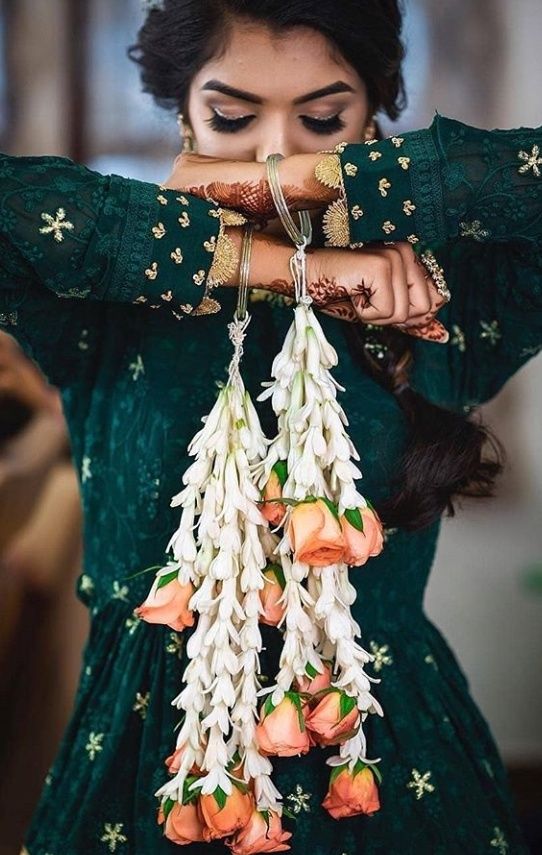 #3 You can make a statement on your big day by creating a color-blocked look with your wedding attire and fresh floral kalire. It makes for a beautiful choice, something that you will always remember with a smile. You can take inspiration from this bride who paired her sea-green lehenga with pink roses kalire. The baby's breath not only fills the gaps but also complements the stonework of the lehenga. The cool and calm sea green and the vivid pink of the roses make the whole look even more interesting. You can consider matching pink roses with a yellow ensemble or even a green ensemble with red flowers.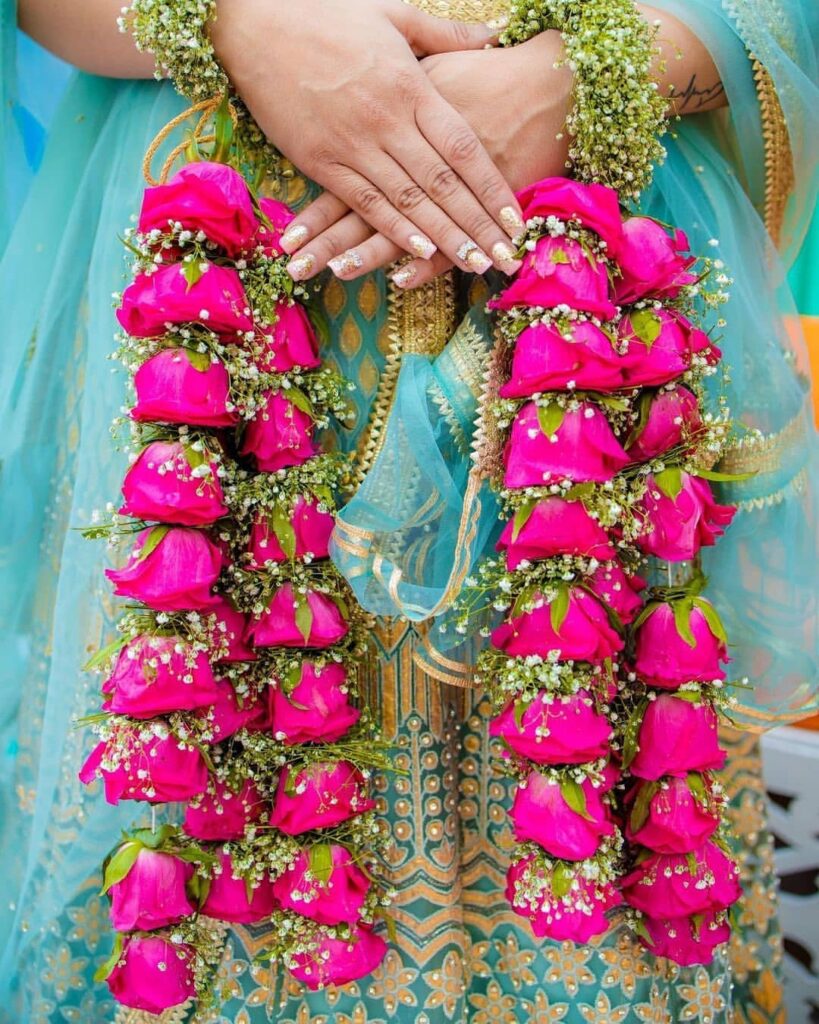 #4 Floral kalire with roses and baby's breath make for an appealing combination. This is why it is one of the most popular choices amongst brides when it comes to real flower kalire. You can rest assured that whichever color of roses you decide to go with, will work perfectly well with the baby's breath. You can even tweak the style to suit the general aesthetic of your wardrobe just like this bride pictured here. She used not fresh but dried baby's breath to go with the vibrant yellow roses. It creates a bewitching and rustic feel.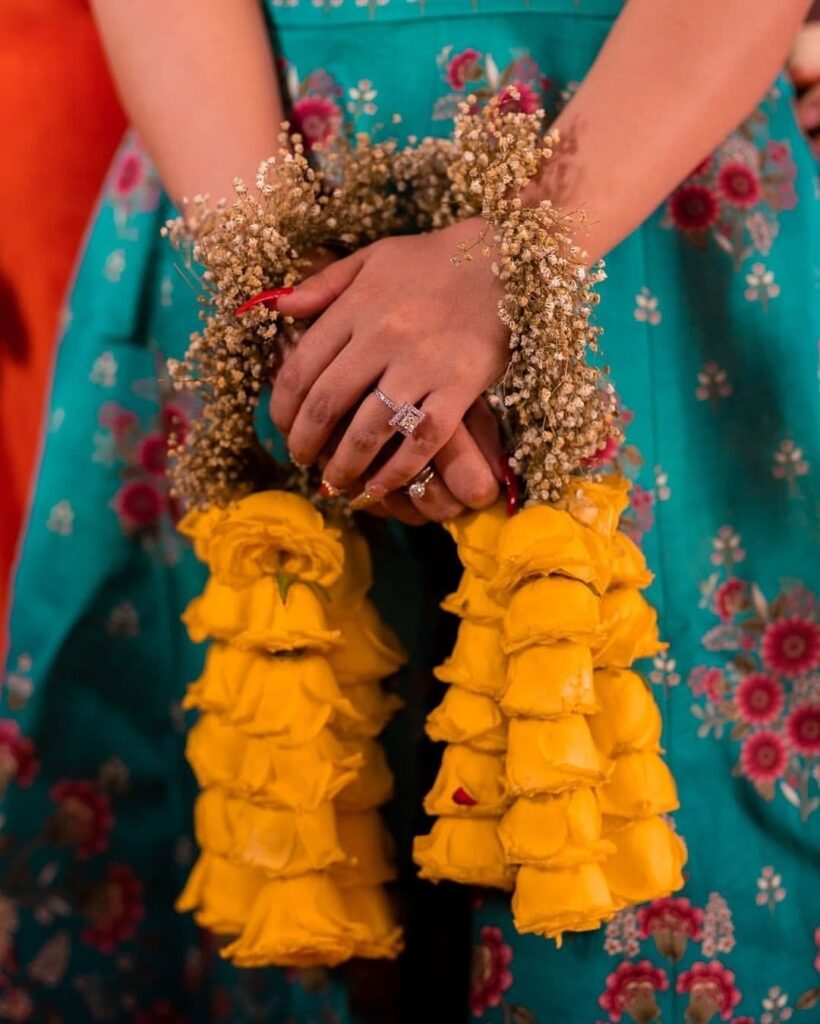 #5 Double the floral power of your look by pairing some of that vibrant faux floral jewelry with real flower kalire. Different colored roses make for an exquisite look. The cascading strings of rosebuds are something straight out of a Shakespearean dream. This bride chose red, pink, and white rosebuds. The trick is to choose shades that are next to each other. You can opt for colors that match the palette of your attire or make your own combination such as yellow-red-orange or white-cream-yellow.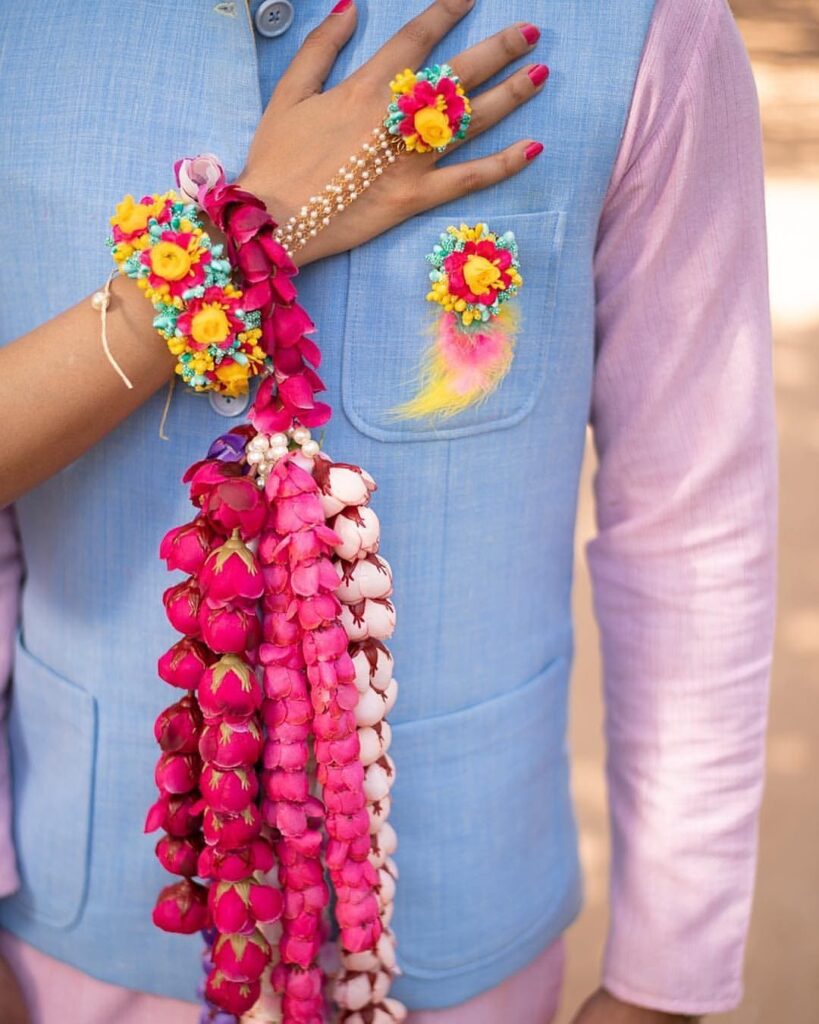 #6 It is a general practice to match jewelry with the color palette of your bridal attire. So, why not use this idea while choosing the color theme of your fresh floral kalire? This bride impressed everyone with her choice of beautiful roses kalire with each shade matching her wedding trousseau perfectly. Pastel orange, yellow, and white roses falling from the string of pearls create a very elegant look. You can also not ignore the increasing size of the rosebuds as they go from left to right with the pastel orange ones being the smallest and the white buds being the largest. You can create a similar effect by including the different sizes of rosebuds in the same string.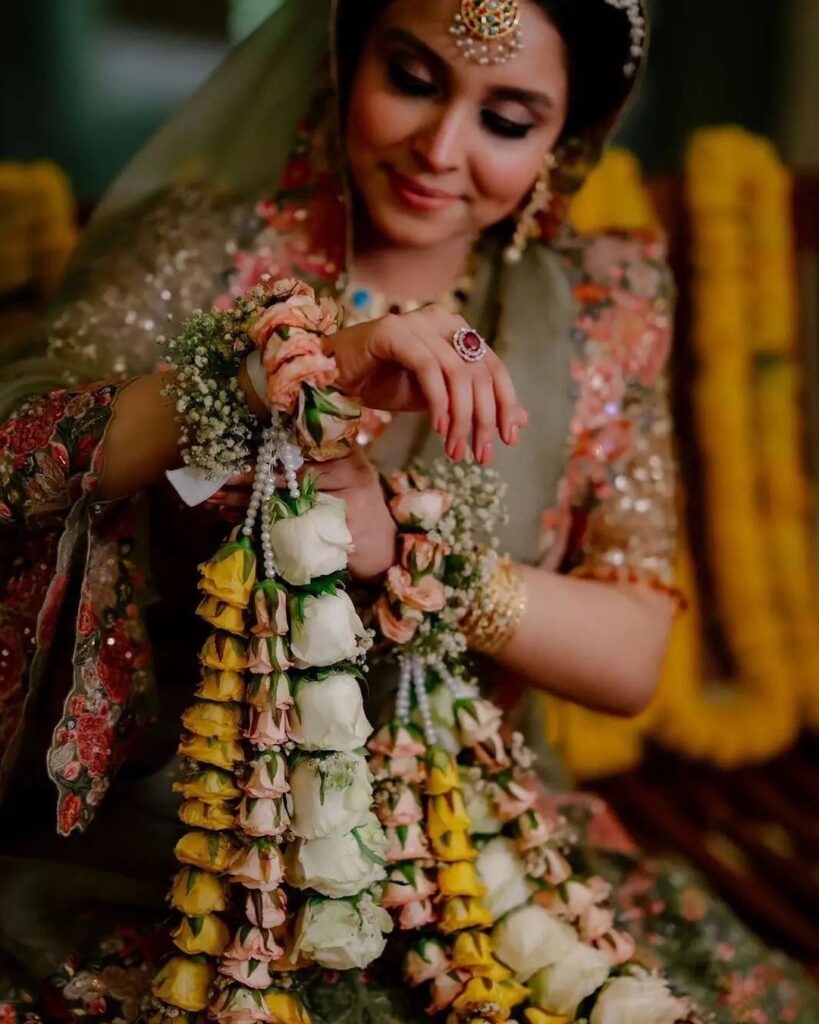 #7 Nothing can beat the beauty of red roses. They are often associated with Aphrodite, the Greek Goddess of love and beauty. They have a similar symbolism in the Indian culture as well. They were also used by kings and queens as part of their bathing rituals thus, giving them a royal significance. Red is also considered an auspicious color which is why brides usually dress in red. So, if you are in doubt about real flower kalire, place your trust in the royal red roses to look like the queen that you are.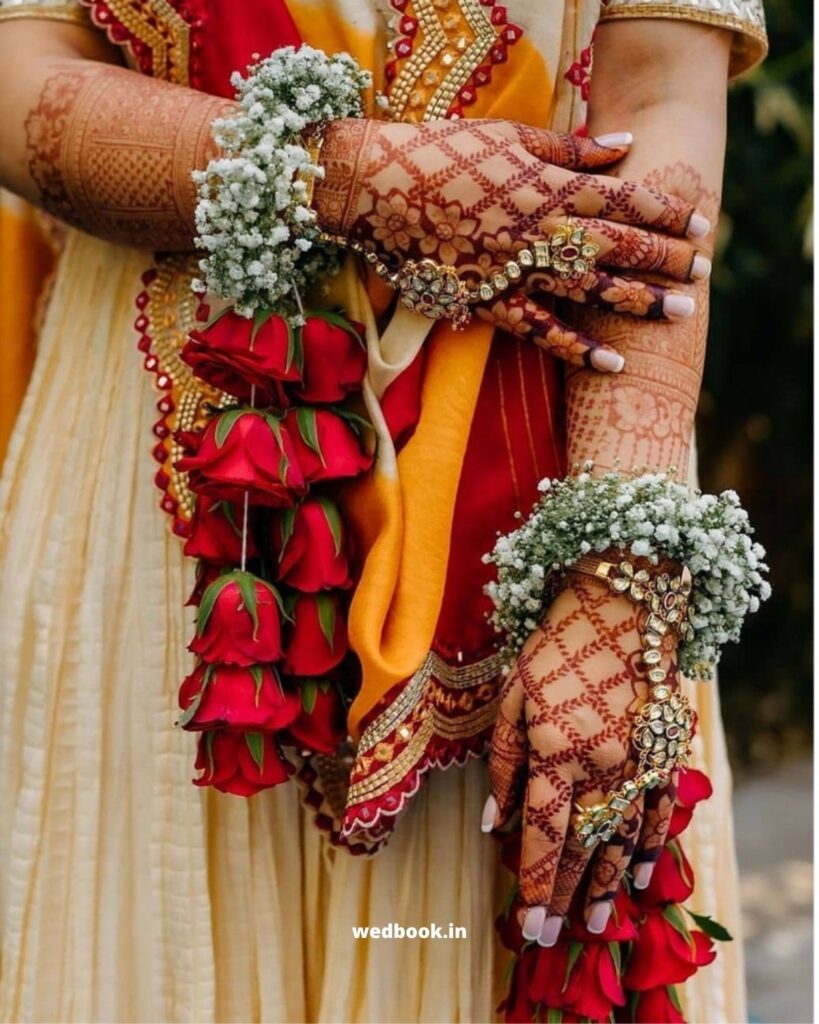 #8 Remember Vidya Sinha with beautiful tuberoses in the movie Rajnigandha? She was a picture of ethereal elegance and you can portray the same elegance on your wedding day with a floral kalire of tuberoses and pretty pastel peonies. This fresh flower kalire made of roses goes well with almost all shades of pastel lehenga. You can also add mogra for its sweet arresting fragrance and heavenly look. Or you can take inspiration from your favorite yesteryear actress and follow her lead when it comes to choosing the floral kalire.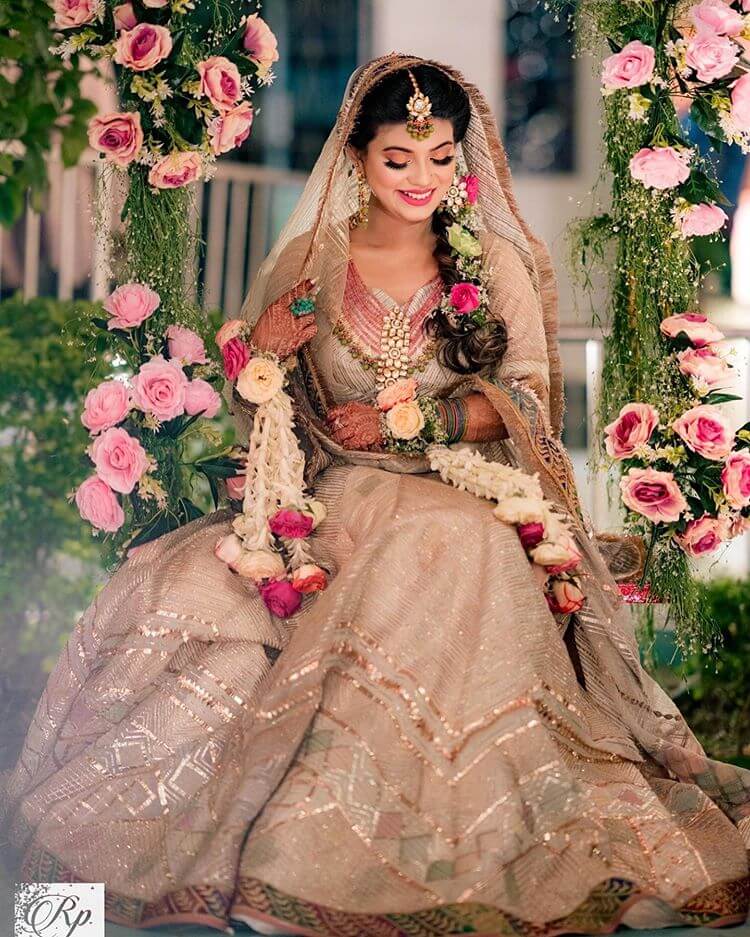 #9 Actress and former Miss India, Natasha Arora gave a nod to the trend of wearing real and fresh flower kalire when she flaunted bountiful white roses kalire on her wedding day. It used both small white rosebuds and fully formed flowers. White roses were an obvious choice as her baby pink lehenga had a rose-based pattern. She looked like someone who had just stepped out from a fairy tale. This can be your cue to give into the pastel wedding trousseau trend and white flower kalire to have that wonderful and dreamy look.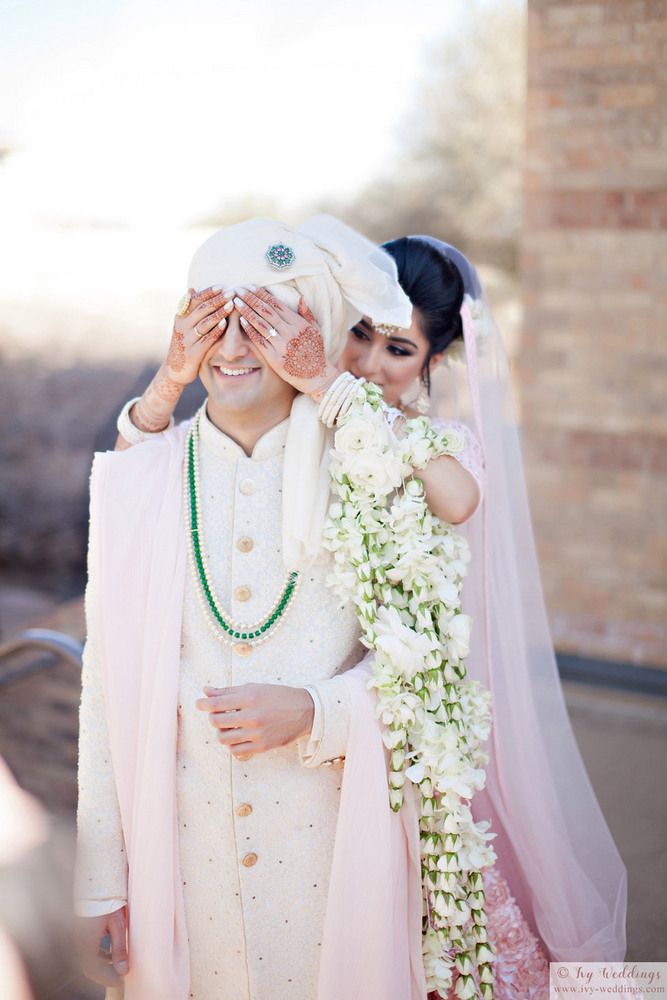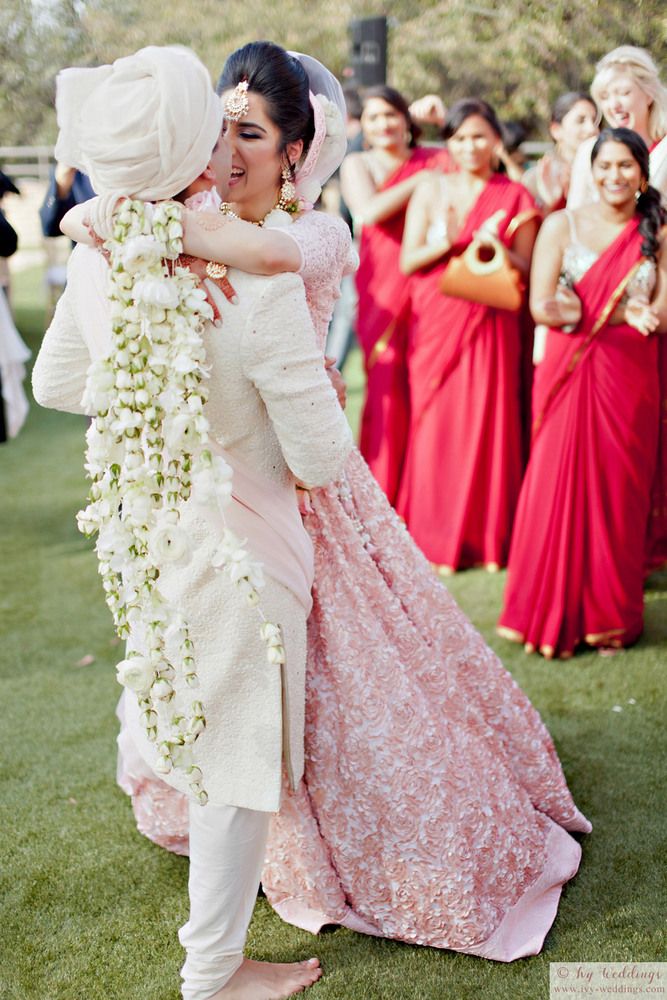 #10 Here is another gorgeous look in pink. This bride combined the best of both worlds by pairing her faux floral jewelry with real flower kalire in the same shades which also are a perfect match to the color palette of her attire. She has used a combination of white, light pink, and reddish-pink rosebuds. You can recreate a similar look with the variety of vibrant flowers available in the market to match the color of your trousseau. Or you can choose the color of your trousseau based on the color of your favorite flowers.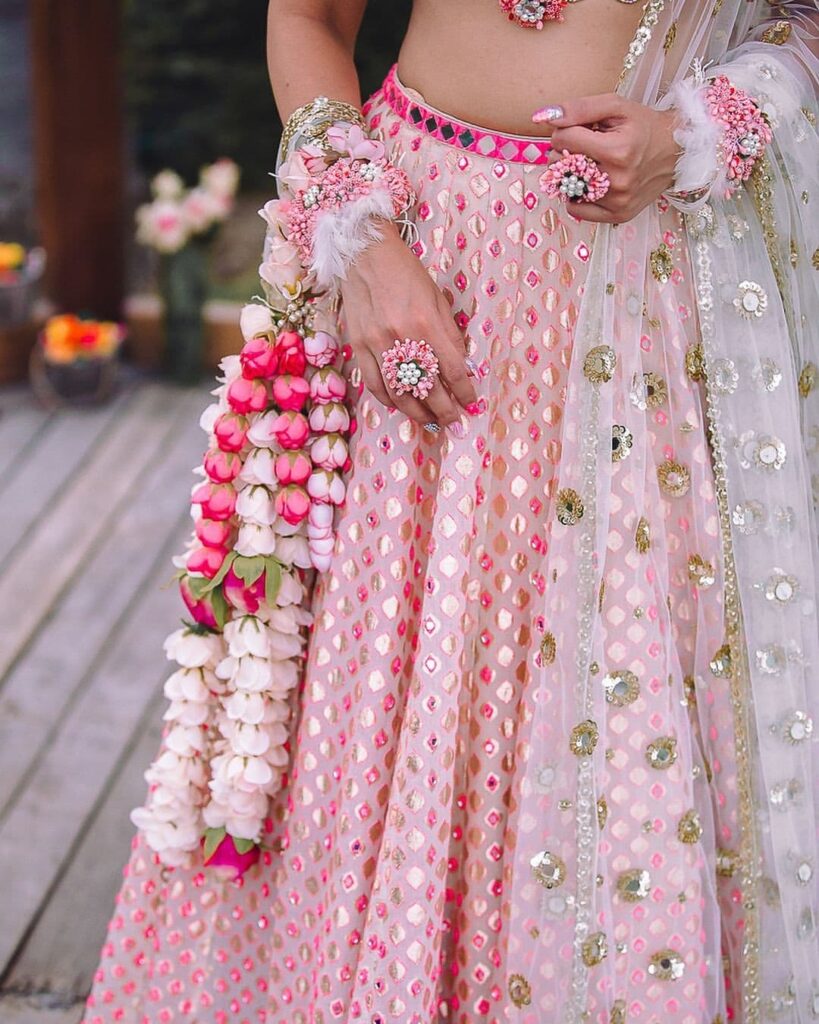 #11 For an aesthetic, arresting, and alluring look that will leave a lasting and mesmerizing impression on anyone who lays their eyes on you, choose some magnificent red roses. This bride did the same and wrapped the big and mighty red roses around her wrists along with baby's breath and sweet-smelling mogra in between. The cascading strings of small and stunning mogra create a wonderful contrast. You can use other white flowers such as orchids, carnations, and magnolias to match the deep red hue of the roses.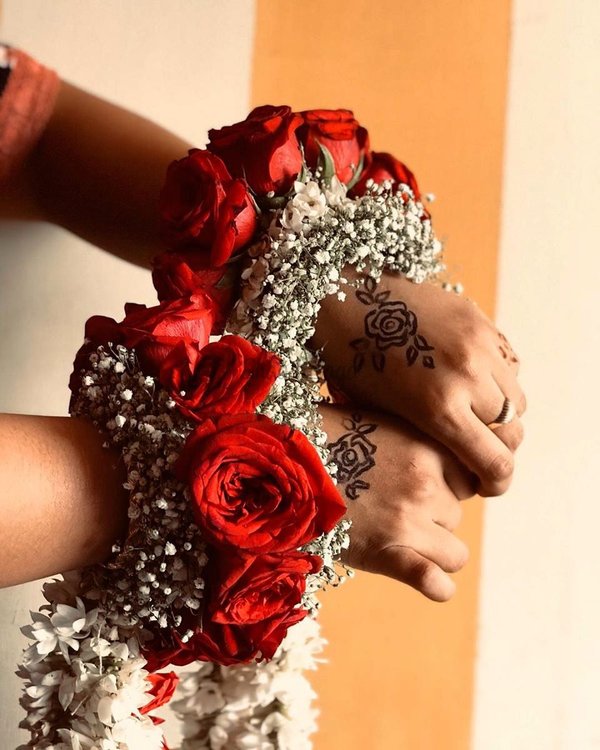 #12 Real flower kalire with pink roses and spider lilies are a graceful combination. It is a picturesque look that goes with almost all colors but especially well with dark-colored attires. You can see how gorgeous they look when creating a beauteous contrast against the lilac and royal blue ensemble of this bride. You can even match your jewelry style with the flowers of your kalire. Round jewelry can be paired with round-ish flowers like roses, marigolds, and peonies while elongated jewelry can be complemented with tuberoses, spider lilies, or even Orchidaceae buds.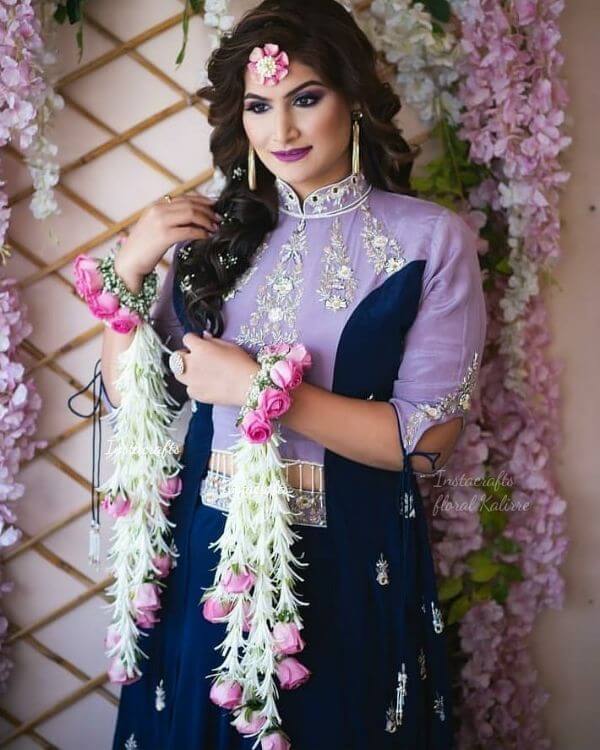 #13 This bride created a stunning look by playing around with both faux and real flower kalire. It is a charming and minimalistic look with strings of mogra buds and a pair of pink and light green roses at the end of each string. The cuff on her hands that holds it all together uses the same shade of white, pink, and green flowers that have been used for creating the lengths of the floral kalire. You too can add a different yet contrasting color to match your wedding ensemble.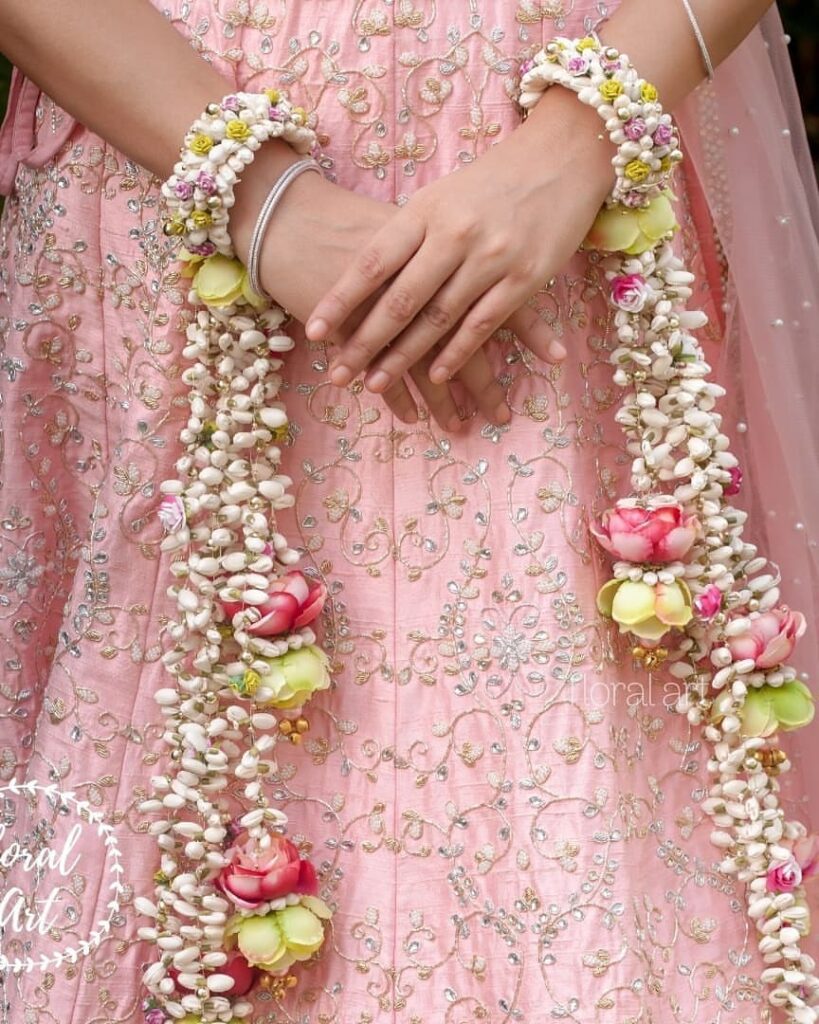 #14 Haldi ceremony calls for a yellow lehenga. You can either go for a complete yellow theme and use yellow roses or marigold kalire or you can follow the route taken by this drop-dead gorgeous bride and opt for a contrasting bright red floral kalire. She showed everyone how there is more to red flowers than just red roses. The vivid red of the carnations matches the bright warmth of her yellow ensemble. The tuberoses, on the other hand, complement the pattern of her lehenga.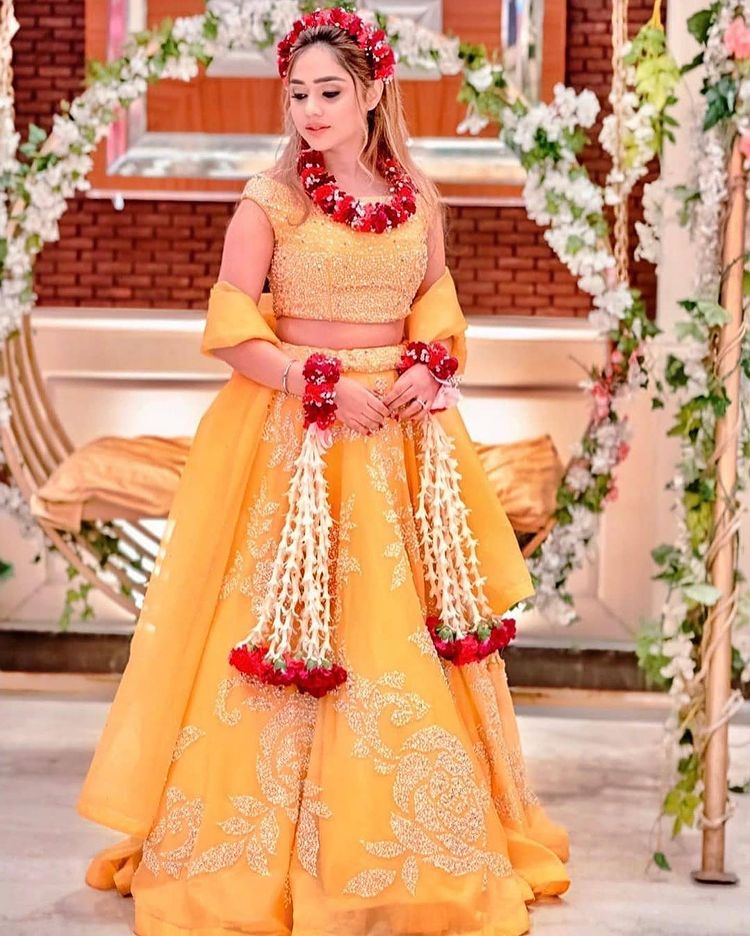 #15 Here is another look to try for the Haldi ceremony. This bride's selection of real floral kalire is as pretty as a picture. Not only do the flowers match the Haldi theme but they also create a beautiful reverse ombre effect. The tiny yellow rose buds sit smugly amongst the array of sweet white mogra flowers. While this bride has chosen white, light pink, and dark pink roses, you can create a similar effect with white, cream, and yellow roses. You can also opt for other white and yellow-hued flowers such as Nargis and daisies.