What do Alia Bhatt, Sonam Kapoor, and Sonakshi Sinha's skincare routine have in common? A Multani Mitti face pack. It's no secret that Bollywood divas love using home remedies to keep their skin glowing, clear, and even-toned. From Aishwarya's gram flour homemade cleansing routine to Janhvi Kapoor's frequent fruit pulp application on her face – their skincare remedies aren't as unattainable as people think. And cheaper, at-home tricks are always a convenient option for most of us than costly salon facials and creams (which might or might not work). 
One of the oldest, ancient home remedies used by our mothers, grandmothers, and great grandmothers is definitely Multani Mitti. Deciphering its origins, benefits, best ways to use, and general FAQ's in our latest blog. Happy scrolling! 
Multani Mitti: Origins & Speciality
The name Multani Mitti goes after the city of Multan, a region in modern-day Pakistan. While the clay deposits originated there, they can now be found in the driest, hilly regions of India. Predominantly, it's now found in North-East regions of India. Although, India doesn't account for a major share in fuller's Earth production, with 70% dominated by the USA, and the rest being covered by England, and Japan, besides India. Fuller's Earth is formed by two geological processes: a by-product of the decomposition of feldspar (an abundant mineral in Earth's crust) and from volcanic ash. In the US, the product is mined from the volcanic remains of the Cretaceous age found in regions of Florida, Georgia, Illinois, and Texas. 
Fuller's Earth consists mainly of Montmorillonite clay, with significant proportions of kaolinite and attapulgite in the composition. Sometimes, the deposits can also have part of bentonite clay, which is often considered akin to Multani Mitti but has different geological formation and chemical properties. When it comes to skin-benefiting effects though, both are highly absorbent and offer similar beautifying advantages. Besides cosmetology, fuller's earth is widely used in many industries as degreasing, adsorbing, refining, and decolorizing agent.  
FUN FACT: In 2001, the Taj Mahal was cleaned with a Multani Mitti pack for the visit of then-Pakistani President General Pervez Musharaff. The restorative effects were mind-blowing and the clay was successful in restoring the marble to its actual sheen. Turns out that a mixture of clay has been used since the 16th century to clean and preserve marble. Since then, the mud pack has been used by head archaeologists in Europe to rehabilitate their blackened marble statues. 
Multani Mitti Face Packs
#1 Multani Mitti Face Pack For Pimples
Ingredients: 
1 tbsp Multani Mitti Powder

1 tsp Neem Powder

1 tsp Tulsi Powder

Honey & Rose Water to thicken the paste
Application: 
Mix all the dry ingredients together and add honey & rose water to create a thick yet fluid paste. Apply all over your face and neck. You can also cover the under-eye region. Let it sit for 10-15 minutes before washing off. Follow up with toner & moisturizer. 
Benefits: 
A small 2020 study proved Multani Mitti's effectiveness in decontaminating skin from toxic industrial agents that penetrate through the skin's surface and cause damage. Due to its ability to deep clean the facial skin, it can remove the bacteria that cause acne and leave you pimple-free with consistent use. Similarly, both neem and tulsi have been scientifically proven (1) (2) to reduce face acne and kill acne-causing bacteria. Honey calms the inflamed skin, while rose water hydrates and restores the skin's natural pH balance.  
#2 Multani Mitti Pack For Dark Spots & Pigmentation
Ingredients: 
2 tbsp Multani Mitti 

1 tsp Sandalwood Powder

A Pinch Of Turmeric

Milk & Honey to dilute the mixture
Application:
Mix all the ingredients together to form an applicable consistency. You can use haldi straight from the kitchen or add wild turmeric (get here) for extra TLC. Don't add a lot of turmeric because it can leave a yellow stain or irritate the skin. Leave the mask for 15 minutes before washing off with lukewarm water. Apply a hydrating cream on damp skin. 
Benefits: 
Fuller's Earth is a natural bleaching agent. When activated (mixed with liquid), the clay speeds up the wound healing process and reduces the look of blemishes and dark spots. Sandalwood powder has natural lightening agents to decrease the appearance of pigmentation, while turmeric is widely known to brighten the skin. A study found that turmeric essential oil can slow hair growth and lighten skin within 3 weeks. Further, milk's lactic acid gently exfoliates and honey soothes the facial skin to give you the best results in lesser time. 
#3 Multani Mitti For Skin Glow
Ingredients:
1 tbsp Multani Mitti

1 tbsp Orange Peel Powder

Tomato Juice 

½ tsp almond oil
Application:
Mix all the ingredients well and apply a thin layer of the mask on your facial skin. You can apply to the undereye area, as it's a very gentle and soothing pack. Let it sit for 20 minutes before washing off with lukewarm water. Massage a good hydrating facial cream afterward. 
Benefits: 
According to research published in The Open Dermatology Journal, a face pack made with fuller's earth can help slough away dead skin cells, and leave it radiant and glowing instantly. Orange peel powder, on the other hand, has been found to have strong antimicrobial and antioxidant properties which lends a subtle youthful glow to the skin. While tomato juice heals, clarifies, and ultimately makes the skin radiant, almond oil contains Vitamin A & E that improves skin's overall appearance and luminosity. 
#4 Multani Mitti For Active Acne
Ingredients: 
1 tbsp Multani Mitti

1 tbsp Neem Powder

1 tsp Nutmeg

2 tbsp Raw Honey

1-2 drops of lemon juice or ACV (whichever one is available, don't add both)
Application: 
Add all the ingredients to form a thick paste. Apply it evenly all over your face and wash it off after it completely dries. 
Benefits: 
Multani Mitti deep cleans the skin to slough away any acne-causing bacteria from within. Neem also helps with killing these bacteria, balancing skin's pH levels, and is an effective topical treatment for acne. Nutmeg (or jaiphal) is a well-known ayurvedic remedy that's super anti-inflammatory and anti-bacterial to treat acne. ACV and honey soothe skin irritation, but if you add lemon juice that's amazing too! Lemon soothes redness and inflammation and kills the P.acnes bacteria effectively. 
#5 Multani Mitti For Even Skin Tone
Ingredients: 
2 tbsp Multani Mitti

1 tbsp Gram Flour

1 tsp Curd

1 tbsp Cucumber Juice

Water to reach desired consistency
Application: 
Make a smooth paste with all these ingredients. Go easy on curd if your skin is generally prone to pimples. Apply on freshly washed and dried skin. Scrub the pack off after it dries. Massage a hydrating moisturizer afterward. 
Benefits: 
Multani Mitti has a bleaching effect and works as a great skin-lightening remedy. Using this ingredient consistently can give you an even skin tone, free of blemishes and pigmentation. Gram flour gently exfoliates the skin and reveals a lighter, even skin tone with time. Cucumber moisturizes the skin and heals any pigmentation scars, giving a smooth complexion. 
#6 Multani Mitti Pack For Fair Skin
Ingredients: 
1 tbsp Multani Mitti

1 tbsp Amla Powder

Papaya or strawberry pulp, whatever's available

Rose Water to reach desired consistency
Application: 
Make a thick paste with all the above-mentioned ingredients and apply a thick layer to the skin. Let the pack sit for 20 minutes before washing off with normal water. 
Benefits: 
Amla is the second richest source of Vitamin C, twenty times more than any other citrus fruits. Topical Vitamin C application decreases melanin synthesis, and improves your skin tone, as proven by a 2017 study. The same research work also concluded the antioxidant promotes collagen synthesis and decreases the appearance of fine lines. Both papaya and strawberry are great skin exfoliators and gives a smooth, blemish-free complexion. Multani Mitti is also touted for skin-lightening and brightening properties and is quite often added to the glowing kitchen ingredients lists for the same reason. Rosewater added to the pack soothes, hydrates, and ultimately adds a beautiful radiance to the skin. 
#7 Multani Mitti For Open Pores
Ingredients: 
1 tbsp Multani Mitti

1 tbsp Almond Powder (soak them overnight in water)

1 tsp Clove Oil

Rose Water For Dilution
Application: 
Form a thick facial mask with all the ingredients and apply it evenly to your face. Let it dry before rinsing off with gentle facial movements. Damp your skin with a toner and follow up with a serum and face cream. 
Benefits: 
The combination of multani mitti and almonds works amazingly to tighten your skin. While the clay deep cleans and unclogs the pores, the nutrients in the almonds repair the skin and give you a smooth appearance. Clove oil, on the other hand, helps clear out any acne, soothes the skin, and has incredible healing properties that promote skin tightening. Adding rose water further hydrates and improves the complexion. 
#8 Multani Mitti For Blackheads
Ingredients: 
2 tbsp Multani Mitti

1 whole egg white

1 tsp lemon juice

Honey for consistency 
Application: 
Mix all the above-mentioned things well to create a thick paste. Apply all over your skin for 20 minutes and rinse off with lukewarm water. Immediately follow up with a facial moisturizer. 
Benefits: 
Clays are made of negatively charged particles, and dirt, grime, etc, which causes blackheads and acne are positively charged. When the clay is applied, the negative clay particles attract the positive problematic particles on the skin and removes blackheads from the inside out. Egg whites further promote the purification of pores and kill blackheads. Lemon juice reduces inflammation, while honey, being a potent humectant, draws and retains moisture in the skin. 
#9 Multani Mitti For Dry Skin
Ingredients: 
1 tbsp Multani Mitti

1 tbsp Aloe Vera Gel

1 tsp Turmeric
Application:
Mix multani mitti and turmeric and add aloe vera gel to dilute the mask. Apply evenly all over your face and let it sit for 15-20 minutes. Wash off with normal water and moisturize while the skin is still damp. 
Benefits: 
There's a fuller's earth face mask for every skin type, including dry skin. It's true that this clay draws out oil from your skin, but it doesn't disbalance the skin's pH unless used daily. It just clears out the impurities while boosting blood circulation to lend a healthy glow. Aloe Vera is rich in antioxidants and has a healing, moisturizing, and anti-aging effect on the skin. Adding turmeric to the pack further boosts its benefits. Turmeric is rich in curcumin, a pigment that prevents and treats skin aging and other skin-related disorders. 
#10 Multani Mitti For Skin Health/ Maintenance
Ingredients:
1 tbsp Multani Mitti

1 tbsp Oatmeal Powder

1 tbsp Raw Milk
Application: 
Mix the ingredients to form a thick paste and apply the mask to your face. Leave on for 20 minutes before washing off with lukewarm water. 
Benefits: 
Research has shown that topical clay application can boost collagen synthesis in the skin, and help with skin tightening, and plumping. Oatmeal is another great DIY to enhance your skin quality as it cleanses, calms, and hydrates the skin. Lastly, raw milk in the mask is rich in lactic acid that exfoliates and lends a luminous glow to the skin. 
FYI: Please don't let Multani Mitti sit on your face for too long after it has dried out. Don't speak/ make any facial moments when it's dried because the stretching can leave you with wrinkles. Also, my mother used to tell me to apply the pack in one direction, often in the opposite direction of wrinkle formation to prevent any fine lines due to the usage of the product. So, upwards and outwards on cheeks and upwards and horizontal on the forehead. 
Multani Mitti Online
#1 Herbtoniq Multani Mitti Powder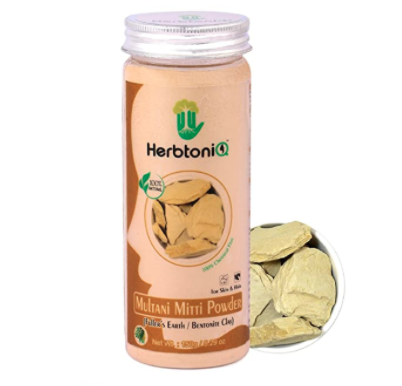 Purchase here. 
#2 Herbal Villa Natural Fuller's Earth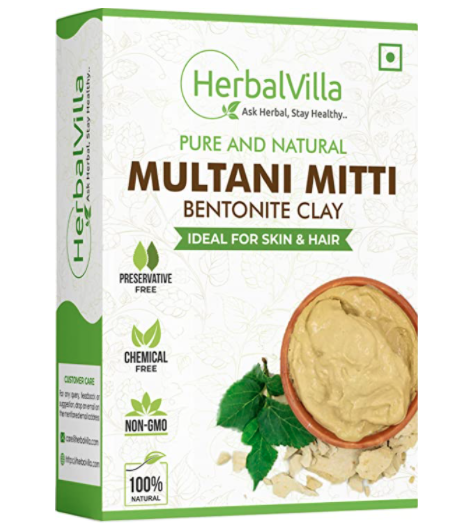 Purchase here. 
#3 RPH Organic Clay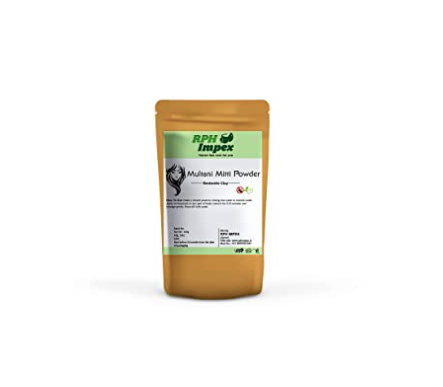 Purchase here. 
#4 Multani Mitti Stone
(you can make the powder from multani mitti stone using a pestle and mortar.)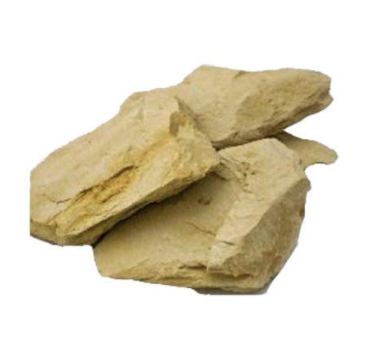 FAQ's 
What are the benefits of the Multani Mitti Face Pack?
Multani Mitti has research-backed benefits. The clay can deep clean your pores and remove acne-causing bacteria. It boosts blood circulation, which helps with skin repairing and thus, diminishing pigmentation spots. Facial clays are also known to boost collagen synthesis, which strengthens the skin's barrier and boosts hydration and elasticity. This pocket-friendly DIY also makes for a great homemade cleanser and gets rid of any impurities without hampering the natural balance of skin oils.  
Can we use a Multani Mitti face pack daily?
No, you shouldn't use a Multani Mitti face pack daily, especially if you have dry to normal skin type. Multani Mittti has oil-absorbent properties and when used daily can absorb the oil that nourishes your skin tissues and protects your skin. This can lead to excess dryness, triggering your body to release more oil, and hence, cause acne. Although, you can use it as a face cleanser every day – by adding scrubbing agents like gram flour, ground masoor dal, and milk, etc, but not as a face mask. A fuller's earth face mask can be applied to your face 2 to 3 times a week. 
Does Multani Mitti have side effects?
No, Multani mitti doesn't have any known side effects. In extremely rare cases though, a multani mitti face pack can cause irritation and dryness, nothing major. The key is to mix fuller's earth with ingredients meant to tackle your skin needs. Got acne issues? Neem and tulsi it is. Want glowing skin? Add tomato juice and orange peel powder. Having a hard time fading pigmentation scars? Create a fuller's earth pack with neem, turmeric, and milk/ aloe vera gel. 
Can Multani Mitti give me glowing skin?
Yes, multani mitti gives you glowing skin because it boosts blood circulation. Moreover, according to a 2016 study, when a clay mask hardens, it creates a layer around your skin that retains moisture. Hydrated skin automatically leads to glowing skin. Clays also have a natural ability to soak up toxins built as a result of pollution and product buildup, which ultimately counters the dull skin and leads to a gorgeous sheen on your face.  
Does Multani Mitti face pack remove facial hair?
Fuller's earth on its own doesn't remove facial hair. However, it does deep cleanse the hair pore and makes it gentle. To make a permanent hair removal multani mitti pack, add rose water and lemon juice and let the mask sit until it completely dries. Remove the pack by wetting your face and making a gentle massage movement. 
Can we use Multani Mitti on hair? 
This amazing clay doesn't only benefit your skin miraculously but also has innumerable benefits for hair. It gently cleanses the scalp, absorbs excess oil, removes dirt, and sloughs away any product buildup. This clay can be the homemade clarifying shampoo you need in your vanity. Fuller's earth also boosts blood circulation and strengthens hair follicles by clearing them of any toxins. This automatically leads to your hair feeling thicker and fuller. You can mix multani mitti with curd or aloe vera with a few drops of lemon juice to make a nourishing hair pack. Leave on for 30 minutes and wash with a mild shampoo and conditioner.
Related: